Here's What's Happening In & Around Chelsea
Oct. 31 Deadline to Take the Manhattan Community Board 4 (CB4) District Needs Survey / CB4's Full Board Meeting / Community Cleanups / Carri Skoczek: Portraits at Hudson Guild's Guild Gallery II /  
October 31 Deadline to Take the Manhattan Community Board 4 (MCB4) Community District Needs Survey | As of late, the individual committees of CB4 have shared a common Agenda Item: Consider the most pressing needs of the community for improved government services and capital investment. Their work (specifically, a letter generated by the Executive Committee) comes up for review by the full membership at Wed. Nov. 1's Full Board Meeting. That makes Oct. 31 your last chance to take the Survey online, and have your opinions reflected when CB4 emerges with their Statement of District Needs. You can view MCB4's previous Statement by clicking here. Doing so will make you a more informed respondent, when you answer the call to add your voice to CB4's online District Needs Survey (click here to take the survey). Pro Tip: Consider what occurs to you as the top three issues facing the community board's district (that's the Chelsea/Clinton and Hell's Kitchen areas; only those who live/work there are asked to fill out the survey, which provides a myriad of responses for the "issues" questions, and allows for your anonymity).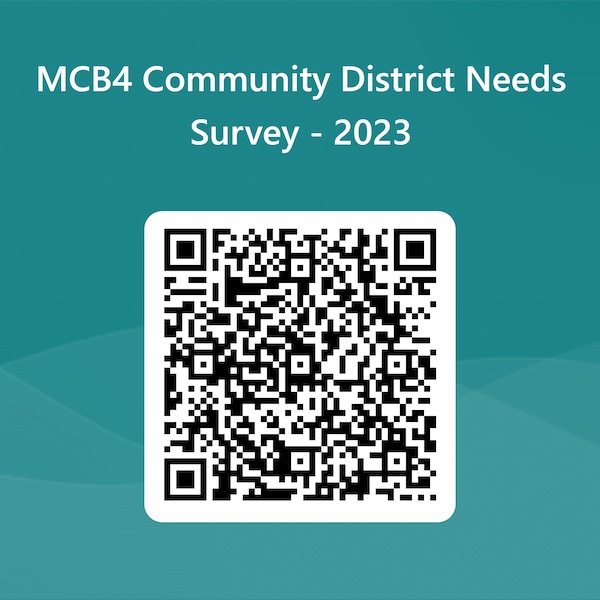 The Full Board Meeting of Manhattan Community Board 4 (CB4)—A Hybrid Event at 6:30pm on Wednesday, November 1: Online via Zoom & YouTube and In-Person at the Hotel Trades Council (305 W. 44th St. btw. 8th & 9th Aves.) | The first day of November also happens to be the first Wednesday the month–the traditional spot on the calendar when the full membership of CB4 convenes. Click here to view agenda items for the Nov. 1 meeting. Generated by the individual committees of CB4, letters (each one assigned an Agenda Item) articulate their position on a matter, and/or appeal to the recipient to take certain actions. Well-vetted by the time they reach the full board, committee letters are often voted on favorably. Sometimes, a letter will be approved pending changes the Board has just discussed; and in rare cases, letters will be sent back to committee for more work.  But that's not all. Just as lively are the meeting's other featured elements: Updates from elected officials or their reps, and a Public Session that lets you speak directly to the Board (uninterrupted and usually for 2 minutes).
The Nov. 1 meeting is expected to begin with an appearance by the Commanding Officer of the NYPD's Midtown North Precinct. It's part of an ongoing segment that sees CB4 rotate top leadership from every precinct within its area of coverage. Expect the CO to discuss the latest crime stats particular to Midtown North–and expect that as well as other comments to elicit a few follow-up questions from Board membership. Following that, a Public Hearing allows members of the, well, public to speak regarding CB4's Statement of District Needs and Budget Requests for Fiscal Year 2025. Sign up to speak at the Public Hearing by clicking here. Later, the Board itself takes up the matter–in the form of Agenda Item 18, a letter generated by the Executive Committee.
To register for the meeting and view it via Zoom, click here. To view the live stream via CB4's well-curated YouTube channel, click here. Note: Zoom registration allows you to sign up for a slot in the Public Session. Early sign-up to speak closes at 4pm on the day of the meeting. Those who do not sign up by 4pm can raise their virtual hands using the raise hand function through Zoom (*9 by phone) once the public session starts, with a 5-minute grace period. There will also be a sign-up sheet at the meeting for those attending in person. To attend the meeting via phone, the call-in number is 646-518-9805 (when prompted, the Webinar ID s 986 0945 5541). For info about all things CB4, you'll find it on their website, which can be reached by clicking here. Can't attend in real time? View it at your convenience, via CB4's YouTube channel (click here).
Community Cleanups in Chelsea, Hell's Kitchen & the West Village: November 5/19 & Dec. 3 | NYC Council Member Erik Bottcher's  partnership with the Sanitation Foundation and the people of Council District 3—in which folks fan out across their neighborhoods to show litter the business end of a garbage bag—returns for a slew of fall dates. Gloves, bags, and tools will be provided.
Here's where to meet at 11am: In Chelsea, at the northwest corner of 23rd St. & Eighth Ave. In Hell's Kitchen, at the northeast corner of 47th St. & Ninth Ave. In the West Village, at Abingdon Square (Eighth Ave. & Hudson St.). Gloves, bags, and litter collection equipment will be provided.  To sign up, click here.
ONGOING
Carri Skoczek: Portraits at Hudson Guild's Guild Gallery II (119 9th Ave. ): On View Through November 21 | This exhibit features a selection of women's portraits from several series by Skoczek: Fallen Women (based on Bellocq's photographs of Storyville prostitutes); Soiled Doves (based on photographs of prostitutes from the early wild west, female circus performers, and Alice in Wonderland). "The inherent sensuousness of drawing the portraits with her fingers, using pearl powders on top of wet relief printmaking ink," the curators note, "enhances the lusciousness of the drawings and subject matter." Viewing Hours: Tues. through Fri., 10am-5pm and Sat., Nov. 11 & 18, 2pm-5pm. Free admission. For info, call 212-760-9837 or click here to view exhibit info on the Hudson Guild website.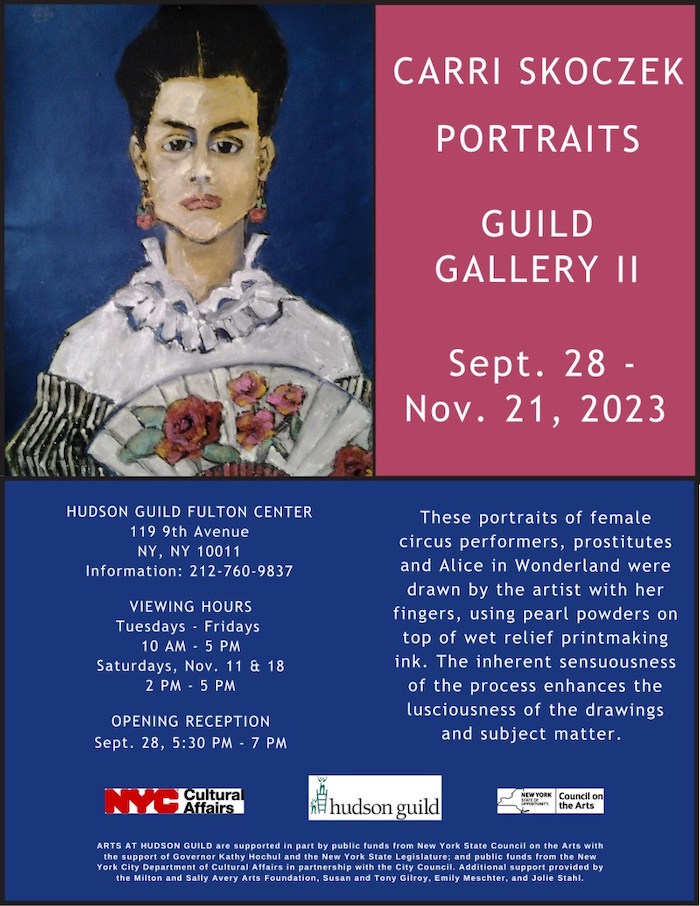 —Listings Compiled by Scott Stiffler
—END—
Chelsea Community News is an independent, hyperlocal news, arts, events, info, and opinion website made possible with the help of our awesome advertisers and the support of our readers. Our Promise: Never a paywall, no pop-up ads, all content is FREE. With that in mind, if circumstances allow, please consider taking part in our GoFundMe campaign (click here). To make a direct donation, give feedback, send a Letter to the Editor, or contact our founder/editor, send an email to Scott Stiffler, via scott@chelseacommunitynews.com.
To join our subscriber list, click here. It's a free service provding regular (weekly, at least) Enewsletters containing links to recently published content. Subscribers also will be sent email with "Sponsored Content" in the subject line. That means it's an exclusive message from one of our advertisers, whose support, like yours, allows us to offer all content free of charge.