BY DEBORAH FENKER | The Hotel Chelsea (222 W. 23rd St. btw. 7th & 8th Aves.) was, arguably, the most famous address in all of Chelsea, until it wasn't—but now, arguably, it is once again. During its protracted renovation, the hotel certainly retained its reputation for controversy, celebrity, and scandal, but waned as a tourtist attraction, or even a viable accommodation (aside from the few tenacious tenants who remained there throughout). Then, with a glimmer of hope and anticipation, a reimagined El Quijote reopened. Soon thereafter, the hotel itself reopened. Now, its newest additions—Lobby Bar and Café Chelsea—have hit the scene with much aplomb.
The hotel itself is now is nearly unrecognizable from its prior iteration, the lobby glittering and elegant as opposed to the musty lounge that was. Waistcoated bellboys have replaced the gruff clerks that used to rule from the main desk, but somehow the reception area still retains an aura of mystique. With a kinetic energy not unlike a Guillermo del Toro movie, it feels like something is just about to happen.
And it very well may, given the clientele at the hotel's new dining establishments. Just over a half year in, El Quijote has hit its stride, a well-oiled machine that is nearly always fully booked. Riding on that energy, the team that is behind the restaurants here, Sunday Hospitality and partner Charles Seich, began the formation of the Lobby Bar and Café Chelsea as they were spiffing up the old Spanish dive. Seich says the new additions have attracted "plenty of good people, whether they are celebrities, people from the neighborhood and industry folks" in addition to the steady supply of hotel guests that can rely on Café Chelsea for all meals, every day of the week.
The property of the hotel now spans nearly 17,000 square feet—a huge stretch of West 23d Street between Seventh and Eighth Aves. It took over what used to be The Capitol Fishing Tackle Shop (which had been there nearly 42 years, relocating in 2006, but its sign still remains proudly above the Café entrance) and is bookended to the west by El Quijote. The facade along West 23d Street has transmogrified the entire block. Now resplendent with marquis lighting and abdundant leafy foliage, it too is virtually unrecognizable from before.  That said, the team has painstakingly maintained the original signage and structure of the iconic site, so there remains history and nostalgia attached to all the spiffed up renovations. The original signage from that old bait and tackle and the vacuum repair shop both remain, as well as the iconic, fully operational Chelsea Guitars, a Teflon fixture nestled in between El Quijote and the hotel's main entrance.
Lobby Bar is very much drinks-focused, although the nibbles that are available are gorgeously presented and meticulously considered. Sure, the least expensive drink there is a frugal shopper's weekly grocery bill, but one pays for the entire experience, not the excellent tipple alone.  The drink menu is divided categorically into House and Tributes, although they all seem to pay homage to someone or somewhere. The Viva Superstar blends gin and cachaca perfumed with passionfruit and served with a blanc de blanc chaser to revive the bubbles in case they dissipate. Chelsea Morning would be a great mimosa alternative at brunch, a peachy-lychee puree punched up with yuzu sake and a floral waft of jasmine.
Sauntering through the Lobby Bar and its two skylit Solariums brings you to Café Chelsea, the real raison d'être for sustenance, and it's a palpable shift from the Bar's tranquility.  The restaurant is bustling and lively, almost unfailingly booked to capacity.  The en Français menu, overseen by Executive Chef Derek Boccagno, is a roster of tweaked French bistro classics.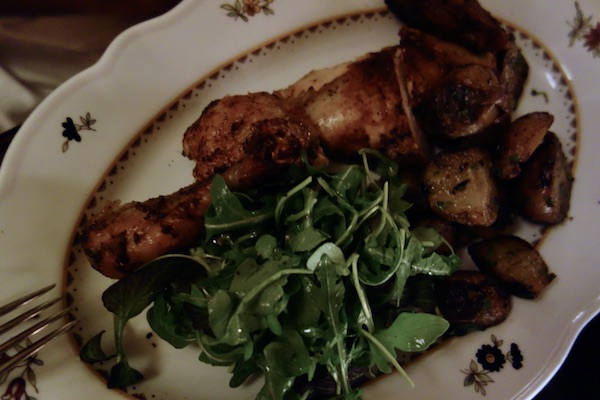 Prices generally range from $14-$23 for appetizers and $24-$42 for main courses, although if you are feeling extravagant, there is a hearty 12-ounce bone-in Prime New York strip for $72, arguably big enough to share.  There is a traditional French omelette, a gorgeous roasted chicken au vin jaune to rival Barbuto's, and a signature Chelsea burger (fromage optional).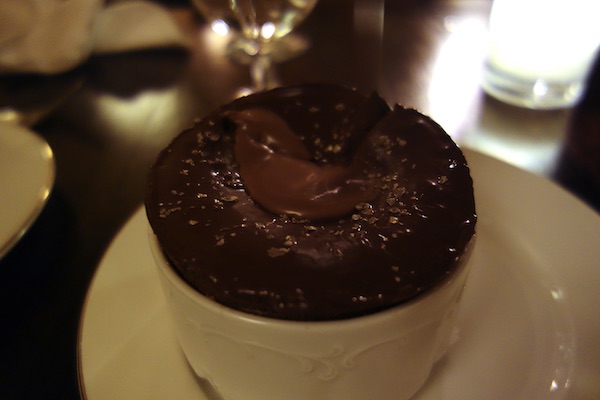 While the backbone of the menu will remain consistent, options will adapt to the seasonal fluctuations and ingredient availability, like a vegetarian Maitake au poivre and the wood-fired Haricots Verts Grillés, cooked with real wood delivered through its underground tunnel. (They also might be some of the best green beans you've ever had.) Dan (of the aforementioned guitar shop) wholeheartedly endorses the Croquettes de chèvre, drizzled with honey and beautified with purple thyme blossoms, as an appetizer. Desserts are limited, but their chocolate soufflé is one for the annals. It must be ordered in advance (or wait about a half hour for its preparation), but well worth it for its profoundly decadent richness puffed into a weightless cloud of indulgence. If you're not a chocolate person, the butterscotch sundae is equally delightful.
Several private event spaces are also established within the hotel confines. The Bard Room is named after Stanley Bard, who died in 2017 at age 82 after 50 years as the hotel's unflappable, artist-supporting, seen-it-all manager who earned his ringmaster rep from words and deeds dispensed while seated at the front desk. The room itself is as glamorous and elegant as Bard notoriously insisted everything at the hotel was, a chronic optimist with a tendency to perhaps gloss over any misfortunes or improprieties, now instrumental in the hotel's illustrious reputation. The Bard Room accommodates 100 guests, while several other venues, The Tea Room, The Piano Room, Cave a Vin, Solarium Bar, and the Cervantes Room (adjacent to El Quijote) cater to smaller parties, ranging from 10 to 75 individuals.
Café Chelsea is open seven days a week for breakfast, brunch, lunch, and dinner. With the holidays approaching, they are not planning any specific events, but since they are open 365 days a year (barring private events), there will be special menu additions on days that command them. But a meal at Café Chelsea doesn't need any special holiday accoutrements to feel festive: It is dinner and show—a story, experience, and memory—all wrapped up in a delicious repast.
—END—
Chelsea Community News is an independent, hyperlocal news, arts, events, info, and opinion website made possible with the help of our awesome advertisers and the support of our readers. Our Promise: Never a paywall, no pop-up ads, all content is FREE. With that in mind, if circumstances allow, please consider taking part in our GoFundMe campaign (click here). To make a direct donation, give feedback, send a Letter to the Editor, or contact our founder/editor, email Scott Stiffler via scott@chelseacommunitynews.com.
To join our subscriber list, click here. It's a free service providing regular (weekly, at least) Enewsletters containing links to recently published content. Subscribers also will be sent email with "Sponsored Content" in the subject line.  That means it's an exclusive message from one of our advertisers, whose support, like yours, allows us to offer all content free of charge.