Here's What's Happening In & Around Chelsea
Pick of the Week / Election Day / Free Flu Vaccines / Community Cleanups / Carri Skoczek: Portraits at Hudson Guild's Guild Gallery II /  
PICK OF THE WEEK: Chilifest
Saturday, November 11, 12-5pm on West 15th Street (btw. 9th & 10th Aves.)
After a nearly decade-long absence—during which it's said some participants never stopped doing that thing where you wave your hand back and forth after eating something really hot—Chilifest festivities are back, filling West 15th Street with food and drinks from Chelsea Music Hall, live music, and games. What's more, 100% of the proceeds go to charities chosen by Chelsea Market and event presenter the Meatpacking District Management Association as well as participating chefs.
Your ticket gets you unlimited samples of unique chili creations from chefs including Jake Dickson, Barbara Duarte, Harris Mayer-Selinger, Jimmy Rizvi, Jared Howard, Leticia Skai Young-Mohan, Ken Baker, Peter Tondreau, and Victor Huang. For tickets ($25 in advance, $35 day of), click here. Note: Chilifest is a public outdoor event open to all and will proceed rain or shine.
ELECTION DAY is Tuesday, November 7 / Polls are Open 6am-9pm | On Tuesday, November 7,  New York City will vote in a primary election for City Council, judges, and ballot proposals. Notes nycvotes.org, "there may be additional non-city offices [District Attorney, Civil Court Judges] on your ballot depending on your political party and where you live." With Early Voting having ended on November 5, the 7th is your last chance to vote via the brick and mortar method. Find your Election Day pollsite and access a sample ballot at findmypollsite.vote.nyc/. You'll need your building/home number, street name, and zip code.
Two Free Flu Vaccine Opportunities: November 9 & 13 | "As the weather gets colder, it's important to stay healthy, and protect yourself from the annual flu virus," says NYS Assemblymember Tony Simone, adding, "I am sponsoring two flu vaccine events in the month of November." The first takes place on: Thursday, November 9, 10am-2pm at Hartley House (413 W. 46th St.). Register at this link. The second event takes place on Monday, November 13, 10am-2pm at Penn South's Community Room 8A (343 Eighth Ave.). Register at this link.
ONGOING
Community Cleanups in Chelsea, Hell's Kitchen & the West Village: November 19 & Dec. 3 | NYC Council Member Erik Bottcher's  partnership with the Sanitation Foundation and the people of Council District 3—in which folks fan out across their neighborhoods to show litter the business end of a garbage bag—returns for a slew of fall dates. Gloves, bags, and tools will be provided. Here's where to meet at 11am: In Chelsea, at the northwest corner of 23rd St. & Eighth Ave. In Hell's Kitchen, at the northeast corner of 47th St. & Ninth Ave. In the West Village, at Abingdon Square (Eighth Ave. & Hudson St.). Gloves, bags, and litter collection equipment will be provided.  To sign up, click here.
Carri Skoczek: Portraits at Hudson Guild's Guild Gallery II (119 9th Ave. ): On View Through November 21 | This exhibit features a selection of women's portraits from several series by Skoczek: Fallen Women (based on Bellocq's photographs of Storyville prostitutes); Soiled Doves (based on photographs of prostitutes from the early wild west, female circus performers, and Alice in Wonderland). "The inherent sensuousness of drawing the portraits with her fingers, using pearl powders on top of wet relief printmaking ink," the curators note, "enhances the lusciousness of the drawings and subject matter." Viewing Hours: Tues. through Fri., 10am-5pm and Sat., Nov. 11 & 18, 2pm-5pm. Free admission. For info, call 212-760-9837 or click here to view exhibit info on the Hudson Guild website.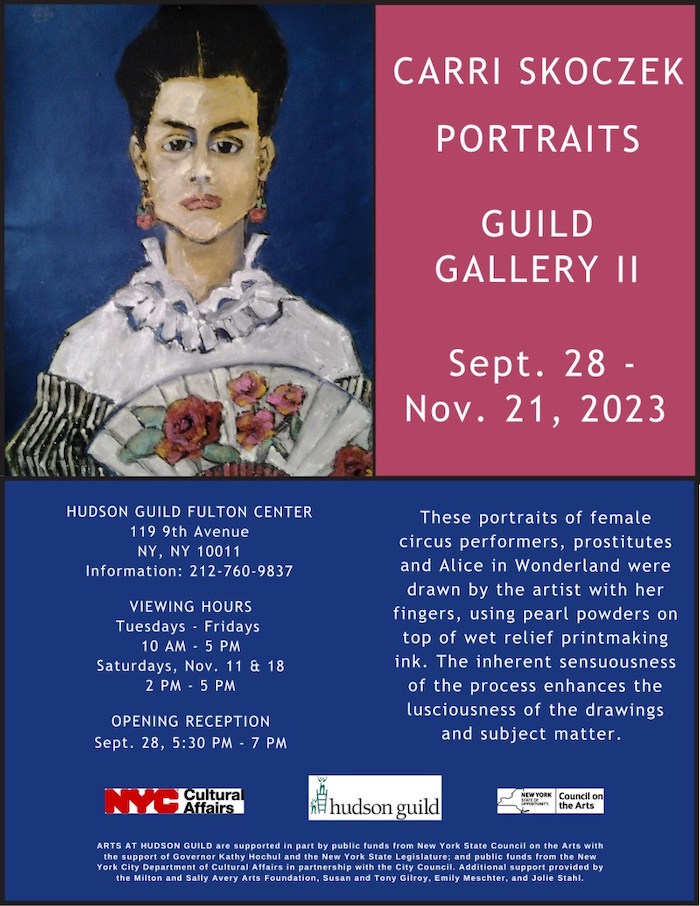 —Listings Compiled by Scott Stiffler
—END—
Chelsea Community News is an independent, hyperlocal news, arts, events, info, and opinion website made possible with the help of our awesome advertisers and the support of our readers. Our Promise: Never a paywall, no pop-up ads, all content is FREE. With that in mind, if circumstances allow, please consider taking part in our GoFundMe campaign (click here). To make a direct donation, give feedback, send a Letter to the Editor, or contact our founder/editor, send an email to Scott Stiffler, via scott@chelseacommunitynews.com.
To join our subscriber list, click here. It's a free service provding regular (weekly, at least) Enewsletters containing links to recently published content. Subscribers also will be sent email with "Sponsored Content" in the subject line. That means it's an exclusive message from one of our advertisers, whose support, like yours, allows us to offer all content free of charge.