Here's What's Happening In & Around Chelsea
Free Flu Vaccines / CB4's Transortation Planning Committee Meets / Congrats to the 10th Precinct's CO / Home Spun / The Four Elements of Leigh Li-yun Wen: Opening Reception  / West Chelsea Festival of Art / Down to Earth Farmers Market Chelsea / Community Cleanups /   
Free Flu Vaccine: Monday, November 13 | "As the weather gets colder, it's important to stay healthy, and protect yourself from the annual flu virus," says NYS Assemblymember Tony Simone, adding, "I am sponsoring two flu vaccine events in the month of November." Monday, November 13, 10am-2pm at Penn South's Community Room 8A (343 Eighth Ave.). Register at this link.
Manhattan Community Board 4 (CB4) Transportation Planning Committee (TPC): Wednesday, November 15, 6:30pm Online & In-Person | This committee meets monthly to review applications for street closures and consider permits for anything placed on a sidewalk (newsstands, phone booths, etc.). It also works with the NYC Dept. of Transportation (DOT) to consider street design and traffic pattern changes. Its advocacy for improved transit services is where Agenda Item #1 comes into play: TPC committee members will discuss—and then vote—on installing elevators at West 23rd Street subway stations (Sixth & Eighth Aves.), an action local disability advocates say is long overdue. to read a recently published Letter to the Editor on that topic, click here. Elsewhere on the agenda, veteran (some would say "iconic") NYC traffic guru (some would say "expert") Sam Schwartz (aka "Gridlock Sam") will give an Informational Presentation touting the benefits of daylighting for street safety.
Two matters are taken up by a discussion, followed by a vote: The DOT's proposed rules on outdoor dining and NYC Council Int. No. 758—a proposed local law to require every bicycle with electric assist, electric scooter, and other legal motorized vehicles be licensed and registered. To attend via Zoom, click here for the registration link. To attend by telephone, dial 646-518-9805 (Webinar ID: 973 3488 0256). The meeting takes place at the CB4 office, 424 W. 33rd St. Suite 580). The public is encouraged to attend online—but if you prefer the in-person option, email CB4 Community Associate Janine Pretente-Yusuf at jpretente@cb.nyc.gov by 1pm, Tues., Nov. 14th. Also note: The meeting also livestreams on CB4's YouTube Channel, which only allows for viewing, not participation. Can't make any of these options as the event unfolds? View it on YouTube at your leisure, because all CB4 public meetings are recorded and archived, often within minutes of the event's conclusion. To visit the YouTube channel, click here.
Congratulations to the 10th Precinct's Commanding Officer, Robert Gault, who was recetly promoted from Captain to Deputy Inspector (as depicted in the below photo, from the 10th Precinct's Twitter–aka "X"– account). Congratulate the Captain–sorry, DEPUTY INSPECTOR–yourself, when he's expected to take part in Wednesday, November 29's 7pm 10th Precinct Community Council meeting (details to follow in next week's edition of our This Week In & Around Chelsea events column).
"Home Spun" School Fundraiser: Wednesday, November 15, 3-6pm. | See the below flyer for details.
The Four Elements of Leigh Li-yun Wen | Opening Reception Thursday, November 16, 6-8pm | Western cosmology's four elements—earth, air, fire, and water—are considered by artist Leigh Li-Yun Wen, who adds her own cultural and personal history to these constructs. Having grown up on the island of Taiwan—and launching this exhibition on an island just off the coast of America, it's no wonder water accounts for much of what Wen presents at Chelsea's Fremin Gallery. Rendered in colors and tones that draw the viewer into water worlds alternately choppy and serene, the press material notes, invoke "the ebb and flow of competing cultures" felt by this "Taiwanese- American artist who has spent many years in both countries." Regading achieving the stunning effects that draw viewers into the world of her large mixed media pieces, says the artist, "I carve into the paint with a stylus to bring forth the individual lines that are the central motif of my work." notes the artist. The result, say exhibition organizers, is the creation of "depth and swells on the painted surface" that fill "fundamentally autobiographical" work with "simplicity and harmony" existing within "the chaos of the world." Opening reception on Thursday, November 16, 6-8pm, with the artist in Attendance. Exhibition on View Through December 31 at Fremin Gallery (ground floor, 520 W. 23rd St. btw. 10th & 11th Aves.). To vist the gallery website, click here. To RSVP to Nov. 16's opening reception, click here.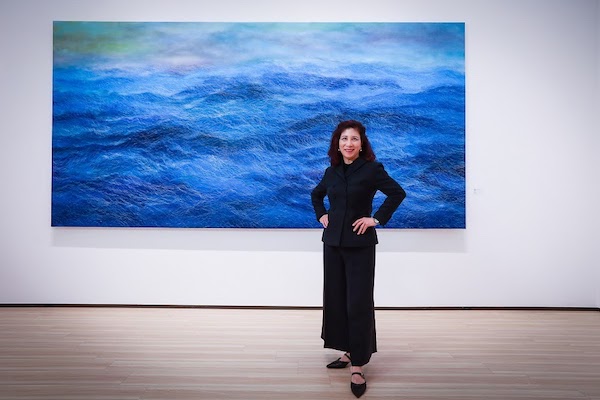 West Chelsea Festival of Art: Through Friday, December 1 at the West Chelsea Building (508-526 W. 26th St. btw. 10th & 11th Aves.) | This community-based arts festival celebrates the creativity and culture of the West Chelsea arts district throughout the month of November. The festival will highlight and showcase a curated selection of events and programs from over 100 participating artists presenting artworks in the form of visual art, film, fashion, music, dance, spoken word, and performance (among other mediums). Featured works will address the public issues at the forefront of current creative discourse: Aupporting intersectional feminism, LGBTQ+ rights and representation, anti-violence, and anti-racism. Through artist talks, presentations, and demonstrations, attendees will glimpse behind the scenes of working studios and galleries, getting a personal peek at the inner workings of artists' process and production. For more information, click here to visit the festival's website.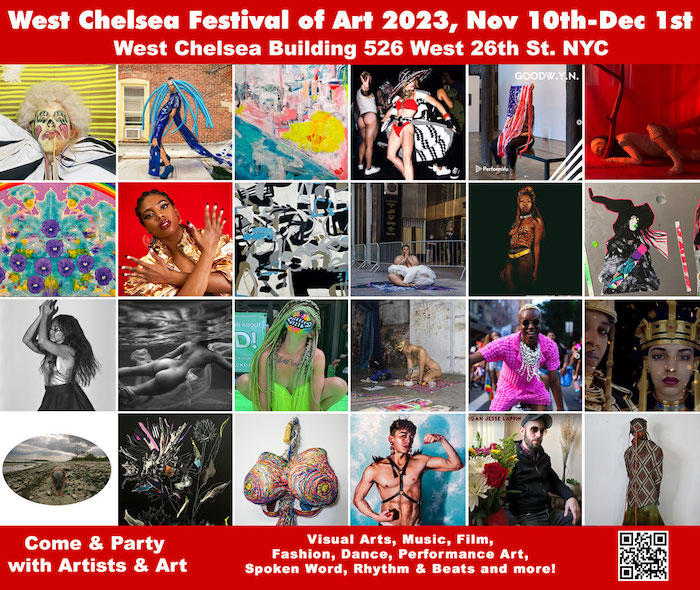 Community Cleanups in Chelsea, Hell's Kitchen & the West Village: November 19 & Dec. 3 | NYC Council Member Erik Bottcher's  partnership with the Sanitation Foundation and the people of Council District 3—in which folks fan out across their neighborhoods to show litter the business end of a garbage bag—returns for a slew of fall dates. Gloves, bags, and tools will be provided. Here's where to meet at 11am: In Chelsea, at the northwest corner of 23rd St. & Eighth Ave. In Hell's Kitchen, at the northeast corner of 47th St. & Ninth Ave. In the West Village, at Abingdon Square (Eighth Ave. & Hudson St.). Gloves, bags, and litter collection equipment will be provided.  To sign up, click here.
—Listings Compiled by Scott Stiffler
—END—
Chelsea Community News is an independent, hyperlocal news, arts, events, info, and opinion website made possible with the help of our awesome advertisers and the support of our readers. Our Promise: Never a paywall, no pop-up ads, all content is FREE. With that in mind, if circumstances allow, please consider taking part in our GoFundMe campaign (click here). To make a direct donation, give feedback, send a Letter to the Editor, or contact our founder/editor, send an email to Scott Stiffler, via scott@chelseacommunitynews.com.
To join our subscriber list, click here. It's a free service provding regular (weekly, at least) Enewsletters containing links to recently published content. Subscribers also will be sent email with "Sponsored Content" in the subject line. That means it's an exclusive message from one of our advertisers, whose support, like yours, allows us to offer all content free of charge.