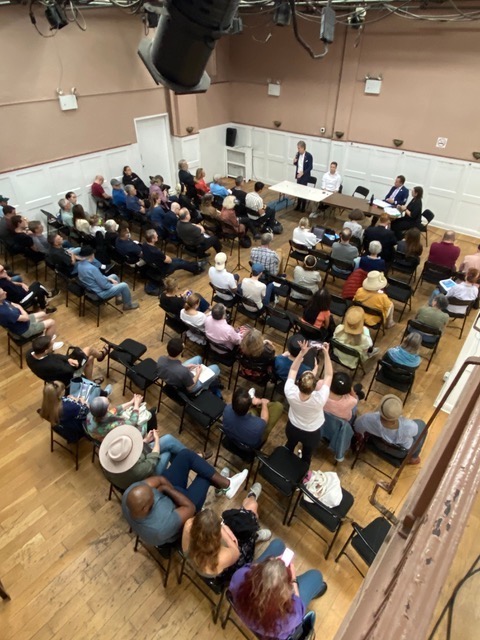 BY SCOTT STIFFLER| From an unqualified "Yes" on more affordable housing to thumbs way down on the notion of a West Side casino, the progressive stances embraced by a panel of elected officials aligned well with the expectations of constituents who spent the first warm, sunny Saturday in recent memory in the ground floor meeting room of Hartley House (413 W. 46th St., Hell's Kitchen).
Prone to applaud a panelist's plan of action and given to the occasional unsolicited comment of their own, the informed and engaged audience—well over 50 in number—came to September 28's Q&A-style Community Town Hall to hear viable strategies for addressing everything from retail store closures to NYCHA privatization to the quest to create a world-class Penn Station.
The event was hosted by NYS Assemblymember Tony Simone and co-sponsored by fellow panelists NYS Senator Brad Hoylman-Sigal, Manhattan Borough President Mark Levine, and NYC Council Member Erik Bottcher. Inge Ivchenko, president of the London Terrace Tenants Association (LTTA), served as moderator. (Adapting to the quirks of Zoom early on in the pandemic era's rise of the online gathering, Ivchenko's tough-but-fair style of interacting with participants made her the moderator of choice for local meetings and debates as presented by the LTTA, the Council of Chelsea Block Associations, and Chelsea Community News.)
As for the format at the Community Town Hall: Each panelist had two minutes for introductory comments, and 90 seconds to answer questions read by Ivchenko and submitted in advance by the public. Limited time allowed for just one question written by a constituent in real time, just before the 12-2pm event began. With approximately 15 minutes left in that allotted time period, panelists broke from the Q&A format to mingle with the audience.
If the collection of panelists seemed like a familiar sight, there was good reason. All Democrats prone to progressive public pronouncements and know for backing them up via proposed legislation, the foursome is often among those attached to the presentation of job/senior resource fairs, vaccination and paper shredding opportunities, and press conferences. "I think we talk and text every day," said MBP Levine of his working dynamic with Council Member Bottcher. Noted Bottcher of the four Democrats on the panel, it may not be widely known "just how much we work together as elected officials," citing as an example how one of the group often ensures their own meeting with City departments or community stakeholders is scheduled in a manner that allows the other three to attend.
That dynamic showed itself over the course of the afternoon, as work on any given issue was issues linked to past or pending action from each member of the panel. All four, for example, spoke at a press conference held outside the Hulu Theater on a cold January, 2023 day to protest facial recognition tech Madison Square Garden (MSG) uses to deny certain ticketbuyers entry. That issue—pressed in Albany by Hoylman-Sigal and Simone—would prove useful as a (lack of) character reference, when Council Member Bottcher, facing much pressure to do otherwise, successfully trimmed MSG's request for a special permit to operate in perpetuity to just five years (significantly less than previously granted periods of 50 and 10 years.)
In response to a question that solicited opinions regarding "casinos in Manhattan," Assemblymember Simone garnered applause for noting that "very few constituents want to see it," further noting, "I am personally opposed to a casino on the West Side." MBP Levine said it's "not too soon to ask tough questions" such as a casino's "impact on public safety," potential employment benefits, and what other uses there may be for any potential construction site. West 41st St. and 10th Ave., he noted, has been floated as a location, although, "We've not seen any proposals yet." Bottcher acknowledged this was merely a matter of time. Taking the audience through the vetting process, he noted a panel would examine any proposals before the matter went to the state level. With NYC mayor, NYS governor, and the proposed area's NYC Council Member, State Senator, Assemblymember, and Borough President all getting appointments to those panels, Bottcher said he'd be "surprised" if, ultimately, "any [casinos] get approved."
On the matter of Ebikes and the danger they pose to pedestrians via speed and reckless driving, Simone noted we "don't have the infrastructure" consistent throughout Manhattan to keep Ebikes off the sidewalk and onto a set path that minimizes contact with pedestrians. Simone referenced going-on in Albany, noting he introduced The Commercial E-Bike Licensing Act co-sponsored by himself in the Assembly and Brad Hoylman-Sigal in the Senate. (The Act would "amend the vehicle and traffic law and the administrative code of the city of New York, in relation to registration and commercial operation of electric assist bicycles.")
Simone also referenced his recent appearance at an LTTA tenant meeting, during which the notion of setting up a fund "to hire bike enforcers" was floated. Bottcher, noting "We've struggled to get enforcement" of laws already on the books, said a stand-alone unit (perhaps on Ebikes themselves?) could "assist the NYPD" and help "establish a culture of safety that other cities have." MBP Levine advocated for adding mopeds to the list of vehicles in need of regulation and enforcement, and noted the necessity to reign in retailers. "We've got to go to the point of sale," he said, to prevent the purchase of transport modes not permitted on the streets (and sidewalks) of NYC.
On Quality of Life topics: Simone, who recently did a walkthrough of West 42nd Street in front of the Port Authority Bus Terminal with elected officials, NYPD, the Department of Homeless Services, Department of Social Services, and the Port Authority's police force, identified that area as an ongoing source of public safety concerns. It's an area in league, he noted, with the infamous Chelsea corridor of Eighth Ave. between West 20th and 21st Streets. Despite the removal of scaffolding along the length of 205-207 Eighth—which was used to camouflage everything from drug deals to day drinking—that corridor retains its sketchy rep. Said Simone of Rainbow Station, the adult store (on the corridor) neighbors say is a North Star for all manner of QOL transgressions, "If I had my way, I'd close it."
Simone also noted that he and his colleagues in Albany have "tweaked" the much-panned bail reforms 2019, which continues to see criminals with long rap sheets back out on the street before the 10th Precinct's arresting Officers finish their paperwork. "We've funded more judges," said Simone, who noted those judges also have more latitude in, well, judging any given situation that comes before them.
MBP Levine noted that the behavior of many recidivists and unhoused individuals has a strong mental health element at play, and don't get the benefit of consistent hospital care. Bellevue, he said, has only three beds dedicated to long-term mental health patients—and Kings County Hospital Center, only 30. "We need probably 200 more," said Levine.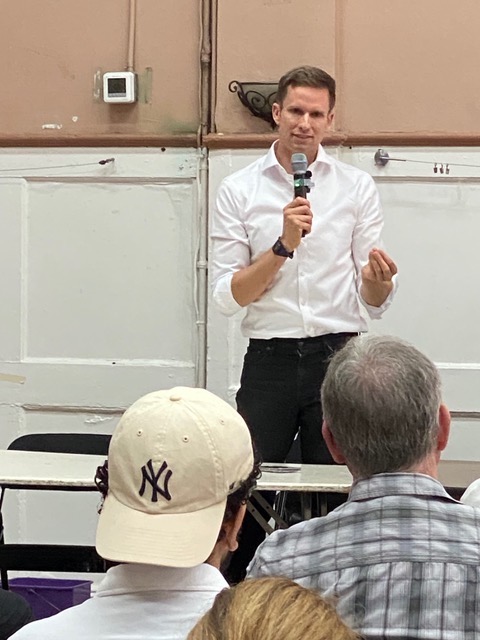 Council Member Bottcher fielded a question about the proliferation of Smoke Shops operating as illegal cannabis distributors. As they continue to flourish, "It's embarrassing that here, in New York, we can't [shut them down]." Just days after the Town Hall, Bottcher noted in an email to constiuents, "Today [Nov.1] at City Hall we introduced Intro. 1243, sponsored by Council Member Keith Powers and co-prime sponsored by me, that will introduce a new category to the Nuisance Abatement Law, making it significantly easier to padlock illegal cannabis stores. The bill would also create a new category of public nuisance for selling to anyone under the age of 21. Such activities would be subject to permanent and preliminary injunctions, temporary closing orders, and temporary restraining orders."
On the matter of building a better Penn Station and its intersecting with the "stay or go" scenario for Madison Square Garden (MSG), Assemblymember Simone referenced the plan first floated by NYC governor Andrew Cuomo before his shameful exit, and then picked up with inexplicable enthusiasm by successor Kathy Hocul. The plan claimed that Penn Station could be rehabilitated with tax dollars from supertall office towers to be built by Vornado Realty Trust, and called for the widespread destruction of nearby residences, houses of worship, and small businesses to make way for the coming corporate presence (invoking eminent domain when necessary, a technique firmly admonished and repudiated by Simone). After much resistance from a wide-ranging coalition of locals, historians, preservationists, electeds, and others, said Simone, "We moved the conversation away from one developer" to focus on taking Penn Station from its present underground presence to a welcoming, world-class destination to be anticipated instead of dreaded.
Calling this effort "the number one infrastructure project of the century," Simone said the variety of plans currently being floated must bend to "our main goal, which is, it serves our community, the residents, and the commuters… and I'm a strong advocate for through-running," (Through-running, notes infrastructure advocacy group ReThinkNYC, runs trains "through the station" as opposed to a terminal station, where "all trains share limited track access in and out…cutting off traffic to the station as a single train enters or leaves.")
Council Member Bottcher, whose District 3 area of coverage includes the neighborhood in question, recently had a decisive role in determining the immediate fate of MSG, the iconic—but, some say, not untouchable—sports and music venue whose application to continue operating just completed a vetting process which saw the City Planning Commission, Manhattan Community Board 5, and MBP Levine weigh in until the application's final fate rested via a City Council vote.
Concurrent to this months-long process was the gradual erosion of credibility for Gov. Hochul's plan, and the ascension of support for bringing Penn station out of the darkness—literally—by giving the subterranean structure that sits beneath MSG a street-level entrance and a new design that allowed for through-running. CB5's insistence that MSG must relocate to accommodate these scenarios is done shared by Bottcher, who told the September 28 town hall that ultimately, "MSG should be moved from on top of it [Penn Station]." Bottcher also referenced past decisive Council votes on MSG special permits (50 in 1963 and 10 years in 2013), noting he insisted on five years, so MSG—whose reps were asking for a permit in perpetuity—would come back to the Council before he and others involved in the decision were term limited out of office (thereby keeping pressure on MSG to meet certain expectations (such as cooperating with Penn Station as its own plans unfold).
MPB Levine, on the matter of Penn Station rehab, aligned himself with above-ground advocates, saying any new design should include "a grand entrance on Eighth Avenue" that will likely necessitate "knocking down the Hulu Theater" (aka the 5,500-seat Theater at Madison Square Garden).
Town Hall host Assemblymember Simone was vocally challenged—i.e., interrupted—several times by an audience member displeased with the growing likelihood that the New York City Housing Authority (NYCHA) will enter into a public/private partnership that will see the demolition of current buildings and construction of new ones at NYCHA properties in Chelsea. New buildings well-equipped with modern amenities would accommodate current tenants plus allow for market rate housing. When the dust settles, the private entity would act as management as well. But despite reassurances to the contrary, a group of NYCHA tenants and outside interest continue to regard the arrangement as a "land grab" that will ultimately see longtime tenants evicted from the premises.
"I understand why you have this fear," said Simone to the skeptical NYCHA tenant who insisted her NYCHA apartment was neither neglected nor in need of repair. "No one will be displaced," insisted Simone, adding, "I've seen the [anti-public/private] posters. Scaremongering won't work."
Also criticized by the woman who repeatedly challenged statements favorable to the public/private partnership arrangement was the effectiveness and scope of an awareness-building process leading up to participation in an online survey by NYCHA residents. (Some refer to the results of the survey as a "vote," language much criticized by opponents of the public/private partnership plan.)
As for the results of the survey, The Related Companies and Essence Development emerged as favored entities for enacting the Chelsea NYCHA project. Simone noted that some 30 percent of eligible NYCHA voters took part in the vote—a turnout, he pointed out, that's "higher than most local elections."
"You're doing this for Related," said the resident, who repeatedly asserted the plan will leave longtime NYCHA residents living off-site or without any home at all. "We're working with [the] Legal Aid [Society]," noted Simone, to ensure an outside party will review and approve as legit the paperwork that NYCHA residents sign in order to be moved during construction, and welcomed back into a new apartment that can be passed down to others eligible for succession. "The elected officials," insisted Simone, "have the back of every NYCHA resident."
MBP Levine spoke to the public/private model as the only currently viable way to fund decades-old needed repairs, crumbling infrastructure, and lack of resources for future needs. "We have to acknowledge," said Levine, "that the federal government is not going to save us."
At this point in the event, a late arrival: New York State Senator Brad Hoylman-Sigal, who apologized profusely and gave as an explanation the obligations of parenthood to suffer the infamously glacial pace of Manhattan vehicular traffic as one goes from "Hebrew school to Halloween" festivities. There seemed no love lost for the popular pol, as moderator Ivchenko gave Hoylman-Sigal his two-minute opening statement slot.
The State Senator referenced the E-bike legislation he's co-sponsoring with Simone, promising, if passed, "no more gasoline-powered mopeds" on City streets and sidewalks. Hoylman-Sigal also spoke of his Senate Bill S995B (aka the LLC Transparency Act), which would reveal the nature of business ownership ("A lot of our illegal cannabis shops hide behind LLCs," he noted).
Another question asked the panel what local and state officials are doing regarding the spate of shoplifting causing stores—in particular, pharmacies—to close.
"The retail landscape is changing," said Bottcher, with online sources making the brick and mortar store's profitability from sales of drug store products more challenging. This factor, it's been noted, may have more to do with a store's closing than the high cost of retail theft. Still, Bottcher acknowledged, crime continues to impact pharamacies, with more and more products either pulled from the shelves or put under lock and key. "I've challenged the [Manhattan] District Attorney to do more," said Bottcher, of drug store thieves repeatedly arrested and released. "We're talking 50, 100 times," said Bottcher, of some rap sheets. "The vast majority of shoplifting is done by a small number of folks… a lot are addicted to narcotics."
Hoylman-Sigal noted a need to close the "fencing loophole now" that protects online retailers—Amazon and Ebay among them—who sell products grabbed from pharmacy shelves.
Affordable Housing occupied a large part of the panel's concluding moments. Simone noted he is a "big supporter of Good Cause Eviction" as well as the use of "incentives to promote social housing… CB4 has a forward-thinking, progressive plan." Regarding 421A, Simone counseled tenants not to self-evict. "Call our office" before taking such action, he said, and you'll be connected to resources.
"If we don't take drastic action" on affordable housing, said Bottcher, "the affordability crisis we're facing now is going to seem like nothing." Noting the NYC population increased by 600,000 from 2010 to 2020 during which "only 210,000 units of housing were built," Bottcher suggested "We should allow multi-family units to be built" in locations not currently zoned for such construction.
Hoylman-Sigal said, "We need to protect the tenants who live in NYC," adding that he favors Good Cause Eviction. "We need to look at our laws around zoning," he said, noting a close to 18% commercial vacancy, "and build taller, where appropriate."
If you missed this Town Hall, take heart: Asseblymeber Simone noted it's the first of what will be many such gatherings geared toward the concerns of constituents. As for the panelists, here's how to reach them direcly.
CONTACT INFO
214 West 29th Street
Suite 1002
New York, NY 10001
212-807-7900
Fax: 212-243-2035
LOB 326
Albany, NY 12248
518-455-4941
Fax: 518-455-5939
District Office
224 West 30th St, Suite 1206
New York, NY 10001
Phone: 212-564-7757
Fax: 212-564-7347
Legislative Office
250 Broadway, Suite 1785
New York, NY 10007
Phone: 212-788-6979

DISTRICT OFFICE
322 Eighth Avenue, Suite 1700
New York,  NY 10001
Phone: (212) 633-8052
Fax: (212) 633-8096
ALBANY OFFICE
Legislative Office Building, Room 310
Albany,  NY 12247
Phone: (518) 455-2451
Fax: (518) 426-6846
Call 212-531-1609 or visit the Northern Manhattan Office at 431 West 125th Street.
Watch Out For More Co-Sponsored Events, Such As: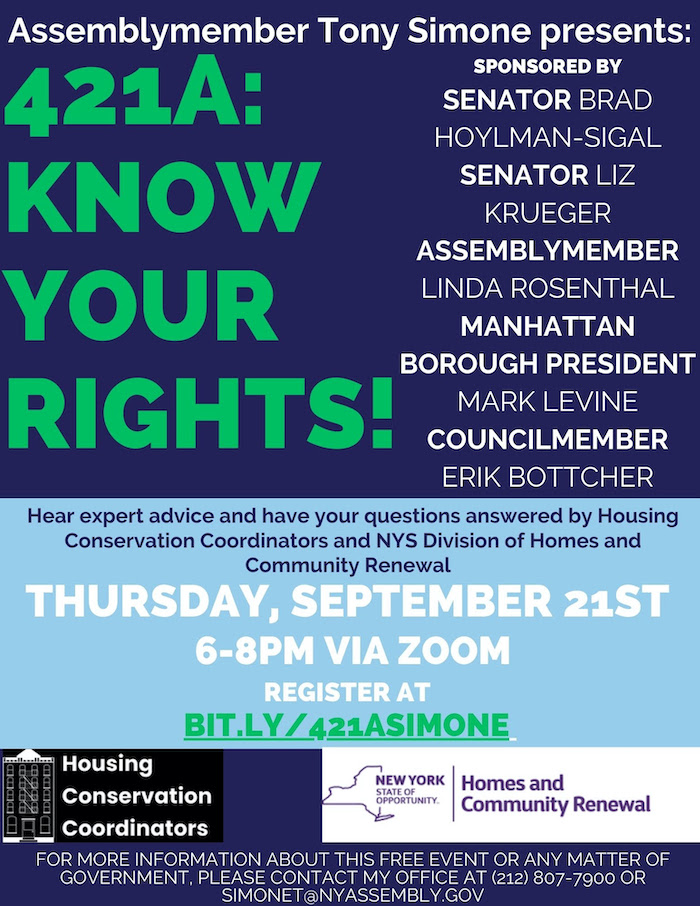 —END—
Chelsea Community News is an independent, hyperlocal news, arts, events, info, and opinion website made possible with the help of our awesome advertisers and the support of our readers. Our Promise: Never a paywall, no pop-up ads, all content is FREE. With that in mind, if circumstances allow, please consider taking part in our GoFundMe campaign (click here). To make a direct donation, give feedback, send a Letter to the Editor, or contact our founder/editor, email Scott Stiffler via scott@chelseacommunitynews.com.
To join our subscriber list, click here. It's a free service providing regular (weekly, at least) Enewsletters containing links to recently published content. Subscribers also will be sent email with "Sponsored Content" in the subject line.  That means it's an exclusive message from one of our advertisers, whose support, like yours, allows us to offer all content free of charge.