Here's What's Happening In & Around Chelsea
the 13th Precinct Community Council / West Chelsea Festival of Art / 10th Precinct Community Council & Build the Block Meetings / Community Cleanups /  The Four Elements of Leigh Li-yun Wen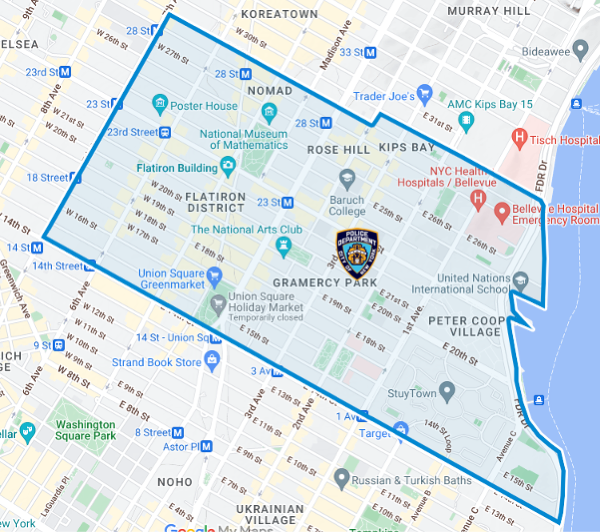 The 13th Precinct Community Council: Tuesday, November 21, 6pm at the 13th Precinct (230 East 21st Street) | These monthly meetings are your best bet for keeping abreast of what goes on in and around the easternmost parts of Chelsea covered by the 13th Precinct. The Council is presided over by its president, Serge Harnett, who fields questions from the audience answered by top 13th Precinct leadership, such as Deputy Inspector Daniel Orlando, the Commanding Officer. Hartnett also offers occasional comments, providing useful context/background info. Also typically on hand and apt to  contribute to the conversation are the Precinct's Community Affairs Officers and Crime Prevention Officer. In order to maximize their response to your concerns, the Council suggests sending along your questions as far in advance as possible. Do so via Detective Vincent Arlotta, at vincent.arlotta@nypd.org (these questions will be answered first).
West Chelsea Festival of Art: Through Friday, December 1 at the West Chelsea Building (508-526 W. 26th St. btw. 10th & 11th Aves.)
| This community-based arts festival celebrates the creativity and culture of the West Chelsea arts district throughout the month of November. The festival will highlight and showcase a curated selection of events and programs from over 100 participating artists presenting artworks in the form of visual art, film, fashion, music, dance, spoken word, and performance (among other mediums). Featured works will address the public issues at the forefront of current creative discourse: Supporting intersectional feminism, LGBTQ+ rights and representation, anti-violence, and anti-racism. Through artist talks, presentations, and demonstrations, attendees will glimpse behind the scenes of working studios and galleries, getting a personal peek at the inner workings of artists' process and production. For more information,
click here
to visit the festival's website.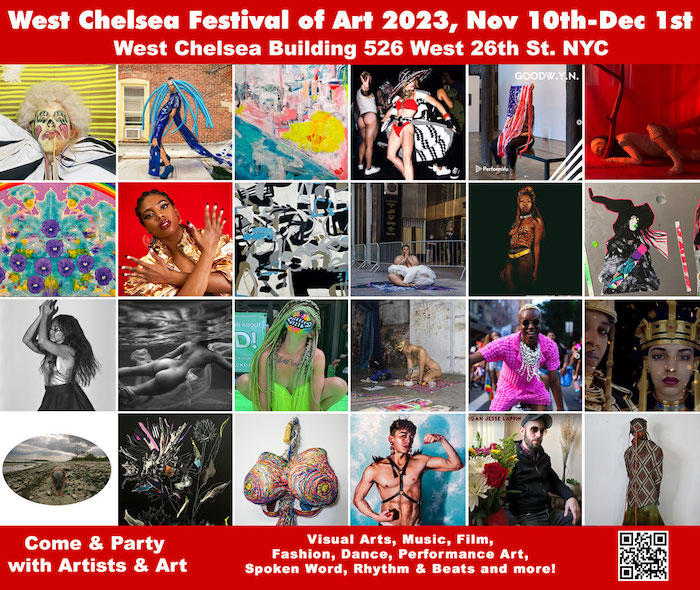 The 10th Precinct Community Council meets on Wednesday, November 29, 7pm Online via Zoom
AND
Two Upcoming 10th Precinct Build the Block Meetings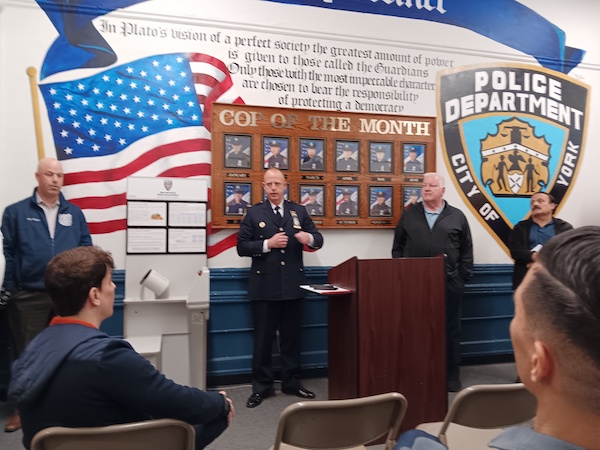 NOTE: On Nov. 24 came word that the Nov. 29 Community Council meeting has been cancelled. The Dec. 27 meeting is expected to take place as scheduled.
The citizen-run 10th Precinct Community Council meets at 7pm on the last Wednesday of the month. Council President Larry O'Neill hosts the event, which typically sees the 10th Precinct's Commanding Officer, Deputy Inspector Robert Gault, on hand to discuss the latest crime statistics, trends, and enforcement efforts. O'Neill then moderates a Q&A session in which Gault responds to attendee-posed questions. Electeds and City representatives are often in attendance, and usually amenable to taking questions from neighborhood residents, business owners, and other stakeholders who typify the turnout. Also likely to attend Council meetings, whether live or via Zoom (meetings have been in-person only lately) are 10th Precinct detectives, Community Affairs officers, and other staff, often called upon by Gault when the topic turns to their area of expertise. Note: Follow the Community Council on Facebook by clicking here. Also Note: In a November 21 email, O'Neill announced the November 29 meeting will take place online, via Zoom. To attend in that manner,  click here close to its 7pm start time. The Meeting ID is 827 1138 1738 and the Passcode is 389104. To attend by phone, dial 646-558-8656 (New York) or 646-931-3860 (US).
BUILD THE BLOCK MEETINGS | NYPD Build the Block meetings, held quarterly, provide an opportunity to interact with the two-person NCO (Neighborhood Coordination Officer) team responsible for their assigned sector. NCOs have dedicated hours every week during which they walk their sectors in order to create new contacts and strengthen existing relationships (and form new ones) with residents, business owners, and others. The 10th Precinct has three Sectors: A, B, and C—while the 13th Precinct, which is responsible for some sections of easternmost Chelsea, has four Sectors: A, B, C, and D. Our 10th Precinct Build the Block meetings are moderated by the pair of NCO's assigned to the particular Sector that meeting concerns–which means they arrive at the Q&A portion of the proceedings familiar with most of what comes their way. Click here to find your Build the Block meeting. Enter in your address, and the search result yields info on your Sector, along with contact info for your NCOs and the date/location of their next. As these dates are scheduled far in advance, the NYPD offers this caveat: "All meeting times, dates, and locations are subject to change. Please call your local precinct and speak to a Neighborhood Coordination Officer to verify correct meeting information." It's a good idea to check in on the day of the scheduled meeting, as plans do sometimes change on short notice (in which case the 10th Precinct's Twitter account, @NYPD10Pct, is a reliable source for last-minute info).
Below, find results of searches condutced on November 20, 2023, using the abovementioned methods.
The next 10th Precinct Sector B Build the Block meeting is Thursday, November 30, 5pm at Penn South (339 West 24th Street) / Sector B's area of coverage is the north side of W. 21st St. to south side of W. 29th St., from Seventh Ave. to the Hudson. Your Sector B Neighborhood Coordination Officers (NCOs) are:
PO Dylan Darnaud  |  Email: Dylan.Darnaud@nypd.org
PO Daniel Bavuso  |  Email: Daniel.Bavuso@nypd.org
The next 10th Precinct Sector C Build the Block meeting is Thursday, December 21, 5pm at 1 River Place / Sector C's area of coverage is W. 29th St. to W. 43rd St., Ninth Ave. to the Hudson. Your Sector C Neighborhood Coordination Officers (NCOs) are:
PO Marian Bencea  |  Email: Marian.Bencea@nypd.org
PO Daniel Sendrowski  |  Email: Daniel.Sendrowski@nypd.org
Community Cleanups in Chelsea, Hell's Kitchen & the West Village: Sunday, December 3 | NYC Council Member Erik Bottcher's  partnership with the Sanitation Foundation and the people of Council District 3—in which folks fan out across their neighborhoods to show litter the business end of a garbage bag—returns for a slew of fall dates. Gloves, bags, and tools will be provided. Here's where to meet at 11am: In Chelsea, at the northwest corner of 23rd St. & Eighth Ave. In Hell's Kitchen, at the northeast corner of 47th St. & Ninth Ave. In the West Village, at Abingdon Square (Eighth Ave. & Hudson St.). Gloves, bags, and litter collection equipment will be provided.  To sign up, click here.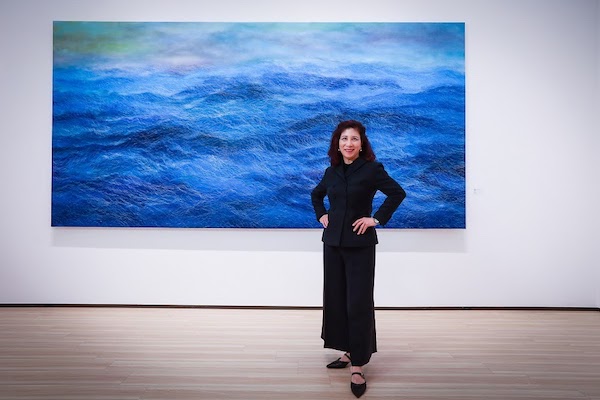 The Four Elements of Leigh Li-yun Wen | Through December 31 | Western cosmology's four elements—earth, air, fire, and water—are considered by artist Leigh Li-Yun Wen, who adds her own cultural and personal history to these constructs. Having grown up on the island of Taiwan—and launching this exhibition on an island just off the coast of America, it's no wonder water accounts for much of what Wen presents at Chelsea's Fremin Gallery. Rendered in colors and tones that draw the viewer into water worlds alternately choppy and serene, the press material notes, invoke "the ebb and flow of competing cultures" felt by this "Taiwanese- American artist who has spent many years in both countries." Regarding achieving the stunning effects that draw viewers into the world of her large mixed media pieces, says the artist, "I carve into the paint with a stylus to bring forth the individual lines that are the central motif of my work." The result, say exhibition organizers, is the creation of "depth and swells on the painted surface" that fill "fundamentally autobiographical" work with "simplicity and harmony" existing within "the chaos of the world." Opening reception on Thursday, November 16, 6-8pm, with the artist in Attendance. Exhibition on View Through December 31 at Fremin Gallery (ground floor, 520 W. 23rd St. btw. 10th & 11th Aves.). To visit the gallery website, click here. 
—Listings Compiled by Scott Stiffler
—END—
Chelsea Community News is an independent, hyperlocal news, arts, events, info, and opinion website made possible with the help of our awesome advertisers and the support of our readers. Our Promise: Never a paywall, no pop-up ads, all content is FREE. With that in mind, if circumstances allow, please consider taking part in our GoFundMe campaign (click here). To make a direct donation, give feedback, send a Letter to the Editor, or contact our founder/editor, send an email to Scott Stiffler, via scott@chelseacommunitynews.com.
To join our subscriber list, click here. It's a free service providing regular (weekly, at least) Enewsletters containing links to recently published content. Subscribers also will be sent email with "Sponsored Content" in the subject line. That means it's an exclusive message from one of our advertisers, whose support, like yours, allows us to offer all content free of charge.