BY CHARLI BATTERSBY | The Jewish Comics Experience (or "JewCE") was announced before October 7, although the timing of the event is perfectly in tune with November 2023's zeitgeist. The Golden Age superheroes like Superman, Captain America, and Batman were all created by Jews in the late 1930s. This is neither a coincidence, nor revisionist history. Theses allegorical fantasies about super-powered people who fought evil were a direct response to the rise of the Nazis. On the weekend of November 12, the same spirit was in the air on West 16th Street at the Center for Jewish History.
This is the first year for the JewCE, a smaller comic book convention with a focus on comics that have Jewish themes or creators. It was a two-day event which began Saturday night with the "JewCie Awards" ceremony, where notable comic creators were honored for achievements in the industry. Artist Honoree of the Year was Asaf Hanuka, an Israeli comic book writer, artist, and illustrator living in Tel Aviv. Among the others was Trina Robbins, honored for her 50 years of work in the industry.
On Sunday, the Center for Jewish History was converted into a convention center, with comics vendors selling memorabilia and indie comics. There were also panels running simultaneously throughout the day, with one room dedicated to kid-centric content. A 10am panel, Jewish Folklore in Comics, featured Robbins as part of a four-person panel moderated by Jewish pop culture expert Eddy Portnoy.
The traditional superhero genre is, of course, only one of the many kinds of stories told via comics. Robbins pointed out that as young woman working in the industry, she had to insist to comics publishers that girls do read comics, albeit generally not superheroes back then. She cited numerous classic comics that appealed to girl readers, including Marvel's long-running Pasty Walker series. In a funny moment, Robbins was disappointed when fellow panelist, Chanan Beizer, told her that Patsy Walker was eventually turned into a costumed superhero in the Avengers franchise.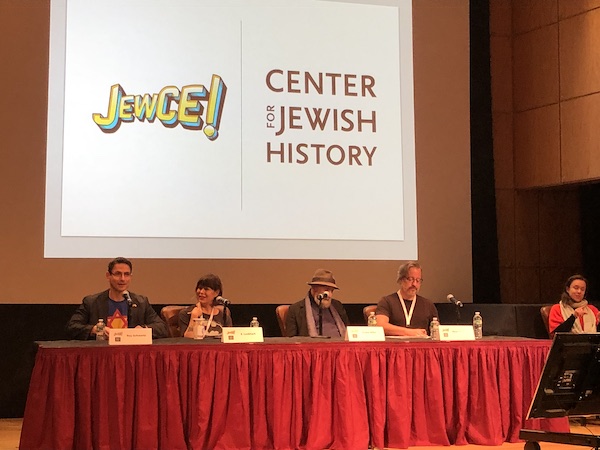 Not all of the comics celebrities were Jewish. Frank Miller, a self-described "Irish boy," joined a panel called From Strength to Strength: Jewish Superheroes Through the Ages! Miller pointed out how he infused his run on Daredevil with Catholic themes, a rare example of overt religion in a superhero comic at the time.
When Miller was asked who his favorite Jewish superhero is, he answered, "Superman." This is a bit of an impish response; Superman's religion has been left vague. There are several other superheroes who are specifically Jewish according to the dialog in their comic (The Thing from Fantastic Four, The Atom, Kitty Pride), but the flagship characters are often unspecified.
Superman's adoptive parents, Ma and Pa Kent, could possibly be part of a small Jewish community in the Protestant heartland of Kansas, as Miller says. And other heroes like Spider-Man and Captain America are both nice young boys from New York's outer boroughs (and created by Jewish writers).
Later in the day was a panel on Breaking the Mainstream: Getting Past Ashkenormativity and Secularism in Comics. This refers to the tendency in media to depict Jewish characters as belonging to the European "Ashkenazi" group. The panelists included comic creators of Sephardic (North African) decent, as well as Native American, British/Iraqi, and Hawaiian Jews.
Also discussed in this panel was how Jewish characters are usually depicted as not engaging in devout religious belief, aside from "Special" issues set during Hanuka. Daniel Lobell, a comedian and comic book writer, even noted how there is discrimination against religious Jews within the Jewish community itself.
People who attended the JewCE could also visit an interactive exhibition called The Museum and Laboratory of the Jewish Comics Experience. People who missed the con can still catch the exhibition, which is running through the end of December. Aside from original art from Golden Age comics, it also has a reading library for people get some hands-on with comics. For kids, there is an interactive area where youngsters (and grown-ups) can dress up in superhero outfits, and take pictures in front of comic book cover backdrops (making it worth the visit just for Instagram fodder).
This exhibit also has an incredibly rare copy of the original Reign of the Superman illustrated short story by Jerry Siegel and Joe Shuster. A self-published fanzine by the creative duo which predates their work in comic books by five years, it's a must-see artifact for any hardcore Superman fan.
The Center for Jewish History is located at 15 West 16th Street. Admission through Dec. 31 is free. Hours: Mon-Wed: 9:30am-4:30pm; Thurs: 9:30am-8pm; Fri: 10am-3pm; Sat: Closed; Sun: 11am-5pm. To visit the Center's website, click here.
On view in the Rosenberg and Winnick Galleries, Mezzanine
The Museum and Laboratory of the Jewish Comics Experience is a three-part exhibit introducing the public to the vast and rich world of Jewish comics. The Museum presents five micro-exhibits, curated by the Center's five Partner institutions, on various topics of the Jewish experience in the comics medium. The history of comics that it is, in many ways, a history of the modern Jewish experience. The Laboratory features exercises in character creation, storyboarding, and iconography. Visitors are invited to pick up the tools of the trade and write and draw, in or outside the box—literally and figuratively. The Laboratory additionally includes a dress-up photo op area, inviting visitors to create their own superheroes and engage in imaginative cosplay. The exhibit also provides visitors access to the Jewish Comics Experience Reading Library, where they can relax, browse, and read Jewish comics from the last 100 years.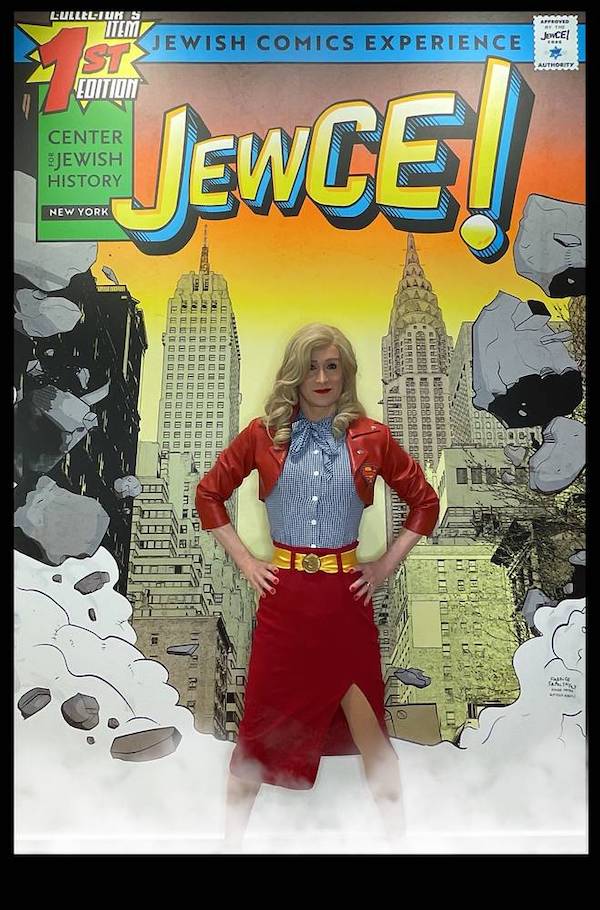 —END—
Chelsea Community News is an independent, hyperlocal news, arts, events, info, and opinion website made possible with the help of our awesome advertisers and the support of our readers. Our Promise: Never a paywall, no pop-up ads, all content is FREE. With that in mind, if circumstances allow, please consider taking part in our GoFundMe campaign (click here). To make a direct donation, give feedback, send a Letter to the Editor, or contact our founder/editor, email Scott Stiffler via scott@chelseacommunitynews.com.
To join our subscriber list, click here. It's a free service providing regular (weekly, at least) Enewsletters containing links to recently published content. Subscribers also will be sent email with "Sponsored Content" in the subject line.  That means it's an exclusive message from one of our advertisers, whose support, like yours, allows us to offer all content free of charge.