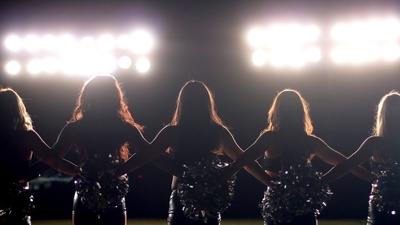 TRIBECA FILM FESTIVAL REVIEW BY CHARLES BATTERSBY | Being a "professional cheerleader" isn't quite what people think it is. The job comes with fame, social status, and a great outfit. But "wealth" isn't part of the package. NFL cheerleaders have filed several lawsuits claiming they were underpaid for their work, and "A Woman's Work" chronicles several of these suits, and the women behind them.
Much of the film goes over things that are public record, even recent newsworthy events. The narrative bounces between several suits, one of which is settled quickly, while the others become drawn-out fights. The filmmakers interview the cheerleaders who initiated the legal proceedings, and the documentary looks at what drives someone to become a pro cheerleader in the first place, and ultimately how they became litigiously disillusioned.
Through interviews with a former Buffalo Jill and an Oakland Raiderette, audiences see that a cheerleader's life is less glamorous than viewers might expect. Each NFL team handles its own cheerleaders differently, and there is no unified set of rules governing who shakes the pompoms, or how much they get paid. However, there are some things in common between the different teams—notably, that being an NFL cheerleader isn't a full-time job, and that the ladies receive a modest stipend for their work, which usually comes out to well below minimum wage (especially when mandatory practices are factored into hours worked).
The filmmakers give ample screen time to the counterpoints, too—several people interviewed note that NFL cheerleaders are the lucky few who get to do a high-status job. For every girl who makes the squad, there are dozens who try out and get rejected (not to mention many more who dream of the job, but never have the courage to try out).
Some of the fans interviewed say that they don't even notice the cheerleaders. Elsewhere, team owners question what tangible financial value the cheerleaders provide to the teams. The movie also notes that the owners of the Buffalo Bills had so little need for their cheerleaders that the Buffalo Jills were disbanded entirely (right up to the time of this writing).
The tale has a bit of "David versus Goliath" to it. However, this story of "Scrappy gals in hotpants versus the NFL juggernaut" isn't particularly compelling, because the case is a legal slam-dunk. Shortly into "A Woman's Work" the filmmakers make these underdog cheerleaders seem like they are inevitable victors.
Lawyers interviewed for the film, who worked on the cases, make an irrefutable legal argument that the cheerleaders are being underpaid. One of the cases was quickly settled while the film was being shot, complete with shots of a triumphant cheerleader opening her settlement checks.
The filmmakers also tie this issue into other NFL problems with women. One sequence points out the NFL's tepid response to players who have been accused of domestic violence. Later, the matter of the Me Too movement and NFL executives is brought up. There are also references to the 20th century housewife stereotype, and the accompanying notion that a woman's work is inherently of less value than a man's.
"A Woman's Work" doesn't add much to the discussion about the wage gap, or the Me Too era. However, it can be a learning experience for people who wondered about the women behind the poms, but never asked.
–Runtime: 80 minutes
–Directed by Yu Gu
–6:45pm Wed., 5/1 and 3:45pm Sat., 5/4, at Village East Cinema
The 18th annual Tribeca Film Festival happens April 24 through May 5. Venues include Chelsea's SVA Theatre, Regal Cinemas Battery Park, Village East Cinema, BMCC TPAC, and the Tribeca Festival Hub. For info, and to order tickets, visit tribecafilm.com or call 866-941-3378. Matinee screenings are $12, evening and weekend screenings are $24, Tribeca Talks and Tribeca Immersive tickets are $40, and Tribeca Cinema360 tickets are $15. Discounted packages are available. Free Film Friday (free film screenings) is May 3. Twitter: twitter.com/tribeca. Facebook: facebook.com/tribeca. Instagram: instagram.com/tribeca. Hashtag: #Tribeca2019.
Chelsea Community News is made possible with the help of our awesome advertisers, and the support of our readers. If you like what you see, please consider taking part in our GoFundMe campaign (click here). To make a direct donation and/or send feedback about the site, send an email to Scott@chelseacommunitynews.com.