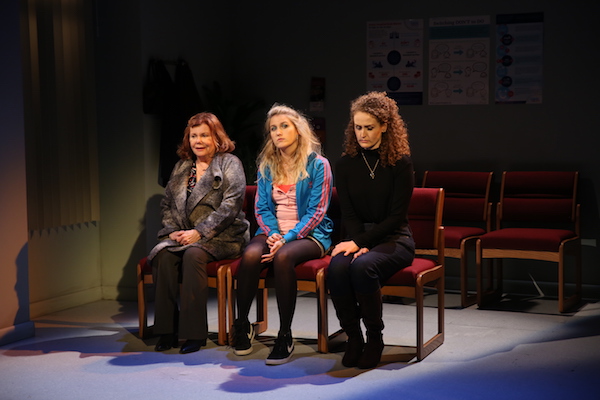 BY SCOTT STIFFLER | It's fitting that our first encounter with the three generations of North Dublin women in Elaine Murphy's heartfelt, heart-wrenching, often hilarious 2008 debut play, Little Gem, happens while they're hunkered down in the waiting room of a doctor's office—an environment that invites introspection and anticipates diagnosis, followed by, one hopes, a solid course of action to bring about change.
Ready or not, change is coming for restless, probably pregnant young Amber (Lauren O'Leary), her ready-to-take-a-chance-again mother, compulsive cleaner Lorraine (Brenda Meaney), and matriarch/caregiver Kay (Marsha Mason), who's literally itching "down there" from the lack of sexual intimacy with her rapidly slipping, post-stroke husband of 42 years, Gem (not the title character, and, like all of the play's men, integral to the plot but never seen on stage).
Told in a series of interlocking monologues—some during which a certain character is the sole occupant of the stage, some where one drives the narrative forward while the other two linger in the background, locked in contemplative repose—there's nothing small about the pleasures Little Gem provides, as a year in the life brings seismic shifts that cover all the biggies: birth, death, romantic love, conflict, and resolution (to the extent there can be such a thing, within the thorny, universally identifiable Neville family dynamic).
Chelsea Community News spoke with four-time Academy Award nominee and two-time Golden Globe Award winner Marsha Mason (The Goodbye Girl), whose portrayal of a woman "on the wrong side of sixty, but not dead yet" is anchored by deeply disturbing displays of grief, and crackerjack comedic timing that surfs waves of laughter with giddy aplomb. And she's hell on wheels, when it comes to milking swear words for maximum effect. ("He's not the easiest of patients," Kay says, of her husband. "He was never one for telly and he gets frustrated reading. In fact, to put it mildly, he's a cantankerous oul' fuck.")
Mason, who got the script just a week before rehearsals started, recalled her decision to take on the role: "I read the play and thought, this is a wonderful, terrifying challenge, and if I don't do this now, I'll never do it. And I can prove that a woman of my age and experience can, in fact, memorize that many words and perform them well. But it's been a thrilling experience, and it's great when you can challenge yourself, and meet that challenge. It makes a big difference."
Of shepherding script to stage, Mason said, "I use the same process I always have. I generally memorize by rote. I don't try to make emotional or dramatic choices while I'm memorizing. I just memorize the words, and just keep reading the script over and over again. And then, when I begin working with the director, of course, you start to make choices."
On top of everything else, Mason had to learn a North Dublin accent, "and I had not done that before. I have a fairly good ear, I think, and fortunately, I had a wonderful dialect person [coach] in Stephen Gabis," with whom she's worked on other scripts before, to master "Russian, English, Mid-Atlantic" accents."
Beyond the personal challenge, Mason said she was drawn to Little Gem because it balances, if not rebuts, the notion that "the Irish sort of hold everything close to the vest. And what's so interesting about the play is, in my first monologue, I'm telling everybody about my sex life and my stressful itches, and everything else. And then, of course, you have this outrageous response at the gravesite. So the material gives me a wonderful rainbow, if you will, of emotional life to fill, and feel excited about."
As for what else drew her to the work, Mason noted, "I loved the women in the play, and loved what the playwright had to say about the three generations of this female family. It's very hard to find wonderful material for women. It still is quite difficult." That's actually, Mason explained, "how the playwright came to write the play in the first place, as I understand it. She was an actor early on, and there wasn't much material for her own auditions in Ireland, so she wrote a monologue for herself. When she got hired, they asked where she got her material."
Playwright Murphy, Mason noted, worked for a social health organization in Ireland, "and she began to really pay attention to these women she would come into contact with in her regular job, and that's what sort of motivated her to write the play. It's quite popular in Ireland, and it's done often, because the material is so rich, I think. And so any of the monologues are wonderful audition pieces."
In addition to her storied career as an actor, Mason's directorial work includes Chapter Two and Steel Magnolias at the Bucks County Playhouse, the first female An Act of God with Paige Davis at the Arizona Theatre Company, and the world premiere of Tennessee Williams's Talisman Roses, starring Amanda Plummer, at the Tennessee Williams Festival in Provincetown, Mass. Her behind the scenes resume was furthered recently, when Mason worked on the Roundabout Theatre Company's production of All My Sons (which ended its Broadway on June 30).
That came about, Mason noted, "through my dear friend, [Sons director] Jack O'Brien, who felt he wanted to have an associate director who was a woman… He just thinks and feels that I tell the truth, and I am able to communicate to him what I'm seeing or not seeing, so he gave me this extraordinary opportunity. And it was a glorious experience for me, first of all because the cast was so gifted, and so wonderful to work with."
With ears and eyes on the rehearsal process, Mason "learned a great deal by observing Jack on a day-to-day basis—and the material! It's really interesting. These older plays, the structure and complexity of the relationships are just so rich. I sometimes feel that, not always, but some of the newer plays are very thin compared to, say Lillian Hellman and Arthur Miller. These playwrights knew structure in such an extraordinary way."
Seeking structure of her own during the putting-it-together process of Little Gem, Mason said her go-to haunts included Whole Foods, Trader Joe's, and Essen, when stocking up on take-out for those short breaks during rehearsals.
"It's a lovely area," she said, of this website's namesake neighborhood. "I had friends who lived I Chelsea, and still do, actually, so it's fun to get to know these different parts of the city when you have to go in on a daily basis [for work]… I discovered a restaurant called 'Zie' [Le Zie Trattoria, 172 7th Ave., btw. W. 20th & 21st Sts.], because you try to find a place where you can take friends, when they come to the theater. They're very nice there."
With Little Gem in now full bloom at the Irish Rep (it was recently extended through Sept. 8), Mason recalled her castmates as "both very helpful, in terms of telling me what Dublin was like, because Lauren and Brenda are both Irish. But Lauren, she's just been to this country a couple of years, so she was able to fill me in on a lot of the vernacular and sort of style of things in the various generations of women. It's so terrific to be able to work with two women who I have great respect for, and just absolutely adore. We've really bonded in a very special way, through this material."
Little Gem is performed through Sept. 8: Wed. at 3pm & 8pm; Thurs. at 7pm; Fri. at 8pm; Sat. at 3pm & 8pm; and Sun. at 3pm. At the Irish Repertory Theatre (132 W. 22nd St. btw. 6th & 7th Aves.). For tickets ($45-$70.00), call 212-727-2737 or visit irishrep.org.
Chelsea Community News is made possible with the help of our awesome advertisers, and the support of our readers. If you like what you see, please consider taking part in our GoFundMe campaign (click here). To make a direct donation, give feedback about the site, or send a Letter to The Editor, email us at Scott@chelseacommunitynews.com.