Since opening in 1998, Chelsea Wine Cellar strives to be the best wine shop in NYC. We have a wide selection of wines and spirits from the world's greatest regions and producers. We also have a collection of individually handpicked vintage wines. At Chelsea Wine Cellar, we endeavor to provide our customers with exceptional service and excellent prices. We are always working to improve our selection, and your suggestions are appreciated. Free delivery is available upon request.
LOCATION & HOURS:
200 West 21st St. (corner of Seventh Ave.)
Mon.-Thurs. 11am-10pm
Fri. & Sat. 11am-11pm
Sun. 12pm-8pm
Free Delivery Available
TO CONTACT:
Phone: 212-675-1813
Email: chelseawinecellar@gmail.com
REGULAR EVENTS: In-store tastings
SOCIAL MEDIA (click on the below to be taken to its destination)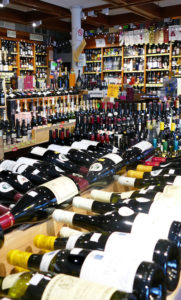 3 QUESTIONS, WITH OWNER SUN AE SONG
—When are your in-store tastings?
Everyone is invited to our wine and spirit tastings, which happen 5-8pm, on Friday or Saturday. Call us at 212-675-1813, to find out about the next scheduled tasting.
—Do you deliver?
Yes. Delivery is always free, for locations from
—You are celebrating your 21st year in Chelsea. Have you seen a change in your customer base over the years?
Yes. We have many regular customers who have been here even longer than we have. But in the past several years, we have noticed more and more young people coming into the store. Their tastes are sophisticated, and they know what they want—but we're always here to give advice.
This is sponsored content from Chelsea Wine Cellar. Look for their ad in our new monthly small business-themed eNewsletter.