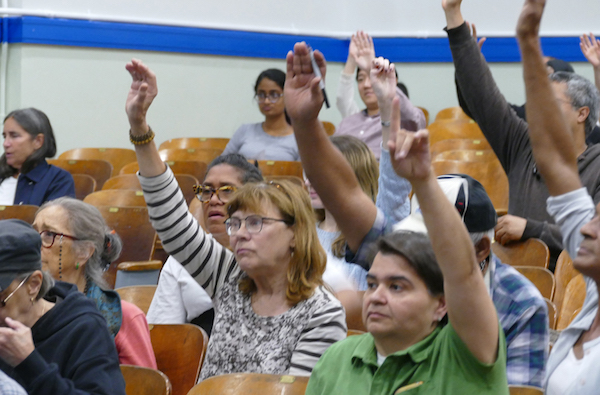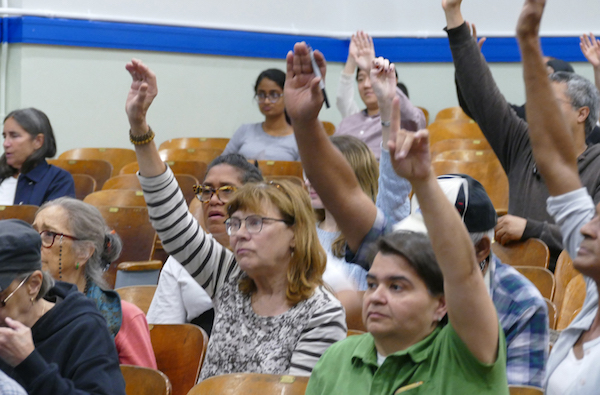 BY DONATHAN SALKALN | At a Wed., Sept. 18 town hall held in the auditorium of the elementary school PS33 (281 9th Ave. at W. 26th St.), well over 100 residents of Robert Fulton, Elliott-Chelsea, and Harborview public housing were presented with an alternative to a concept by the New York City Housing Authority (NYCHA) to shift residents at Fulton Houses (W. 16th to 19th Sts. btw. 9th & 10rg Aves.) to Rental Assistance Demonstration (RAD), a scenario that puts management of NYCHA buildings into the hands of the private sector.
Advocates in opposition called on those assembled to support the proposed "People's Budget"—which, they claim, could raise $390 billion, while keeping public housing public. Attendees were called on to consider the choices, and vote at meeting end. Their signatures of approval would be sent to elected officials.
The interactive and informative meeting was moderated by Fight For NYCHA's Luis Flores, with translation, via headphones, by Curly Concepcion of Elliott-Chelsea Houses (W. 25th to 27th Sts. btw. 9th & 10th Aves.).
"The city continues to claim that NYCHA needs $32 billion [over the next five years] for repairs," said Flores. "This includes having working elevators, having working heat and hot water, removing mold and lead paint, and fixing roofs and plumbing." Added Flores, "All this money exists. If the system won't give it, we have to get it for our selves—the People's Budget." He presented a PowerPoint display of the fundraising ideas, featuring the following.
Idea #1: Repeal of Co-op and Condo Tax Abatement for top 10% | The bill is legislative-ready, and sponsored by New York State Assemblymember Robert Rodriguez. Said Flores, "This would generate $170 million per year, and over 30 years, $3.3 billion bond issuance."
Idea #2: Create four new income tax brackets for millionaires | The bill is legislative-ready, and sponsored by New York State Senator Julia Salazar. It would generate $2 billion per year, with a $27 billion bond issuance. Said Flores, "If Julia Salazar can introduce this in Albany, what does it tell you about the City Council members here in New York City? They could do something similar."
Idea #3: Stop refunding the Stock Transfer Tax | The bill needs sponsorship by a member of the New York State Assembly or Senate. It would generate  $16 million per year and $220 billion in bond issuance. This idea was presented by Fulton resident Roberto Rodriguez, who graduated from PS33. Rodriguez related that, as a young student in the very same auditorium where he stood decades later, he heard Lincoln's Gettysburg Address, read by his friend Simon. Said Rodriguez, "In the speech, it says, 'Of the people, by the people, for the people'—and this is what this is all about."
Idea #4: Re-allocate $10 Billion from four new jails meant to replace Rikers Island | Needs a New York City Council sponsor. Said Marni Halasa, of Fight For NYCHA, "We are in an era that should end incarceration. The emphasis should be rebuilding NYCHA. Not building new jails."
Idea #5: 1 Percent Income Tax on corporations of a certain size operating in New York City | Needs a New York City Council sponsor. For just the top 25 corporations the bill could generate $10 billion per year, with a $130 billion bond issuance.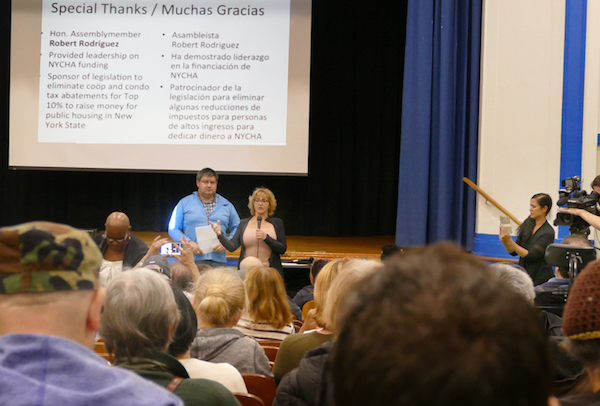 Many people came forward and braved the microphone. They gave their opinions on which of the above ideas they preferred, but their time speaking often veered to their current disapproval of NYCHA management.
Venus Rivera, a 22-year resident of Elliott-Chelsea, anguished, "When I moved in I felt so blessed and they were so different. Now we go to management and they treat you like garbage. We matter and we need to let them know that we matter. I will pray for us."
Another Elliott-Chelsea resident added, "They talk to us like we are not on the same level. We need to have improvement in the relations between the administration and the tenants."
Jay Espinosa, a Bronx NYCHA tenant, expressed his disfavor of NYCHA's seven-member board, four of whom are appointed by Mayor Bill de Blasio. "NYCHA should be managed and controlled by the tenants that live in NYCHA," Espinosa exclaimed. "Why can't we have a council made up of the presidents of every tenant association in the NYCHA developments—have them be the ones that manage NYCHA? Isn't that democracy?"
Albert, representing No New Jails NYC, insisted that money be spent on NYCHA after-school children's programs, and also NYCHA vocational grown-up programs, "in training tenants to do the repairs themselves, if they choose… There are a lot of possibilities," he said, with little hope. "We are not a priority."
Special to the evening was nine-year-old Kayla from Elliott-Chelsea, telling the group to work together. Then she yelled out a chant: "One, Two, Three, Four, Stop The War, On The Poor! Five, Six, Seven, Eight, The People Won't Take The Bait!"
At the town hall's conclusion, the "People's Budget" passed, and ballots were signed.
NOTE: See directly below, to access more reporting on this matter by Chelsea Community News (click on the headline, to be taken to the article). Following those articles, see more photos from the Sept. 18 town hall.
NOTE: Upon its original posting, this article noted the event was "made possible" by New York State Senator Julia Salazar, a statement by Flores that he later clarified to the reporter as consisting of Salazar's having "very graciously and generously committed to assisting with essential things, like outreach."
Eyebrows Raised at Fulton Houses, as NYCHA Proposes Razing Buildings, Relocating Tenants
CRDC Panel Sees City Reps, Residents, Advocates Discuss Future of Fulton Houses
CB4 Proposal Counters NYCHA's Vision for Demolition at Fulton Houses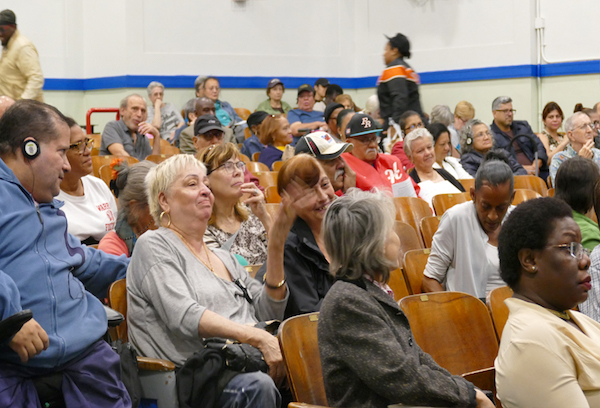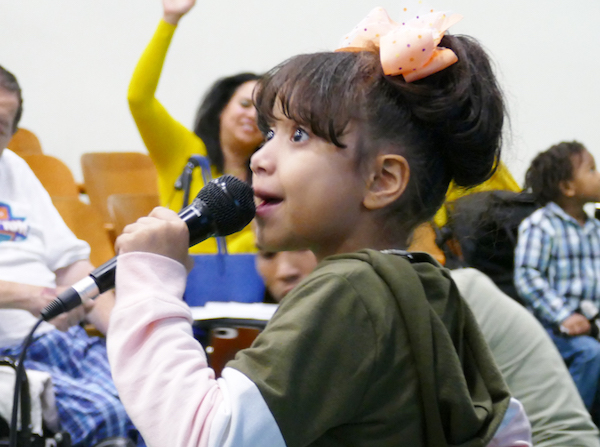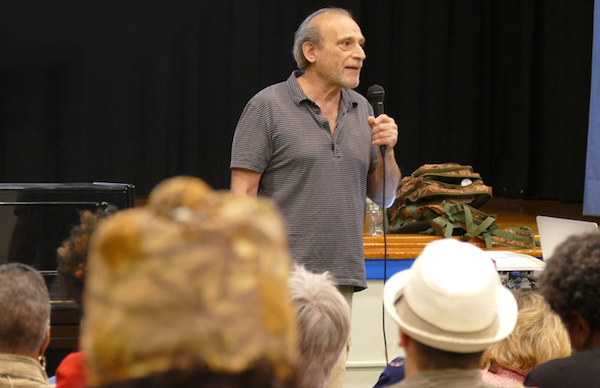 Chelsea Community News is made possible with the help of our awesome advertisers, and the support of our readers. If you like what you see, please consider taking part in our GoFundMe campaign (click here). To make a direct donation, give feedback about the site, or send a Letter to The Editor, email us at Scott@chelseacommunitynews.com.