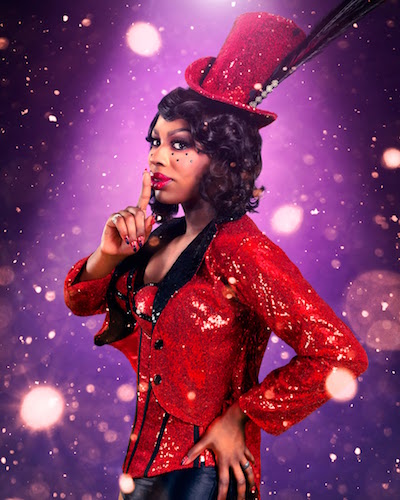 BY SCOTT STIFFLER | Sweetness, as her first name implies, is an essential ingredient in the Honey Davenport recipe for drag. But dig into any given slice of her perfectly baked pie, and you'll also detect distinct notes of purpose, pride, attitude, activism, and, yes, good old-fashioned filth.
Davenport's ability to serve substance alongside sugar elevates her drag from a mode of performance into an act of artistry, as we noted in our July 2019 review of the stage show Raw and Unfiltered (click here to access it).
That show, at W. 42nd St.'s Laurie Beechman Theatre, was among the best ever presented at the venue—which is saying something, since it's the performance place of choice for RuPaul girls, and other legendary must-see queens (such as former NYC mainstay Jackie Beat, the LA-based queen who will brings her 21st annual holiday show to the Beechman, Dec. 20-22).
With the bar set high from the buzz generated by Raw and Unfiltered, Davenport returns to the Beecham this week with the debut of her Christmas-themed extravaganza—an evening of stories and songs offering audiences a sugarplum vision of a world where naughty and nice peacefully coexist on the same Santa list.
Chelsea Community News recently spoke with the multi-talented LA-based artist about her last show, this new one, what's in the works, and what life's been like since rising to international notoriety, as a Season 11 contestant on RuPaul's Drag Race.
Scott Stiffler, for Chelsea Community News: The Laurie Beecham performance of Raw and Unfiltered was its world premiere. How did audiences in other cities react to its themes and aesthetics?
Honey Davenport: The most exciting part about sharing this content across the world was the experience of it being a call to action. What I mean is, sharing that message with a diverse audience allowed me to share what its like being a queer black man in America. Seeing a group of 40 white Australians get who I am and what my struggle is blew my mind, and it was so rewarding to see it expand theirs.
CCN: As a writer and performer, what did you take away from the Raw and Unfiltered experience?
DAVENPORT: I really made an effort with Raw and Unfiltered to share exactly who I am, without shame or embellishment. I was very nervous about this, as I was worried that it wouldn't be fun. It was the most honest theatre I ever created, and the audience response really showed me that I don't need to edit myself—I can be exactly who I am, and that's entertaining enough.
CCN: Skating as close to the edge of spoilers as possible, what can you tell us about the plot, songs, and stories of Stocking Stuffer—A Christmas Show with Balls?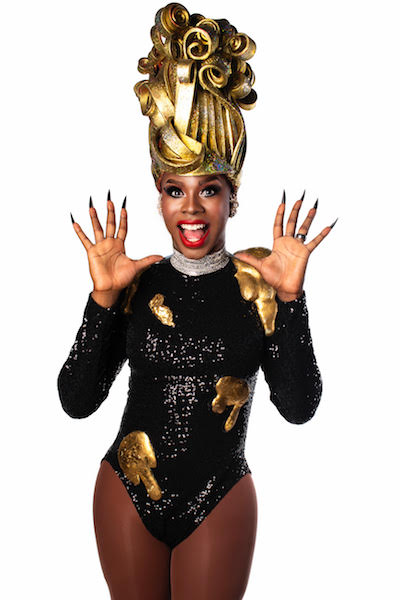 DAVENPORT: Stocking Stuffer is me sharing some of my favorite Christmas memories. They're honest, which means they are occasionally deeply filthy. I love the holidays in my own very weird and personal way, and my goal with the show is to share that with everyone.
CCN: What inspired you to create the show?
DAVENPORT: I really love the holidays. The opportunity to return to the lovely Laurie Beechman Theatre for a holiday show was too exciting to turn down. I actually flew in from LA just for the rehearsals and performances!
CCN: Stocking Stuffer is directed by Mark A. Dahl, with musical direction by Paisley Fields. Talk about how the three of you worked together, to create the show we'll be seeing.
DAVENPORT: I've worked with both of them a ton of times. Mark directed Raw and Unfiltered, and Paisley played piano in my Cabarets, and I consider both of them family. It is a labor of love on all three of our parts, and both of them have added so much to the experience. I may be center stage, but this is as much their show as it is mine.
CCN: What are your thoughts on RuPaul's Drag Race UK?
DAVENPORT: I was in Australia for most of the season, so I'm only now catching up, but I heard all the Tea. Sum Ting Wong is fucking Iant, and I can't wait to see more of her.
CCN: What Drag Race queens do you stay in touch with, and/or are especially close to?
DAVENPORT: Now that I live in LA, it is like the sickest sorority ever. I've gotten to know so many of them so well recently, but I've been chilling a lot with Eureka O'Hara. She's the kindest queen I've ever met, and I've really been enjoying getting to know her better. Also, Gia Gunn's cool.
CCN: What advice would you give to young people using drag as a means to explore their identity, and express themselves?
DAVENPORT: First: Don't be afraid to try it! Even if you don't like it, you'll have had a wild experience. Second: Don't let that wild experience and the glitz and glamour of it distract you from the artistry. Drag is at its best when it's both entertaining and powerful, and a medium for your personal art.
CCN: What projects are on your radar for 2020?
DAVENPORT: Mark Dahl's favorite way to mock me is to say, "Oooh, look at me, I'm Honey Davenport, I work for Fun!" It's better if you can hear the voice he makes, but trust me, its super funny and super mean. That being said, I have over a dozen projects already planned for 2020. These include: a movie, an album, a fragrance, more of my YouTube show, and activism. So yeah, my plate is already pretty full, and the year hasn't even started yet.
CCN: Please feel free to comment about anything not covered in the above questions.
DAVENPORT: I have a Christmas song written and produced by Boy Radio, that I'm debuting in the show and dropping on iTunes the week after. It's called Tie You Down for Christmas, and it's my answer to the distressing lack of overtly sexual Christmas carols.
Stocking Stuffer—A Christmas Show with Balls is performed at 7pm on Fri., Dec. 13 and Sun., Dec. 15, and at 8:30pm on Sat., Dec. 14. At the Laurie Beechman Theatre (inside West Bank Cafe, 407 W. 42nd St. at 9th Ave.). Tickets are $24 for general admission, $45 for VIP status (includes reserved seating and a meet-and-greet). There is also a $20 food/drink minimum. For reservations, call 212-352-3101 or click here. Artist info at officialhoneyd.com.
Chelsea Community News is made possible with the help of our awesome advertisers, and the support of our readers. If you like what you see, please consider taking part in our GoFundMe campaign (click here). To make a direct donation, give feedback about the site, or send a Letter to The Editor, email us at Scott@chelseacommunitynews.com.