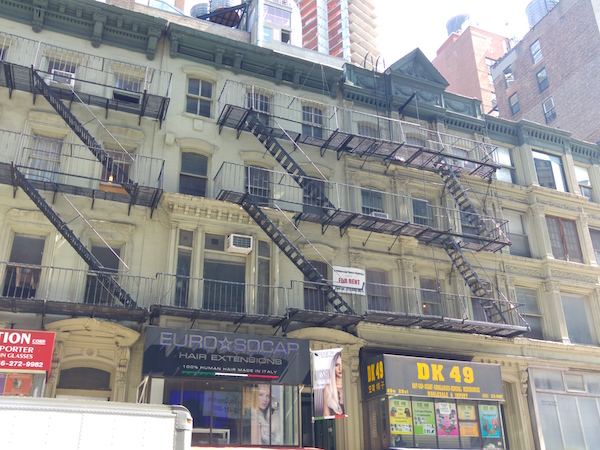 BY SCOTT STIFFLER | It's the kind of thing they write songs about: Late last year saw the longtime efforts of music lovers, history buffs, and preservationists rewarded, as the New York City Landmarks Preservation Commission (LPC) voted unanimously for the landmark designation of five buildings connected to the birthplace of American popular music.
The five mid-19th century Italianate row houses at 47-55 W. 28th St. were central to what would become known as Tin Pan Alley—home to sheet music publishers who "revolutionized the music publishing industry," as noted in an opinion piece written last May for Chelsea Community News by Sally Greenspan (a former board member of Save Chelsea, a preservationist-minded coalition whose advocacy contributed to the Dec. 10, 2019 LPC landmarking).
"They are part of an irreplaceable cultural history of New York City—and America," wrote Greenspan, who further noted, "African American songwriters and songwriters of Eastern European Jewish descent thrived here, and their creative and musical legacy is bound to these buildings."
Scott Joplin (Maple Leaf Rag), George M. Cohan (Give My Regards to Broadway) and Jack Norworth (Take Me Out to the Ball Game) are among those whose time on W. 28th St. left an indelible mark.
"The designation means that the origins of American popular music in Tin Pan Alley and New York City will be known and preserved for generations to come," said Save Tin Pan Alley project head George Calderaro, in a statement to Chelsea Community News.
Calderaro, who also serves as a board member of the 29th Street Neighborhood Association, further noted, "People the world over know the phrase 'Tin Pan Alley.' Now they will know what and where it was, and we will have the opportunity to share its rich and diverse history."
Laurence Frommer said Save Chelsea "applauds the recent designation of five important former row houses that capture the spirit and history of Tin Pan Alley, the birthplace of the American Popular Songbook, in a strong visual and meaningful way." Frommer also commended the work of Calderaro and associates at Save Tin Pan Alley and the 29th Street Association, who "spearheaded this latest attempt to preserve this important history and succeeded more than others before."
Flatiron/23rd Street Partnership BID executive director James Mettham said the organization "looks forward to celebrating these landmarked buildings, and providing excellent supplemental services to West 28th Street with the future expansion of our BID boundaries."
Touted by New York City Council Speaker Corey Johnson as "a big win for Council District 3," the landmarking was not without controversy.
A ny.curbed.com article published on the very day of the decision referenced an April 2019 LPC hearing, at which "a representative for Yair Levy, who owns one of the buildings, testified against the designation, arguing that designating the buildings would celebrate a history of bigotry that permeates the music published during this time."
This novel approach to refuting a landmarking effort (thus allowing owner Levy to do as he pleased with the properties) was repudiated by preservationists. While Greenspan noted lyrics to certain songs "had racial overtones, and elevated bigotry, and negative stereotypes with pejorative lyrics," she and other Tin Pan Alley advocates say this element of the area's history should be acknowledged, and taught, and strengthens the case for leaving the five buildings as they are.
As ny.curbed.com reported at the time of the April hearing, Andrew Dolkart (who teaches in the Columbia University Historic Preservation program) said, "It is true that every song published by companies located in these buildings would not be sung at a concert today, but to dismiss these buildings and the importance of Tin Pan Alley because of a few racist songs, is to completely misunderstand the preservation and the value of cultural landmarking."
The City Planning Commission has a tentative date of Feb. 5 to vote on the landmarking, with a deadline of Feb. 18. The New York City Council's deadline to vote is May 11. In the meantime, Save Chelsea says that with this anticipated win comes the challenge to further preserve the neighborhood's integrity.
"Without meaning to detract from this important accomplishment," said Frommer, "we wish that the historic designation in the area could be more extensive. Preservationists originally proposed that the Madison Square North Historic District would include the entire block in question—not just the row houses and, in fact, the two-block stretch of W. 28th St., from Sixth Ave. to Broadway, and on to Fifth Ave."
Little remains, said Frommer, to "remind our citizens of the days when Northern Chelsea and Madison Square were the city's Broadway theater district, and we hope the LPC will finally move to protect the other last vestige of that era, i.e. Koster and Bial's Corner Saloon, at the southwest corner of Sixth Ave. and W. 24th St."
There is also, Frommer said, "a need to continue to honor the substantial African American history of the neighborhood—and to that end, we hope the city will move to protect [former Public School 48] 120 W. 28th St."
Calderaro also notes there's more work to be done. Recently, he said, "We had a kick-off meeting of an in-formation committee I have dubbed the 'Tin Pan Alley American Popular Music District,' which will hopefully include a branch of the Grammy Museum, performance spaces and cabarets." Calderaro added that in addition to working with the "passionate individuals" involved in the drive to create a District, "I hope to engage NYC agencies, including the NYC Economic Development Corporation, the Mayor's Office of Media & Entertainment, and NYCGO, the city's tourism agency. We welcome thoughts and support!"
Chelsea Community News is made possible with the help of our awesome advertisers, and the support of our readers. If you like what you see, please consider taking part in our GoFundMe campaign (click here). To make a direct donation, give feedback about the site, or send a Letter to The Editor, email us at Scott@chelseacommunitynews.com.