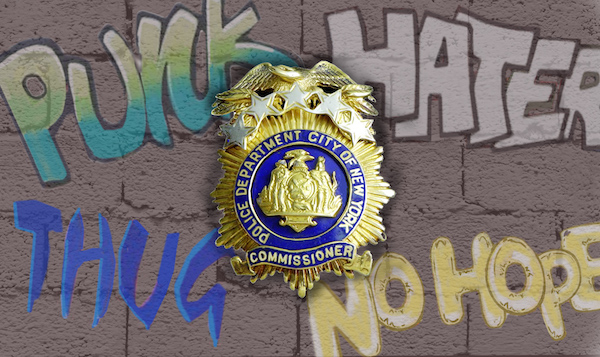 BY DONATHAN SALKALN | Crime is an infectious disease, and should be treated on the scale of the Coronavirus outbreak. A citywide emergency should have been declared after a Barnard College student, Tessa Majors, was murdered on December 11, 2019. The horrific crime in Manhattan's Morningside Park, allegedly by youths aged 13 and 14 years old, forebode a much larger problem.
Thirty years ago, I attended a Guardian Angel meeting at the Church of Holy Apostles (Ninth Ave. & W. 27th St.) where Curtis Sliva spoke of local and citywide wilding attacks. I share this memory because Chelsea has again become a target by young people that have succumbed to the crime virus.
Chelsea Community News reported that, at January 29's NYPD 10th Police Precinct Community Council meeting, Lt. Steven Cameron told attendees there was an uptick in so-called "wolf pack robberies,' in which the perps are "four or five transient [non-neighborhood resident] kids" working as a group, to come up from behind a pedestrian, snatch valuables (phone, purse, etc.), and make a swift getaway. Lt. Cameron noted that Chelsea has many more exit points that afford quick getaways (subways, the West Side Highway), making the neighborhood a tempting target for transient thieves. Such perps, he said, "are a lot harder to catch."
SYMPTOM 1: Demonizing the NYPD
One factor contributing to the crime virus is the lack of respect and continual demonizing of the NYPD by some elected officials and group advocates. This animosity —even questioning why the majority for fare evasion collars have been by Blacks and Hispanics without proof of targeting minorities—can be devastating to the health of the city. It cultivates hate. It fosters resistance to arrest.
DIAGNOSIS: Disrespect has led to last summer's street attacks in Harlem and Brooklyn by youths with water and buckets, the recent vandalism accompanying a protest at Grand Central Station, and the ambush shooting of police officers in the Bronx.
SYMPTOM 2: No Prosecution of Fare Evasion
Another factor was ending prosecution of most MTA fare evasions. This instills the notion that "jumping-turnstiles" and "fare-beating buses" is a new thrill sport. Our Metro system is not a museum where you pay what you want. The MTA is on life support, and it's losing over 500,000 fares a day. And this is in defiance to NYC Council Speaker Corey Johnson's campaign that now gives low fares to the needy.
DIAGNOSIS: Bus drivers and subway workers are put in the awkward position of keeping order amidst a workplace ravaged by fare evasion. NYPD officers are being met with harassment.
SYMPTOM 3: Criminal Justice Reform Needs Reform
The third factor is the criminal justice reforms laws passed by the State Assembly and Senate and signed by Governor Cuomo, effectively ending cash bail for a wide variety of criminal suspects, and changes to the discovery laws. Although progressive reform is welcome, these new laws need some major tweaking. The NYPD has been put in the position to re-arrest criminals, when police should be working on other cases. It also gives the impression that laws no longer mean what they once did.
DIAGNOSIS: Pedophiles, hate crime suspects, robbers, and assault defendants have been released, only to commit new crimes. Also, Long Island's Wilmer Rodriguez stepped in to protect two boys threatened by members of the MS-13 gang. Although he was beaten and stabbed, he agreed to be a court witness against the gang members. Through the new discovery laws, Rodriguez's address was made available, and this past February 2, he was found murdered at his home.
SYMPTOM 4: Government Transparency Doesn't Exist
When it comes to crime, we need more face time for the NYPD Police Commissioner, Dermot Shea, and less face time for NYC Mayor Bill de Blasio. During a crisis, the public should hear from the specialists, not short sound bites by the Mayor. Commissioner Shea needs to start reporting, to New Yorkers, of the department's strategy and actions.
DIAGNOSIS: The public has been fed little crime information, of both strategy and statistics, from the NYPD.
SYMPTOM 5: Little Funding for NYCHA and Other Public Housing
The city needs to put more effort in rethinking New York City Housing Authority's public housing. It needs to include more on-site property management, more policing, and more money. Safety has been a number-one polled concern from NYCHA tenants. Safety is also a number-one concern of those in city shelters.
DIAGNOSIS: With little TLC, public housing and shelters have become an incubator for disillusionment and trouble, with little hope of a better tomorrow.
New York City's spike of crime can be compared to a petri dish oozing and overflowing with infection.
NOTE: Contributions to our Guest Opinion section do not necessarily reflect the opinion of Chelsea Community News.
Chelsea Community News is made possible with the help of our awesome advertisers, and the support of our readers. If you like what you see, please consider taking part in our GoFundMe campaign (click here). To make a direct donation, give feedback about the site, or send a Letter to The Editor, email us at Scott@chelseacommunitynews.com.