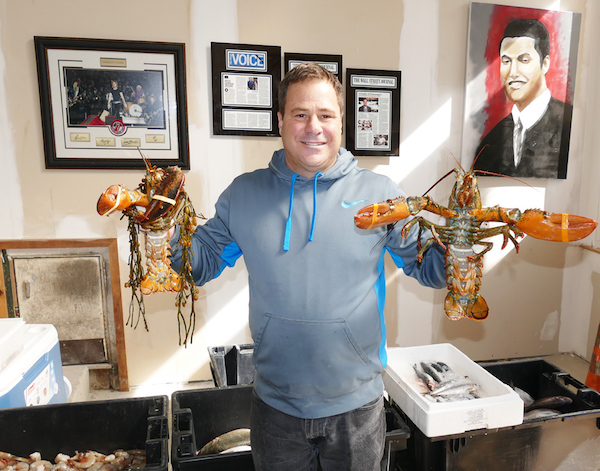 BY DONATHAN SALKALN | In an effort to prevent the spread of coronavirus/COVID-19, New York State bars and restaurants closed their doors to all but takeout and delivery as of 8pm, Monday, March 16—turning lives, and livelihoods, upside down.
"I sell fish to over 400 restaurants, and they're all closed," said Louis Rozzo, a fourth generation family fishmonger, who, like the fathers before him, is hands-on and hardworking.
Family-owned wholesale fish business F. Rozzo & Sons, noted Louis, has exclusive purveyor contracts with hotels including The Four Seasons, The Pierre, The Carlyle, and JW Marriott.
"And they're only ordering five pounds of this, five pounds of that," he said.
Normally, the business makes 350 deliveries a day. On the morning of March 16, said Louis, "I had 18."
What's more, he noted, "I have fish, and I have contracts with other fisherman. My guy in Greece sent me 87 boxes of fish. On a normal week I would sell that in two days. But now?"
Determined to honor as many of those contracts as he could, Louis recalled thinking to himself, "What am I to do?' I thought about closing up, but decided to open this place and bring seafood to the people of Chelsea. Let's have some fun."
For local residents confronting long lines and, at times, bare shelves, a new source of fresh, high-quality food could not have come at a better time.
Located in a dormant commercial space that served as F. Rozzo & Sons' wholesale distribution site from 1924 to 2017, F. Rozzo & Sons' Seafood Market (159 Ninth Ave. btw. W. 19th & 20th Sts.) is open to the public, and was created to provide the Chelsea community with a nearby source of premium seafood, at wholesale pricing. Their hours of operation are Monday through Friday, 9am to 4pm.
When this reporter stopped by on Wed., March 18, posted prices included fresh fillet salmon at $8.95/lb., sea bass $6.50/lb., porgies $2/lb., fresh Prince Edward mussels $2.25/lb., lobster $7.50/lb. (special), giant shrimp 12.45/lb., fresh sardines $6.50/lb., cleaned squid $5/lb., Chilean Sea Bass $16.25/lb., or little neck clams at 45 cents a piece.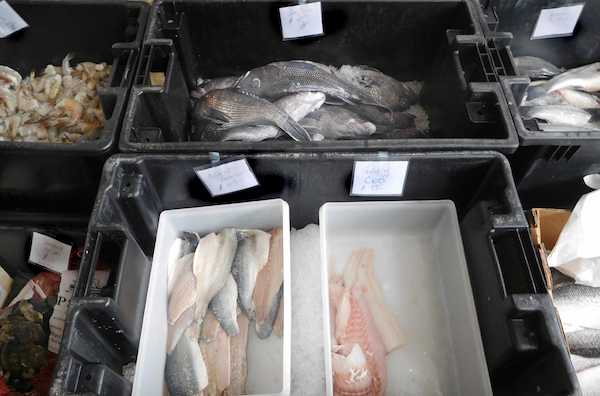 Being open for business in Chelsea once again, at a time when we needed them most, seems a fitting turn of events, as it gives Louis the chance to reconnect with a community he left three years ago, when F. Rozzo & Sons moved to a giant space in the Bronx. The store sign is missing from the Ninth Ave. location, but the big Rozzo truck is parked outside once again, just as it used to be.
Louis has a deep connection to the area, and the Ninth Ave. building in particular. Shortly after being born at St. Vincent's Hospital, his father strolled Louis to the store, weighing him on their scallops scale. Louis weighed 6 pounds, 8 ounces.
"My mother has the photo. I was a small baby," Louis recalled, laughing. At Rozzo's contemporary giant scallop prices of $19.50 per lb., baby Louis was worth $132.
Fortunately for Chelsea, Louis never sold the Ninth Ave. building—his fond memories of the place probably in the way.
"I tried, but never got a price I liked," he said.
For well over 100 years, the Rozzo family has built a foundation of trust, by selling the most fresh and delicious seafood imaginable. Hopefully, Louis will never sell the building, as it would be a loss to the community.
It would be a prayer answered if the direct-to-consumer services currently being offered by F. Rozzo & Sons remain, after the closures caused by COVID-19 have been lifted.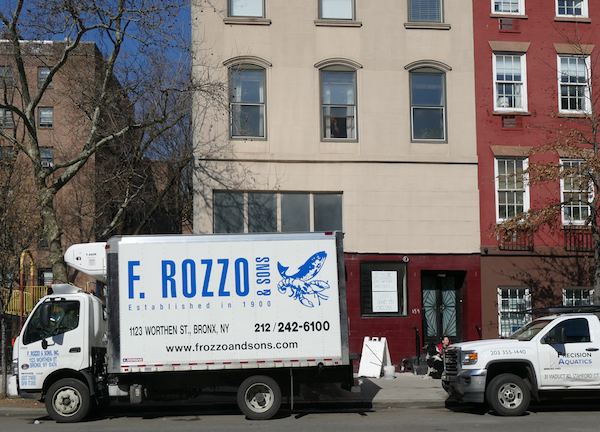 Special thanks to Susan Numeroff for suggesting this story to the reporter.
Chelsea Community News is made possible with the help of our awesome advertisers, and the support of our readers. If you like what you see, please consider taking part in our GoFundMe campaign (click here). To make a direct donation, give feedback about the site, or send a Letter to The Editor, email us at Scott@chelseacommunitynews.com.