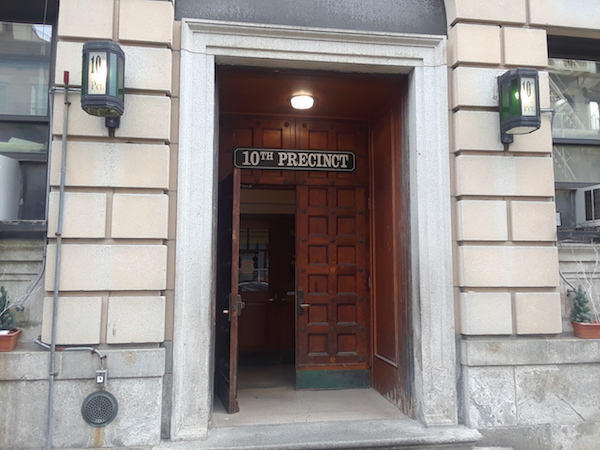 Normally held on the last Wednesday of the month, 1oth Precinct Community Council meetings provide an opportunity to interact with local NYPD leadership, voice concerns, hear the latest crime statistics, and get valuable public safety information. On hold indefinately because of COVID-19 concerns, Chelsea Community News spoke (via email) with Deputy Inspector Kevin J. Coleman, Commanding Officer of the 10th Precinct, who answered questions inspired by reader concerns. To access last month's Q&A with DI Coleman, click here.
Scott Stiffler, for Chelsea Community News: Have community members who would normally attend Build the Block and Community Council gatherings reached out to the 10th Precinct? If so, what's on their minds?
Deputy Inspector Kevin J. Coleman, Commanding Officer of the 10th Precinct: Yes, some residents have expressed a concern of fear and anxiety when they go outside. It's a combination of factors: The uncertainty of the pandemic, people experiencing homelessness may be more visible, reports of unsettling crime, and the streets, which can make Chelsea look like a ghost town. What we want people to know, is that if they are in fear of a particular situation, or they feel alarmed or harassed by someone, or they believe any type of crime is happening—please call us. Call 911. That's what we are here for—to help and protect you.
As a reminder, there are several supermarkets that have special times in the morning where they are only open for seniors. During these times, we are posting officers outside to ensure they remain safe.
–Whole Foods, 250 Seventh Ave., from 8-9am
–Gristedes, 3 locations: 225 9th Ave., 221 Eighth Ave., and 307 W. 26th St., from 7-8am
–Brooklyn Fare, 431 W. 37th St., 7-8am
CCN: The last time we spoke, you noted the 10th Precinct was "limiting the number of people coming into the precinct to three, in efforts to practice social distancing and avoid exposure." Has that, or any protocol related to accessing the precinct directly, changed?
DI COLEMAN: Yes. In addition to limiting the number of visitors coming into the precinct at one time, we are now thermal screening all individuals coming into the station (i.e. all visitors, police officers, arrestees—everyone) with an infrared, no-touch forehead thermometer. Individuals with a high temperature or who have COVID-19 symptoms will not be allowed into the precinct. If this happens, we will still provide appropriate police services outside of the stationhouse. This is in order to prevent or mitigate the spread of COVID-19 inside the precinct. We want to ensure our officers remain healthy and safe, and are able to continue to protect and serve.
CCN: Has the 10th Precinct's area of coverage seen any notable drops or upticks in the usual suspects, so to speak, i.e. larcenies petit and grand, robberies, assaults, etc.?
DI COLEMAN: For the 10th Precinct, crime has declined over the past six weeks. We are down 42% in overall index crime for the last 28-day period, or four weeks, with increases in burglaries (10 in the past four weeks vs. 7 at this time last year) and vehicle theft (4 in the past four weeks vs. 1 at this time last year).
For 2020 year-to-date, the 10th Precinct is up 5.9% in index crime, including robberies and felony assaults. Back on March 1, however, we were up 42% for the year. The stay-at-home orders seem to have reduced the number of people on the street, as well as crime, in the 10th Precinct. Our patrol officers have been making a lot of excellent apprehensions, perhaps another result of fewer cars and people on the street. Officers Benzoni, LaPierre, Riordan, Giampiccolo, and Thompson made burglary apprehensions over the past four weeks and Sergeant Campbell and Officers LaPierre, Logan, Alvarado, Duggan, and Ciaramitaro all made apprehensions for felony assaults. Our detective squad has also made several excellent arrests on felony crimes. There is a lot of great police work being done.
As I mentioned, there has been an uptick in burglaries, in particular commercial burglaries. We recommend the following burglary prevention tips to secure your premise:
–Ensure all entry ways and windows are securely locked (do not leave back doors or windows open).
–Ensure all cameras are functioning and positioned to capture faces of individuals.
–Ensure the time is accurate on your DVR and that it records for at least 30-60 days.
–Empty cash registers and leave them open to show they are empty.
–Roof openings (skylights, ventilators) should be alarmed and secured.
Residential building package thefts are always a concern as well. We recommend that building caretakers ensure delivered packages are secured or moved to an area of the building that is out of line of sight from the front door and vestibule. If a would-be thief can see the packages from outside, they may try and break in. If they can't see any packages, they are more likely to move on.
CCN: What is your advice to those who are sheltering in place and experiencing, or fearing, domestic violence or other threats to their physical safety?
DI COLEMAN: Anyone experiencing domestic violence, or any other physical safety issues, should immediately call 911. Our domestic violence officers are also staying in touch with known domestic violence victims and offering appropriate services. For non-emergencies, the phones lines to the NYC Family Justice Centers are open Monday through Friday, 9 am–5 pm, for free and confidential assistance for victims and survivors of domestic violence. For Manhattan, their number is 212-602-2800—and one can always call the 10th Precinct domestic violence officers at 212-741-8216.
CCN: How has adherence to social distancing been throughout your coverage area, and what is the protocol when your officers see those who are not in compliance?
DI COLEMAN: Overall, the majority of the public in the 10th Precinct have been in compliance with the executive orders. This means most people are practicing social distancing and staying home. We would like to thank the community for complying. We have been educating and instructing those who are not in compliance.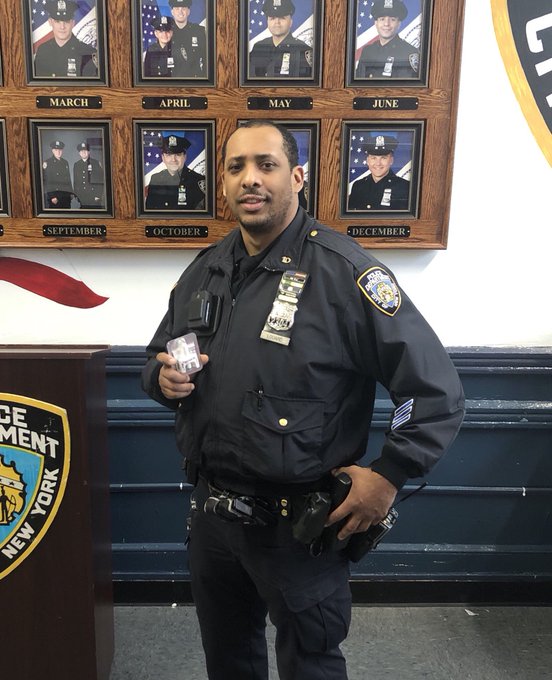 CCN: In an April 23 tweet, the 10th Precinct noted Officer Louard saved the life of an unconscious overdose victim on W. 23rd St., by administering naloxone. Have these incidents increased during the time of COVID-19, and what resources are available to residents who may need both that life-saving treatment, and training on how to administer it?
DI COLEMAN: Officer Louard did an outstanding job, and likely saved the life of an overdose victim. We like to remind the public of New York's Good Samaritan Law: Anyone seeking medical attention for themselves or another person in regards to a drug overdose will not be arrested. We encourage anyone who is experiencing or observes someone else experiencing an overdose to immediate call 911. There are also a number of community-based programs for learning how to obtain free naloxone, and learn how to administer it. You can find more about this in the Health section of the NYC government website.
CCN: How is the 10th Precinct interacting with homeless people these days, and how are you coordinating your efforts with the City and relief organizations?
DI COLEMAN: We are still continuing to do multi-agencies homeless operations with the Department of Homeless Services and the Department of Sanitation. We offer people experiencing homelessness services and cleanup debris and encampments.  Officer Clark, one of our community affairs officers, distributed surgical masks she purchased and also cloth masks she handmade to some of the individuals experiencing homelessness, in efforts to protect this vulnerable population.
CCN: How have the demands of policing in the time of COVID-19 impacted your officers, and yourself?
DI COLEMAN: These are indeed difficult times for everyone, including the police. Our officers are doing an excellent job of using their personal protective equipment, washing hands, and sanitizing surfaces, workstations, and equipment in order to stay healthy. Although these are challenging times, it is a rewarding feeling to be able to come to work and help people during this national pandemic. We thank everyone for their continued cooperation and support.
-END of Q&A-
The 10th Precinct serves Chelsea, Clinton/Hell's Kitchen South, and the Hudson Yards neighborhoods. At Build the Block meetings, Neighborhood Coordination Officers (NCOs) speak with the public about neighborhood crime and safety concerns. Chelsea-area sectors A, B, and C, he said, are, respectively, 14th to 21st St., 21st to 29th St., and 29th to 43rd St. For info, click here. The 10th Precinct's Community Affairs Office can be reached at 212-741-8226. The precinct's main number is 212-741-8211. On Twitter: ‪@NYPD10Pct. On Facebook: www.facebook.com/NYPD10PCT. For access to NYPD crime statistics particular to the 10 Precinct, click here.
Chelsea Community News is made possible with the help of our awesome advertisers, and the support of our readers. If you like what you see, please consider taking part in our GoFundMe campaign (click here). To make a direct donation, give feedback about the site, or send a Letter to The Editor, email us at Scott@chelseacommunitynews.com.