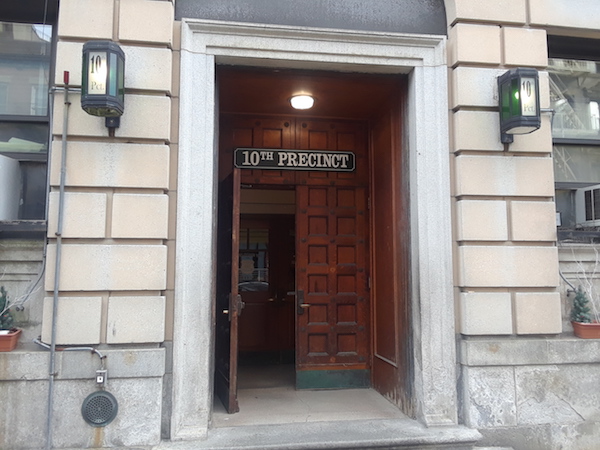 Normally held on the last Wednesday of the month, 10th Precinct Community Council meetings provide an opportunity to interact with local NYPD leadership, voice concerns, hear the latest crime statistics, and get valuable public safety information.
When those meetings were put on hold because of COVID-19 concerns, Chelsea Community News introduced a series of Q&As with Deputy Inspector Kevin J. Coleman, Commanding Officer of the 10th Precinct, timed to coincide with what would normally be occasion for a brick-and-mortar Council meeting. At this point, though, it's strictly "See you in September"—not because we're waiting for the green light to gather in public again, but because the Council always goes on summer hiatus. As such, look for a new Q&A on or near the last Wednesday of the month, June through August. To access our April Q&A, click here.
Scott Stiffler, for Chelsea Community News (CCN): In the absence of Community Council and Build the Block meetings, what questions and concerns have Chelsea residents been expressing to the 10th Precinct?
Deputy Inspector Kevin J. Coleman, Commanding Officer of the 10th Precinct: Our top complaints have been package theft, graffiti, and issues regarding homelessness.
CCN: What sort of outreach/work are your officers and detectives doing these days, and how, if in any way, has their work been impacted by COVID-19?
DI COLEMAN: COVID-19 has been a challenge for all of society, including the police. Much of our work involves interacting with people. We continue to do this the best we can by practicing what the majority of the public is doing—social distancing and wearing face covers.
With so many businesses closed, graffiti seems to be more prevalent. We've actually made a couple arrests in regards to graffiti over the past few weeks. Anti-Crime Officer Darnaud and Neighborhood Coordination Officer Fernandez, both caught graffiti offenders red-handed. Additionally, our Neighborhood Coordination Officers (NCOs) and Community Affairs officers have been out painting, spraying, and cleaning graffiti around the neighborhood—in particular, the 8th and 9th Avenue corridors. This is an ongoing project, and so you'll be seeing us out there cleaning up more graffiti. We actually made a short video regarding our recent cleanups, you can view it on our Twitter page here: https://twitter.com/NYPD10Pct/status/1262000949737988096
We also continue to conduct homeless outreach operations and confer with Breaking Grounds and Goddard Services.
Regarding commercial and residential burglaries, including package theft, our Crime Prevention Officer DiLorenzo and NCOs have been meeting with building caretakers and owners to recommend ways to better secure their buildings, such as adding a bolt lock or latch guard to a door.
We also always recommend that a building caretaker secure packages or move them, so that they are not within line of sight from the front door.
CCN: The last time we spoke, regarding visitors to the 10th Precinct, you noted, "We are now thermal screening all individuals coming into the station… to prevent or mitigate the spread of COVID-19 inside the precinct." Has that precaution led to the discovery of any COVID-19 cases?
DI COLEMAN: To my knowledge, no one entering the precinct has registered with a high temperature. Actually, I commend all the 10th Precinct officers for doing their best to stay healthy. Throughout the pandemic so far, the 10th Precinct has consistently been one of the lowest precincts citywide, in terms of members of the service going sick. I'd like to think that's in part due to good practices such as washing hands, social distancing, and wearing Personal Protective Equipment (PPE).
CCN: Has the 10th Precinct's area of coverage seen any notable drops or upticks in the usual suspects, so to speak, i.e. larcenies petit and grand, robberies, assaults, etc.?
DI COLEMAN: As of Monday, May 25, 2020, our overall index crimes are down -5.2% for the year, and down -50% for the past four weeks or 28-day period.
Since March, we have seen a noticeable uptick in burglaries and vehicle theft in particular. Commercial burglaries have been a concern with so many businesses closed, though as I mention, residential package theft also remains a concern. Over the past four weeks we've had 12 burglaries, however we have arrests in 10 of those incidents and a total of 11 burglary apprehensions.
We have had 5 vehicle thefts over the past month and a total of 13 for the year. At this time last year, we had on 2. First and foremost, never leave your vehicle unattended with the keys in the ignition, not even for a minute. Always lock your car doors and windows.
Our officers have been doing a lot of excellent work fighting crime during May. Officers Lucero and Caligiuri arrested an individual for auto theft, and were able to recover the vehicle; Officers Fletcher and Aloia spotted and apprehended a suspected wanted in regards to a burglary; Officers Giamiccolo and Cogliano apprehended a suspect who was burglarizing a deli; Officers Alvarado, Caruso, Swayne, and Sullivan apprehended a robbery suspect; Officers Sweeney and Moss spotted a suspect wanted for a felony assault and apprehend the individual; Officers Collins and Hamdani investigated and arrested a man dressed as a construction worker, for burglarizing a residential building; and Officers Alvarado and Cimmino apprehended a commercial robbery suspect.
CCN: How has adherence to social distancing been throughout your coverage area? Please speak of this in general, and specifically, along Hudson River Park and in the newly established Open Streets areas.
DI COLEMAN: For the past month, we have been deploying addition officers at Hudson River Park—on the weekends, in particular. For the 10th Precinct, we cover Hudson River Park from W. 14th Street to W. 43rd   Street. Piers 62, 63, and 64 are the main piers in the 10th [Precinct's area of coverage]. There have been some occasions were we requested groups to spread out, but for the most part the public had been doing a good job on their own. We've also been handing out face covers to those who need them at Hudson River and Chelsea Park. We greatly appreciate the cooperation of everyone visiting the parks to help stop the spread of COVID-19. Thank you to all of those who continue to practice social distancing and wear face covers.
Our open streets are W. 17 Street (8th to 10th Avenue) and Hudson Blvd West and Hudson Blvd. East, both from W. 35th Street to W. 36th Street. These streets are open for shared public space everyday, from 8am to 8pm. So far, the streets have not been too busy.
The 10th Precinct serves Chelsea, Clinton/Hell's Kitchen South, and the Hudson Yards neighborhoods. At Build the Block meetings, Neighborhood Coordination Officers (NCOs) speak with the public about neighborhood crime and safety concerns. Chelsea-area sectors A, B, and C, he said, are, respectively, 14th to 21st St., 21st to 29th St., and 29th to 43rd St. For info, click here. The 10th Precinct's Community Affairs Office can be reached at 212-741-8226. The precinct's main number is 212-741-8211. On Twitter: ‪@NYPD10Pct. On Facebook: www.facebook.com/NYPD10PCT. For access to NYPD crime statistics particular to the 10th Precinct, click here.
Chelsea Community News is made possible with the help of our awesome advertisers, and the support of our readers. If you like what you see, please consider taking part in our GoFundMe campaign (click here). To make a direct donation, give feedback about the site, or send a Letter to The Editor, email us at Scott@chelseacommunitynews.com.