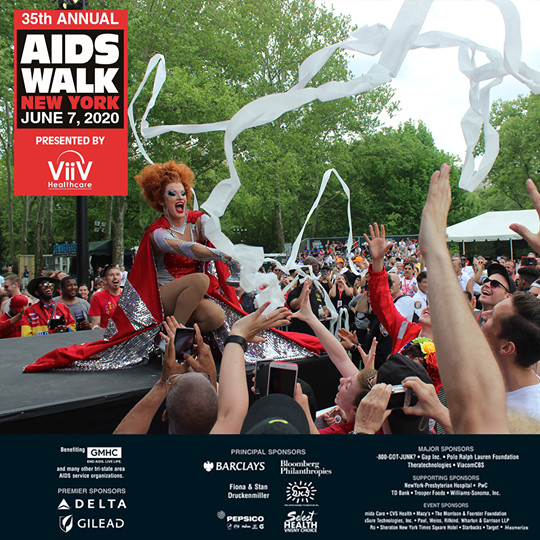 Sunday, June 7, 10am: AIDS Walk New York Live at Home | This annual event from Gay Men's Health Crisis (GMHC) goes online for its 2020 iteration, with celebrity guests, special performances, and a DJ-led dance party. Proceeds will help fund GMHC's emergency response to COVID-19, and also help several other tri-state area AIDS service organizations. For more info, including how to register or donate, click here. For general GMVC info, click here.
From Gale Brewer's Wednesday, June 3 COVID Update Newsletter | Thursday, June 4, from 6-8pm, I'll be co-sponsoring a Pandemic Tenants' Rights Virtual Town Hall with Councilmember Ben Kallos and other local, state, and federal elected officials from Manhattan. Attorneys will be available to provide additional information and answer questions. RSVP online or call (212) 860-1950.
Thursday and Friday, June 4 and 5, the New York Urban League is hosting online discussions as part of their yearly The State of Young Black New York Conference. Panels will discuss rebounding financially after COVID-19, resources for virtual teaching, and the way forward for organizers on everything from policing to the Census. Register here for Thursday (6/4), and Friday (6/5).
Please share this information with anyone you know who would find it useful, or have them subscribe to my enews here or follow me on Twitter, Facebook, and/or Instagram. And please do call me with any urgent problems or concerns: 212-669-8191.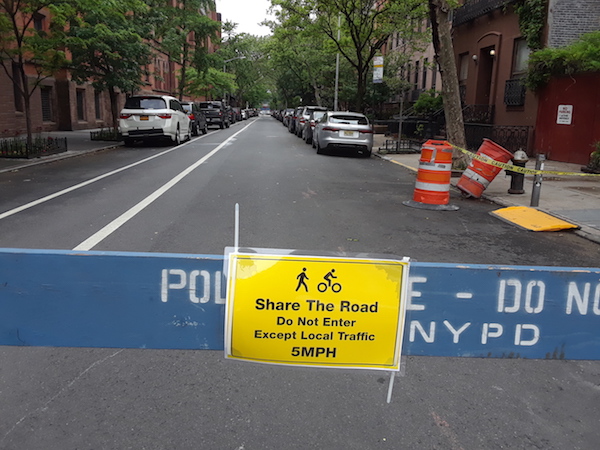 Open Streets | New York City is opening  streets to allow for greater social distancing during the COVID-19 crisis, with a plan to expand to a total of 100 miles. Open Streets are available daily, 8am to 8pm (unless otherwise noted) for pedestrians and cyclists to use the roadbed of the street while maintaining social distancing. Opening hours may vary by location due to NYPD staffing. For info on the Open Streets program, click here, and see the below flyer. Designated Chelsea areas include W. 22nd St. btw. Seventh & Eighth Aves., and W. 21st St. btw. Ninth & 10th Aves. For Hiba Sohail's recent article on this topic, click here.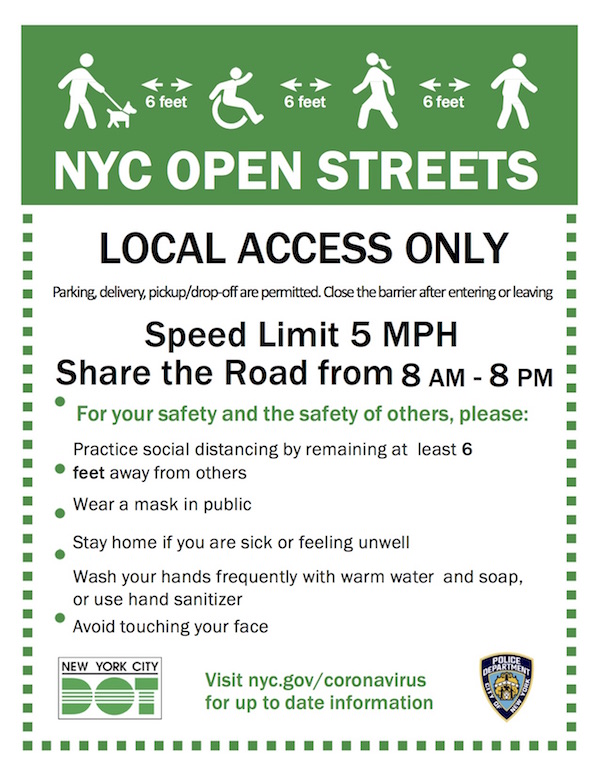 Thursday, June 4: New York City Children's Theater Goes Online, with "Creative Clubhouse" | Although COVID-19 has drastically impacted this non-profit organization, they're forging ahead, and availing themselves, via online content. Their new spring musical, which was set to play Theater Row, has been cancelled, as has their Toddler Theater at Tribeca's The Flea, and plans to tour NYC schools and the tri-state area via in-school theater arts programs for K-8th grade students (not to mention, not for nothing, their annual Gala in April at The Edison Ballroom (at least 30% of their largest donation revenue for the year)—but through it all, NYCCT is committed to serving children/family audiences with their newly launched, family-friendly, Creative Clubhouse online digital program.
While most of the programming is available to all free of charge, they are offering essential workers as well as any family that has been deeply affected by this crisis to have free access to all paid content. This digital, interactive, and accessible storytime class mixes books you love with theater games the little ones will love—without having to leave home.
"When picking books for Creative Clubhouse stories with Caitlyn," they note, "we picked stories that teach emotional intelligence, community building and responsible decision-making in service of our mission to promote children's literacy, and social development through arts-in-education programming and professional theater productions.
Thursday, June 4 | The Rabbit Listened 11:30am via Zoom. $10 | Free for Essential Workers. For more info, visit nycchildrenstheater.org.
Weekly Zoom Sunday Services from Chelsea Community Church | During the current social distancing, Chelsea Community Church is providing a Zoom service every Sunday at noon. The church is nondenominational, and has guest speakers as well as lay-led services that include traditional music. To receive an invitation, you can send an email to info@chelseachurch.org.
Chelsea Community Church is an inclusive, independent, lay-led and non-denominational Christian community. Due to COVID-19 concerns and recommendations, they will not hold in-person services until further notice.  However, the Church is currently holding virtual services via Zoom.  Visit chelseacommunitychurch.org.
Tuesday, June 9: Virtual Housing Clinic |  This free housing clinic takes place on the second Tuesday of each month. For more info, see the below flyer. To make an appointment, click here.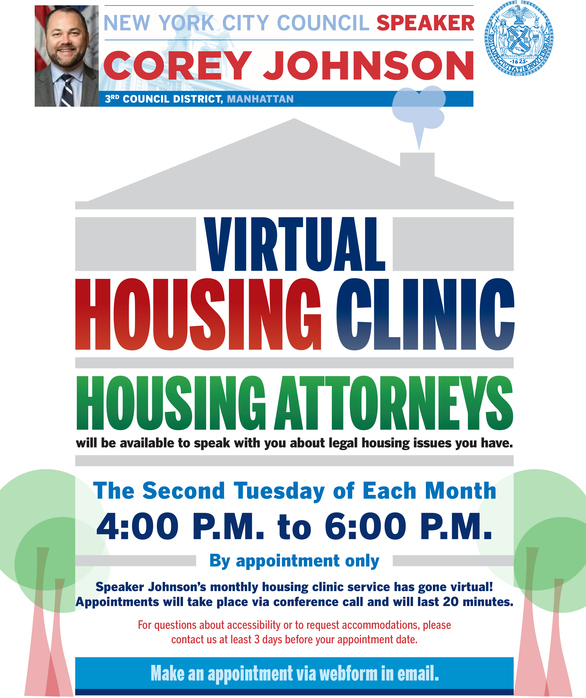 Tuesday, June 2, 10am: SAGE-sponsored webinar | SAGE, the country's largest and oldest organization dedicated to improving the lives of lesbian, gay, bisexual and transgender (LGBT) older adults, offers innovative services and programs to LGBT older people throughout New York City and nationwide through their affiliate network, SAGENet. From arts and culture, to health and wellness, and much more, SAGE's innovative services and programs support thousands of LGBT older people in communities around the country. At 10am on Tues., June 2, SAGE is hosting "Global Perspectives: Mobilizing Advocacy Initiatives for Older LGBTQIA Persons," a webinar presented in partnership with the International Federation on Aging and EAGLE. To register, click here.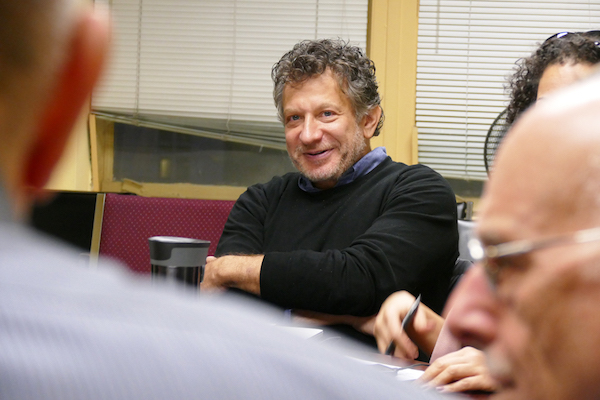 Wednesday, June 3, 6:30pm: Manhattan Community Board 4's Full Board Meeting, Online| The first Wed. of the month sees CB4 hold its full board meeting, at which its members vote on letters crafted by committees such as Business License & Permits, Waterfront, Parks & Environment, and Housing, Health, & Human Services. In addition, this time around, CB4 will present a commendation to the Avenues School (250 10th Ave.), for volunteer efforts during the COVID-19 pandemic. And, as always, the Public Session gives 2 minutes of uninterrupted time to anyone wishing to speak on the topic of their choice. As was the case last month, this full board meeting will be a digital one, via Zoom. To register, click here. To sign in to speak during the Public Session, click here and fill out the form, but 12pm on Wed., June 3. If you can't join the meeting but would like to submit a statement for the Public Session, email CB4 District Manager Jesse Bodine at jbodine@cb.nyc.gov with Subject Line: "Statement for June 3rd Full Board Public Session" by 12pm on Tues., June 3rd at Noon. To visit the CB4 website, click here.
–Compiled by Scott Stiffler
Chelsea Community News is made possible with the help of our awesome advertisers, and the support of our readers. If you like what you see, please consider taking part in our GoFundMe campaign (click here). To make a direct donation, give feedback about the site, or send a Letter to The Editor via email, at scott@chelseacommunitynews.com.