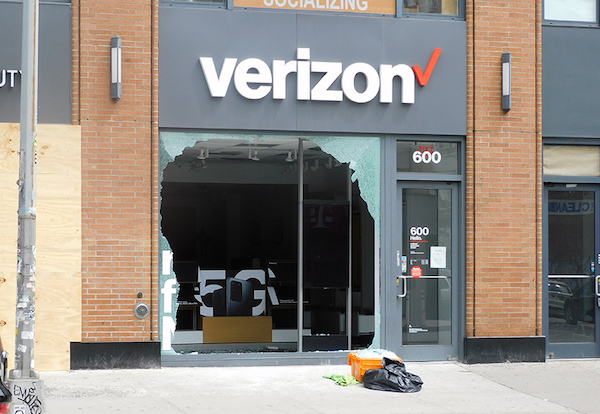 BY DONATHAN SALKALN | The exodus of city residents has already begun. With the combination of working remotely now the norm, the fear of future deadly diseases, and the recent civil unrest that included widespread looting to vulnerable sections of New York City, including Chelsea, people are moving to the suburbs like never before. It has already been reported in Suffolk County that on-line bidding on houses has gone through the roof. And do you blame them?
What if NYC fire trucks went to a building aflame, and, upon learning there were no humans inside, let it burn to the ground? Sounds bizarre? Something much like that happened in Chelsea.
Chelsea's 10th Precinct did nothing to stymie the looting of Chelsea's storefronts above 14th Street, along Sixth, Seventh, Eighth, and Ninth Avenues during the late evenings and/or early hours of May 31, June 1, and June 2. While residents flooded the precinct with calls, there was little police response, no additional police called in, and the National Guard was left to sleep.
Imagine the betrayal residents felt who lived in apartments above those storefronts. They were awakened by sudden cascades of storefront glass, the battering of doors, and chaos that didn't linger for minutes, but lasted hours. Some buildings in Chelsea rise 20 floors and higher, and those residents must have been terrified.
According to a June 12 ChelseaCommunityNews.com article (10th Precinct Responds to Chelsea Looting Non-Response) by that website's founder/editor, Scott Stiffler, the 10th Precinct reacted with minimal response. Police cruisers were seen driving by the looters who were giving a new meaning to the phrase "curbside pick-up." (Note: Stiffler's article reprinted, in full, a Q&A with 10th Precinct Community Affairs Officer Kateri Clark, which originally appeared in the 300 West 20th Street Block Association email newsletter, edited by Eric Marcus.)
Also alarming is the witnessing of the break-in at the FedEx store on Eighth Ave., at W. 20th St. The Good Samaritan, who was interviewed by Marcus, ran to the 10th Precinct, just feet away (230 W. 20th S. btw. Seventh & Eighth Aves.), and explained to them what was happening. He was told by an officer on duty that the mayor had instructed the precinct not to confront looters, as long as the looters weren't harming anyone.
Stores victimized included those selling mobile phones, computers, bicycles, liquor, clothing, sneakers, jewelry, and liquor from bars.  The Gristedes on W. 24th St. and Ninth Ave. was smashed into, and its cashier later told me that mostly, candy was taken. The deli counter man at Gristedes on W. 26th St. and Eighth Ave. reported to me that a young man took his skateboard and smashed the window of 7-Eleven (across the street) and walked out with chips and water. Seems like an M.O. of kids.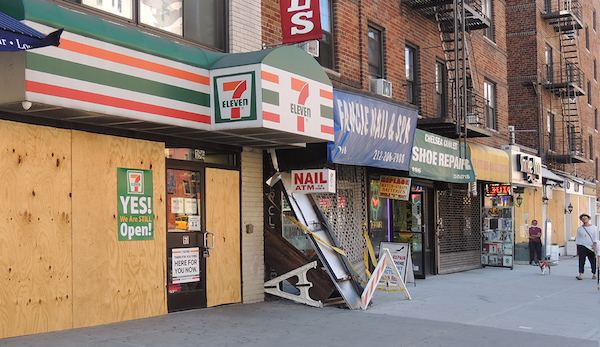 In the weeks since, there was a noticeable silence from all the local elected officials. When I asked, "Why?" to one staffer of an elected, they shrugged their shoulders and told me that the stores robbed were chain stores and they would be alright.
And while the police have been hit by bricks, bottles, Molotov cocktails, shot at, spat at, and even poisoned, the mayor continues to throw the NYPD under the bus. He might as well be throwing himself under the bus. Just a few years ago, didn't the mayor require the NYPD to go through extensive sensitivity training after the tragic death of Eric Garner? Didn't the mayor make vest-cameras on officers a requirement? Didn't the mayor institute a new Patrol Paradigm that demanded communication and collaboration between local police officers and community residents? Is he now admitting that all his reforms have been failures?
To many of Chelsea's community leaders, these police reforms have been welcoming successes. Every year, the 10th Precinct organizes many programs, including a open-street barbecue event, to coincide with National Night Out Against Crime observances. They are also involved with Prom Dress Give-A-Ways and the Law Enforcement Explorers program for youths (a shout out to the late Explorer, Lesandro Guzman-Feliz). The local NYPD officers are always in attendance at Chelsea's community meetings and events, while giving updates and taking questions.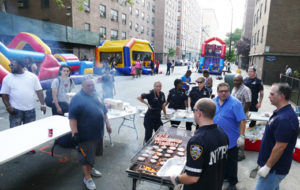 Then why all the anti-police posturing by politicians. And why does the spine of Mayor Bill de Blasio appear more in the shape of a rollercoaster? Is he kowtowing to his wife, Chirlane McCray, who wants to abolish the NYPD all-together? Is it because Chirlane has ambitions to run for Brooklyn Borough President?
The mayor doesn't see the fire from the forest. One of his failures has been the no-bail reform that equates to the State's fishing program of "catch and release"—as if alleged perps are some sort of endangered fish.
In my February 14, 2020 Chelsea Community News Opinion piece, Five Symptoms of the Crime Virus, I predicted that no-bail reform would embolden the city's youth to lead the city back to the days of  "wilding" that was popular in the late '80s. The city's no-bail reform should be replaced with low-bail reform (like $100 or even $50), so families would have a stake in keeping their young adults out of trouble.
New York City's "real" racial inequality is the crumbling public housing system and total lack of "real" affordable housing. These are the needs that must be addressed—not just shoved to the private sector like some sort of unwanted burden. Our city also needs to analyze hospital closures, and how ill prepared the city was in both PPE supplies and hospital beds. Storefront commercial rent control should also be put in place after the price of storefront leases has bottomed-out.
Meanwhile, Chelsea is left with storefronts lined with plywood.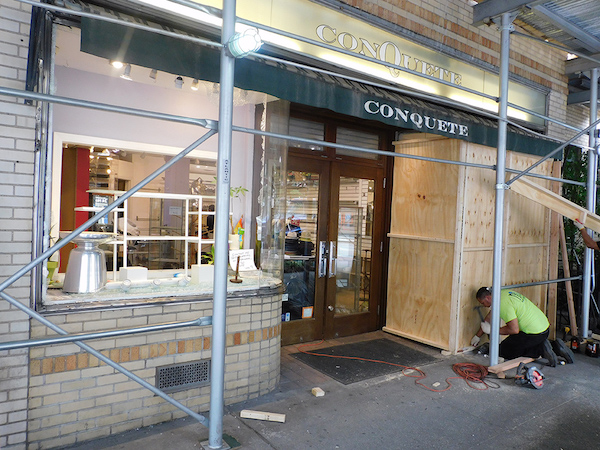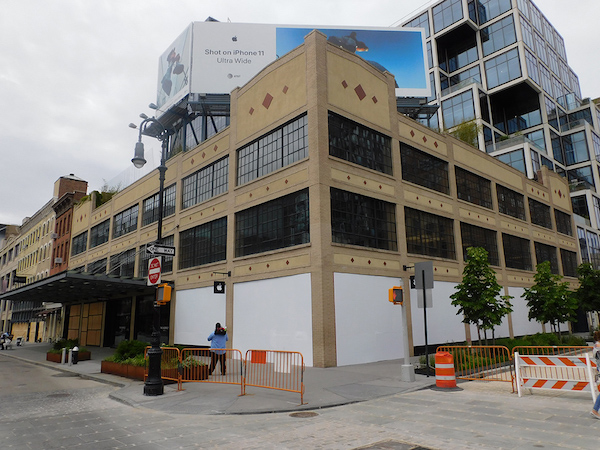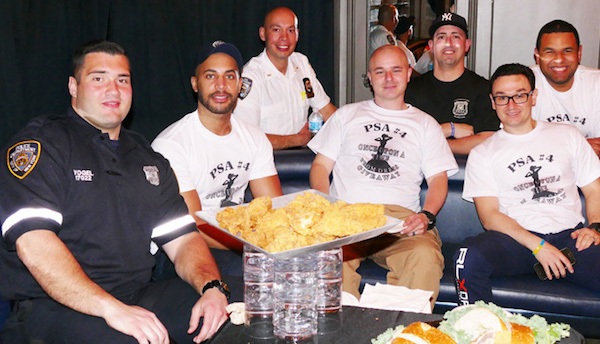 NOTE: Guest Opinion pieces do not necessarily reflect the opinion of Chelsea Community News.
Chelsea Community News is made possible with the help of our awesome advertisers, and the support of our readers. If you like what you see, please consider taking part in our GoFundMe campaign (click here). To make a direct donation, give feedback about the site, or send a Letter to The Editor via email, at scott@chelseacommunitynews.com.