BENEFIT: Tuesday, July 14, 8pm: Night of a Thousand Judys | Dorothy didn't get to her "Somewhere Over the Rainbow" place without a little help from her friends, and neither will they. To that rainbow's end, so to speak, comes the eighth annual Night of a Thousand Judys, a concert event whose 2020 iteration tailor-makes itself for the social distancing era by taking place online, instead of in its usual sold-out, brick and mortar form.
The method of delivery may have changed, but the song remains the same: All proceeds benefit NYC's Ali Forney Center, the nation's largest and most comprehensive agency dedicated to LGBTQ homeless youths—assisting nearly 1,400 youths per year through a 24-hour Drop-In Center which provides over 65,000 meals annually, medical and mental health services through an on-site clinic, and a scattered site housing program.
Written and hosted by Downtown cabaret/theater darling and YA novelist Justin Sayre, Night of a Thousand Judys honors the iconic, ever-lasting Judy Garland via songs from her categorization-defying career as movie star, recording artist, and stage performer.
With wit and loving grace, Sayre welcomes a lineup of "WTF!-I-Love-Them" talent, including Lena Hall (Tony winner, Hedwig), Natalie Douglas (12x MAC Winner), Eva Noblezada (Hadestown), Nathan Lee Graham (Zoolander), Adam Pascal (Rent), Beth Malone (Fun Home), Alice Ripley (Next to Normal), George Salazar (Be More Chill), Ann Harada (Avenue Q), T. Oliver Reid (Hadestown), Jessica Vosk (Wicked), Spencer Day (#1 Billboard artist), Billy Stritch (Grammy winner and Birdland Jazz Club mainstay), and…. Wait for it/her… Ann Hampton Callaway (credits not necessary; Google if you don't know from Ann). Pianist, arranger, conductor, and singer/songwriter, and 10-time MAC Award winner Tracy Stark knocks it out of the park, as music director.
"We are in a historical moment," says Sayre. "A moment when people too long unheard, undervalued, and underrepresented are demanding justice. We are speaking out for justice, and while our ire and our disgust at the abuses of the police is reaching a fevered pitch, we must remember that the fight for justice is a fight on multiple fronts. We must never forget that in New York, homeless LGBTQ youth are deeply at risk, and many of these brave young people are people of color. We are here to support this community at risk."
The event premieres on Tuesday, July 14, 8pm, and will be available online for a month after the show. Donate to the cause, at ThousandJudys.com.
Hudson Guild Presents "The Breathe Project" | This initiative is meant to foster dialogue about how to rectify racial injustice in our society. See the below flyer for details, and send jpeg images, ASAP, to jfurlong@hudsonguild.org.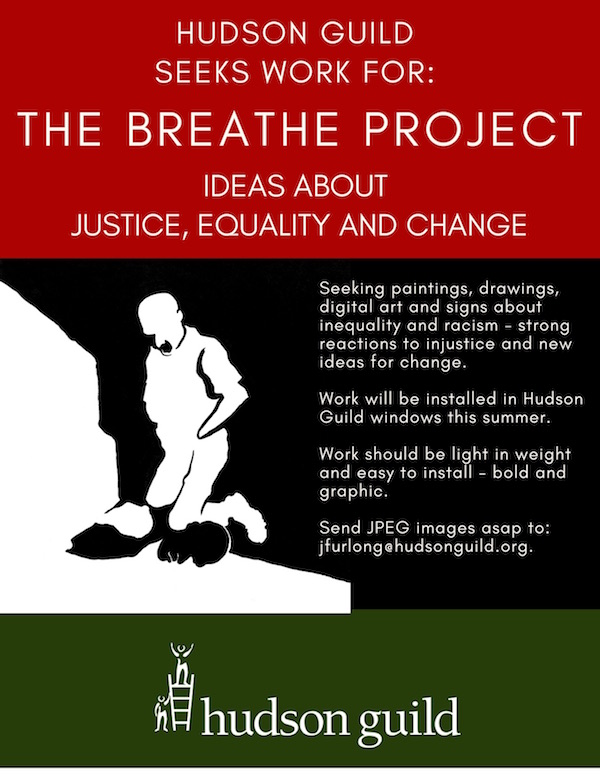 Down to Earth Farmers Market: Saturdays in Chelsea | It's one of those sure signs of spring: Down to Earth Farmers Market has returned to Chelsea, Saturdays, 9am-3pm, through December 19, along the sidewalk on the North side of W. 23rd St., east of Ninth Ave.
The Market has altered its shopping guidelines, in accordance with COVID-19 precautions. Click here to read the guidelines, and arrive prepared to browse while maintaining social distance. To visit the website page specific to their Chelsea Market, click here.
Weekly Zoom Sunday Services from Chelsea Community Church | During the current social distancing, Chelsea Community Church is providing a Zoom service every Sunday at noon. The church is nondenominational, and has guest speakers as well as lay-led services that include traditional music. To receive an invitation, you can send an email to info@chelseachurch.org.
Chelsea Community Church is an inclusive, independent, lay-led and non-denominational Christian community. Due to COVID-19 concerns and recommendations, they will not hold in-person services until further notice.  However, the Church is currently holding virtual services via Zoom.  Visit chelseacommunitychurch.org.
Open Streets | New York City is opening  streets to allow for greater social distancing during the COVID-19 crisis, with a plan to expand to a total of 100 miles. Open Streets are available daily, 8am to 8pm (unless otherwise noted) for pedestrians and cyclists to use the roadbed of the street while maintaining social distancing. Opening hours may vary by location due to NYPD staffing. For info on the Open Streets program, click here, and see the below flyer. Designated Chelsea areas include W. 22nd St. btw. Seventh & Eighth Aves., and W. 21st St. btw. Ninth & 10th Aves. For Hiba Sohail's recent article on this topic, click here.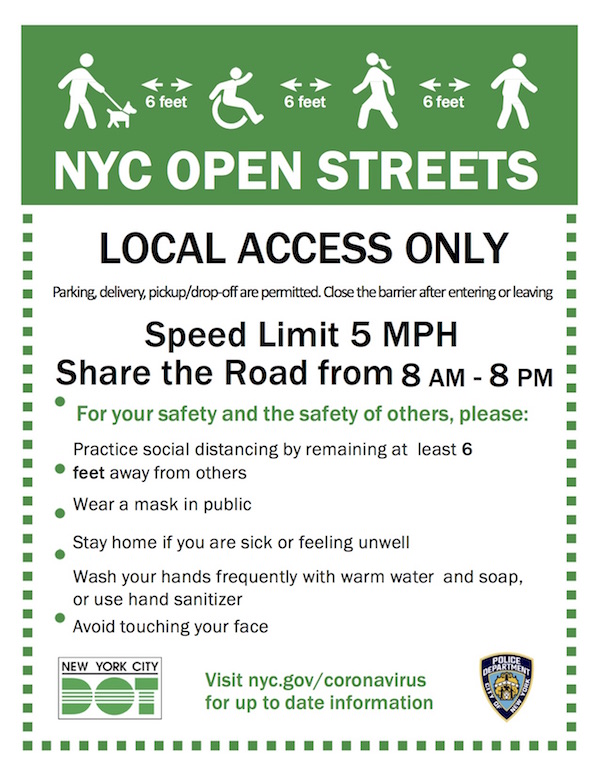 Committee Meetings of Manhattan Community Board 4 (CB4) | Each CB4 meets monthly, which serve as a prelude to matters discussed, when CB4 holds its full board meeting.  To access the calendar and learn more about CB4, click here.
–Compiled by Scott Stiffler
Chelsea Community News is made possible with the help of our awesome advertisers, and the support of our readers. If you like what you see, please consider taking part in our GoFundMe campaign (click here). To make a direct donation, give feedback about the site, or send a Letter to The Editor via email, at scott@chelseacommunitynews.com.