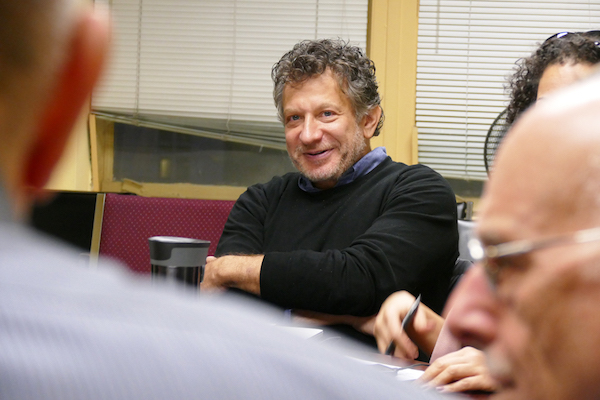 Wednesday, July 22, 6:30pm: Manhattan Community Board 4's Full Board Meeting, Online| At CB4's full board meeting, its full membership votes on letters crafted by committees such as Business License & Permits, Waterfront, Parks & Environment, and Housing, Health, & Human Services. And, as always, the Public Session gives 2 minutes of uninterrupted time to anyone wishing to speak on the topic of their choice. As has been the case since COVID-19 prevented public gatherings, this meeting will be a digital one, via Zoom. To register, click here. The Conference Call number is 646-518-9805. View the live stream by clicking here. To sign in to speak during the Public Session, click here and fill out the form, but 12pm on Wed., July 22. If you can't join the meeting but would like to submit a statement for the Public Session, email CB4 District Manager Jesse Bodine at jbodine@cb.nyc.gov with Subject Line: "Statement for July 22 Full Board Public Session" by 12pm on Wed., July 22. To visit the CB4 website, click here.
Down to Earth Farmers Market: Saturdays in Chelsea | It's one of those sure signs of spring: Down to Earth Farmers Market has returned to Chelsea, Saturdays, 9am-3pm, through December 19, along the sidewalk on the North side of W. 23rd St., east of Ninth Ave.
The Market has altered its shopping guidelines, in accordance with COVID-19 precautions. Click here to read the guidelines, and arrive prepared to browse while maintaining social distance. To visit the website page specific to their Chelsea Market, click here.
Weekly Zoom Sunday Services from Chelsea Community Church | During the current social distancing, Chelsea Community Church is providing a Zoom service every Sunday at noon. The church is nondenominational, and has guest speakers as well as lay-led services that include traditional music. To receive an invitation, you can send an email to info@chelseachurch.org.
Chelsea Community Church is an inclusive, independent, lay-led and non-denominational Christian community. Due to COVID-19 concerns and recommendations, they will not hold in-person services until further notice.  However, the Church is currently holding virtual services via Zoom.  Visit chelseacommunitychurch.org.
Open Streets | New York City is opening  streets to allow for greater social distancing during the COVID-19 crisis, with a plan to expand to a total of 100 miles. Open Streets are available daily, 8am to 8pm (unless otherwise noted) for pedestrians and cyclists to use the roadbed of the street while maintaining social distancing. Opening hours may vary by location due to NYPD staffing. For info on the Open Streets program, click here, and see the below flyer. Designated Chelsea areas include W. 22nd St. btw. Seventh & Eighth Aves., and W. 21st St. btw. Ninth & 10th Aves. For Hiba Sohail's recent article on this topic, click here.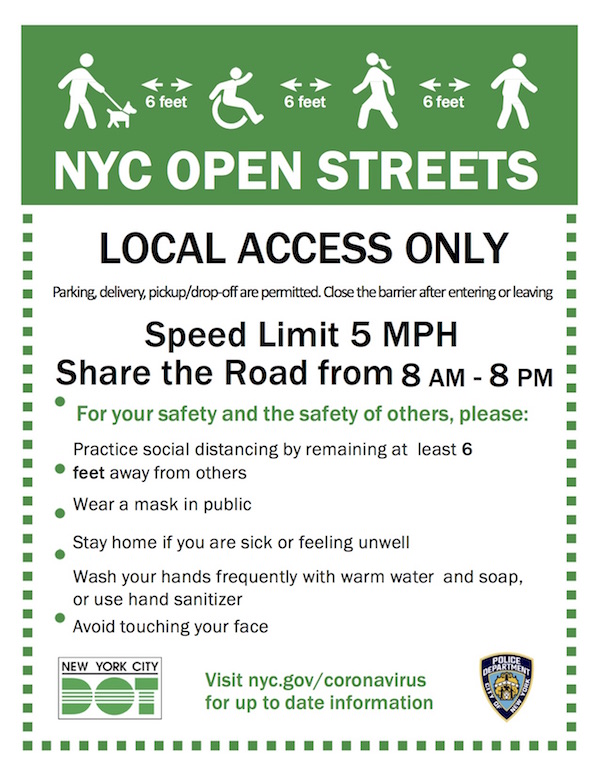 Committee Meetings of Manhattan Community Board 4 (CB4) | Each CB4 meets monthly, which serve as a prelude to matters discussed, when CB4 holds its full board meeting.  To access the calendar and learn more about CB4, click here.
–Compiled by Scott Stiffler
Chelsea Community News is made possible with the help of our awesome advertisers, and the support of our readers. If you like what you see, please consider taking part in our GoFundMe campaign (click here). To make a direct donation, give feedback about the site, or send a Letter to The Editor via email, at scott@chelseacommunitynews.com.