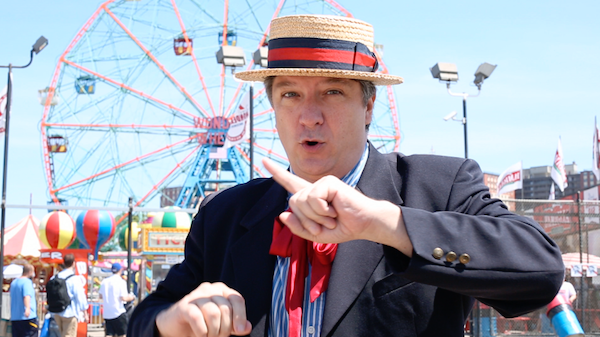 Thursday, July 30, 7:30-8:30pm | Trav S.D.'s History of Drag in Vaudeville | Proof positive that discovering new things about the cultural contributions of LGBTQs isn't a pursuit to be contained to Pride Month, this wide-ranging, fast-moving lecture and slideshow opens a window to what the world was like long before RuPaul's Drag Race (or, for that matter, RuPaul). Presented, no doubt with his usual infectious enthusiasm and ability to connect the dots between long ago and right now, acclaimed author and prolific blogger Trav S.D. (who writes for this very site) will chronicle the history of drag queens and drag kings of the 19th and early 20th century.
The great Pantomime Dames and Principal Boys of the Music Hall and English Panto will get their due, along with gender-bending "Protean" actors of the legit stage, female and male impersonators of American vaudeville, and bawdy nightclub drag queens of the Jazz Age. The talk will also touch on the highs and lows of how drag fit into the overall vaudeville and show biz universe.
This glimpse into the struggles and triumphs of true cultural pioneers is drawn from the vaults of that prolific blog we mentioned: Travalanche (travsd.wordpress.com). Those who emerge from the lecture wanting to know more about Vaudeville in general should to purchase Trav S.D.'s acclaimed 2005 book: No Applause–Just Throw Money: The Book That Made Vaudeville Famous. Order it by clicking here.
As for accessing the lecture, which is hosted by West Fest (@MaeWestFest) and presented by "why we miss live theater" essential East Village mainstay Dixon Place, registration is required. To do so, click here to visit the Dixon Place events page for this happening. Once there, click on the "Tickets" box located on the upper right hand side. Admission is free; suggested donation, $15. For those who have the ability to donate more, but not inclination, consider this: Half of your donation will go to the presenting artist and/or an organization that supports LGBTQ+ People of Color.
Down to Earth Farmers Market: Saturdays in Chelsea | It's one of those sure signs of spring: Down to Earth Farmers Market has returned to Chelsea, Saturdays, 9am-3pm, through December 19, along the sidewalk on the North side of W. 23rd St., east of Ninth Ave.The Market has altered its shopping guidelines, in accordance with COVID-19 precautions. Click here to read the guidelines, and arrive prepared to browse while maintaining social distance. To visit the website page specific to their Chelsea Market, click here.
Weekly Zoom Sunday Services from Chelsea Community Church | During the current social distancing, Chelsea Community Church is providing a Zoom service every Sunday at noon. The church is nondenominational, and has guest speakers as well as lay-led services that include traditional music. To receive an invitation, send an email to info@chelseachurch.org. Chelsea Community Church is an inclusive, independent, lay-led and non-denominational Christian community. Due to COVID-19 concerns and recommendations, they will not hold in-person services until further notice.  However, the Church is currently holding virtual services via Zoom.  Visit chelseacommunitychurch.org.
Open Streets | New York City is opening  streets to allow for greater social distancing during the COVID-19 crisis, with a plan to expand to a total of 100 miles. Open Streets are available daily, 8am to 8pm (unless otherwise noted) for pedestrians and cyclists to use the roadbed of the street while maintaining social distancing. Opening hours may vary by location due to NYPD staffing. For info on the Open Streets program, click here, and see the below flyer. Designated Chelsea areas include W. 22nd St. btw. Seventh & Eighth Aves., and W. 21st St. btw. Ninth & 10th Aves. For Hiba Sohail's recent article on this topic, click here.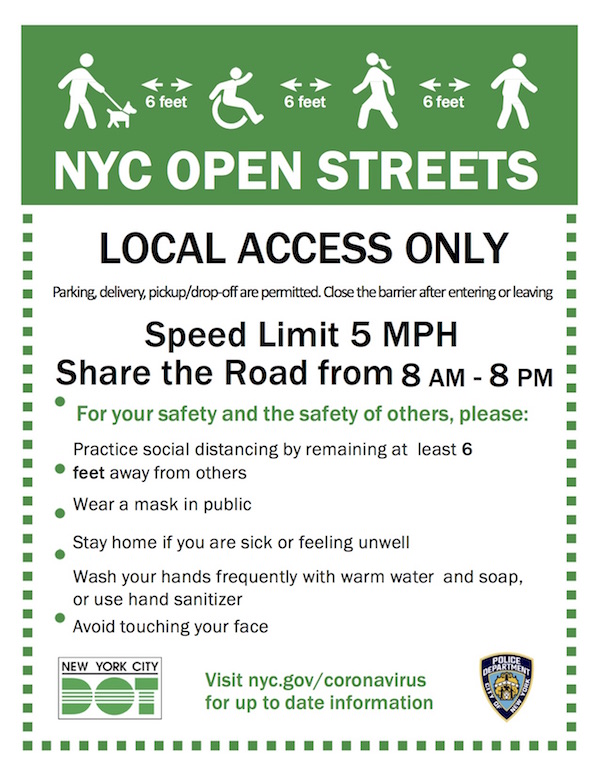 Tuesday, July 28,, 6:30-9pm | Manhattan Community Board 4 Forum: Small Business Support and NYC's Re-Opening Plan in the Age of COVID-19 | This virtual forum is presented as a panel discussion, with questions from the public. Among the subject matter: Current and future re-opening regulations; current and proposed small business support services and programs; the status of CB4 small businesses; and how to improve the re-opening process, from lessons learned. To visit the CB4 website page for this event, click here. For the Zoom registration link, click here. The conference call-in number is 646-518-9805. To view via live stream, click here.
–Compiled by Scott Stiffler
Chelsea Community News is made possible with the help of our awesome advertisers, and the support of our readers. If you like what you see, please consider taking part in our GoFundMe campaign (click here). To make a direct donation, give feedback about the site, or send a Letter to The Editor via email, at scott@chelseacommunitynews.com.