Down to Earth Farmers Market: Saturdays in Chelsea | It's one of those sure signs of spring: Down to Earth Farmers Market has returned to Chelsea, Saturdays, 9am-3pm, through December 19, along the sidewalk on the North side of W. 23rd St., east of Ninth Ave.The Market has altered its shopping guidelines, in accordance with COVID-19 precautions. Click here to read the guidelines, and arrive prepared to browse while maintaining social distance. To visit the website page specific to their Chelsea Market, click here. Go to the Manager's Tent to use your SNAP EBT card and get tokens to spend with our vendors. Health Bucks available. FMNP WIC/Seniors checks can be used at the farm stands through November. Note: Food scrap recycling collection is on pause. Please do not bring items for composting to the farmers market.
Regarding the above photo, according to a Sept. 17 email from the Market: "Kabocha and other early-maturing winter squashes are starting to come into season. Kabocha, related to pumpkin, tends to be sweet and dry. In fact, the longer it's been stored after harvest, the sweeter it will be. If you come across a bland one you probably simply cut it open too soon. Even if you have never bought a whole kabocha you may have eaten the squash since it's a popular inclusion in vegetable tempura from Japanese restaurants. Did that smile-shaped slice of orange nestled among the broccoli florets and string beans always mystify you? The Japanese embraced kabocha when it was introduced by Portuguese visitors in the 1600s. The Portuguese had picked it up in Cambodia and called it Camboja abóbora, which morphed into kabocha in Japanese. But of course before that, Europeans were first introduced to squash in the Americas, where it had been cultivated for thousands of years. As with so many of the fruits and vegetables we eat today, the story of the kabocha is a loop-de-loop through history and geography. Roasted, in soup, stewed in a savory broth or sliced and deep fried in a pillowy batter, kabocha has found a welcome place back home on American plates."
Sunday, September 20, 11:30am: Community Cleanups | All heroes wear masks, at this Chelsea, Hell's Kitchen, and Village real-world opportunity to clean up your neighborhood while maintaining social distance protocols. See the below flyer for details. For questions, email info@erikbottcher.com.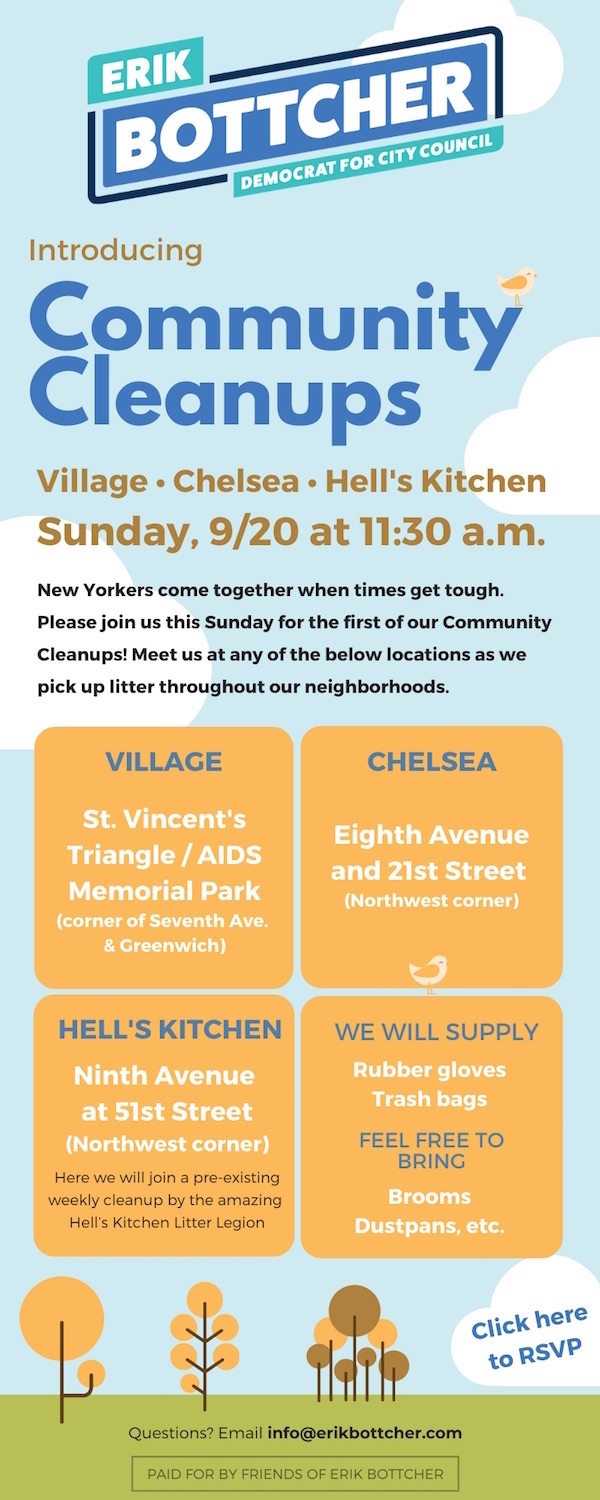 Wednesday, September 23, 5-7pm: Virtual Rat Academy | Do you see rats in and around your building or neighborhood? Learn about safe and effective methods of prevention at this free online training session. See the below flyer for details. RSVP, and ask questions about accessibility, via email: SpeakerJohnson@council.nyc.gov.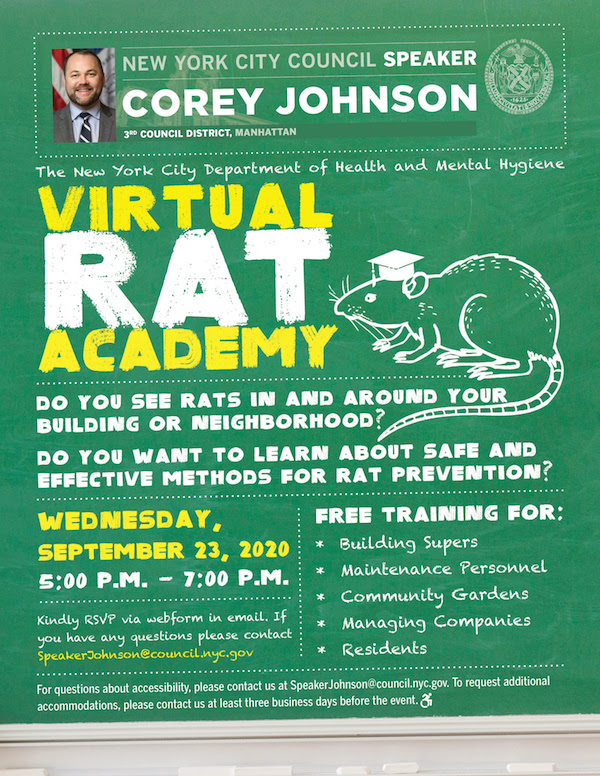 Pandemic Benefits Guidance Packet |This Benefits Guidance includes information on grocery options, health care, financial support and more. Find out what you are eligible for, regardless of your employment or immigration status. To view the packet, click here. For more information, click here.
PPE (Personal Protective Equipment) Vending Machines in Subway Stations | The MTA is deploying a dozen vending machines at 10 subway stations, allowing customers to buy COVID-19 personal protective equipment (PPE). The new machines, part of a pilot program, will offer reusable face masks, gloves, hand sanitizer, and sanitizing wipes. Vending Machines can be found at the following stations: 14th Street-Union Square: 4, 5, 6, N, Q, R, W Lines / 34 St-Herald Square (2 machines): B, D, F, M, N, Q, R, W Lines / 34 St-Penn Station: 1, 2, 3 Lines / 34 St-Penn Station: A, C, E Line / 42 St-Port Authority Bus Terminal: A, C, E Lines / 42 St-Times Square (2 machines): 1, 2, 3, 7, N, Q, R, S, W Lines / 59 St-Columbus Circle: 1, A, B, C, D Lines / 74 St-Roosevelt Avenue: 7, E, F, M, R, Lines / Atlantic Av-Barclays Center: 2, 3, 4, 5, B, D, N, Q, R Lines / Lexington Av: E, M Lines. Single-use surgical masks will still be distributed at station booths and sanitizer will be placed at subway stations for customers. 
Open Streets | With no closing date currently set, New York City is opening streets to allow for greater social distancing during the COVID-19 crisis. Open Streets are available daily, 8am to 8pm (unless otherwise noted) for pedestrians and cyclists to use the roadbed of the street while maintaining social distancing. Opening hours may vary by location due to NYPD staffing. For info on the Open Streets program, click here, and see the below flyer. Designated local areas include W. 22nd St. btw. Seventh & Eighth Aves., and W. 21st St. btw. Ninth & 10th Aves. For our recent article on how Chelsea is participating in the program, click here.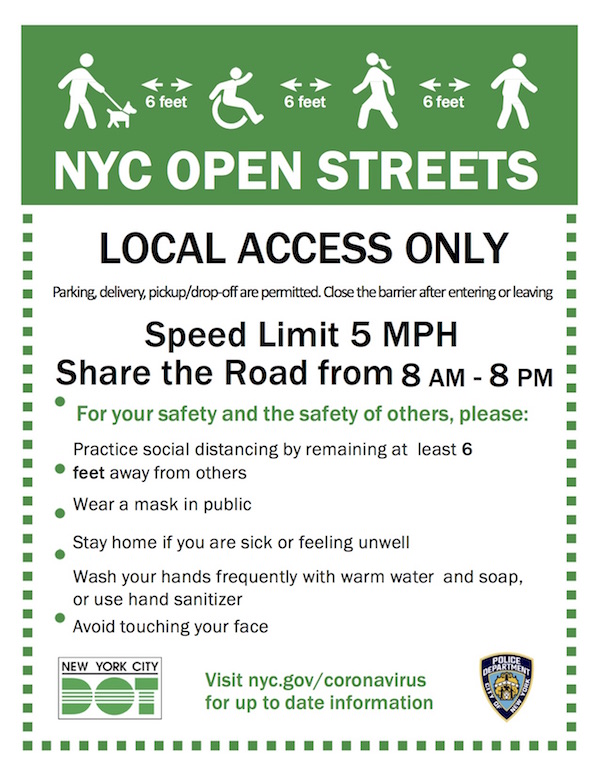 PAST EVENT: CONSULT THE CRDC WEBSITE FOR MORE ACTIVITIES | Wednesday, September 16, 7pm: Conversation on Education & the Reopening of Our School Buildings | Hosted by the Chelsea Reform Democratic Club (CRDC) | Join the CRDC (a longtime advertiser on this website) for a conversation on education and the reopening of our school buildings. The guest speakers are: Briget Rein, Assistant to the Staff Director at the UFT and Candidate for City Council D39; community activist Ambur Nicosia; Manhattan Community Board 4 (CB4) member Josephine Ishmon; and Robin Broshi, parent of a public school student. This program will be co-hosted by CRDC President Mindy Rosier-Rayburn (who is also a Special Education Teacher) & Executive Vice President Charles Bayor, who is a retired teacher. There will be a Q & A period, after our speakers. For more info, click here.
–Compiled by Scott Stiffler
Chelsea Community News is made possible with the help of our awesome advertisers, and the support of our readers. If you like what you see, please consider taking part in our GoFundMe campaign (click here). To make a direct donation, give feedback, or send a Letter to the Editor, email scott@chelseacommunitynews.com.