BY SCOTT STIFFLER | Sunday, September 20 was Deputy Inspector Kevin J. Coleman's last day as Commanding Officer of Chelsea's 10th Precinct (230 W. 20th St. btw. 7th & 8th Aves.). He is succeeded by Captain Robert Gault, former Commanding Officer of the Times Square Unit.
An ardent supporter of Neighborhood Policing and a vocal advocate of public engagement via Build the Block and Community Council meetings, DI Coleman's time at the helm saw a number of notable events and unprecedented challenges—including 2019's day-before-spring opening of Hudson Yards, seven months of COVID-19 precautions, and a summer 2020 distinguished by mounting quality of life concerns, citywide Black Lives Matter demonstrations, and concern from community stakeholders at odds with the NYPD protocol that resulted in a lack of engagement by the 10th Precinct, during several successive nights of property damage and looting in Chelsea.
Throughout his tenure at the 10th Precinct, (which began on July 16, 2018), "Inspector Coleman was always willing to listen and work with Community Board 4 [CB4] on the issues affecting Chelsea, "said CB4 Chair Lowell Kern, in a Sept. 21 email to Chelsea Community News. (Earlier this month, Coleman spoke to CB4's full board, inaugurating, Kern noted at the time, its invite to "officers from each precinct [10th, 13th, Midtown South, Midtown North] to report to CB4 about their community outreach efforts and other community concerns.")
Kern said CB4 is "going to miss him," and wished DI Coleman "the best. But," he added, "we question the wisdom of the NYPD reassigning precinct commanders at this time, when relationships between the community and the NYPD are more important than ever."
Questions of timing aside, today's rotation is in keeping with the two-year average life span of leadership at the 10th Precinct, and elsewhere throughout the city. (Dozens of command changes took place today, including turnover at the Midtown South precinct.)
Save Chelsea and Council of Chelsea Block Associations member Pamela Wolff also expressed concern regarding the timing of DI Coleman's departure.
"Having been in Chelsea for decades, I can't say I am surprised," said Wolff, in a Sept. 20 email. "Turnover in that job seems to happen every few years. That said, I am sorry to see him go. He has put heart and soul into his job during his time here, and it has certainly been a challenging time. Speaking for the Chelsea West 200 Block Association I can say that there has been genuine effort to work with community groups and individuals.  We wish him well."
DI Coleman, a longtime local (and committed Manhattan) resident newly assigned to the NYPD's Bronx borough headquarters, said, in a Sept. 20 statement to Chelsea Community News, "It's been an absolute pleasure working with the Chelsea, Hudson Yards, and Hell's Kitchen Neighborhoods, as well as all the 10th Precinct members of the service, to enhance public safety… Together we've lowered crime, collaborated in community-based initiatives, and made deeper connections with the public—all during a challenging time for the City. The 10th Precinct cops have been working hard for the people of New York. Please continue to show them your support."
Reached by phone on the night of Sept. 20, Captain Gault indicated his willingness to speak with Chelsea Community News. As such, this article will be updated with that content, so please check back in the coming days. Meantime, this article concludes with italicize info. on the 10th Precinct.
Noted Wolff, "Our new Precinct captain, Robert Gault, will arrive in time for the next Community Council meeting. We, and he, will have the opportunity get acquainted."
Prior to his arrival at the Sept. 30 Council meeting (where one of our reporters will be in attendance), Gault has, said Wolff, "some serious homework to do, to get abreast of the many and varied issues facing all of us in this new age. We hope that the community will welcome him. We have a long history of working closely with our 10th, and hope that continues unbroken. Since the precinct house sits within the borders of our block association, we are especially pleased to welcome Captain Gault."
The next 10th Precinct Community Council Meeting will be held at 7pm on Wed., Sept. 30, at Penn South (343 Eight Ave. at W. 27th St.). Social distancing will be observed. Attendees are asked to arrive wearing face coverings, and temperature screenings will be conducted before entry to the meeting room as well as an overflow room where the meeting can be viewed on monitor, as it takes place.
The 10th Precinct serves Chelsea, Clinton/Hell's Kitchen South, and the Hudson Yards neighborhoods. At Build the Block meetings, Neighborhood Coordination Officers (NCOs) speak with the public about neighborhood crime and safety concerns. Chelsea-area sectors A, B, and C, he said, are, respectively, 14th to 21st St., 21st to 29th St., and 29th to 43rd St. For info, click here. The 10th Precinct's Community Affairs Office can be reached at 212-741-8226. The precinct's main number is 212-741-8211. On Twitter: ‪@NYPD10Pct. On Facebook: www.facebook.com/NYPD10PCT. For access to NYPD crime statistics particular to the 10th Precinct, click here.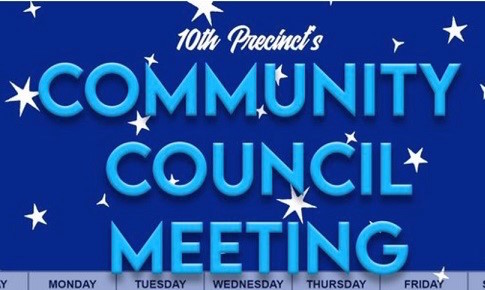 Chelsea Community News is made possible with the help of our awesome advertisers, and the support of our readers. If you like what you see, please consider taking part in our GoFundMe campaign (click here). To make a direct donation, give feedback, or send a Letter to the Editor, email scott@chelseacommunitynews.com.