BY MARK NIMAR | On Wednesday, September 2, Manhattan Community Board 4 (CB4) met via Zoom, for its monthly full board meeting. Among the agenda items were requests to amend or acquire liquor licenses, and a letter CB4 committed to send to the New York City Council, regarding the NYPD's recent attempted arrest of Derrick Ingram.
If you missed the meeting or want to revisit it, do so via CB4's YouTube channel (where other archived full board and committee meetings are also available to view). Clicking on hyperlinks not your style? Read what's directly below, as an excellent primer for the reporting that follows.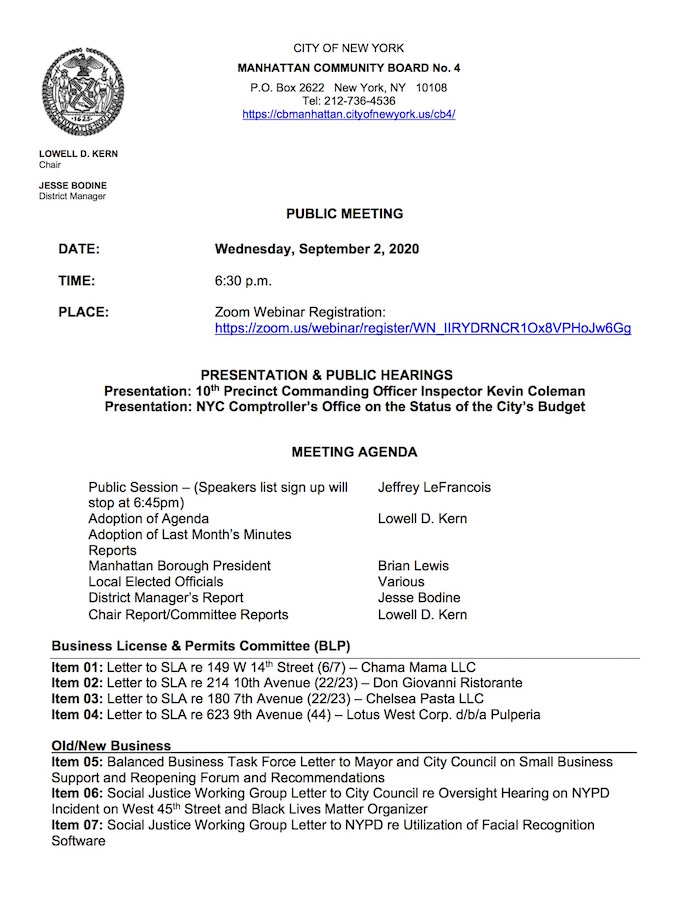 The board first addressed the status of liquor licenses and permits for both new and existing establishments in CB4's area of coverage, via letters of recommendation to the New York State Liquor Authority (SLA).
"The only committee that regularly meets during August is the Business Licensing and Permits Committee, because drinking doesn't stop, especially in this day and age," CB4 Chair Lowell Kern dryly noted.
Georgian restaurant Chama Mama (149 W. 14th St. btw. 6th & 7th Aves.) requested permission to serve food in its rear yard area; Don Giovanni Ristorante (214 10th Ave. btw. W. 22nd & 23rd Sts.) was requesting to move from a wine-and-beer liquor license to a full (liquor, wine, beer, and  cider) license; and new restaurants Chelsea Pasta (LLC d/b/a Pasta by Hudson; 180 7th Ave. btw. W. 20th & 21st Sts.); and Lotus West Corp. (d/b/a La Pulperia; 623 Ninth Ave. at W. 44th St.) were requesting new wine, beer, and cider liquor licenses. Kern put the matters to a voice vote, and all four resolutions passed unanimously, with no abstentions. (Each letter sent to the New York State Liquor Authority recommended denial of the request, unless certain stipulations were agreed to by the applicant.)
CB4 also passed Agenda Items 8 and 9, which concerned, respectively, letters to NYC Department of Education (DOE) Superintendent Donalda Chumney (regarding the Student Teacher Virtual Learning Initiative and DOE Chancellor Richard A. Carranza/Mayor Bill de Blasio (regarding the Outdoor Learning Initiative). CB4 passed the sending of the letters with no abstentions, one present-not-eligible vote, and only one "Nay" on item 9.
The evening's most heated and fiery conversation, however, took place during a discussion about Item 6—a letter to City Council Speaker Corey Johnson, condemning the NYPD's recent attempted arrest of Black Lives Matter activist and Hell's Kitchen resident Derrick Ingram, and Item 7—a letter to NYPD Commissioner Dermot Shea, requesting "a presentation from you or an NYPD representative about the use of facial
recognition software as an investigative tool by the NYPD at the next meeting of our Social
Justice Working Group."
NOTE: The meeting began with a presentation from the leader of Chelsea's 10th Precinct. Click here to read our stand-alone coverage of that matter. Also Note: Sun., Sept. 20 was Coleman's last day at the 10th. He is now assigned to the Bronx borough headquarters. His successor is Captain Robert Gault, former Commanding Officer.of the NYPD Times Square Command.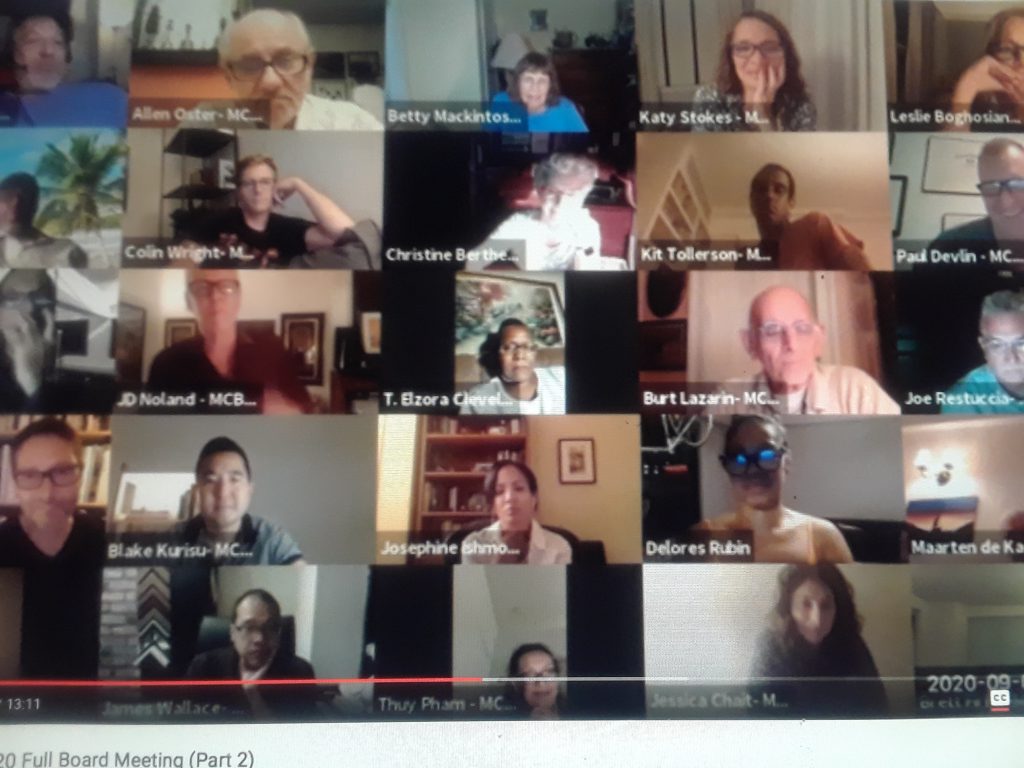 )Ingram, who was present at the meeting, said, "On Friday, August 7th, I was awoken at 7am to the police banging at my door. They claimed to have a warrant that I asked to be slid under my door that they never provided. For the next five hours, dozens of officers harassed, berated me, and terrorized me by taking over my street, barricading my neighbors…and blocking off neighboring buildings, [and] pointing guns at me through my window."
The police also brought in police dogs and a helicopter to fly over Mr. Ingram's apartment on W. 45th St. (Ingram communicated with street protestors over Instagram Live while trapped in his apartment). The police eventually left, and Ingram ended up later turning himself in for arrest. Mr. Ingram came to the meeting "to ask you [CB4] to send a letter to the City Council and Speaker Corey Johnson to request that the council's Committee on Oversights and Investigations launch an investigation of the NYPD…concerning their actions in their attempted besiegement of my home on August 7th, 2020."
New York State Senator and candidate for Manhattan Borough President Brad Hoylman was among the first of the meeting's attendees to comment about the Ingram incident. After saying that everyone was "really moved" by Mr. Ingram's speech, Hoylman showed that he is taking action on this issue, saying, "I've sent a letter… to the NYPD Commissioner asking for a full accounting of the events, including questions like Derrick raised about the cost, the process of approvals in both officers, and the use of facial recognition" software, a controversial technology the NYPD used to track Ingram down. "I carry a bill in Albany," Hoylman noted, "which would ban facial-recognition by use of the NYPD until there's a task force set up to understand where that data goes, how it's used, [and] is there any accounting on it. We think it's really out of control here in the city, and we don't believe the NYPD is the right source to oversee it."
Other meeting attendees expressed similar outrage regarding the issue. CB4 member Paul Devlin, Ingram's neighbor in Hell's Kitchen, pointed out that "Derrick, as a young black male alone in his apartment with the police outside the door pounding on it, if he wasn't educated enough to slide a note out of the door saying, 'where is the warrant?' and opened the door, he might very well have been the next Eric Garner in New York City."
Devlin was horrified that he witnessed racism happening so close to his home, saying, "That man who lives across the street from me was afraid to open his door to police officers. That is unacceptable. And we should not be living in a society like that."
While everyone at the meeting agreed that what had happened to Ingram was inexcusable, there were some strong opinions about the tone and content of the letter board's letter. Some felt that some of the wording in the original draft of the letter, which contained the words "totalitarian," "shocking," and "heavy-handed" contained excessive "rhetoric" regarding the Ingram incident.
CB4's Brett Firfer believed that such a letter would undermine the board's credibility, and its reputation as "a board with a level-headed approach to negotiating and diplomacy." Firfer wanted to make sure that "what we are saying" in the letter "really is representative of our community board representing a diverse community," and does not alienate certain members of the community with inflammatory language.
Business License & Permits Committee Co-Chair Burt Lazarin said, "It's important to get this letter out now and call for an investigation and support an investigation," and those present were in agreement. CB4 ended up voting in favor of sending out the letters regarding the Ingram incident and the NYPD's utilization of facial recognition software.
Chelsea Community News is made possible with the help of our awesome advertisers, and the support of our readers. If you like what you see, please consider taking part in our GoFundMe campaign (click here). To make a direct donation, give feedback, or send a Letter to the Editor, email scott@chelseacommunitynews.com.