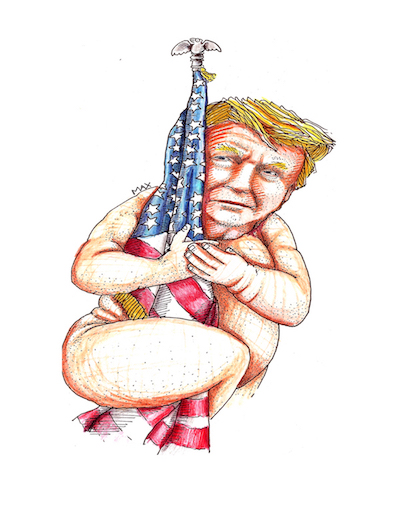 EDITOR'S NOTE: Below, find the latest diary entry, then other October content. Click here for the September entries. Click here for the August entries.  Click here for the July entries.  Click here for the June entries. Click here for the May entries. Click here for the April entries. Click here for all March entries . My CoviDiary is reprinted, with the author's permission, from its original publication via maxburbank.wordpress.com.
Oh, and by the by, we've stopped deleting the "uc" part of Mr. Burbank's liberal use of the "F" word because, well, when he invokes it, it's in the service of a righteously angry response to the times we're living in. So, you know, Trigger Alert: Spicy language abounds, should you choose to proceed ahead.
My CoviDiary: 10/26/2020: Very Brief, immediate Thoughts on the Seating of Amy Coney Barrett

BY MAX BURBANK | Of course I am livid, enraged, seething. All those things. Moreover, what sort of person is it who welcomes nomination, let alone confirmation under these circumstances? How much greed and how little pride would they need to be made of? Whatever your answer, that's the sort of person who will now sit on the Supreme Court.
I think, though, (or maybe I just pray) that this is a miscalculation on Trump's part. The GOP just got the main thing it wanted. Had Trump held off, it would have given them a reason to stand by him, it would have been something to stand in line to vote for, to come out no matter the inconvenience, and I'd say the danger, but the Party of Lemmings doesn't seem to believe they are mortal, so I can't throw that in.
We, on the other hand, have to win. We have no other options. What remains of the Republican party must be trampled and burned and the ground they stood on must be salted.
The Imbecile in Chief performed his last act of usefulness tonight. All that's left of him is liability. His most moronic House and Senate cheerleaders will cling to him like the hideous political remora they are, and also Lindsey Graham, because he has nothing else left. All he can do now is sweat and grin and beg and pretend he didn't even notice a Lou Dobbs shaped Grim Reaper bringing him Trump's kiss of death. But there's a deep and bitter swath of congressmen who ate Trump's shit solely for this moment. The desperate rush to elevate Amy Coney Barrett betrays the general lack of faith in Trump's continued presence. Having accomplished that, all Trump is now is the man who murdered the Republican Party and hollowed out it's corpse to live in like an evil universe Han Solo slicing open a Tauntaun, if you'll forgive a mixed nerd metaphor.
The writing was already starting to show up on the wall. Reports in the press of Republicans "distancing" themselves, a signature profile in courage less than ten days before the election. Bibi Netanyahu, on speakerphone with the world press listening in, refused to join Trump in Biden bashing, a public statement he's not willing to even pretend to put all his eggs up Trump's basket. Boss Putin coyly allowed he doesn't think the Bidens did anything wrong in their dealings with Burisma, answering that oft asked question, "What do you call a useful idiot after he stops being useful?"
Trump better hope the answer is just "An idiot" and not "The Deceased."
-END-
BEFORE YOU CONTINUE, LEARN A LITTLE BIT ABOUT MAX BURBANK | Burbank is a freelance writer living in Salem, Massachusetts. His work has been published by Cracked.com, NationalLampoon.com, i-mockery.com, and the literary magazine websites (because he is both hoity and toity, but neither enough to get in the print versions) Monkeybicycle.net and Frictionmagazine.com. Once upon a time, before the Internet, he sold science fiction stories to the legendary Algis Budrys for Tomorrow: The Magazine of Speculative Fiction. Until recently, he was the political satirist for Chelsea Now, where he won a PRESTIGIOUS first-place award for editorial cartooning from the New York Press Association, because gosh darn it, he draws real good, too. A huge, steaming pile of Max's comedy writing can be found archived at maxburbank.wordpress.com. Max is available for freelance work, both writing and illustration, because he likes to eat on occasion.
My CoviDiary: 10/23/2020: Random Ruminations on Recent Events
BY MAX BURBANK | Because the news cycle has exhausted me and befuddled my mind past coherent thought, and instead of not writing, which is how I had been managing the problem, here are a number of thoughts on a number of things in no particular order.
#
"Dr. Atlas" is a supervillain name and there is no excuse for it. I'm certain  there are all kinds of people out there with medical degrees in fields that require no knowledge of epidemiology who are would have been perfectly willing to sacrifice all credibility and any professional pride in order to stand on stage with a president, even if that president is Donald Trump, and most of them don't have supervillain surnames. Dr. Jameson. Dr. Curtis. Dr. Harrison. Dr. Miller. Dr. Prescott. Think of all the last names out there that don't sound like they come from the splash panel of a 1970's DC Jack Kirby book. "Behold! The Gentleman's name is… DR. ATLAS!!" and there he is, some skeevy looking, spindly creep, tendrils of greasy hair escaping across his sweaty brow from beneath a surgical cap,  all trussed up in filthy scrubs and multiple leather straps, one of those giant mirrors on a headband Doctors usd to sport, whispering sado-masochistic secrets in Lord Darkseid's ear. No one wants Dr. Comic Book Henchman when the actual Dr. Fauci is standing in the wings waiting to be allowed back on stage.
##
The reviews of last night's debate seem to imply the bar has been set so low for Trump that as long he doesn't repeatedly shriek unintelligibly like an elderly chimpanzee with its hand stuck in a garbage disposal, holler the "N" word over and over or lose control of his bowels, it's presidential and the media is required to ask itself whether this was the moment he became The President.  And shit, for argument's sake, let's say that's all it took, and by managing to refrain from doing something asinine or obscene for an hour and  half, the mantle of the presidency had honest to god finally draped his shoulders; his literally not shitting himself was indeed a sign that the gravity of his office had at last miraculously transformed him… It is ELEVEN FUCKING DAYS UNTIL THE ELECTION!! That window, (which we should NEVER have had to wait on since the bare minimum that should be required of a presidential candidate is that he's already the sort of man who is theoretically capable of doing president stuff in a president-like manner BEFORE he takes the oath of office) is CLOSED! We might debate exactly where on the four year time line the very last chance to become the president so dramatically that it entitles you to a second term falls, but I think we can all agree, it was longer ago than ELEVEN DAYS!!
###
Have you seen Mitch McConnell's hands? All bandaged and plum colored, like a truck backed over them while he was trying to pick up the quarter an orphan didn't notice they'd  dropped? Some reporter asked him if he was okay and he was all, "I have no concerns. The Devil will not allow me to perish, no matter how this shell decays. This he has promised me, that I shall have dominion until he is done with me." I'm kidding, I don't really think Mitch is dying. I think he's dead. I think he's been dead for at least six years. Living people don't look like that. He's like some thing preserved in a mason jar of formaldehyde, or a pig fetus in aspic, or something unspeakable floating in a tureen of Gefilte Fish jelly.
####
Where the hell is William Barr now that Trump has finally discovered that though his AG was willing to violate both law and oath of office in the service of fascism, that doesn't mean he can spin straw into gold any more than the Miller's Daughter or Jefferson Beauregard Sessions the Third could? I'm pretty certain ol' Billy Barr never imagined that just because King Trumpapotamus eventually but prodigiously shat upon and publicly humiliated every single other person who'd eagerly sacrificed their remaining human dignity and pride for him meant that fate might befall him too! It's pretty clear that loathsome, bullfrog shaped sack of bile and superiority believed he was to be the sole exception, that somehow his dog-like obeisance to his president was perfect enough that he alone would emerge rose scented and elevated instead of soaking in Trump-shit and stuffed under the bus with dozens of similarly weeping, befouled stooges.
#####
Lately I walk into a room in my house and have no idea why I went there, except that I meant to do something. Even if the room is an obvious clue. How many reasons could one have to go into a bathroom? My mind is just blank. Eventually I turn round and go back to the room I'd come from, at which point I remember what I'd meant to do. So I return to the room I'd just left only to realize I no longer have any idea of why I'd gone in there the first time, let alone this time, even though I totally remember remembering when I returned to the original room. I remember the sensation of remembering, but not what I remembered. And I stand there, wondering what iteration I'm on. Is this the first time I have gone into, gone out of, and then returned to the room I am now in? The tenth? The fiftieth? What if this is an infinite cycle? Every good sci-fi show has a time loop episode. What if this is mine? Or what if I was very, very bad and then I died and this is what I get? Or what if, as I've always feared, punishment isn't for anything, it's simply the human condition?
######
Once you've had over 10,000 "impressions" on a Tweet, anything less is just bullshit filler, like all the jokes that don't kill in a tight ten. And I want to be clear, I have no fucking clue what an "impression" is. It's not an "engagement", it's clearly something with a lesser threshold than a "comment" or a "retweet", but I have no earthly idea what it is beyond a number I choose to treat like a score. And I have to know my score. Because when my grandchildren ask me what I did when Democracy was burning to the ground at the tail end of the Before Time, I don't want to be lying when I tell them I cracked real wise on Twitter. I Tweeted some seriously devastating sick burns. I'm like Woody Guthrie writing "This Machine Kills Fascists" on his guitar, except I'm almost entirely unknown, typing in the shadows, and though I have no way of knowing for sure I'm gonna guess I'm not as useful in a scrap as Woody owing to my lifelong history of extreme physical cowardice. My point is, grand as it might be to say, guitars don't actually kill fascists. Unless they're secret agent,  007-type guitars built by Q with a silenced sniper's rifle hidden in the neck.
#######
Mike Pence is an enormous, shameless butt-suck and there is simply no way he believes in God, because seriously. How would that work?
########
My Bologna has a first name. It's J-E-F-F-REE. My Bologna has a second name, it's Toobin. I call my bologna "Jeffrey Toobin" and it's not actually bologna I'm talking about. Thank you for enjoying the topical humor stylings of Max Burbank. I'm here all week. And the week after. And for the foreseeable future because of the deadly pandemic we as a country have decided to pretend isn't that big of a deal even as the death toll grows larger than anything any of us has ever experienced, while I spend my time making masturbation jokes. Look, he was at work, even if he sincerely, though incorrectly, thought no one could see him. If you are a Jeffrey Toobin apologists, ask yourself would it be OK if I sat opposite you in a conference room abusing myself under the table during a colleagues powerpoint on quarterly sales as long as I was convincingly still and didn't moan or anything.
#########
So mostly, when I tuck my shirt in? I'm not lying on my back in bed with an underage girl in the room. But hey, maybe Rudy Giuliani does it differently and it's all perfectly innocent, like Alan Dershowitz keeping his underwear on during a massage, or OJ Simpson being totally somewhere else at the time he was standing right there murdering two people. Here's what's super funny about the whole thing (and I assume I've made clear with my choice of examples and imagery that it's hilarious as opposed to tragic and monstrous), William Barr assumed that by being slavishly loyal to the whims of Donald Trump no matter how illegal, he'd remain in the president's good graces. He was wrong. Rudy Giuliani, however, can be regularly captured on video swanning about like if Pennywise was an end-stage alcoholic Rodeo Clown and Trump will never, ever quit him. That has got to make Billy-Boy Barr just about insane, and I stand by my statement, that's funny. OK, maybe funny is a bad word for whatever it is. But it surely does spark some fucking joy.
##########
I want to close with a couple of Tweets that tumbled out of the Republican biome this afternoon. The first is from Greg Jarrett, a legal and political analyst for the Fox News channel, and if you're wondering whether he's Chris Wallace type Fox or Bill O'reilly type Fox, I think the titles of his two recent books, "The Russia Hoax" and "Witch Hunt" will give you some idea. He Tweeted:
"I find it odd, if not curious, that the moment I hit "send" on my column that's highly critical of Joe Biden my Wi-Fi service disconnected. Inexplicably, it will be out all day. Never happened before. Probably just a coincidence. I drove to the local store and sent the column ."
Huh. I think the best thing about this tweet is it's "probably just a coincidence" that bouts of unwarranted paranoia and delusions of grandeur are symptoms of methamphetamine addiction.
The second Tweet is from Republicn Representative Clay Higgins of Louisiana's 3rd Congressional District. He's a super fun guy whose ex-wife had to sue him for $140,000.00 in unpaid child support.   If his name sounds familiar, it might be that you're recalling a video he made at Auschwitz, some of which he narrated from inside the gas chamber, leading the Anne Frank Center to describe his behavior as a "Global disgrace." He took down the video and issued an apology for his insensitivity, but in case you're wondering if he's still a whack job, Here's this afternoon's Tweet
"My wife has the gift of premonition. 
 Last night she dreamed that Federal squads were in our home seizing guns, knives, "unauthorized foods" and stored water. They said we had been "reported". 
  Becca awoke crying. 
  What happened to our freedom? She asked. 
  What indeed."
There's a lot going on there, but mostly I'm concerned with what the hell "unauthorized foods" are in the dystopian, left wing Antifa dark future Higgin's wife was receiving a clairvoyant dream vision warning of? What right wing delicacies will be contraband, l the Socialists refuse to authorize. Larks tongues? Liberal tears? Immigrant baby meat?
What happened to our freedom?
What indeed.
-END-
My CoviDiary: 10/13/2020: Superman? Try Icarus.
BY MAX BURBANK | "In several phone calls last weekend from the presidential suite at Walter Reed National Military Medical Center, Mr. Trump shared an idea he was considering: When he left the hospital, he wanted to appear frail at first when people saw him, according to people with knowledge of the conversations. But underneath his button-down dress shirt, he would wear a Superman T-shirt, which he would reveal as a symbol of strength when he ripped open the top layer. He ultimately did not go ahead with the stunt."—From the New York Times
If anything about this pull quote besides that fact that Trump eventually opted not to do it shocks you, it shouldn't. The president has compared himself, or amplified others comparing him to Teddy Roosevelt, Winston Churchill, Abraham Lincoln, Martin Luther King Jr. and Jesus. The only difference here is that Superman is fictional, although that kind of distinction is a little muddy for Trump. All of these comparisons are grotesquely inappropriate, but something made Trump pull up short in this case. It's hard to say just what, as there are so many reasons it's a very bad idea. If I had to put money on just one of them, I'd guess he thought procuring an XXXL Superman T-shirt on such short notice would be a hassle, but just for fun, let's lay out all the reasons it would have been such a poor choice.
First and foremost, Superman is literally (in so much as a fictional character can be 'literally' anything) an undocumented alien. If he has a Social Security Number, it had to have been fraudulently obtained. As astute readers might recall, I've had this very argument with Dean Cain, a sometime actor and professional dunderhead who played Superman on the TV for four seasons in the '90s. You can find that story here if you haven't read it before. Dean argues that Superman is NOT an illegal alien, referencing something he refers to as "The Foundling Law" in Kansas in the 1930s. I'm not going to go into the obscure details (which you can peruse here, if so inclined) but suffice it to say none of it matters, because superman isn't human, and the law, rarely used in any case, applies to baby humans of unknown origins. For instance, if I found a horse under the age of five and could not ascertain where it was born, the Foundling Statute would not apply because legitimate Social Security numbers are given exclusively to human babies. Donald Trump's opinions on undocumeted aliens are well known and unfavorable. If Superman existed he would have lived his entire life under the shadow of being exposed and deported, which would mean he would just have to hang there in a debris field orbiting a red star. As the last son of a dead world, If he'd been human, he could have applied for environmental refugee status, another thing Trump absolutely hates, but he's an extraterrestrial and as such has no rights at all.
It gets worse. In his secret and criminal false identity of Clark Kent, he is not only defying LAW & ORDER by simply existing, he is a PROFESSIONAL JOURNALIST, ie. an enemy of the people.
Should we remind ourselves that this entire argument is ridiculous, since Superman is a fictional construct, there's this: Superman, like many of the first generation of comic book heroes,was the creation of Jews. His creators, Jerry Siegel and Joe Shuster, were the children of Jewish immigrants. Here's a little secret, Trump doesn't like Jews. His claim that he is "the least anti-Semitic person that you've ever seen in your entire life." only proves that either he enjoys both recreational and professional lying, or does not know what the words "least,"  "anti-semitic," "ever," "seen," entire," and "life" mean.
I'm a Jew, and perforce know a lot of other Jews. While, yes, there is some degree of self loathing in the mix, millions and millions of us, the vast majority are likely less anti-semitic than Trump. He's acccused American Jews of being disloyal to Israel by voting Democratic, that seems a tad anti-semitic. Refusing to condemn actual Neo-Nazis is a stretch more than a tad. And then there's this charming nugget from a speech he gave to Israeli American Council a little less than a year ago:
"A lot of you are in the real estate business, because I know you very well. You're brutal killers, not nice people at all.. but you have to vote for me—you have no choice. You're not gonna vote for Pocahontas, I can tell you that. You're not gonna vote for the wealth tax. Yeah, let's take 100% of your wealth away! Some of you don't like me. Some of you I don't like at all, actually. And you're going to be my biggest supporters because you're going to be out of business in about 15 minutes if they get it. "
I promise you, Trump thought most of that was complimentary. And I enjoyed that this steaming pile of bigotry wasn't flavorful enough for Trump slamming just the jews, he had to spice it up with a dash of Native American bashing. He's not shy.
And sweet Jesus (another Jew, BTW) do not Mike Pence me with "Oh, but he CAN'T be a Jew hater, he has Jewish GRANDCHILDREN!" Individual people you care about do not inoculate you against anti-semitism, and honestly, do we have any evidence he does care about them? Human affection is not exactly his strong suit. If Trump could pick his grandchildren out of a line-up or recite all of their names (Unless they are named Man, Woman, Person, Camera and TV), I'd be surprised.
If Trump thought for a moment, he probably wouldn't choose to compare himself to an illegal immigrant, refugee, journalist Jew, But thinking for a moment is also not one of his strong suits, so I'm still going with the difficulty of getting the "S" T-shirt in his size as the reason he chose not to execute this cute little stunt. Or maybe the fact that he'd have to rip open his shirt, a task almost as complicated as closing an umbrella or walking down a ramp.
No, If Trump is anyone in the "You'll believe a man can fly" pantheon, it's not Superman. It's Icarus. Among his plethora of sins, Hubris is the most constant and egregious. The president's wings haven't melted yet, but just lately their wax bindings look a little more drippy than ever before. Take a gander at the video of him out on his latest Barnstormin', Super Spreadin', Ol' Time Jamboree N' Hate Rally, shaking his repulsive orange paunch to the Village people's "YMCA."  It's hard to imagine anyone less deserving and less prepared flying that close to his approximation of the sun and get away with it.
-END-
My CoviDiary: 10/06/2020: 27 Things I Will Not Be Talking About In This Entry
BY MAX BURBANK | Here's my sense of the moment; You, like me, like in fact all of us, as in everyone worth mentioning, despite what pleasure and catharsis can be take come to, nevertheless sometimes need a break. I invite you to reread that sentence, as it is a doozy, and a little hard to follow, but I tell myself it makes readers invest more if you make them work a little, or just quit reading, and it's not as if I'll know, either way. I'd try to make myself a bit clearer in the second draft, but I made a vow on that long ago night my parents were murdered in an alleyway to never under any circumstances write a second draft of anything, and also to become a creature of the night, as criminals are a superstitious, cowardly lot.
To put it another way, while my father (before his untimely and inspiring murder) always said the only proper response to the outrageous is outrage, outrage tends to chafe upon repeated application, and we all need a break every now and again to recharge our outragers. As former presidential candidate and generally irritating self help entrepreneur/ new-age goof ball Marianne Williamson often says "Self-care is so important."
So, in the spirit of self care and as that famous theme song from the famous show about the social benefits of the barfly dipsomania lifestyle put it, "taking a break from all your worries"; here is a list of the things that I will not be talking about in this entry.
1  That fat fuck, Donald Trump
2  My policy of waving my general prohibition on body shaming humor when it comes to the fat fuck Donald Trump.
3  People who do not pull their masks up over their noses.
4  How when I wake up every morning with a scratchy throat I need to remind myself that I have woken up with a scratchy throat every single day since my late thirties and it does not necessarily mean I have the Coronavirus, although it cannot be ruled out.
5  Southern fried lickspittle boot wipe, Lindsey Graham.
6  Reduced price irregular shit pinata William Barr.
7  Marianne Williamson's dedicated legion of zombie fans, who though their master has receded from the headlines will still find the time to deluge me with a virtual electronic wave of hate-email for daring to mock her perfection.
8  Adrenochrome.
9  People who do not understand that Adrenochrome is a thing, but that thing is just oxidized adrenaline, not some magical evil elixir harvested from the brains of living babies after they have been terrified, a ludicrous idea traceable back to a fucking JOKE Hunter S. Thompson wrote in Fear and Loathing in Las Vegas, which is a fictionalized account of a drug hallucination and not a damn HOW TO MANUAL, and he said ZERO about babies, just that it had to be procured from a living brain to be effective, and he was MAKING A JOKE about the weird ass things you theorize when you are really, really fucked up on a cocktail of illicit drugs that make you SUPER PARANOID!
10   A-hole QAnon toolbags with nothing but time on their hands and a deeply unhealthy obsession with pedophelia that they should really take a long, hard look at.
11   Using the words "long" and "hard" in #9 on this list, the unforeseen literary collateral damage caused by taking a vow to never do second drafts of anything as part of a poorly constructed superhero secret origin vow.
12   A long-winded and excruciatingly executed joke based on the repetition of "#9" in cryptic reference to the sound poem "Revolution #9" found on and generally skipped while playing The Beatle's "The White Album", a joke that never really works and wouldn't be very funny even if it did, but it stays on the list instead of being edited out because of MY VOW, MY VOW, MY CURSED VOW!
13  "Mugshot" Matt Gaetz and how nobody ever talks about the obvious implications of an unmarried, grown ass man turning out to have a secret adopted son, even though if he was a Democrat some weasley little QAnon basement boy with delusions of intellectual adequacy would have second amendmented his ass ages ago.
14  My deep, abiding, almost romantic love of run on sentences and how this unhealthy addiction is exacerbated by my FUCKING VOW.
15  How much more I "drop" the "F-bomb" in my writing since about day three of the pandemic.
16  List Comedy, God's gift to the lazy comedy writer.
17  The irritating fact that the name of "The White Album" is not the "White Album" that's just what people all it on account of it being white despite the fact that the album's name is simply "The Beatles", and I knew that, so don't be writing me niggly little emails, Beatles nerds.
18  Whatever God-awful thing is wrong with pearlescent turd Mitch McConnell's face that makes it look like a Pinterest-fail tallow candle of a dried apple old woman doll gone horribly wrong.
19  How I have simply had to find a way to live with the fact that no one will ever, under any circumstances, now matter how I debase myself to the point of begging, EVER fill the ice trays besides me, and that if I simply allow us to run out of ice entirely and leave the empty trays sitting in the freezer, the rest of my family will go iceless for the rest of their lives rather than lift a finger to fill the ice trays even once.
20  How I have simply had to find a way to live with the fact that on account of that fat fuck Donald Trump finally catching the Coronavirus after months of taking zero precautions and doing everything wrong but asking each toothless, hillbilly, QAnon toolbag at one his Nuremberg rallies to spit in his open mouth, no one is even interested in talking about how Melania "First Lady of the Uncanny Valley" Trump is ON TAPE saying, "Who gives a fuck about Christmas stuff and decoration?" and how maybe, just maybe, that argues that she isn't the classiest first lady ever.
21  The discovery that if you pump that corpulent rat bastard Donald Trump full of steroids, he defies the laws of physics and becomes and even bigger A-hole than he already was to the point where the staggering mass of his A-holeness threatens to collapse in on itself and become a solar system destroying black hole of A-holeness powerful enough to destabilize the entire fucking Milky Way galaxy.
22  How list comedy allows for the powerful meta-comedy of talking about all the the things the list itself says you are not going to talk about
23  How list comedy allows for the powerful meta-comedy of talking about all the the things the list itself says you are not going to talk about
24  How a stupid pointless vow which was only ever a joke and nothing I did has somehow committed me to leaving #'s 22 and 23 as the EXACT SAME SENTENCE despite the fact that I never got around to becoming a creature of the night and did you know that in his very first adventure The Batman had PURPLE GLOVES, because he did, because NO ONE is PERFECT so to hell with whatever standards you are holding me to!
25  The degree to which a whopping dose of unprescribed steroids will impact what should have been a delightfully humorous list, a thing that I am pretending happened for the purposes of humor.
26  Good night, sir.
27  I SAID GOOD NIGHT!
-END-
My CoviDiary: 10/05/2020: POTUS Don't Fear The Reaper
BY MAX BURBANK | "I will be leaving the great Walter Reed Medical Center today at 6:30pm. Feeling really good! Don't be afraid of Covid. Don't let it dominate your life. We have developed, under the Trump Administration, some really great drugs & knowledge. I feel better than I did 20 years ago!"
So Tweeted his Orange Eminence, Generalissimo Donaldo Johanus Trump, Holder of the Scared Sharpie, Proud Recipient of the Coveted Bay of Pigs Award, Two-Time Michigan Man of the Year Award winner, Defeater of the Coronavirus, Emperor of America for Life Without End, First of His Name and People Magazine's Sexiest Man Alive for 258 Consecutive Years Running; And who knows, it might be what actually happens, unless in an abundance of caution Mark Meadows is overcome by a fit of self preservation instincts and bags the commander in chief with a high-caliber tranquilizer gun, in fear that the Dr.s at Walter Reed might make clear any such move is entirely against their advice and indeed against the advice of anyone holding an actual medical degree, that the president "Leaving the great Walter Reed Medical Center" might in fact constitute criminal endangerment of any and all unlucky enough to come in contact with this tumbling, morbidly obese, bag of infectous disease all hopped up out of his mind on steroids and who knows what all other military grade goof balls.
That Tweet is the kind of statement you get when you pump an egomaniac who also happens to be a certified moron full of happy drugs, and you KNOW happy drugs are in whatever cocktail of meds they slapped together for him, because imagine, just IMAGINE trying to tend to that howling emptiness in a fat suit after it found out it had the 'Rona.
"Don't be afraid of Covid. Don't let it dominate your life."
The fundamental disrespect for the dead and the grieving in those two sentences is immeasurable. The complete inability to feel even the tiniest amount of human empathy for the staggering loss we have endured on this planet in the last six months…
Listen… if you find yourself in a situation where you are not afraid of something that has ended the lives of give or take 210,000 Americans, killed 1.04 MILLION human beings… Not to put too fine a point on it and pardon my French… well, I was going to say you're a fucking idiot, but that doesn't do it, because even the worst fucking idiot is sentient. It responds to stimuli, right? If I rush it with sledge hammer, it will flinch no matter how stupid it is, so "Fucking Idiot" just isn't a big enough tarp to cover that hole, is it? If you are not afraid of the Coronavirus, you're a lump. In the president's case, you're an insensate fucking lump of meat and gristle that shambles about and won't ever, even for second, shut your flapping head hole, and your able to do all that human like behavior even though you're not a viable life form because evil exists, OK? Not metaphorical, not 'within us all', not 'the capacity for evil' but some concrete, actual, physical manifestation of EVIL, with dark powers and shit that blasphemously allow an insensate lump to be born resembling quasi- human flesh that grows up to wander the earth, flailing and shouting and slapping the caps lock on its phone with it's revolting, chubby, stunted, Vienna Sausage rolled in Cheeto dust, fingers. That's what's not afraid of Covid. That right there.
And you know, it's not even him, really. I mean, yes, I just said that he's a non-sentient being animated by concrete evil, and I believe it, but that's his deal. Crazy, empty people are gonna do crazy, empty shit, and if you pump them full of a whole bunch of drugs, they're gonna do it way harder and that's how you get a lumpy, orange leather sack of masticated hamberders shrieking that it feels better than it did 20 years ago, when it has the FUCKING CORONAVIRUS! Trump right now isn't a person, it's an event, it's poor impulse control in an ill-fitting suit, but lots and lots of people are letting him do it, lots and lots of people are helping him do it! And that isn't concrete, supernatural evil, that's the same garden variety, banal, boring ass, mundane, human evil that oiled the gears of the Nazi machinery and kept it chugging along nicely for years! Fuck these people, fuck these Proud Boys, these Boogaloo twits, these senators and judges and spokespeople and pundits and economically anxious voters and his fucking wax figure family, all marching with great enthusiasm into a colossal, only slightly metaphorical meat grinder! Fuck this noxious minority chaining the entire nations to a giddy, gibbering, insensate presidential lump as it charges of a cliff!
Let me tell you where all of this has landed me; I am putting ALL my chips on the coronavirus. Because as much as it seems like he just HAS to have been faking, too many other people who were at the Rose Garden Nuremberg Jamboree have tested positive, and sure they may all be faking, but the wider the net gets cast the more implausible an idea that becomes. All the "infected" people, the lab employees and doctors that would have to be in on it, just make the premise more and more unlikely, and Christie? Chris fucking Christie? That sad sack bastard who spent 48 hours with Covid Hope Hicks in the thankless task of trying to prep the Toddler in chief for a debate and they didn't even phone the poor schmuck to let him know he'd been exposed? I just can't see him being in on it. I just can't see him being included, know what I mean? Keep in mind, Christie is the dude that put Jarred's dad in the slammer. They don't like him. They only invite him over because humiliating him is fun, and he never fights back. Whatever they do to him, no matter how degrading and public, he takes it and likes it. He's New Jersey Pence, and they didn't even have to give him a job. So no way is he part of a conspiracy. And he tested positive.
I took a break to check the news, and saw that as I've worked on this, Trump has indeed returned to the White House. His final act before entering? He removes his mask and grins for the cameras. Standing there clearly having trouble breathing, he might as well have been flipping the bird at us all, both birds, a double barreled "fuck you, America."
You have to give it to him, it's a pretty bold statement for a man who in a best case scenario is still highly contagious, the virus billowing out of his nose and mouth with every breath he takes. This is Trump saying "I'm going to kill as many of you as I can, and I'm starting right here. I have terrible judgment, I'm pretty sure I'm the smartest man alive despite all the evidence in the world that I'm as dumb as a jar of eatin' paste, and I'm medically dangerous to be in the same room with. How do you like me now, insects?"
So all I have left is to be 100% in on the 'Rona slamming back into Trump like Rocky Balboa training up on a side of beef, which is not where I was at morally until about four hours ago, thanks. Because Trump, who thinks he's magically all better because of his famously superior genes, who thinks he's attended the school of Corona now and really understands it better than everyone who died of it alone and knowing they were leaving financial ruin in their wake, is going to leave Walter Reed and climb in a helicopter where he'll expose the pilot to the Coronavirus, just like he did the Secret Service agents and the Driver whose lives he endangered for yesterday's little hate rally replacement joy ride. He's going to go back to the White House and expose staff and interns more Secret Service Agents and who knows how many other people because you don't imagine for an instant he's going to sit alone in his room for the next two weeks, do you? So now I have the hope the virus takes Donald Trump to the mat and bashes his head against the canvas as many times as it takes to keep him from hurting anybody else. Because his colleagues won't do it, his friends won't do it, his family won't do it, the people he's going to infect will stand there and let him do it, and he's not going to wait around for the voters to do it. This is who he is and what he does to us, what he makes us into, and sure, that's a victory of sorts I guess, but we passed the point at which he has to be stopped a long time ago.
So go Team Corona. Make America Great Again.
-END-
My CoviDiary: 10/02/2020: Trump Tests Positive
BY MAX BURBANK | Today I'd planned to wrap up my observations of the disastrous presidential debate on Monday, but that's clearly not going to happen. For the sake of posterity, (as if anyone is ever going to go back and reread My CoviDiary, and I'm including myself) a little context.
Last night as I was about to post yesterday's entry, I saw that presidential advisor Hope Hicks had tested positive for the Coronavirus, and that the Trumps were now awaiting the results of their own tests. I woke to the news that both the President and First Lady had tested positive.
Maybe it's a mark of how old I am that until I got on social media over coffee, it had not crossed my mind to even question whether or not it was true. I guess my initial reaction of "Who'd lie about that?" was so gut level it didn't even register. But simple logic says that someone who would lie about everything would by definition lie about a COVID diagnosis, any single thing being a subset of all things. And it has to be said, Trump has never in the course of his political career communicated any personal health information that was not peppered with lies so obvious it was clear he couldn't care less if you knew he was lying or getting someone to lie for him.
Remember Trump's weirdo personal physician, Dr. Harold Bornstein? The one who wrote that glowing testimonial to then candidate Trump's physical condition that read in part, "His physical strength and stamina are extraordinary. If elected, Mr. Trump, I can state unequivocally, will be the healthiest individual ever elected to the presidency." If the diction sounds a little Trumpy, that might be because as Bornstein later revealed, Trump dictated it to him. And he never even tried to hide that he was controlling what the letter would say! Prior to it's release he tweeted, "As a presidential candidate, I have instructed my long-time doctor to issue, within two weeks, a full medical report-it will show perfection."
Or how about Dr. Ronny Jackson, the White House physician until 2018, nicknamed "The Candyman" for passing out Ambien and Provigil to White House staff like a frikkin' human Pez dispenser, who wrote of Trump "if he had a healthier diet over the last 20 years, he might live to be 200 years old," and that he had "incredibly good genes, and it's just the way God made him." Hmmmm… who else rattles on about "good genes" like the text of a Nazi propaganda film promoting eugenics? I don't think it was so much dictation this time as it was Jackson's desperate need to polish Trump's knob, a habit that, although he hasn't worked for the president in two years, he engaged in as recently as yesterday, when despite having no professional relationship with the Trumps, he Tweeted, "Our President and First Lady have tested positive for COVID-19, however, rest assured they are both fine and completely asymptotic. The President is in very good health and has NO comorbities."
OK, settle down, Candyman. A.) Nobody asked you. B.) A few hours after you tweeted, The White House reported Trump was experiencing symptoms and as I type this he's at Walter Reed, so it's possible you jumped the gun there, and if that didn't decrease one's confidence in your medical acumen, C.) That's not how "comorbidities" is spelled and also D.) He's got fistfulls of comorbidities, among them extreme arrogance coupled with monumental stupidity and towering hubris, not to mention morbid obesity, a fact I KNOW you're aware of since you lied about his height and weight in your official medical assessment just enough to squeeze him in under the definitional line of morbid obesity. But what the hell else would you expect of the brilliant clinical physician who also recently said "I think that wearing a mask is a personal choice, and I don't particularly want my government telling me that I have to wear a mask." Updating 10/3, thanks to an astute reader it has been brought to my attention that: E.) While "asymptotic" is a word, it's a mathematical term and is not the word "asymptomatic" which in context is what he had to have meant. "Dr." Candyman wrote a tweet that used a total of two actual medical terms and he spelled BOTH of them wrong, so maybe don't let that Dr. take your appendix out.
No list of doctors the president has convinced to lie on his behalf would be complete without mentioning the Surgeon General of the United States of America, Dr. Jerome Adams, a physically fit gentleman in his mid-forties, who told Jake Tapper, "The president, he sleeps less than I do and he's healthier than what I am." But maybe I'm just being unkind. I shouldn't rule out the possibility that Dr. Adams is suffering from a serious undisclosed illness that makes him less healthy than a morbidly obese 74-year-old whose only excercise is squeezing himself into and out of a golf cart.
So while it seems cynical and mean spirited to doubt the president's assertion that he has contracted the Coronavirus, people might be forgiven on the basis of all the empirical evidence that Trump has never been truthful about the state of his health or really about anything else. Using a purely statistical lens, it is in fact reasonable to assume that any time Trump makes a public statement regarding anything, he's lying.
But why would he lie about this? What's the advantage?
Well… he's been having a pretty bad time of it lately. Remember that whole thing about how soldiers who died in the service of their country were suckers and losers? Maybe not, that was like, 17,000 years ago in Trump time. But now that he maybe has a fatal disease, it's just bad taste to criticize him for speaking ill of the dead or nominating a Supreme Court Justice before the one he wants her to replace is even buried. And what with him being so sick and all, it would just be despicable to ask him why he's paid less taxes over the last twenty years than anyone you know paid last year alone, or how him being hundreds of millions of dollars in debt that will come due during a second term should he be elected makes him a security risk so gigantic it can be seen from space, and while we're on the subject, who does he owe all that money to since American banks stopped lending him money ages ago? And if he's contracted COVID, it just seems beside the point to ask him what the FUCK he meant telling the Proud Boys to "stand back and stand by" during what was inarguably the worst and most demeaning debate performance in any presidential debate ever, or to call him out for trying to roll it back by saying he has no idea who the Proud Boys are, employing his favorite strategy for escaping blame by pointing out that he is alarmingly ill-informed and astoundingly stupid. I mean, I think we can all agree I sound petty and small right now, a real bastard bringing this shit up when Trump has COVID-19, am I right?
So yeah. It's not unimaginable that there would be upsides to him faking it. Is it really too much to ask that everybody give Trump a little space and just be nice, so that in a few weeks he can tell us he's all better and COVID is no worse than a bad flu just like he said and now that the tiny American attention span has made everyone forget all the awful shit he was in trouble for we can just vote unless we;re black or something?
I'll be honest with you, though. I think, statistical anomaly though it may be, for once he's telling the truth. And do you know why I think that? Occam's frikkin' razor. I know Trump lives to lie, but him being sick right now is just the simplest explanation. I mean, Jesus, think about his behavior. The ONLY oddity here is that he didn't catch Covid a LONG TIME AGO! Trump's been begging the Coronavirus to take him for months. Until very recently he refused to mask at all, he spends a great deal of his time in enclosed, indoor spaces surrounded by people who also don't mask because they know masking would make the president look bad and he'd humiliate them publicly before demanding they resign. He regularly gathers together huge crowds of people, most of whom imitate him by refusing to mask, in situations where it is almost impossible to keep a foot of distance, let alone six feet. My God, Trump has done everything to get sick besides asking people to spit in his mouth every time he works a receiving line.
So yeah. I believe it. I do not doubt Trump has COVID-19. Because science. It's a very contagious disease and for whatever deep seated psychological reason, Trump has been begging for it.
But I'm not done yet. Because here's the thing. And you know I always have a thing if you stick around long enough. I take the long way home, but I get there eventually.
We don't know. The only way we'll know is if he dies of it. And even then, we won't know if he didn't really die of something else. A stroke. A massive heart attack. An implosion brought on by a lifetime of yawning, existential emptiness. We can't know. That's Donald Trump's singular achievement. He controls the information, and we can't trust a word he says.
He couldn't build his wall or finish that big, beautiful health care plan that was always just about to be presented, but his heart was never really in those projects anyway. There's only ever been one goal he's truly committed to, and that's to create the world we all live in now. The world of Kellyanne Conway's (who by the way, tested positive for the Coronavirus today) "alternative facts." The world where, as his close pal Rudy Giuliani put it, "The truth isn't the truth." He lied and he lied and he lied about anything and everything, and all those lies ate away at not just the truth, but the very concept of the truth. He dragged us into the post truth world.
It doesn't matter if I think he's telling the truth about this, because I will never, ever be able to know.
So if the fact that he's very sick, that he might die. and a lot of people think he's making it up, chafes him? If it chafes his supporters? Maybe they should think about how he worked so very, very hard to create the environment in which it seems perfectly plausible he'd lie about having a potentially fatal disease, despite the fact that over 200,000 Americans who definitely had it are dead.
If they find that uncomfortable, or hurtful, or callous, well, as the t-shirt sold at Trumps super spreader rallies says, "Fuck your feelings."
It is what it is.
-END-
My CoviDiary: 10/01/2020: About That "Debate" The Other Night?
BY MAX BURBANK | I guess I have to write something about the first presidential debate. I mean, I watched it, and if you shove a sharp stick on your eye for the express purpose of having a self inflicted sharp stick in the eye experience, you really ought to come away with something besides partial blindness and a lessened inclination to do it again at the next available opportunity, which by the way, I'm almost certainly going to do.
The problem is, there's just not that much to say. Look, say I took a gig to report on the Indy Five Hundred, right, but when I got there, the was just one car going around the track and the some fat guy in the top half of a chicken suit and no pants, his bleached white dingle hanging out and swinging around while he sang "Jimmy Crack Corn" over and over at the top of his lungs. After you write that a car vs. a half-naked old white guy in a chicken suit exposing himself and singing about how he "Jus' don't care" isn't really the Indy Five Hundred at all, what's left to write about? You can probably choke one more paragraph out of writing stuff like, "It really, really, really, really isn't," but then what?
It's true, presidential debates have always been problematic, and they are never really "debates" in the sense of that word having a meaning you can look up in a dictionary, but they are in that neighborhood. They've generally been like a performative homage to the concept of debate. Each side repeats key talking points every time there's the slightest occasion to do so in the vain hope that viewers will remember them, they keep a few zingers someone wrote for them in their back pocket, hoping like hell their opponent accidentally sets them up to use it, and that they get the delivery crisp enough that it goes viral, and above all, they try to act like someone who could credibly play the president on a made for TV movie. It's a series of very low bars, but usually that's not because the participants couldn't debate if they had to, it's more because of their general contempt for the voters and what sort of stimuli they think will make them respond.
Whatever it was that happened Monday night wasn't even that. And before anybody "both sides" this truly 2020 turd taken atop the broken, semiconscious, incapacitated wreck of American Democracy, how about just don't. Okay, sure, it wasn't Biden's best performance ever. He did speak out of turn once or twice and there were a few thoughts he could have expressed more clearly. But saying "both sides" caused this outcome is like if you saw a guy who stubbed his toe on a table leg walking through the living room without turning the light on and another guy who rolled up his pants leg, slathered his ankle in lemon juice and then stamped on a bear trap and said, "Well, both sides did the same thing." If what you mean is that they both hurt their feet doing something stupid, OK, fine. But if you can't see that there's a difference so huge it renders your observation pointless, it's because you're an idiot. And I'm being nice.
The whole event was basically a Trump monologue. He started speaking the first opportunity he got and I don't think he ever shut up for even a minute until the show was over. Sometimes he managed a complete sentence, but mostly not. It was as if interrupting his opponent and the moderator wasn't enough to satisfy his desperate hunger to interrupt, he had to interrupt the only other person there, himself. He hectored, he bullied, he whined, he accused and insinuated and implied and complained and above all lied. It was an idiot's interpretation of what a central casting alpha male would look like if the character had been written by an exceedingly mediocre Fifth grade English student. And he never, never shut up. Ol' Pres'dint LAW n' ORDER was simply not interested in following the rules his campaign had agreed to.
It's not as if I didn't expect him to be deeply unpleasant and abrasive, but it was so much more than I had imagined, and keep in mind, I hate him and I expect him to be unbelievably awful.
Five minutes in I was thinking "This is very bad, but surely this isn't the only thing he's going to do. Surely he has other tricks up his sleeve, digs he wants to get in, stupid ass zingers to make. Surely they'll be some variation. At ten minutes, it was clear this was it, just a relentless dentist drill of a performance. A shit show. That's the phrase that leapt to mind, and a quick survey of Twitter revealed it was the same phrase that had leapt to everybody's mind. CNN's Dana Bash channeled the national zeitgeist, saying :
"That was a shitshow. We're on cable. We can say it. Apologies for being crude. But that is really the phrase I'm getting from people on both sides of the aisle on text and the only phrase I can think of to describe it."
Jake Tapper didn't want anyone having any questions about where the blame lay.
"That was a hot mess inside a dumpster fire inside a train wreck. That was the worst debate I have ever seen… it wasn't even a debate, it was a disgrace," said Tapper, a newsman who's been around long enough to have seen more bullshit than a dentist's seen rotten teeth. "And it's primarily because of President Trump, who spent the entire time interrupting and not abiding by the rules he agreed to. Lying. Maliciously attacking the son of the vice president. When asked to condemn white supremacy…
Okay, let's get into this. Because it's the only moment of the entire shit show that truly matters. Moderator Chris Wallace served up a whopping softball, offering Trump the chance to condemn White supremacy. It's not something you'd imagine he needs to think about, but he's been offered the chance on multiple previous occasions he's balked. His advisors absolutely had to know this moment was coming. You know they told him, "Just say it. You don't have to mean it. No one will think you meant it, no white supremacists will be offended, we promise. Just say it this one time and it will be done, you'll never have to say it again."
So Chris Wallace says: are you willing tonight to condemn white supremacists and militia groups and to say that they need to stand down and not add to the violence in a number of these cities as we saw in Kenosha and as we've seen in Portland?
And Trump says: Sure.
Wallace: Are you prepared specifically to do it?
Trump: I would say almost everything I see is from the left wing not from the right wing.
Wallace: But what are you saying?
Trump: I'm willing to do anything. I want to see peace.
Wallace: Well, do it sir.
Biden: Say it. Do it. Say it.
Trump: What do you want to call them? Give me a name, give me a name, go ahead who do you want me to condemn.
Okay, excuse me, but what the fuck with this? Wallace JUST SAID, "Are you willing tonight to condemn white supremacists and militia groups." It was only a few seconds ago! No one asked him for anything as difficult as specifics. He WON'T say it. The easiest thing in the world served up on a fucking platter for him, "Say it, just say White Supremacy is bad, we all know you don't think that, but just make the words come out of your mouth!" And he won't, because he's a withered, old, morbidly obese toddler with full blown oppositional defiant disorder, "President Trump, just say that you think setting live puppies on fire is bad!" "NO! NO, NO, NO, NO, NO!!!"
Sorry. Sorry.
So Wallace says, like he hadn't just said it: White supremacists and right-wing militia.
And Biden, trying to be helpful I think, or at least end the torture of Trump refusing to say torching live puppies isn't OK, Biden says: Proud Boys.
Proud Boys. The Proud Boys.
And Trump says: Proud Boys, stand back and stand by. But I'll tell you what, somebody's got to do something about Antifa and the left because this is not a right wing problem.
So it's late. I'm tired. But let the record show, Trump did not at any point in that exchange disavow white supremacists or right wing militias, or specifically the Proud Boys. He took the puppy Chris Wallace handed him, and he looked at it, and he looked Biden and Wallace right in the eye, and he set that puppy on fire.
We'll pick it up right here in my next entry and we'll talk about to what degree he's pretended to walk that statement back since he made it, how it doesn't mean what it clearly means and only the evil fake media would ever pretend it did. But I'll leave you with this. The Proud boys? Changed their official logo, so that it now includes the words "Stand Back and Stand By." Just so you know they are pretty sure they're clear on what Trump meant.
Oh, and Hope Hicks, who almost never wears a mask and spends a great deal of time within six feet of Donald Trump and a whole lot of his inner circle tested positive for COVID-19 on Wednesday.
Good night!
-END-
Chelsea Community News is made possible with the help of our awesome advertisers, and the support of our readers. If you like what you see, please consider taking part in our GoFundMe campaign (click here). To make a direct donation, give feedback, or send a Letter to the Editor, email scott@chelseacommunitynews.com.