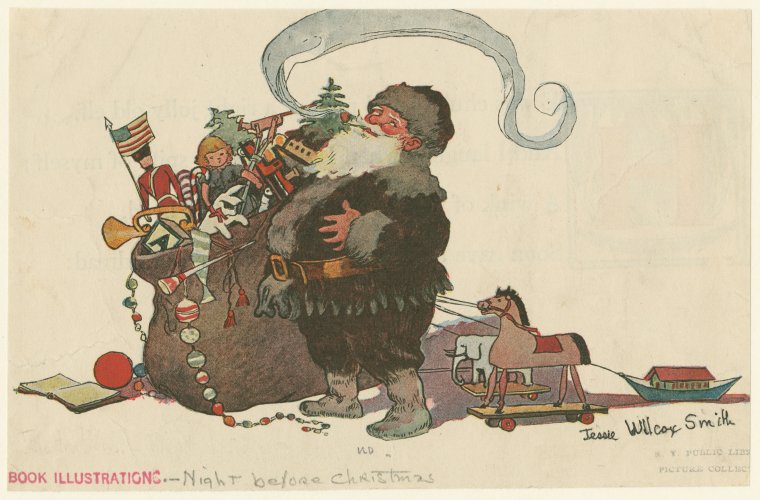 BY TRAV S.D. | If the public knows only one thing about Clement Clarke Moore (1779-1863), it's that he is widely held to be the author of the 1823 poem A Visit from St. Nicholas a.k.a. 'Twas the Night Before Christmas, one of the best-known and best-loved pieces of American literature in the world. (A vocal but small minority believes the author to have been Major Henry Beekman Livingston, Jr., but thereby hangs a tangent that could occupy us until next Christmas.) The poem was initially published anonymously; Moore didn't acknowledge authorship until 1837. His word is good enough for most of us. After all, he wasn't exactly proud of it.
"Not proud?" you exclaim, "How can that be?!"  Well, he wasn't ashamed of it, either, it's just that men of his time and place and station had a different system of values 200 years ago, and Moore had much else to be proud of, not the least of which included creating the neighborhood of Chelsea.
The story begins with Moore's maternal grandfather, Captain Thomas Clarke, a retired British army officer who bought a 94-acre farm from Dutch New Yorker Jacob Somerindyke in 1750 and converted it into a country estate with a large manor house. The land occupied the entire swath of land between what is now W. 21st and 24th Sts., btw. Eighth Ave. and the Hudson River. These were the days when New York City extended no further north than Houston Street. Greenwich Village was an entirely different town at that time, hence its name. North of that was rolling countryside, the equivalent of taking the Metro North into Putnam County in our own time. Clarke named his place "Chelsea" in homage to London's Royal Hospital Chelsea, which cared for aged soldiers.
A frequent guest at the Clarke Home was Benjamin Moore, then assistant rector at Trinity Church. Moore was a socially prominent person in Manhattan. His great grandfather was the reverend John Moore, founder of the First Presbyterian Church of Newtown (Queens) in 1652. Benjamin Moore served at Trinity (founded 1698) when it was New York's principal place of worship, the Church of England being the colony's official denomination. He married Charity Clarke in 1778, in the middle of the American Revolution. Their famous son Clement was born a year later, and Benjamin purchased adjacent property, expanding it down to what is now 19th St. When the war was over, his denomination split from the mother church becoming what we now call the Episcopal Church, of which Moore was one of the founders.
When the U.S. capital was located in New York City (1785-90), Trinity's parishioners included George Washington, Alexander Hamilton, and John Jay. In 1800, Moore became rector of Trinity, and a short time later, bishop of New York. It was Benjamin Moore who gave final communion to Alexander Hamilton following his fatal duel in 1804. Moore was also the President of his alma mater Columbia College (the past King's College and future Columbia University), which was originally located on the grounds of Trinity Church and affiliated with the congregation.
So this was the heady household into which Clement Clarke Moore was raised. He was from one of New York's most prominent and richest families, a descendant of founders, religiously devout and a scholar. Like his father, he attended Columbia. In 1809 he published his Hebrew and English Lexicon, the first book of its kind. In 1820 he donated a big chunk of his family's land for the Episcopal Church's General Theological Seminary, which is still there today, as is St. Peter's Chelsea, built 1838. He himself became Professor of Oriental and Greek Literature, as well as Divinity and Biblical Learning, at the Seminary. Over a period of decades he made a fortune selling off much of the family land for development, establishing the neighborhood of Chelsea. This is why Chelsea's Clement Clarke Moore Park (founded 1968) is named for him.
Thus for a man of Moore's station in life, literature was something of a sideline, a lark. Though he wrote numerous poems which were published in a volume in 1837, even among these, he didn't esteem A Visit from St. Nicholas very highly. He had devised it as a bedtime story for his children, and never intended to publish it. He would be bewildered to learn that this handful of verses would become what he would be best known for two centuries down the line.
And yet, Moore's holiday poem isn't just esteemed by the masses, it is culturally significant. What many people don't realize is that Moore didn't just write about a pre-existing character with well-established details. It was Moore himself who CREATED those crucial aspects of the Santa Claus mythos. Prior to the popularity of the poem, the Jolly Old Elf was sort of a vague folk creation, much in the vein of other elves, fairies, leprechauns, and the like. Most nations have their own version. In New York City, which was founded by the Dutch and later taken over by the English, the traditions of Father Christmas and Sinterklaas were merged. It was Moore who capped the number of reindeer at eight, and named them, and who first described Santa as fat. His entire character portrait above all seems to have stuck with us, all rosy cheeks, twinkling eyes, and merry laughter. When Moore died in 1863, the torch was passed to illustrator Thomas Nast, who notably helped define the visual aspects of Santa Claus.
While Nicholas may have been a Saint, Clement Clarke Moore was not one. He owned slaves, opposed Thomas Jefferson's enlightenment ideas on religion, and was initially against New York City's encroachment and the arrival of Great Unwashed into the precincts of his bucolic domain (until he realized he could make a killing in real estate). He was not exactly a man of the people, but he did write a great populist poem, one that contributed mightily to a unique American mythos.
Happy Christmas to all, and to all a Good Night!
EDITOR'S NOTE: Every year at this time, the church Moore helped found, St. Peter's Chelsea (346 W. 20th St. btw. 8th & 9th Aves.), holds a special Candlelight Carol Service presented by non-denominational, lay-led Chelsea Community Church that includes a reading of A Visit from St. Nicholas, usually by a Chelsea resident of note. This year's service, held on Dec. 13 via Zoom, was no exception: Singer/songwriter Rosanne Cash did the honors. Five days earlier, in nearby Clement Clarke Moore Park (W. 22nd St. at 10th Ave.), Chelsea citizen and CBS Sunday Morning correspondent Martha Teichner read Moore's immortal classic as part of the park's annual tree lighting (click on that link to see Teichner's reading).
Nothing if not open-minded and therefore receptive to alternate versions of what some regard as gospel, Chelsea Community Church prefaced Cash's reading of A Visit from St. Nicholas by acknowledging the controversy over its authorship. Church member Hilda Regier delved into the attribution debate, noting the anonymous nature of its original 1823 print int the Tri-Sentinal. On the occasion of its reprinting several years later, an editor would lay a trail of bread crumbs not to Poughkeepsie native Livingston, but to the biblical scholar who had previously demonstrated he was "capabdle of jaunty verse." As proof, Regier read excerpts from a poem  printed in 1821 and credited to Moore, which was "apparently, the first time reindeer were associated with the Santa Claus legend." To see the entire Dec. 13 service, click here. See directly below, a flyer used to promote the occasion.
Chelsea Community News is made possible with the help of our awesome advertisers, and the support of our readers. If you like what you see, please consider taking part in our GoFundMe campaign (click here). To make a direct donation, give feedback, or send a Letter to the Editor, email scott@chelseacommunitynews.com.