"Where do you see yourself at this time next year?" wasn't always such a loaded question. Before COVID-19, forward thinkers could confidently project ahead 365 days to find themselves dancing at their wedding, playing contact sports, or making good on a campaign vow to bring sweeping legislation before their fellow New York City Council Members.
At this time next year, that last scenario will be brought to you by either Erik Bottcher, Phelan Dante Fitzpatrick, Marni Halasa, Aleta LaFargue, Leslie Boghosian Murphy, or Arthur Schwartz. They're the six people determined to represent our namesake neighborhood, alongside others in the District 3 area of coverage (Hell's Kitchen, Greenwich Village, West SoHo, Hudson Square, Times Square, Garment District, Flatiron, Upper West Side). The winner will succeed Corey Johnson, who was re-elected in 2017, became Council Speaker in 2018, and is compelled by term limits to step down.
Chelsea Community News begins its coverage of this race with a Q&A that's as curious about the person as it is about their policies. All candidates were sent the same questions. Below, find responses from Arthur Schwartz, followed by links that take you to the answers provided by others. For info about the Primary Election (June 22) and the General Election (Nov. 2), visit https://vote.nyc.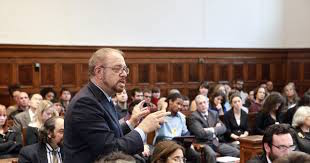 Scott Stiffler for Chelsea Community News (CCNews): Regarding the Bio section on your website: What policy, belief, or personal detail sums you up nicely, and why?
Arthur Schwartz: This is a hard question, because I have been an activist since 1968, while a student at the Bronx High School of Science. I have a big mouth. I am not afraid of rankling those in power in defense of what I will term as "good," in contrast to what I perceive as "evil." But at the same time I am a student of detail and know how to negotiate a good deal. And I am not closed-minded. I am not an ideologue. I spent 24 years on Community Board 2, and while I led the fight to achieve many positive changes, and took many a lonely stand (like refusing to vote "yes" on a land use resolution which discussed the former St. Vincent's site without including a demand for a new hospital in our community), I was often the voice of principled compromise in disputes which seemed intractable. I am a lawyer, and an activist, and I have used my legal skills to advance the work of those who are organizing, whether it be workers in unions, anti-nuke and climate change activists, parents fighting the incursion of charter schools, block associations fighting inappropriate development, tenants fighting a landlord, or progressive candidates running for office. I am someone willing to put myself on the line, which is why I have 4 arrests to my name. I am tireless. And, finally, and not least importantly, I am a parent (I have 4 children ages 15-33) a spouse, and a son, whose decisions are guided by my responsibilities to my family, and the world as viewed as a parent and as the child of a vibrant Mom who is about to turn 99!
CCNews: Can you envision a situation when the duties of advocating for District 3 and the city as a whole are not in agreement? If so, how will you reconcile local obligations with the greater good?
Schwartz: There are few situations where the true needs of our District clash with the needs of the City, but I know, from experience, that when that has occurred I have both defended our district and looked for alternative solutions which addressed the greater good. The one situation which comes to mind is the proposal to build a waste transfer station on the Gansevoort peninsula, just south of 14th Street. There was a need for more such facilities, and a need to not have them all located in lower-income communities. Mayor Bloomberg, with the support of our then-City Council Member Christie Quinn, wanted to put one at the end of 14th Street. It would have been in the middle of the park being built at Gansevoort, and near the playground at the Jane Street Pier. Working with others we came up with a proposal to have the trash shipped out via rail, rather than by barge, and got agreement from Conrail. That transfer station remains an open proposal, but hasn't been funded.
CCNews: Regarding the above question, apply that to an example in your personal life. Are you any more rigid or flexible when it comes to advocating for yourself vs. others?
Schwartz: I am not rigid about myself, except in matters involving my family.  I would step in front of a bullet for my children, wife or mother. When it comes to me, I can be very flexible. For example, in 2020 I was chosen to be a 10th Congressional District delegate candidate for the Democratic National Convention by the Sanders Campaign. Belatedly, former Council Member/State Senator Tom Duane asked for a position. I thought that it was important for his voice to be heard, so I voluntarily stepped aside. I was rewarded, later, by being appointed an at-large delegate. In general I have chosen to do one-third of my work pro bono, and despite being a top-notch litigator, I do work in a field which is not financially rewarding. I compromise on fees all the time, and perhaps as I have lived long enough to have karma play out, I have been rewarded.
CCNews: Conflict and Compromise: What do these words mean to you, in terms of how you will be an effective Council Member?
Schwartz: Like I said above, I fight hard for causes, and know when to step back and make a deal, and then fight on for more. For example, in 2005 I was General Counsel of the Transport Workers Union when it went on strike. I had to defend the union in court and participate in negotiations. There were several issues at play, and when the MTA blinked, and moved on a key one, I advocated for a settlement, and continued my work (for the next 15 years, up though today) fighting the MTA on the other issues. I was an integral part of creating Hudson River Park. The opponents, including still-in-office legislators, said, "No park unless it is funded in full by the State and City budgets." I didn't want to see commercial development in the Park, but felt that allowing limited commercial use on some Piers (like Chelsea Piers) while prohibiting others (like office buildings or manufacturing) was a worthwhile compromise to get the Park built. The latter happened, and inappropriate development has been avoided. And when our current Council Member, Corey Johnson, agreed with a change which would have allowed office development on Pier 40, I threatened a lawsuit, and Governor Cuomo vetoed the proposal.
CCNews: The time machine has been invented. Once you've played the stock market, it's time to visit your younger self. What one action do you tell this person not to take? Which one action do you choose not to mention, because it has to happen in order to make you who you are?
Schwartz: I don't want to sound arrogant, but I have been lucky with the choices that I had made. There are lawsuits which I could have litigated better, there are friendships which I carelessly abandoned, there were political battles which I could have handled more delicately, there are investments which I made which were a mistake (like one in a bakery and another in a restaurant), and I had a long marriage end in divorce (18 years ago) where I was plenty to blame, but I am not unhappy about who I am and where I am now. Even my divorce, which caused lots of pain, led to a new, strong marriage and two more wonderful children who will be assets to the world.  –
CCNews: What local small business do you wish we all gave our business to? How have they fared during the pandemic, and what can we do to help?
Schwartz: We need to shop as much as possible at local delis, the folks who are open 7 days a week, often 24 hours a day, and who have been hurt so much—first by CVS, Duane Reade, and Walgreens, then by higher and higher rents,  and then by the pandemic. These stores are havens in the storm, the folks who will order what you need, not charge you when you forget your wallet, and who keep watch on our blocks.
CCNews: Favorite Golden Girl: Blanche, Dorothy, Sophia, or Rose?
Schwartz: Dorothy
CCNews: You took the time to answer our questions—even that last one, which, frankly, was a little gimmicky. So in the interest of fairness, we end by turning the tables: What one question do you want voters to ask themselves when they see six names in the running for City Council, District 3?
Schwartz: Which of the candidates is the most outspoken and experienced, and who can come out of the starting gate on January 1, 2022 and address the mess which we find ourselves in in NYC?
NOTE: To see Chelsea Community News' Q&A with Erik Bottcher, Phelan Dante Fitzpatrick, Aleta LaFargue, Marni Halasa, and Leslie Bogosian Murphy, click on their names, which appeared earlier in this… sentence.
Chelsea Community News is made possible with the help of our awesome advertisers, and the support of our readers. If you like what you see, please consider taking part in our GoFundMe campaign (click here). To make a direct donation, give feedback, or send a Letter to the Editor, email scott@chelseacommunitynews.com.