"Where do you see yourself at this time next year?" wasn't always such a loaded question. Before COVID-19, forward thinkers could confidently project ahead 365 days to find themselves dancing at their wedding, playing contact sports, or making good on a campaign vow to bring sweeping legislation before their fellow New York City Council Members.
At this time next year, that last scenario will be brought to you by either Erik Bottcher, Phelan Dante Fitzpatrick, Marni Halasa, Aleta LaFargue, Leslie Boghosian Murphy, or Arthur Schwartz. They're the six people determined to represent our namesake neighborhood, alongside others in the District 3 area of coverage (Hell's Kitchen, Greenwich Village, West SoHo, Hudson Square, Times Square, Garment District, Flatiron, Upper West Side). The winner will succeed Corey Johnson, who was re-elected in 2017, became Council Speaker in 2018, and is compelled by term limits to step down.
Chelsea Community News begins its coverage of this race with a Q&A that's as curious about the person as it is about their policies. All candidates were sent the same questions. Below, find responses from Erik Bottcher, followed by links that take you to the answers provided by others. For info about the Primary Election (June 22) and the General Election (Nov. 2), visit https://vote.nyc.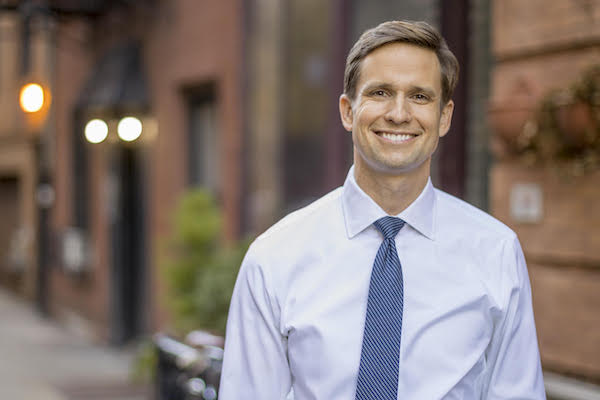 Scott Stiffler, for Chelsea Community News (CCNews): Regarding the About Erik section of your website: What policy, belief, or personal detail sums you up nicely, and why?
Erik Bottcher: When I left my hometown to go to college in the late nineties, I wrote a letter to my hometown school district, the Lake Placid Central School district, about the anti-LGBTQ bullying I had experienced there. I had always kept this bottled up inside, but felt that I had to speak up for other young people coming up behind me. The letter was read aloud at the next meeting of the school board. So, I simultaneously came out as a gay man to the town, and came out about my experiences in high school. Soon after, I learned that the school district changed the nondiscrimination policy of the schools to include sexual orientation. This taught me a powerful lesson that I carry with me today. Each of us has immense ability to create change.
CCNews: Can you envision a situation when the duties of advocating for District 3 and the city as a whole are not in agreement? If so, how will you reconcile local obligations with the greater good?
Bottcher: I believe it is possible to arrive at solutions that work for both local communities and the city at large. This takes intensive communication, collaboration, problem-solving, and hard work. The key is to bring local communities to the table early and make them partners in the decision making process.
CCNews: Regarding the above question, apply that to an example in your personal life. Are you any more rigid or flexible when it comes to advocating for yourself vs. others?
Bottcher: Careers in public service come with non-traditional hours. You work nights and weekends. Over my 11 years in city and state government, I don't think any two days were remotely the same. It makes it hard to have a consistent personal life, but the truth of the matter is I wouldn't have it any other way. The rewards are immeasurable. At the end of one's life, no one sits back with pride and says 'I took a lot of vacations'. They talk about the contributions they've made to the world. That's what keeps me going and that's why I'm in public service.
CCNews: Conflict and Compromise: What do these words mean to you, in terms of how you will be an effective Council Member?
Bottcher: I've had successes in my career that were the result of conflict, and I've had successes that were the result of compromise. When I was working as Governor Cuomo's LGBT liaison on the fight for marriage equality, opposing voices offered civil unions as a 'compromise' and we said "Absolutely not." The same thing happened when it came to strengthening the rent laws in 2019. Renters needed help and as a result our stance was to clearly say "No compromise." Sometimes, however, compromise is needed. When we saved Hartley House from being sold off to a private developer, the solution we arrived at involved converting some of the building to affordable housing. While this meant a reduction in program space, the housing subsidy made financing of the project possible. In all of the above examples, we came out on top.
CCNews: The time machine has been invented. Once you've played the stock market, it's time to visit your younger self. What one action do you tell this person not to take? Which one action do you choose not to mention, because it has to happen in order to make you who you are?
Bottcher: This is a great question. Sometimes I think about what my life would be like if I hadn't attempted to take my own life when I was 15 years old. Like many LGBTQ people, I would love the opportunity to tell that scared, depressed young man that "It gets better." But as difficult as it was, that experience helped make me who I am today. I'm not sure I would change anything about it.
CCNews: What local small business do you wish we all gave our business to? How have they fared during the pandemic, and what can we do to help?
Bottcher: Tea & Sympathy on Greenwich Avenue. It's an amazing tea shop and restaurant, but like the best businesses, the people behind it are the best part. My friends Nicky Perry & Sean Kavanagh-Dowsett own it and they launched a GoFundMe for the staff, whose hours are dramatically down. Please pay them a visit, and consider contributing to the GoFundMe: https://www.gofundme.com/f/funds-for-tea-sympathy-a-salt-battery-staff. 
CCNews: Favorite Golden Girl: Blanche, Dorothy, Sophia, or Rose?
Bottcher: Gotta say Dorothy. There's absolutely nothing better than the look on Bea Arthur's face when Rose says something ridiculous. I saw Bea Arthur's one-woman show on Broadway about 15 years back. A legend!
CCNews: You took the time to answer our questions—even that last one, which, frankly, was a little gimmicky. So in the interest of fairness, we end by turning the tables: What one question do you want voters to ask themselves when they see six names in the running for City Council, District 3?
Bottcher: When I vote, one of the questions I ask myself is "Who was there for us before election season, who's done the work in the community, and who has the experience to get things done?"
NOTE: To see Chelsea Community News' Q&A with Phelan Dante Fitzpatrick, Aleta LaFargue, Marni Halasa, Leslie Bogosian Murphy and Arthur Schwartz, click on their names, which appeared earlier in this… sentence.
Chelsea Community News is made possible with the help of our awesome advertisers, and the support of our readers. If you like what you see, please consider taking part in our GoFundMe campaign (click here). To make a direct donation, give feedback, or send a Letter to the Editor, email scott@chelseacommunitynews.com.