"Where do you see yourself at this time next year?" wasn't always such a loaded question. Before COVID-19, forward thinkers could confidently project ahead 365 days to find themselves seated in a restaurant booked to capacity, rubbing shoulders with fellow theatergoers, or making good on the "If I'm elected" promises that swept you into office.
At this time next year, that last scenario will be brought to you by either Lindsey Boylan, Elizabeth Caputo, Brad Hoylman, Ben Kallos, Mark Levine, or Kim Watkins. They're the six people determined to be replace term-limited Gale Brewer as Manhattan Borough President (MBP).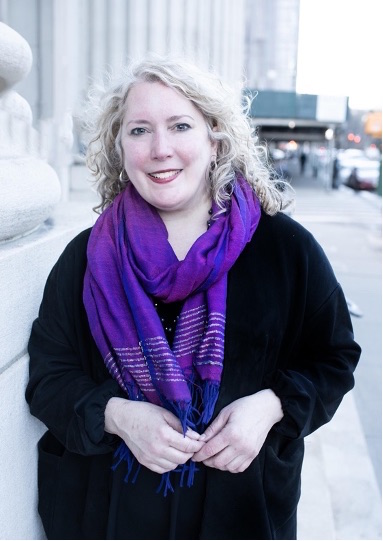 Chelsea Community News begins its coverage of this race with a Q&A that's as curious about the person as it is about their policies. All candidates were sent the same questions. Below, find responses from Elizabeth Caputo. As other candidates respond, we'll add the hyperlink to their Q&A at the tail end of this one (currently, that list is comprised of Lindsey Boylan and Brad Hoylman). For info about the Democratic Primaries (June 22) and the General Election (Nov. 2)—including the protocol for Ranked Choice Voting—visit https://vote.nyc. 
Scott Stiffler for Chelsea Community News (CCNews): Regarding the Meet Elizabeth section on your campaign's website: What policy, belief, or personal detail describes you nicely, and why?
Elizabeth Caputo: My years of experience serving on my local Community Board has informed my leadership strategy and my policy. I am a leader who can work in a nonpartisan way across sectors—from our arts and non-profit communities to our small businesses and corporate institutions—to achieve common ground. I bring a fresh perspective rooted in my years of work in our community. Together, we can ensure our borough emerges from the COVID-19 pandemic safer, cleaner, and greener.
CCNews: Conflict and Compromise: What do these words mean to you, in terms of how you will be an effective borough president?
Caputo: I am a problem-solver at heart, and I understand what it takes to lead in New York City. With my extensive background in municipal finance supporting local infrastructure projects for the City and the country, combined with my experience as the longest-serving Chair of Manhattan's Community Board, I am extremely practiced in bringing together conflicting groups to achieve compromise and make progress. During my tenure, we created bike lanes, expanded parks, and dealt responsibly with issues of rezoning. For too long, our current elected officials have failed to take leadership and have not brought the forward-thinking actionable ideas and vision that this City needs. I bring the executive leadership qualities that this position requires.
CCNews: The time machine has been invented. Once you've played the stock market, it's time to visit your younger self. What one action do you tell this person not to take? Which one action do you choose not to mention, because it has to happen in order to make you who you are?
Caputo: I've spent 25 years living and working in Manhattan. I've learned a lot from the neighborhood and have no regrets.
CCNews: Day One, what will you do to create a better NYC, post-pandemic? What are you able to do in the meantime, as a candidate?
Caputo: Day One, I am focused on helping our small businesses, who are on the verge of collapse. I will support a program to reimburse businesses for COVID-related expenses—including sanitizing supplies, air purifiers, and PPE (personal protective equipment)—as well as improvements restaurants have made, and will make, to ensure safe indoor and outdoor dining. As a candidate, I am speaking to small business owners across Manhattan, identifying what kind of support is needed. This past summer, I coordinated a donation of PPE to the Rangel Houses in NYCHA, when current city leadership was failing to provide much-needed supplies.
CCNews: Favorite Golden Girl: Blanche, Dorothy, Sophia, or Rose?
Caputo: Rose.
CCNews: You took the time to answer our questions—even that last one, which, frankly, was a little gimmicky. So in the interest of fairness, we end by turning the tables: What one question do you want voters to ask themselves when they see so many choices on the ballot?
Caputo: I would like voters to ask themselves what kind of leadership they want for their city. To ask if they want new, qualified leadership, in the face of a failure to address long-standing problems that predate COVID-19. I want voters to ask themselves if they want predominately male leadership at the City level, or if a female perspective and female representation is needed. Vote Elizabeth Caputo for Manhattan Borough President at the Democratic Primaries on June 22nd.
NOTE: To see Chelsea Community News' Q&A with Lindsey Boylan and Brad Hoylman, click on their names, which appeared earlier in this… sentence.
Chelsea Community News is made possible with the help of our awesome advertisers, and the support of our readers. If you like what you see, please consider taking part in our GoFundMe campaign (click here). To make a direct donation, give feedback, or send a Letter to the Editor, email scott@chelseacommunitynews.com.