"Where do you see yourself at this time next year?" wasn't always such a loaded question. Before COVID-19, forward thinkers could confidently project ahead 365 days to find themselves seated in a restaurant booked to capacity, rubbing shoulders with fellow theatergoers, or making good on the "If I'm elected" promises that swept you into office.
At this time next year, that last scenario will be brought to you by either Lindsey Boylan, Elizabeth Caputo, Brad Hoylman, Ben Kallos, Mark Levine, or Kim Watkins. They're the six people determined to be replace term-limited Gale Brewer as Manhattan Borough President (MBP).
Chelsea Community News' latest coverage of this race is a Q&A that's as curious about the person as it is about their policies. All candidates were sent the same questions. Below, find responses from Kim Watkins. As other candidates respond, we'll add the hyperlink to their Q&A at the tail end of this one (currently, that list is comprised of Lindsey Boylan, Elizabeth Caputo, and Brad Hoylman). For info about the Democratic Primaries (June 22) and the General Election (Nov. 2)—including the protocol for Ranked Choice Voting—visit https://vote.nyc. 
Scott Stiffler, for Chelsea Community News (CCNews): Regarding the Meet Kim and the Issues sections on your website: What policy, belief, or personal detail describes you nicely, and why?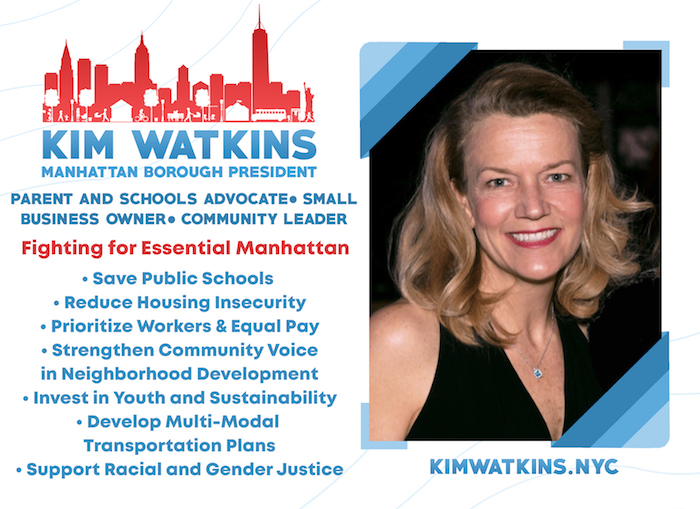 Kim Watkins: I love elections. I studied politics in college and have participated in government in some way since high school. I have volunteered in political offices and campaigns, been an elected delegate to a party convention, walked the beat on Broadway as an Auxiliary Police Officer, and am six years into my service with CEC3, the Community Education Council, on the Upper West Side and Lower Harlem. I can even recite all United States Presidents in order. That's why it is so disconcerting to me that NYC politicians purposely avoid the propagation of more democratic processes. New Yorkers know that we need more checks and balances in local government. Unchecked executive power has brought our city to its knees over the last year. Two related policies within my platform speak to this tenet of my candidacy: Abolishing Mayoral Control of schools and electing Community Board (CB) members. Shared control of the country's largest school system—not Mayoral Control, but not the old School Board structure—is really important if we want to curb excessive bureaucratic spending, stop privatization, and prioritize the changes that would make a real difference in the classroom: better teachers (pay them more), smaller classes, etc.
On Community Boards, I want to stress that I appreciate many CB members who I know personally and who I believe work very hard to help their communities. However, the "system" of appointing 600 Manhattanites is not a model that promotes and sustains democratic progress. In fact, it impedes it, because of the severe disparities that we live with on our island. Bubbles of influence have protected certain neighborhoods for decades, whereas in others, particularly in Upper Manhattan and Chinatown, low income residents endure a very different relationship to decision makers and developers. Bi-annual two-year elections, on the other hand, for both CEC's/School Boards and Community Boards, could better orient our city towards a future of democratic achievement.
CCNews: Conflict and Compromise: What do these words mean to you, in terms of how you will be an effective Manhattan Borough President?
Watkins: Conflict and compromise are yin and yang to true urban public servants. In a place like Manhattan, where in some zip codes, income for most residents is about 50% of AMI (Area Median Income), yet for others, it's greater than double AMI, there is bound to be conflict. We speak hundreds of languages in Manhattan, and our interests widely vary. However, policy and governing cannot be based on conflict. They have been. It's the competing interests that have led to so much ear whispering and backroom deal-making in our city. And historically, the people who have the connections get heard, which has exacerbated conflict.
Compromise starts with listening to all voices. We have to come up with better ways to listen to all voices. New Yorkers are desperate to be heard. We are suffering in every possible way. And leaders have been ignoring regular people who live regular lives, for years. So compromise means educating the people that normally get what they want, to take a step back, so that the playing field can be leveled. Compromise must happen through the lens of fairness and reality, and we must make the work center the success of people, not entities.
CCNews: The time machine has been invented. Once you've played the stock market, it's time to visit your younger self. What one action do you tell this person not to take? Which one action do you choose not to mention, because it has to happen in order to make you who you are?
Watkins: Given the challenging circumstances of my childhood (I'll spare you), I feel pretty good that I made it all the way to my mid-twenties without significant regrets. I moved to Manhattan from Tidewater, Virginia, in 1996 and was hired to run the NYC Chapter of the Komen Breast Cancer Foundation. While I found purpose in some of the work, I did not acclimate well to working for the all-volunteer board. Three years into my job, I had a disagreement with the Chair during a lunch meeting. I quit that day, and I really regret my impulsive decision.
Interesting that both of my time machine experiences are related to work, but the one that I could not mention, since it has shaped every facet of my existence since it happened, was my time spent at Manhattan GMAT Prep, and my post-marriage firing by Andrew Yang in 2007. I had worked so hard to build that company. Prior to our having a physical space, when it was just me and the founder, Zeke, in 2001, I walked Broadway and taped flyers to bus stops. I even snuck into a Kaplan MBA forum and hid postcards for our program on their tables. By the time I started dating my now-husband, Brian, in 2004, I had gone from paying my bills on my credit cards, to saving money each month and enjoying my life. I met every goal, and we made a difference in the industry. In 2006, when Andrew Yang became my boss, our scaling pace increased, but I was making a great living. He and I clashed culturally, but I got engaged soon after Andrew joined our team, so I also began planning my wedding. Getting fired right after I got home from my honeymoon shattered me. It broke me, in every possible way. I had the marriage to lean in on, but my struggles with the loss of financial freedom continue to this day. It took me a really long time to accept that what happened to me was discrimination, because I believed in the power of capitalism, especially small business prosperity. As a mother and public servant, I know now that capitalism must have some basic controls, and we must fight for women's rights in the workplace. The scars still hurt, but I am who I am because of this story.
CCNews: Day One, what will you do to create a better NYC, post-pandemic? What are you able to do in the meantime, as a candidate?
Watkins: I want regular people to participate in the political process, so I plan to institute a program called Borough Co-President of the Day! I will travel to an intersection and select a resident to help me handle the business of the day. I will kick it off on Day One, and plan to make this a weekly program in the first three months of my term, including students, essential workers, seniors, physically disabled, homeless, and others.
In the meantime, I am focused on surgical solutions to several specific issues: The school nurse crisis, mayoral control of schools, saving Governors Island and East River Park, and running all 508 miles of Manhattan streets to show where we can cut vehicular street space.
CCNews: Favorite Golden Girl: Blanche, Dorothy, Sophia, or Rose? 
Watkins: Dorothy all the way—smart, serious, ironic, tough on the outside but vulnerable and caring on the inside.
CCNews: You took the time to answer our questions—even that last one, which, frankly, was a little gimmicky. So in the interest of fairness, we end by turning the tables: What one question do you want voters to ask themselves when they see so many choices on the ballot?
Watkins: Which candidate is most like Dorothy from Golden Girls? 🙂
Just kidding—which candidate is the most like the people who struggle the most in this city…and can the combination of this perspective, coupled with her/his qualifications CHANGE the way that our government works?
NOTE: To see Chelsea Community News' Q&A with Lindsey Boylan, Elizabeth Caputo, and Brad Hoylman, click on their names, which appeared earlier in this… sentence.
Chelsea Community News is made possible with the help of our awesome advertisers, and the support of our readers. If you like what you see, please consider taking part in our GoFundMe campaign (click here). To make a direct donation, give feedback, or send a Letter to the Editor, email scott@chelseacommunitynews.com.