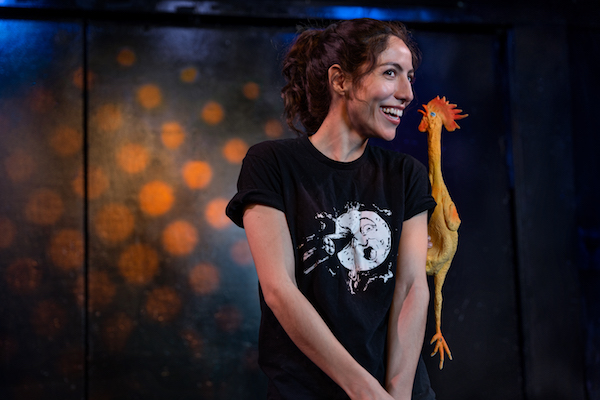 Saturdays and Sundays in June: Show Up, Kids! performed in English and Spanish | Following a critically acclaimed, two-year run in theaters around the world, and the 12-month online live run during lockdown, Peter Michael Marino's interactive Show Up, Kids! is back. But its creator is not. Chelsea resident Marino has cast Denisse Estefany Mendoza to perform English and Spanish versions of the show in June, and put Kent Morita on the books come July, for a Japanese version. The plot is simple: When the main attraction is a no-show, the audience must help Mendoza create and perform a show, on the spot. Along for the ride when it comes to everything from the narrative to the lights to the sound, the show sends kids on their way having learned a little something about improv's greatest "real-world" application: Be well-prepared for nothing, and you'll be able to handle anything. Appropriate for kids 3-10 years old–and engaging for their chaperones as well. In English Saturdays and in Spanish Sundays. At the Kraine Theater (85 E. Fourth St. off of Second Ave.). Runtime: 50 minutes. For tickets ($15) and info on the venue's COVID-19 protocols, click here. This run of Show Up, Kids! is made possible in part with public funds administered by LMCC (the Lower Manhattan Cultural Council).
Saturday, June 12, 11am-7pm and Sunday, June 13, 11am-6pm: Meatpacking BID presents L.E.A.F. Festival of Flowers | The Meatpacking BID invites you to join them and witness New York City in full bloom this weekend at the L.E.A.F Festival of Flowers! The festival will feature a European-style flower market presented by TF Cornerstone around Gansevoort Plaza, a series of floral installations and displays, as well as retail and hospitality activations across the Meatpacking District. Floral installation participants include: Arhaus, Chelsea Market, DVF, FlowerSchool New York, Gansevoort Meatpacking NYC, Hermès, Marni, Meatpacking District BID Installation, Neighborhood Goods, Theory, The, Standard, Three Owls Market, Warby Parker, and the Whitney Museum of American Art. Click Here for more info.

Saturday, June 12 – Saturday, June 20: Early Voting | Get your house in order by casting you vote at a brick and mortar polling place, long before the official voting day occurs. June 22 is Primary Day for Election 2021, and the stakes could not be higher. Registered Democrats will be voting for virtually every important citywide office, thereby ushering in a whole new crew come January 2022. For better (we hope) or worse, these will be the individuals who create our post-pandemic reality in NYC–so chose carefully. for Comptroller, Mayor, Manhattan District Attorney, Manhattan Borough President, Council District 3 rep, and more. Click here to find your poll site by address. While at the Board of Elections website, see Early Voting poll site details, and view a sample of your ballot–and thanks to the 300 West Block Association for the info that helped us cobble together this listing!

Saturdays, ran or shine, 9am-3pm: Chelsea Farmers Market | Now happening very Saturday from 9am to 3pm, Down to Earth Farmers Markets puts down roots in Chelsea, (on W. 23rd St. near Ninth Ave.) for a new season, albeit with a few notable changes brought about by COVID-19. Here are some guidelines to shopping the farmers market: If you are not fully vaccinated, wear a mask that covers your nose and mouth; Leave 6 feet of space between yourself and the person in front of you if you find yourself in a line (that's about two arm lengths); Come alone or in a small group of active shoppers; Take social conversations with friends and neighbors outside the market area; No food sampling in the market, and all ready-to-eat food and drink must be consumed off site. If you have pre-ordered bring your order summary with you to speed pick up. For more info, click here for our preview of its opening day, May 15.
Particular to what you'll find on June 5, here's what the Farmers Market folks had to say, in their June 3 email: "Microgreens are a category of vegetables harvested as tender immature greens, just after the cotyledon leaves have developed. They have three basic parts: a central stem, cotyledon leaf or leaves, and typically, the first pair of very young true leaves. Microgreens vary in size depending upon the specific variety grown, with the typical size being 1 to 3 inches in total length. Because microgreens are harvested right after germination, they are very concentrated with nutrients. This means that they often contain higher vitamin, mineral and antioxidant levels than the same quantity of mature greens. In fact, when comparing microgreens to more mature greens, nutrient levels in microgreens can be up to nine times higher than those found in mature greens. Most microgreen varieties tend to be rich in potassium, iron, zinc, magnesium and copper, while also being a great source of beneficial plant compounds like antioxidants. Microgreens are flavorful and can easily be incorporated into your diet in a variety of ways. They can be used as a main vegetable as well in certain recipes for intense flavor–sweetness and spiciness–and nutrition. Many recipes use them as a garnish while some utilize them as the main ingredient. For example, garlic pea shoots, pea shoots or micro cabbage in cabbage soup, or coleslaw made with radish microgreen instead of cabbage." Looking for a simple recipe to try microgreens? Check out their recipe for Soy Sauce Vinaigrette With Microgreens by clicking here.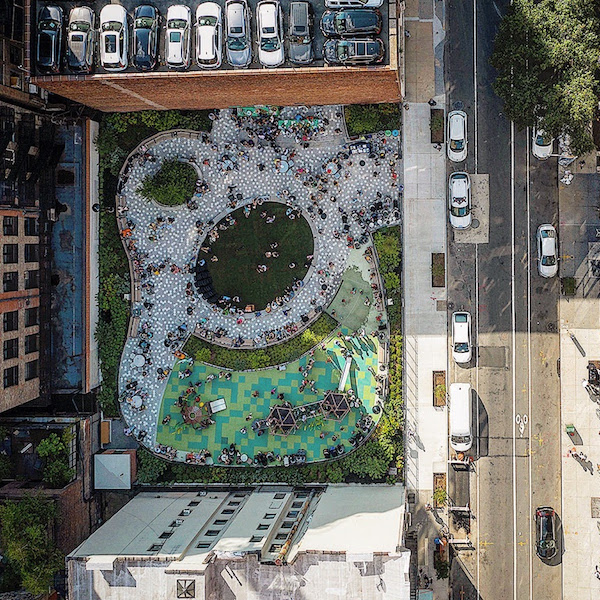 Free WiFi Comes to Chelsea Green Park | Access the whole wide world from the confines of a public green space that's "small in size, big on options," as its booster group likes to say. Now you can count free WiFi among the options, as noted in a recent email from Friends of Chelsea Green.
"We are grateful for a generous grant from Google, who has provided funding for this project," said the Friends, noting the WiFi network is provided without cost to all who are using the park. "Feel free to share the password with friends and neighbors," they said, urging parkgoers to join their email list for important info. "In order to keep the WiFi system running effectively, we may need to update the password occasionally," they warned. Currently, all you need to know is the following:
Network: Chelsea Green / Password: thank you
Put on hold because of the pandemic, the Google-funded WiFi was announced at the July 25, 2019 opening of Chelsea Green—a day of sweet rewards for years of work, noted Chelsea Community News, in a report you can access by going to the park, getting on the free WiFi, clicking here, and learning or revisiting the rich backstory that shows you what can happen when likeminded Chelsea residents, true to form, don't take "No" for an answer. Which begs the question: How did this park happen?
The short version: Friends of Chelsea Green came to that name late in the life of the park's origin story. For years, they were known as Friends of W. 20th St. Park, advocates for a much-needed micropark between Sixth and Seventh Aves. The year was 2010, when early adopter (and de facto park papa) Matt Weiss saw possibilities every time he passed the abandoned NYC Dept. of Sanitation site at 120 W. 20th St. Stalwart supporter Sally Greenspan soon followed suit and, along with other likeminded "Friends," saw their park project received $200,000 as the first-ever winner of District 3's Participatory Budgeting process.  The NYC Parks also stepped up with funding, and construction began (after it went through a collaborative design process in which the Parks Dept. held scoping meetings, incorporating a wide range of community feedback and input on the flow, feel, and resources needed inside the park). Upon its July 25. 2019 opening, the park had been dubbed, by popular opinion, "Chelsea Green"–hence the Friends of a park on W. 20th St. became Friends of Chelsea Green.
As for the current state of affairs, these words of "caution" (rhymes with "fun," which it facilitates, when properly applied:
IMPORTANT REMINDER: NO PETS | Neighbors, please remember that when dogs come into the park, they create problems for our visitors. We love our park, we love our dogs too, but please be respectful of each other and the rules, and take your dogs to a nearby dog park/run for their playtime.
We wish that Chelsea Green had space for dogs, but during development and the design stage by The NYC Parks Department, it was agreed that there simply was not enough room to include a dog run. The proximity of the playground and the oval to the rest of the park area, requires the city enforcement of the no pet rule, even for dogs on leashes. Thank you for your understanding and cooperation.
STAY SAFE | We ask that all park goers take extra precautions to stay healthy and safe. Please wear face coverings and maintain at least 6 feet of distance between yourself and others when outside and avoid congregating in groups.
SPRING FLOWERS ARE ON THE WAY | As the days grow longer, warmer and sunnier, we look forward to seeing you in the park. Spring flowers are starting to emerge. Please make sure your children stay in front of the railings; they are there to protect the emerging plant life.
Vaccine Site in Chelsea | The Fulton Community Center (119 Ninth Ave.) offers COVID-19 vaccinations Tuesdays through Thursdays. As of April 7's opening day, NYCHA Elliott-Chelsea and Fulton residents were prioritized. As of April 12, access expanded to New Yorkers age 16 and over. This site is made possible by a partnership between Hudson Guild, Google, and Daybreak Health. Access this and other vaccination venues by visiting VaccineFinder.nyc.gov or by calling 877-VAX-4NYC (877-829-4692).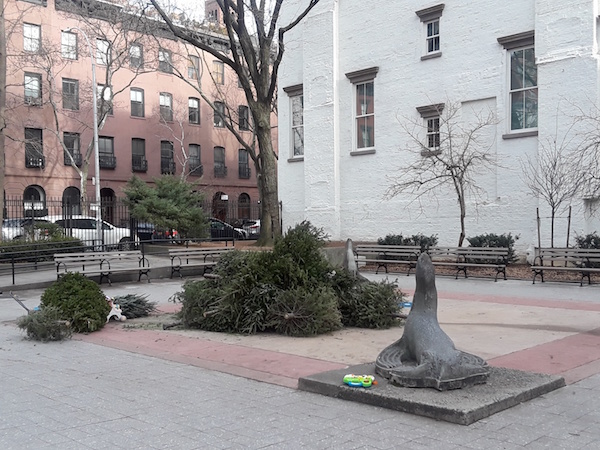 Garden Club of CCM-Seal Park |  From a recent email comes this good news: "Several members of the newly formed Clement Clarke Moore-Seal Park Garden Club met Sunday, March 14, for a spring cleanup inside the park as well as the tree pits around the park. Many thanks to neighbors Phyliss Waisman, AJ Michel, Laura Solimene, Maria La Macchia and Allen Oster. The Garden Club is looking forward to improving the plantings inside the park and surrounding tree pits and working with NYC Parks and the W400 Block Association to make our beautiful Chelsea park oasis even more enjoyable for all. We welcome new members and if interested in joining, please contact Allen Oster at aoster@earthlink.net."
Wednesday, June 23: Hudson Guild Performing ArtWorks Presents  A Circus and Dance Spectacular! | We're a light touch for hyperbole when we know an event will deliver the goods, as promised–hence the addition of an exclamation point to the title of this 50-inure outdoor event from Hudson Guild–the opening salvo in their return to the world of live, brick and mortar performances. See the below flyer for details. For more information, visit www.hudsonguilod.org.
–Compiled by Scott Stiffler
Chelsea Community News is made possible with the help of our awesome advertisers, and the support of our readers. If you like what you see, please consider taking part in our GoFundMe campaign (click here).To make a direct donation, give feedback, or send a Letter to the Editor, email scott@chelseacommunitynews.com.