BY SCOTT STIFFLER | Starting May 15 and continuing through December 18, every Saturday from 9am to 3pm, Down to Earth Farmers Markets puts down roots in Chelsea, albeit with a few notable changes brought about by the now-familiar realities of COVID-19. The Centers for Disease Control and Prevention (CDC) may say the fully vaccinated "can resume activities without wearing a mask or physically distancing," but at the nine outdoor Down to Earth Farmers Markets peppered throughout Westchester, Brooklyn, Queens, and Manhattan, the protocols observed as you pick your peck of pickled peppers are pretty much the same as they were last year: Wear a mask that covers your ears and nose, leave six feet of space between yourself and the person in front of you, and no food sampling in the Market.
These standard-issue standards for pandemic-era public safety (listed in full later on in this article) won't ease up unless New York State says so, say Market organizers.
"We're subject to the instructions that come down from the New York State Department of Agriculture and Markets," noted Dacotah Rousseau, Managing Director of Down to Earth Farmers Markets. "So when the State clarifies its position, we'll have an update. For now, we're operating under the current State rules."
The good news is, said Rousseau, "The market is thriving. The number of vendors we can put into the market is limited by our [north side of W. 23rd St. off Ninth Ave.] sidewalk space, but we're really excited to see the amount, and variety, of participants. We've got artisan breads [123dough will have a selection of their certified organic sourdough on May 15's opening day], and Dickson's Farmstand Meats, which has a shop over at Chelsea Market, is coming back—but they've decided to come to our market with just their house-made jerky. That's all they're bringing this year!"
As noted in the Market News section of this week's Farmers Market's Weekly Email Newsletter (click here to sign up for the Chelsea-centric edition), May 15's opening day lineup will include Current Spirits, "on hand with a selection of their spirits, including gin, vodka, rye, single malt, and a range of bourbons. They also have a selection of hand-crafted can cocktails that allow you to enjoy mixed drinks in a grab-and-go format with no sacrifice to quality." Promoted in the Newsletter and also earning a rave from Rousseau, Hodgins Harvest Mushrooms is "a certified organic mushroom farm located in Rockland County, NY," reads the advance press. "They grow oyster, lion's mane, hen of the woods, chestnut, and other specialty mushrooms."
Such gourmet fare might be the diversion from the norm shelter-in-place chefs have been hungering for, said Rousseau, observing, "There's been a lot of cooking in the past year, even by people who were not regular cooks before. They're ready to try new ingredients and techniques."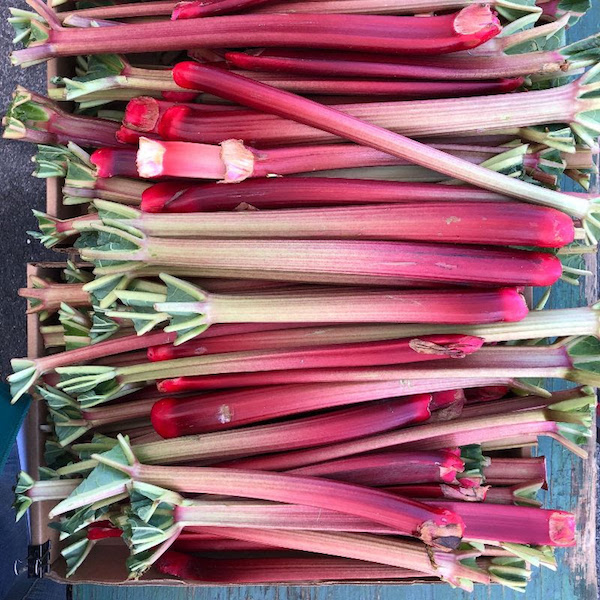 In addition to touting top-shelf adult libations and unconventional approximations of familiar standards (Hodgins Harvest's oyster mushroom lends itself to creating "a kind of pulled pork," said Rousseau), every edition of the Newsletter previews a stand-alone food or ingredient bucking for a place at your table, and not above trotting out a compelling backstory to seal the deal. This week, rhubarb realized a royal payoff, by pouring a little sugar on an unsuspecting readership.
"Rhubarb is one of the special flavors of spring in the Northeast, since it's among the first crops of the new season to be ready for harvest," reads the rhubarb primer. "Its crisp red stalks grab attention at the farm stands well before they start to fill with spring berries and summer vegetables, when the displays are mostly leafy and green. Cooks welcome the return of rhubarb for pies, tea cakes, jams, sauces, and drinks. Its bright color and tart flavor liven up anything it's added to, whether juiced raw or cooked down into a puree. But for most of the history of rhubarb's cultivation it was used primarily for medicinal purposes. Only when refined sugar became widely available in the 18th century did cooks start to consider it an option for cuisine since the sugar nicely balanced the stalk's stark sourness. As a food, rhubarb's health benefits are mostly attributable to its high fiber content, and it actually comes with some health risks. The stalks that you buy at the farmers market are entirely safe to eat, getting their flavor from malic acid, common in many fruits and used as a food flavoring. But the plant's leaves are considered too dangerous to eat because of their high concentration of oxalic acid, which poisons the kidneys. Trim any remaining leaf off of your stalks before you cook with them—the leaves are safe to handle—and then you can relax and enjoy the pucker power of fresh spring rhubarb."
So, to recap: Only a cold-hearted monster (or a person with allergies) is left standing on the opposing side of the rhubarb fence. So for most of us, it's off we go to W. 23rd St. and Ninth Ave.—but not so fast. First, make sure once on site, you observe these
Guidelines to Shopping at the Farmers Market:
–Wear a mask that covers your nose and mouth.
–Leave 6 feet of space between yourself and the person in front of you if you find yourself in a line (that's about two arm lengths).
–Come alone or in a small group of active shoppers. Bringing non-shoppers adds to the crowding.
–Take social conversations with friends and neighbors outside the market area.
–There will be no food sampling in the market and all ready-to-eat food and drink must be consumed off site.
–If you have pre-ordered bring your order summary with you to speed pick up.
Strict adherence to the above guidelines, said Rousseau, achieved the desired results last season. Although her team "was not untouched" by COVID-19, "It was not from being at the Market. Eventually, over the course of last year, we learned the risk for exposure was lowest when you are outside." With business conducted from tables under tents, the Chelsea Farmers Market is a rain or shine affair. "Even a little bit of snow won't stop us," noted Rousseau. "Our shoppers will come out no matter what, because they depend on the food. We say, 'Bring an umbrella, put your rain boots on.' That's what's so great about the people who come every week. They'll be here no matter what, and so will we. And it's so great to be part of the neighborhood in that way."
In addition to the Market participants mentioned previously, the below Vendors are schedules for Saturday, May 15 (and in most cases, most weeks after that). Every Monday, check out the Down to Earth listing in our This Week in Chelsea column, where we'll feature a new vendor. First up, 123Dough Bakery.
123dough is a certified organic sourdough bakery located in Pound Ridge, NY. They bake their nutritious, delicious organic sourdough using ancient grains, which are milled on-site. The loaves are made using only water, salt, and flour, and the baking techniques focus on highlighting the flavors of the ancient grains. The bakery does not use any commercial yeast, only their own organic starter.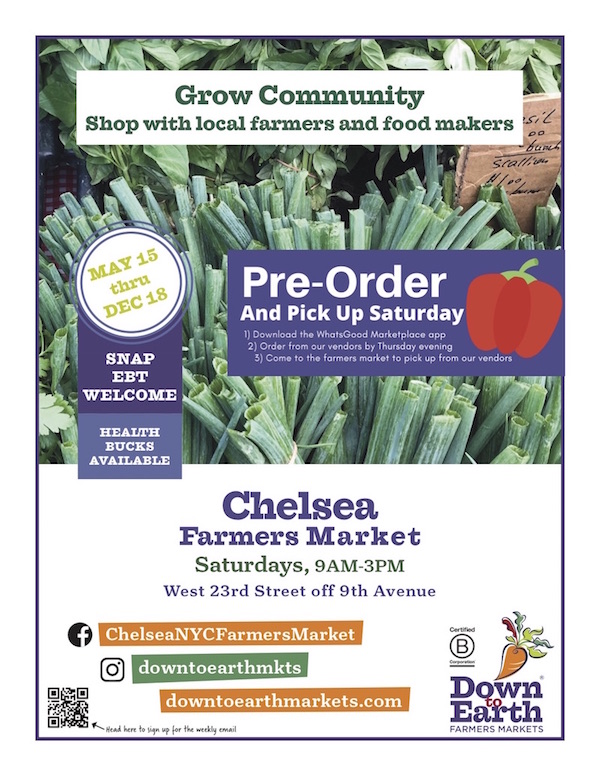 Chelsea Community News is made possible with the help of our awesome advertisers, and the support of our readers. If you like what you see, please consider taking part in our GoFundMe campaign (click here). To make a direct donation, give feedback, or send a Letter to the Editor, email scott@chelseacommunitynews.com.