In This Week's "THIS WEEK IN CHELSEA"
In Order of Appearance:
Down to Earth Farmers Market Chelsea / Chelsea Community Church / Opening Night Reception for "Sign of the Times" exhibit at Westbeth Gallery / Fair Warning: Oct. 30 event requires dogged preparation / The Fresh Food for Seniors Program  / Flu Shots from Lenox Health Greenwich Village / 

Saturdays, rain or shine, 9am-3pm: Chelsea Farmers Market | Down to Earth Farmers Markets has once again put down roots in Chelsea (on W. 23rd St. near Ninth Ave.). By and large, it's the same experience as it's always been (fresh products, friendly people), albeit with a few notable nods to pandemic protocol: If you have not been fully vaccinated, please wear a face mask. There is no food sampling in the market, and all ready-to-eat food and drink must be consumed off site. If you have pre-ordered bring your order summary with you to speed pick up. For more info, click here for our preview of its opening day, May 15. Subscribe to the Down to Earth Farmers Market weekly newsletter by clicking here. In each newsletter, you will find the origin story of a certain product available for purchase. This week, Jaimie really did her homework, when the newsletter's featured topic turned to… oysters
"Oysters," noted Jaimie, "contain a variety of vitamins and nutrients including zinc, calcium, magnesium, protein, selenium, and vitamin A. They also contain especially high levels of vitamin B12, iron, and monounsaturated fat – this is the healthy kind of fat that you also find in olive oil. Although most American oysters are the same species, they do have different flavors. Because oysters filter so much water, they develop a flavor profile from their location and environment. Different bodies of waters (in obviously different areas of the world) have both different levels of salt and kinds of nutrients. These factors weigh heavily on the flavors of the oysters. Like wines, oysters then have flavor categories. The flavor of oysters can be grouped mainly by the following characteristics: briny, buttery, sweet, metallic, and mild. Experts can break down these flavors even further, picking out flavors like melon, cucumber, mushroom and more. Personally, for me, there's nothing better than a medium-sized, briny oyster topped with a little cocktail sauce or mignonette sauce. You can also eat them grilled or fried. No matter the preparation, you can't go wrong! If you're new to eating oysters, here is a great article that gives you A Complete Guide To Eating Oysters, Clams, and More on the Half Shell.
Sundays, 12pm: Chelsea Community Church Zoom Worship Services | After taking a break in August, it's a return to form for the weekly worship services from nondenominational Chelsea Community Church. Their first service since summer hiatus took place at noon on September 19, as an online Zoom event. Sister Carol Perry, Resident Bible Scholar at the Protestant Marble Collegiate Church for 37 years and winner of a Norman Vincent Peale Award for Positive Thinking, was the guest speaker. The Roman Catholic Sister has guided seven tours to the Holy Land and has lectured widely, with an emphasis on the Bible and on the role of women in religious life today. Chelsea Community Church has a different speaker every Sunday, as well as traditional music. To receive an invitation, send an email to info@chelseachurch.org. Learn about their history and access programming info, by visiting their website (click here to do so).
Thursday, October 14, 6-9pm: Opening Reception for Westbeth Gallery Exhibit | Wildfires in one part of the world, and massive flooding elsewhere is disturbing, although not necessarily linked. Now change the channel or flip the page, and you're just as likely to find out about a drought taking place followed by another item measuring the annual toll taken on polar ice caps. It's tempting to dismiss parallel events as just that. But life is long—and the long-term effects of our actions are up for, if not debate, then certainly artistic interpretation. In the new exhibit at Westbeth Gallery, eight artists were asked to envision what kind of world we're positioning ourselves to leave for future generations. Samantha Hall, curator of Sign of the Times, has assembled eight contributors working in painting, photography, sculpture, and installation. The featured artists are Illtyd Barrett, Christina Duarte, Elizabeth Gregory-Gruen, Stephen Hall, Steve Joester, Martin Mahoney, Rob Plater, and Robert Ross. The opening night reception takes place Thurs., Oct.14, 6-9pm at Westbeth Gallery (55 Bethune St.). Gallery Hours are Wed.-Sun. 1-6pm, and viewing takes place through Nov. 13. For more info, click here to visit the gallery's presence on the Westbeth website.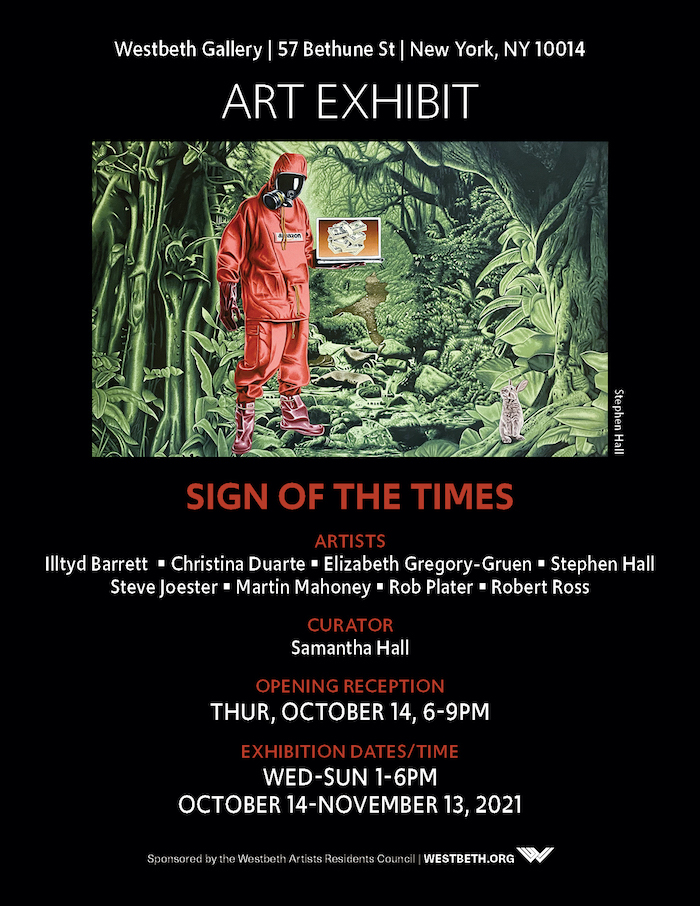 Saturday, October 30, 11am-5pm: Treats in the Streets | Meatpacking—the Business Improvement District intent on turning its increasingly leisurely area of concern into a car-free pedestrian's paradise, makes no bones about it on Sat., Oct. 30. From 11am to 5pm, area streets will be filled with games and activities fit for kids and adults alike. Stores and restaurants along the way will have special treats. Participating businesses include Amy's Bread Chelsea Market Baskets, Serafina Meatpacking, The Google Store, and the Meeting Point Galley.
Then, of course, there is the Third Annual Meatpacking Doggie Costume Contest! We're telling you this now so you'll have plenty of time to find your furry friend the costume that fits them to a "T" (or T-bone). If you're a pet parent who end up presenting your pup, send a photo of their most runway ready moment to scott@chelseacommunitynews.com and we'll include it in our post-Contest photo essay. For more info about Treats in the Streets, click here.  The event takes place throughout Meatpacking—from Horatio to 17th St., Eighth Ave. to West End Ave.
Tuesdays, October 19 through November 23: The Fresh Food for Seniors Program | Manhattan Borough President Gale Brewer, NYC Council Speaker Corey Johnson, and Councilmember Helen Rosenthal announce the fall return of their joint initiative, offering seniors a bag of 5-6 varieties of fresh fruits and vegetables grown by NY, NJ, CT and PA farmers, and sourced by GrowNYC. The bags, $9 each, are ordered a week in advance, and picked up the following week. Registration is underway now. For the Hell's Kitchen, Chelsea, and West Village areas, order and pickup dates are, respectively, Tues., Oct. 19/26, and Nov. 2/9 and 16/23. Your Chelsea area participants are SAGE (305 7th Ave., 15th floor, 646-576-8669), VISIONS (135 W. 23rd St., 646-486-4444), and Hudson Guild NORC (441 W. 26th St., 212-760-98006). For more info, see the below flyer.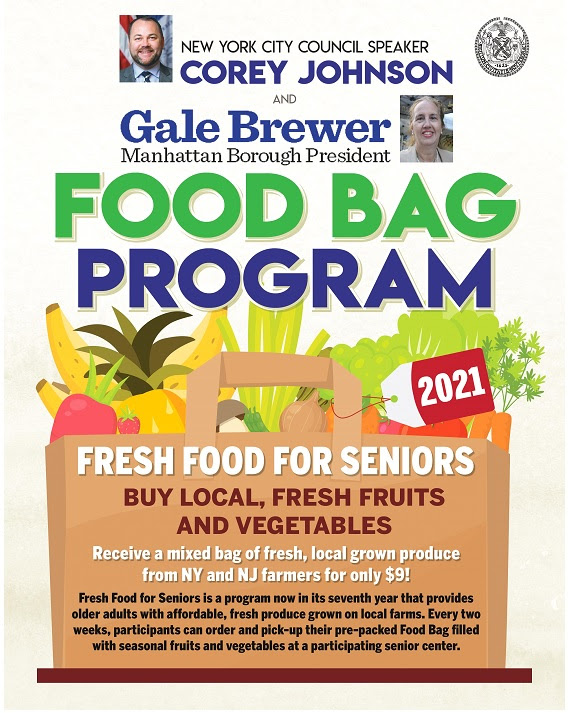 Thursday, October 14, 1-4pm and Select Dates Through October 25: FREE Flu Shots from Lenox Health Greenwich Village | It's a easy win if you want to make the argument that this event is not in Chelsea. Yes, technically, it does take place outside our generally agreed upon border of 14th St.–but only by one street over. And did we mention it's free? Funded by Lenox Health Greenwich Village and co-hosted by a number of local electeds and stakeholders (including Community Board 4 and NYS Assemblymember Richard Gottfried), there are five more vaccination opportunities through Oct. 25. So-called "debate" about the COVID vaccination notwithstanding (newsflash folk, it works), the flu shot's life-saving effectiveness was vetted and codified a long, long time ago. So do it for yourself, and others, and in a manner that won't cost you so much as one thin dime. See the below flyer for details. Note: Masks are required, and no appointments needed at the event's 200 W. 13th St. (fifth floor) location. For those over 65, they have the higher-dose antigen version recommended for seniors.
Chelsea Community News is made possible with the help of our awesome advertisers and the support of our readers. If you like what you see, please consider taking part in our GoFundMe campaign (click here). To make a direct donation, give feedback, or send a Letter to the Editor, email scott@chelseacommunitynews.com.