Sat., July 24 at 1pm RESCHEDULED FROM Thurs., July 22 at 4pm: The 10th Precinct's Sector A Build the Block Meeting, via Zoom | Neighborhood Coordination Officers are police officers assigned as NCOs, and given an assignment to protect a specific sector of their precinct, while establishing new relationship and strengthening existing ones. Two NCOs are assigned to each of Chelsea's three sectors. This Thursday, join the Sector A NCOs as well as NCO Supervisor Aman. This Zoom-held meeting is open to the public, to answer their questions and talk about their concerns. On Zoom, the meeting ID is 161 915 3541 and the Password is Chelsea1! (consider writing down your question in advance, to ensure clear communication). Call 212-741-8211 for more information. To find the right Build the Block meeting according to the sector of your residence or area of concern, click here. Once the search has been done, you'll find the names and email addresses of that Sector's NCOs. Want to know now? We'll meet you half way: The Sector A NCOs are PO William Lleras and PO Taimoor Ahmad.

Saturdays, ran or shine, 9am-3pm: Chelsea Farmers Market | Down to Earth Farmers Markets has once again put down roots in Chelsea (on W. 23rd St. near Ninth Ave.). By and large, it's the same experience as it's always been (fresh product, friendly people), albeit with a few notable nods to pandemic protocol: If you have not been fully vaccinated, please wear a face mask. There is no food sampling in the market, and all ready-to-eat food and drink must be consumed off site. If you have pre-ordered bring your order summary with you to speed pick up. For more info, click here for our preview of its opening day, May 15. Subscribe to the Down to Earth Farmers Market weekly newsletter by clicking here. In each newsletter, you will find the origin story of a certain product available for purchase (this week, it's sweet corn), as well as links to recipes involving that product. Immediately following the helpful visual reference, read what they have to say about this week's featured player:
Sundays at 11am: Free, In-Person, Historic Flatiron Walking Tours | The Flatiron Partnership (the area's soon-to-expand BID) has marked another milestone in NYC's return to "normalcy" (in a town like this, that word always needs quotes), now that their brick and mortar tour of the Flatiron area has returned. The tours tells you all about iconic area structures including the Flatiron Building, New York Life Insurance Building, MetLife Clock Tower, and Appellate Courthouse. Having gone online during the pandemic, a rotating trio of historians will return to earth, so to speak, to lead the tours: Miriam Berman, author of Madison Square: The Park and Its Celebrated Landmarks and New York in Words and Images, a book of New York postcards; Mike Kaback, a native New Yorker; and, Fred Cookinham, author of The Age of Rand: Imagining an Objectivist Future World. The tours take place weekly, Sundays at 11am. For info, click here.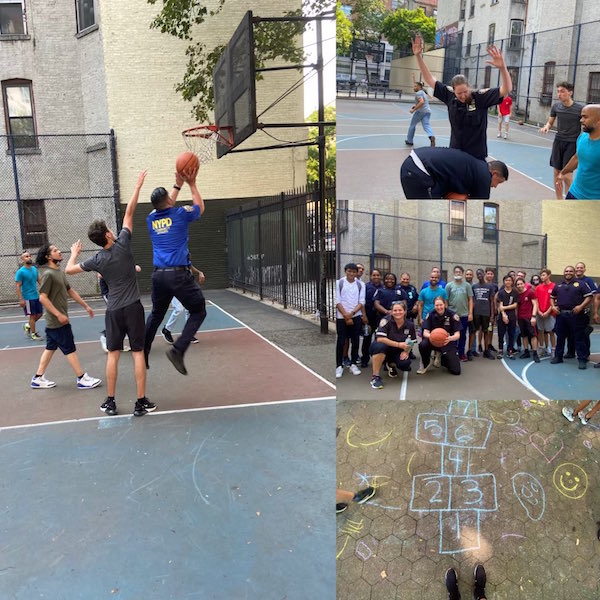 Wed., July 21, 4-7pm: The NYPD Police Commissioner's Day of Play | Sports activities are front and center at this opportunity to match skills with local police officers, on the basketball court or all the way down that hopscotch grid and back again. At Chelsea Waterside Park (557 W. 23rd St).
.
—Compiled by Scott Stiffler
Chelsea Community News is made possible with the help of our awesome advertisers, and the support of our readers. If you like what you see, please consider taking part in our GoFundMe campaign (click here). To make a direct donation, give feedback, or send a Letter to the Editor, email scott@chelseacommunitynews.com.