In This Week's "THIS WEEK IN CHELSEA"
In Order of Appearance:
 Down to Earth Farmers Market Chelsea /  Chelsea Community Church / Menorah Lighting at Clement Clarke Moore Park /  Citizens Committee Grant Info Session / Hudson Guild Gallery Exhibit / Full Board Meeting, CB4

Saturdays, rain or shine, 9am-3pm: Chelsea Farmers Market | Down to Earth Farmers Markets has once again put down roots in Chelsea (on W. 23rd St. near Ninth Ave.). By and large, it's the same experience as it's always been (fresh products, friendly people), albeit with a few notable nods to COVI-precaution protocol: If you have not been fully vaccinated, please wear a face mask. There is no food sampling in the market, and all ready-to-eat food and drink must be consumed off site. If you have pre-ordered bring your order summary with you to speed pick up. For more info, click here for our preview of its opening day, May 15. That seems like so long ago: And it was, six months ago and then some. So stop by some Saturday, but do it soon: The final Down to Earth Farmers Market Chelsea is Saturday, December 18. That's still plenty of time to benefit from being on the list for their weekly newsletter. Subscribe to it by clicking here. In each newsletter, you will find the origin story of a certain product available for purchase. But as American author, philosopher, and highly quotable wit Ralph Waldo Emerson (1803-1882) once said, "A foolish consistency is the hobgoblin of little minds…" Hence, this week's newsletter broke with tradition and went out into the world without a recipe (good timing if you're going to do it: Every armchair chef in the world was busy flooding the Internet this week with their "can't miss" Thanksgiving meal tips). Instead, Jaimie of Farmers Markets noted, "FMNP WIC and Seniors checks expire November 30,"making this the last Saturday to use those checks. To do so, noted Jamie, "Go to the Manager's Tent to use your SNAP EBT card and get tokens to spend with our vendors. Matching Health Bucks available ($2 for every $2 withdrawn, up to $10). FMNP WIC/Seniors checks can be used at the farm stands June-November."
Sundays, 12pm: Chelsea Community Church Zoom Worship Services | After taking a break in August, it's a return to form for the weekly worship services from nondenominational Chelsea Community Church. Their first service since summer hiatus took place at noon on September 19, as an online Zoom event. Chelsea Community Church has a different speaker every Sunday, as well as traditional music. To receive an invitation, send an email to info@chelseachurch.org. Learn about their history and access programming info, by visiting their website (click here to do so).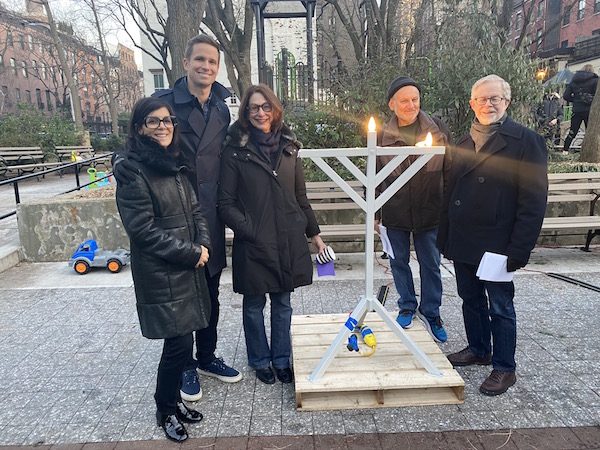 Sunday, November 28, 4:15pm: Menorah Lighting at Clement Clarke Moore Park | Gather at West Chelsea's beloved Clement Clarke Moore Park (10th Ave. & W. 22nd St.) to celebrate the first night of Hanukkah, aka the eight-day "Festival of Lights."  Today, it's lights up for candle #1 of 8. Later this month, the Christmas tree gets its own lighting celebration. Read perennial park booster Allen Oster's account of 2019's holiday celebrations in the park by clicking here.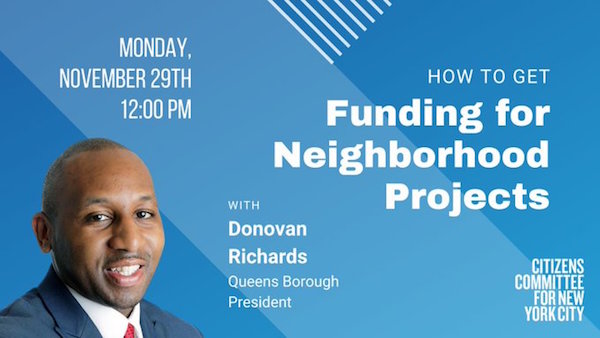 Monday, November 29, Noon, Online: Citizens Committee for NYC's Grants Information Session | Do you need funding for a neighborhood project? Citizens Committee awards direct cash grants for neighborhood-led projects that improve the quality of life in NYC. Join them for their next grant application info session, hosted by Queens Borough President Donovan Richards. It takes place online: Monday, November 29, at noon. To register, click here.
Through Jan. 5, 2022 | Exhibit: The Art of Comics at Hudson Guild Gallery | The below flyer tells (almost) all you really need to know about this new exhibit at Hudson Guild Gallery, so have a look–and for that other "need to know" info, click here for a link with the Gallery's particular COVID protocol, including how to widen your 15-minute viewing window.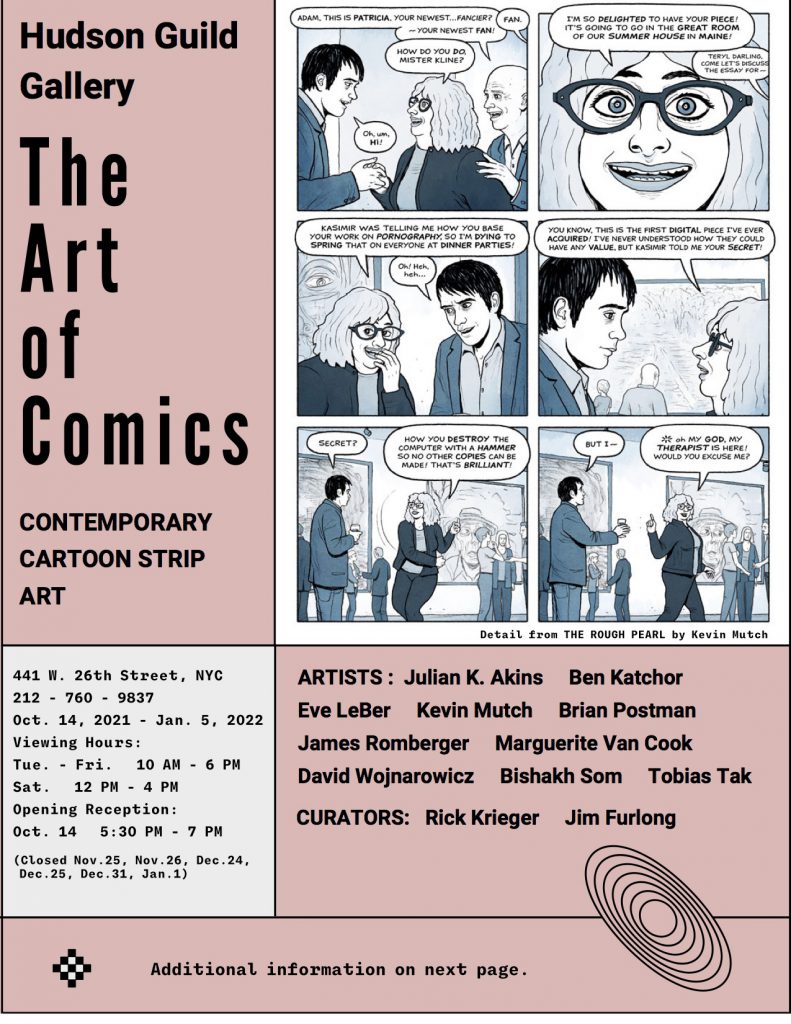 Wednesday, December 1, 6:30pm via Zoom: The Manhattan Community Board 4 (CB4) Full Board Meeting |The entire voting membership of CB4 meets for the November edition of its monthly gathering, once again as an online event viewable via Zoom or the CB4 YouTube channel, where it will be archived shortly after its original airing. Click here to access that channel, where most committee and full board meetings from the pandemic era to present can be viewed at your convenience. Featured close to the top of the Dec. 1 meeting's agenda is the Public Session, in which members of the pubic are given two uninterrupted minutes to speak on a topic, or topics, of their choice. Click here to sign up (signing up for the public session can be done up to 5pm on the day of the meeting, and also as a live online attendee). The full board agenda is posted the Friday before the meeting and can be found by clicking here.
—Compiled by Scott Stiffler
Chelsea Community News is made possible with the help of our awesome advertisers and the support of our readers. If you like what you see, please consider taking part in our GoFundMe campaign (click here). To make a direct donation, give feedback, or send a Letter to the Editor, email scott@chelseacommunitynews.com.