In This Week's "THIS WEEK IN CHELSEA"
In Order of Appearance:
The 10th Precinct Community Council Monthly Meeting / Rally Against Demolition / Oct. 30 Event Requires Dogged Preparation / 50% Off Admission at the Intrepid Sea, Air & Space Museum / Down to Earth Farmers Market Chelsea / Chelsea Community Church / Hudson Guild Gallery Exhibit / The Fresh Food for Seniors Program  /  
Wednesday, October 27, 7pm: Community Council Meeting at the 10th Precinct | This Wednesday, the citizen-run 10th Precinct Community Council will convene, for the October version of its monthly meeting (last Wed. of the month, June-Aug. summer hiatus). Top leadership at the 10th Precinct will be on hand to go over local crime stats and take your questions. That's 10/27, 7pm at the NYPD's 10th Precinct (230 W. 20th St. btw. 7th/8th Aves.). Pro Tip: Call the 10th Precinct's main number (212-741-8211) on the day of the meeting, to verify its location. For non-emergency inquiries, call the 10th Precinct's Community Affairs Office at 212-741-8226. For general info, click here. From that web page, you can find info about the quarterly Build the Block meetings, at which the two Neighborhood Coordination Officers (NCOs) assigned to your Sector will be on hand (the 10th Precinct is divided into Sectors A, B, and C).

Thursday, October 28, 1pm at Ninth Ave. & W. 14th St.: Rally Against the Demolition of 44-54 Ninth Avenue | The following is from an email announcement of Mon., Oct. 25: "Join the Historic Districts Council. Village Preservation, and Save Chelsea at a rally on Thursday, October 28th to call attention to the lack of information provided to the community about the "process" and lack of protections being taken as the DOB ordered the demolition of nine landmarked buildings without satisfactory explanation, and the LPC has quietly stood by. We will gather at 1:00 p.m on Ninth Avenue and West 14th Street to draw attention to the fact that development approved by the LPC and DOB preceded the "discovery" of so-called existing issues, and the DOB's vague finding that the demolition was required. We must draw attention to the failure of these agencies to provide formal documentation calling for the demolition of these nine buildings and failing to demonstrate that this historic demolition – now underway – is necessary. This is an example of yet another disappointing failure of the LPC to protect vital landmarked resources. We, together and unified, will show our strength as stewards of the Landmarks Law. Time is of the essence."
Saturday, October 30, 11am-5pm: Treats in the Streets | Meatpacking—the Business Improvement District intent on turning its increasingly leisurely area of concern into a car-free pedestrian's paradise, makes no bones about it on Sat., Oct. 30. From 11am to 5pm, area streets will be filled with games and activities fit for kids and adults alike. Stores and restaurants along the way will have special treats. Participating businesses include Amy's Bread Chelsea Market Baskets, Serafina Meatpacking, The Google Store, and the Meeting Point Galley.
Then, of course, there is the Third Annual Meatpacking Doggie Costume Contest! We're telling you this now so you'll have plenty of time to find your furry friend the costume that fits them to a "T" (or T-bone). If you're a pet parent who end up presenting your pup, send a photo of their most runway ready moment to scott@chelseacommunitynews.com and we'll include it in our post-Contest photo essay. For more info about Treats in the Streets, click here.  The event takes place throughout Meatpacking—from Horatio to 17th St., Eighth Ave. to West End Ave.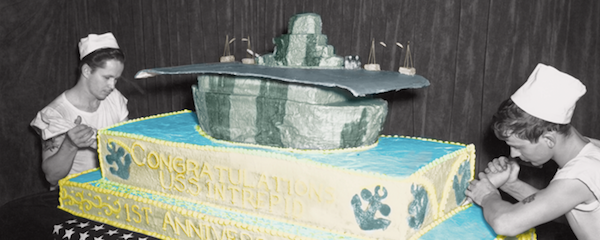 50% Off Admission Discount Rate for All NYC Residents, at the Intrepid Sea, Air & Space Museum | As of Oct. 22, residents in NYC's five boroughs can enter the museum for half of the usual ($16 for adults, $15 for seniors,$12 for ages 5-12) price. The discount can be claimed by showing a valid government-issued photo ID with a printed address, or a current utility or mortgage statement with an address within the five boroughs and name that matches a government-issued photo ID. Show that proof for one, and the discount is eligible for all those in the qualifying household (reserve tix online and bring in the required ID to claim the discount). General admission tickets include access to the aircraft carrier Intrepid, the submarine Growler, the Space Shuttle Pavilion, home of the space shuttle Enterprise, and all of the Museum's permanent and temporary exhibitions. Current exhibitions include Making History Accessible. On view through Nov. 29, it "invites visitors to test and evaluate a series of five digital and physical experiences that seek to make exhibits at historic sites and house museums more accessible and inclusive." In the spirit of checking in with them occasionally so you don't miss any tasty treats: Oct. 25 was the last day to see the exhibit Navy Cakes: A Slice of History "showcases these epic sweets and the hard work of the sailors who created them. Explore recipes, photos, artifacts and oral histories that tell the stories of the elaborate confections baked onboard Intrepid and Growler." To see what else is in store, visit the museum's website by clicking here.

Saturdays, rain or shine, 9am-3pm: Chelsea Farmers Market | Down to Earth Farmers Markets has once again put down roots in Chelsea (on W. 23rd St. near Ninth Ave.). By and large, it's the same experience as it's always been (fresh products, friendly people), albeit with a few notable nods to pandemic protocol: If you have not been fully vaccinated, please wear a face mask. There is no food sampling in the market, and all ready-to-eat food and drink must be consumed off site. If you have pre-ordered bring your order summary with you to speed pick up. For more info, click here for our preview of its opening day, May 15. Subscribe to the Down to Earth Farmers Market weekly newsletter by clicking here. In each newsletter, you will find the origin story of a certain product available for purchase.
Sundays, 12pm: Chelsea Community Church Zoom Worship Services | After taking a break in August, it's a return to form for the weekly worship services from nondenominational Chelsea Community Church. Their first service since summer hiatus took place at noon on September 19, as an online Zoom event. Sister Carol Perry, Resident Bible Scholar at the Protestant Marble Collegiate Church for 37 years and winner of a Norman Vincent Peale Award for Positive Thinking, was the guest speaker. The Roman Catholic Sister has guided seven tours to the Holy Land and has lectured widely, with an emphasis on the Bible and on the role of women in religious life today. Chelsea Community Church has a different speaker every Sunday, as well as traditional music. To receive an invitation, send an email to info@chelseachurch.org. Learn about their history and access programming info, by visiting their website (click here to do so).
Through Jan. 5, 2022 | Exhibit: The Art of Comics at Hudson Guild Gallery | The below flyer tells (almost) all you really need to know about this new exhibit at Hudson Guild Gallery, so have a look–and for that other "need to know" info, click here for a link with the Gallery's particular COVID protocol, including how to widen your 15-minute viewing window.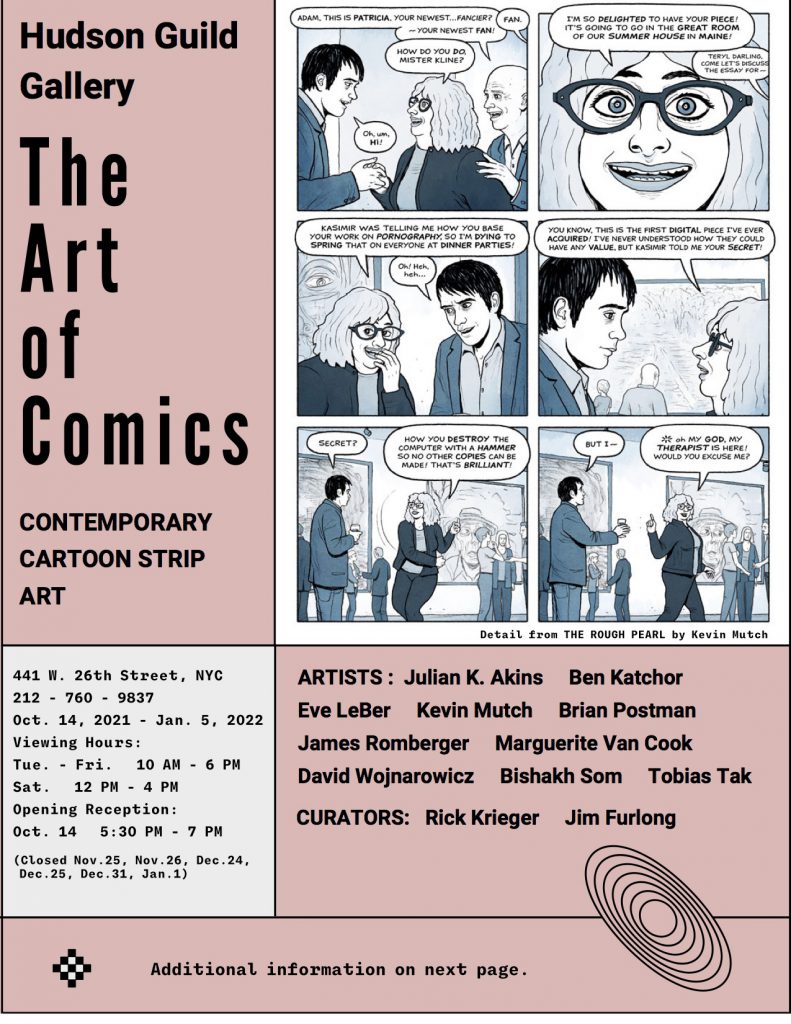 Tuesdays through November 23: The Fresh Food for Seniors Program | Manhattan Borough President Gale Brewer, NYC Council Speaker Corey Johnson, and Councilmember Helen Rosenthal announce the fall return of their joint initiative, offering seniors a bag of 5-6 varieties of fresh fruits and vegetables grown by NY, NJ, CT and PA farmers, and sourced by GrowNYC. The bags, $9 each, are ordered a week in advance, and picked up the following week. Registration is underway now. For the Hell's Kitchen, Chelsea, and West Village areas, order and pickup dates are, respectively, Tues., Oct. 19/26, and Nov. 2/9 and 16/23. Your Chelsea area participants are SAGE (305 7th Ave., 15th floor, 646-576-8669), VISIONS (135 W. 23rd St., 646-486-4444), and Hudson Guild NORC (441 W. 26th St., 212-760-98006). For more info, see the below flyer.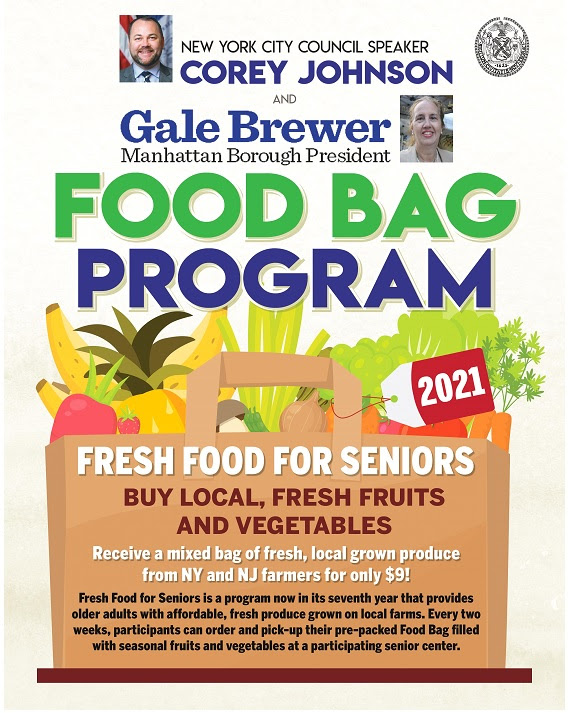 —Compiled by Scott Stiffler
Chelsea Community News is made possible with the help of our awesome advertisers and the support of our readers. If you like what you see, please consider taking part in our GoFundMe campaign (click here). To make a direct donation, give feedback, or send a Letter to the Editor, email scott@chelseacommunitynews.com.