Saturdays, rain or shine, 9am-3pm: Chelsea Farmers Market | Down to Earth Farmers Markets has once again put down roots in Chelsea (on W. 23rd St. near Ninth Ave.). By and large, it's the same experience as it's always been (fresh product, friendly people), albeit with a few notable nods to pandemic protocol: If you have not been fully vaccinated, please wear a face mask. There is no food sampling in the market, and all ready-to-eat food and drink must be consumed off site. If you have pre-ordered bring your order summary with you to speed pick up. For more info, click here for our preview of its opening day, May 15. Subscribe to the Down to Earth Farmers Market weekly newsletter by clicking here. In each newsletter, you will find the origin story of a certain product available for purchase.
Meatpacking District and ArtNoir present From a Place, Of a Place  | Join your fellow New Yorkers to elevate local talent, when you take part in From a Place, Of a Place–a three-month, five-part activation in locations throughout the Meatpacking District that "celebrates and discovers Black voices through creativity, commerce, and community in and around the District." This special programming on the part of the Meatpacking District BID (in partnership with "the amazing folks at ARTNOIR") began last week, with The Meeting Point. This pop-up gallery (located at 2 Gansevoort) is curated by Danny Baez and features over a dozen artists, whose work on view offers, the press material notes, "the presence of possibility and a connection to all things unseen, through the lens of Blackness." The Meeting Point maintains its pop-up presence with the works that premiered last week on view through late September, when another group of artists (also curated by Baez) will be featured. Gallery Hours: Wed., Thurs., Sun., 12-6pm, Fri. & Sat., 12-8pm.
Friday, Aug. 27, Sunset on the Hudson Concerts series concludes | This free annual series showcasing local musicians takes place throughout Hudson River Park's 4-mile footprint. In its first post-COVID incarnation, the series featured, among others: Alsarah and the Nubatones, Dominican Republic-born, Brooklyn-raised guitarist, producer, composer, and arranger Yasser Tejeda, and the High & Mighty Brass Band. The series concludes on Fri., Aug. 27, with DJs and producers Coco and Breezy, at 14th Street Park. For the series' page on Hudson River Park's website, click here.
Sundays at 11am: Free, In-Person, Historic Flatiron Walking Tours | The Flatiron Partnership (the area's soon-to-expand BID) has marked another milestone in NYC's return to "normalcy" (in a town like this, that word always needs quotes), now that their brick and mortar tour of the Flatiron area has returned. The tours tells you all about iconic area structures including the Flatiron Building, New York Life Insurance Building, MetLife Clock Tower, and Appellate Courthouse. Having gone online during the pandemic, a rotating trio of historians will return to earth, so to speak, to lead the tours: Miriam Berman, author of Madison Square: The Park and Its Celebrated Landmarks and New York in Words and Images, a book of New York postcards; Mike Kaback, a native New Yorker; and, Fred Cookinham, author of The Age of Rand: Imagining an Objectivist Future World. The tours take place weekly, Sundays at 11am. For info, click here.
Through Sept. 22 at Hudson Guild's Gallery II, The Portrait Project: Paintings of Hudson Guild Community Members by Rusty Zimmerman | As we noted in this recent article, Chelsea's vital community center is back in the brick and mortar business, having resumed live theatrical performances and, with this exhibit, gallery viewings. See the below flyer for details, and click here to visit the Hudson Guild website.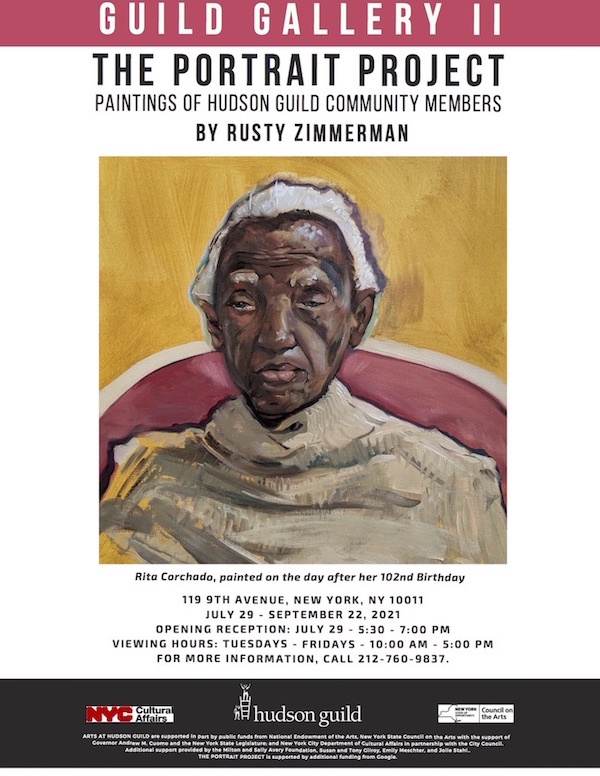 Thursday, August 26, 6pm via Zoom: 10th Precinct Sector B Build the Block Meeting | Smack dab in the middle of summer comes this meeting featuring intel and info from the NYPD precinct covering the lion's share of Chelsea. That's the 10th Precinct, whose area of coverage you've no doubt (just) read about is divided into three sections: A, B, and C. Each section is assigned two NCOs (Neighborhood Coordination Officers), who are expected to make and maintain strong bonds with the community. To that end, once every quarter, each section holds a Build the Block meeting where the general public is the main focus. Quality of life concerns and crime mitigation are the main topics, discussed through a Q&A format that allows for follow-up within the meeting as well as over time. On Aug. 26, Sector B (covering W. 21st St. to W. 29th St., and 7th Ave. to the Hudson) gets the focus, with Police Officer (P.O.) Daniel Bavuso and P.O. Mark Pagano presiding. To attend, log onto Zoom and use 161 904 3092 as the ID, and Chelsea10! as the password. Need to know what sector of Chelsea applies to your home or place of work? Click here. For general information about the 10th Precinct, click here.
 —Event Listings Compiled by Scott Stiffler
Chelsea Community News is made possible with the help of our awesome advertisers, and the support of our readers. If you like what you see, please consider taking part in our GoFundMe campaign (click here). To make a direct donation, give feedback, or send a Letter to the Editor, email scott@chelseacommunitynews.com.