In This Week's "THIS WEEK IN CHELSEA"
In Order of Appearance:
23 Days of Flatiron Cheer / 80's Ladies II: The Mixtape / Chanukah Celebration at Chelsea Green/ Chelsea Waterside Park Phase II Groundbreaking / Down to Earth Farmers Market Chelsea /  Clement Clarke Moore Park Tree Lighting / Hudson Guild Gallery Exhibit /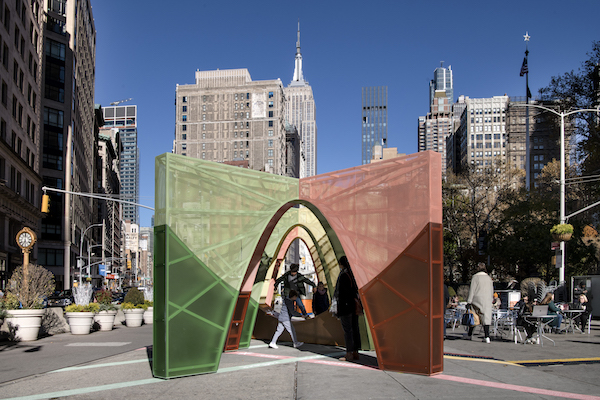 Wednesday, December 1-Thursday, December 23: 23 Days of Flatiron Cheer | The Flatiron/23rd Street Partnership, a nonprofit BID (Business Improvement District), is the brainy brawn behind the 10th annual "23 Days of Flatiron Cheer" event, which begins this Wednesday and continues for… well, they tell you that in the title. What it means for you: Twenty-three consecutive 24-hour spans offering, they promise, "digital deals and giveaways from local businesses, holiday meal-kit roundups from local restaurants, holiday-themed neighborhood walking tours, a Winter Solstice Celebration with MoMath on December 21, holiday carolers, and more." No need to look for the "more." It's already here, in the form of a public art installation unveiled last week. Created in partnership with Van Alen Institute, Interwoven uses its location (the iconic intersection, Flatiron North Public Plaza) and design features (among them, by color-coded archway sensors set off by two or more people) to represent the coming together of New Yorkers as they come back to familiar, pre-COVID haunts. For more information on Interwoven and other "23 Days" features, click here.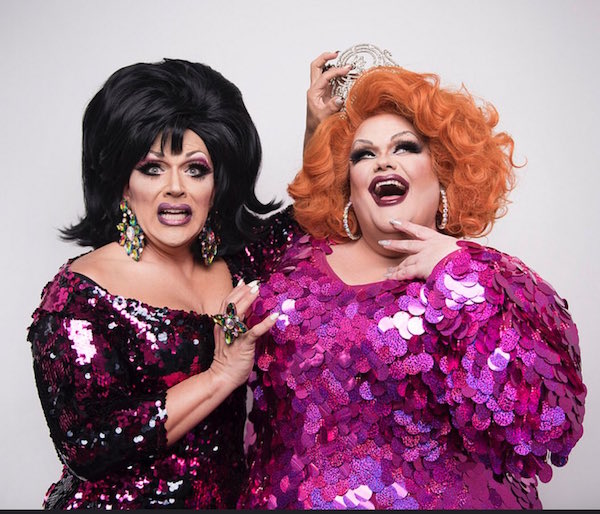 Thursday, December 2 & Friday, December 3 / 80's Ladies II: The Mixtape | Whether you believe it's the work of kismet, karma, or plain old coincidence, one thing is certain: December 2's Throwback Thursday is a totally tubular time to view 80's Ladies II: The Mixtape. This live event starring RuPaul's Drag Race contestants Mrs. Kasha Davis and Darienne lake (Seasons 7 and 6, respectively) is the follow-up to their pre-pandemic-era stage show looking back at the decade that gave us Reaganomics, the first album released on compact disc, and the last time MTV spent most if its days actually played music videos. There's been a lot of water under the bridge since then, and a global event or two since we last chatted with the ladies back in 2109 (click here for that interview). Performances are Thursday, December 2 and Friday, December 3 at 7pm at The Laurie Beechman Theatre (inside West Bank Cafe at 407 West 42nd St. at Ninth Ave.). Tickets are $24 plus a $20 food/drink minimum. A $38 VIP ticket including priority seating and meet-and-greet is also available. To purchase tickets, call 212-352-3101 or visit www.SpinCycleNYC.com. All attendees must present proof of full vaccination to enter.
Thursday, December 2, 5:30pm at Chelsea Green Park (140 W.20th St,. btw. 6th & 7th Aves.): Chanukah Celebration | New York Hebrew ("an innovative Hebrew school in the heart of New York") invites you to this grand menorah lighting, with special treats for all. See the below poster for details.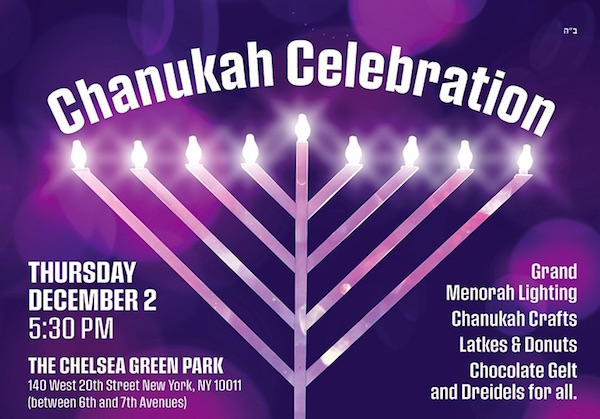 Friday, December 3, 1pm: Groundbreaking and Thank You Ceremony for Chelsea Waterside Park Phase II | See the below flyer for details.    
Saturdays, rain or shine, 9am-3pm: Chelsea Farmers Market | Down to Earth Farmers Markets has once again put down roots in Chelsea (on W. 23rd St. near Ninth Ave.). By and large, it's the same experience as it's always been (fresh products, friendly people), albeit with a few notable nods to COVI-precaution protocol: If you have not been fully vaccinated, please wear a face mask. There is no food sampling in the market, and all ready-to-eat food and drink must be consumed off site. If you have pre-ordered bring your order summary with you to speed pick up. For more info, click here for our preview of its opening day, May 15. That seems like so long ago: And it was, six months ago and then some. So stop by some Saturday, but do it soon: The final Down to Earth Farmers Market Chelsea is Saturday, December 18. That's still plenty of time to benefit from being on the list for their weekly newsletter. Subscribe to it by clicking here.
Thursday, December 9, 4:30pm at Clement Clarke Moore Park (10th Ave. & W. 22nd St.): Tree Lighting |  Another must-attend holiday happening . See the bellow promo.
Through Jan. 5, 2022 | Exhibit: The Art of Comics at Hudson Guild Gallery | The below flyer tells (almost) all you really need to know about this new exhibit at Hudson Guild Gallery, so have a look–and for that other "need to know" info, click here for a link with the Gallery's particular COVID protocol, including how to widen your 15-minute viewing window.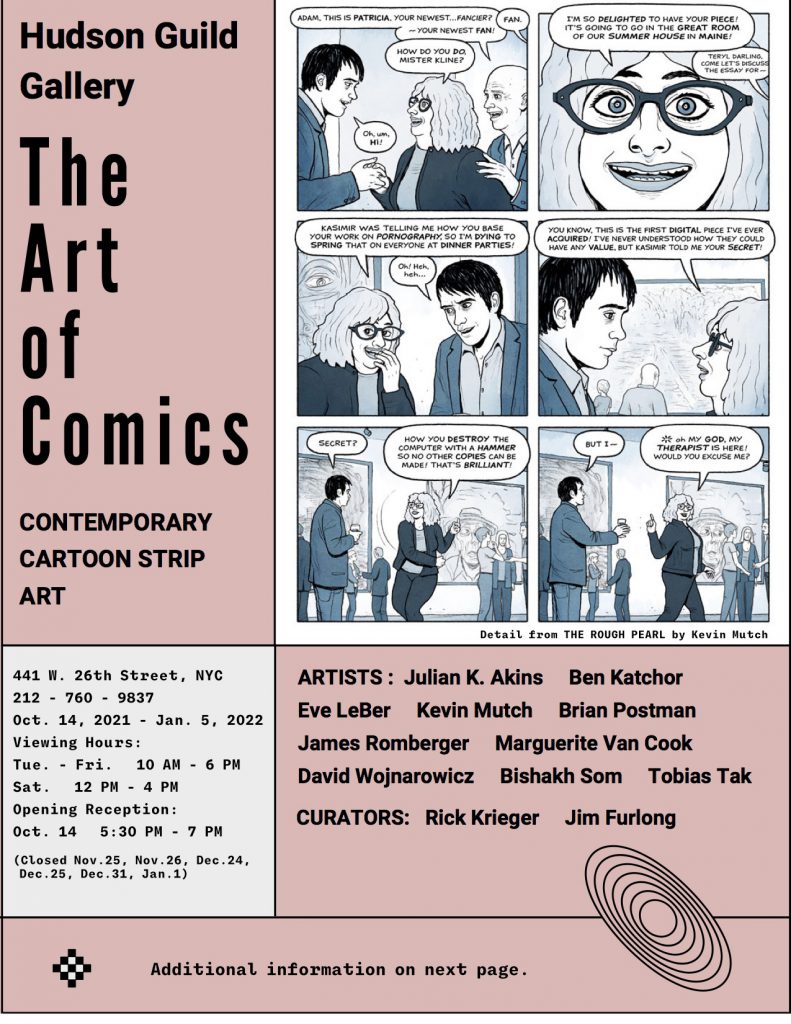 —Compiled by Scott Stiffler
Chelsea Community News is made possible with the help of our awesome advertisers and the support of our readers. If you like what you see, please consider taking part in our GoFundMe campaign (click here). To make a direct donation, give feedback, or send a Letter to the Editor, email scott@chelseacommunitynews.com.