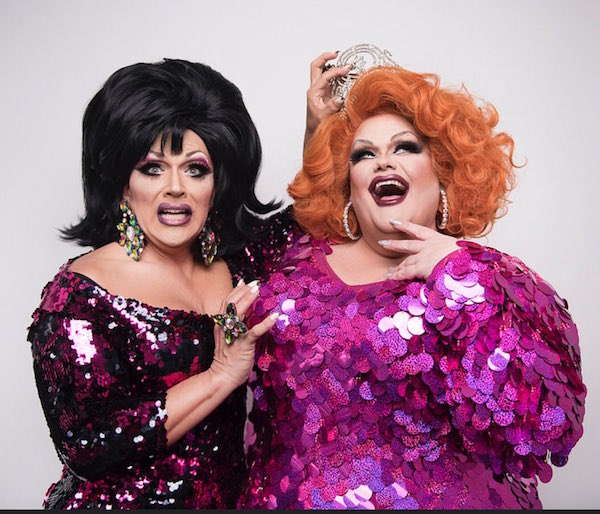 BY SCOTT STIFFLER | Parachute pants. The premiere of MTV. Cellular phones the size of those shoes you're walking around with. Totally tubular, gag-me-with-a-spoon, grody to the max, excellent adventures. If it's the 80's, RuPaul's Drag Race (RPDR) alums Mrs. Kasha Davis and Darienne Lake were there—living through it, so that they may bring you their latest collaboration, intelligently designed to let us all bask in the glory of everything that era wrought—and so it shall be done, Nov. 15 & 16, when the dynamic duo of Davis & Lake unleash an all-new show upon an not-entirely-unsuspecting public. Chelsea Community News got the skinny, old school Q&A-style, on the show, the journey, and the formula that keeps their chemistry in check.
Scott Stiffler, for Chelsea Community News: This is the first time you've appeared as a duo at the Laurie Beechman Theatre since 2018's Bosom Buddies. How did the NYC audience receive that show, and what were some of the most memorable moments from touring with it?
MRS. KASHA DAVIS (MKD): I absolutely love Spin Cycle and the Laurie Beechman Theatre, and each show has been so very different—but the common thread has been one of home and support. After RPDR, I've been in a "prove I could do more" mode, and the NYC audience has been right at my side. Performing with Darienne is very much like home—a pain in the ass sibling who you'd do anything for, but could also kick in the Gunt!  (Said with love:)
DARIENNE LAKE: What I love about doing the show Bosom Buddies is that we were able to bring new appreciation to some old classics that some of our younger audience hasn't quite discovered yet. It also brought back fond memories to some of the older audiences that we connect to. One of my favorite memories of touring with the show is when people get to see you stretch your skill set, and impress them with things that they didn't know about you. Some people only know you from what they've seen on TV. But as we know, there's so much more to the unedited version of yourself.
CCN: This new show is 80's Ladies. What are the best and worst things to come out of that decade, and why does pop culture's love for the era endure?
MKD: The best thing that came out of the 80's, for me, hands-down, was my discovery of Tina Turner, in 1983! I remember telling my mother, in the parking lot of a convenience store, that this new singer came out with an album and I love her! She said, "Eddie…. NEW???? She's been around forever, but I'm so glad she got rid of that husband, Ike!" I became immediately obsessed, and covered my bedroom wall with every magazine clipping and poster of her I could find. It was the begging of a star-to-fan relationship that has endured since, and her energy has brought me through the best and worst of times of my life.
DARIENNE: Some of the best things to come out of the 80's, in my opinion, was the music and the fun of our generation—also, the advances in technology, and hope for what could possibly come of the future. It goes without saying the AIDS crisis was one of the worst things to come out of the decade, especially at a time where I was finally old enough to experience my first sexual encounters. But with that came a closer sense of community, and that we're all in this together, regardless of sexuality.
CCN: If good genes, pure luck, and/or emerging technology allow, what sort of show can we expect 40 years from now, when the theme harkens back to the 2010's?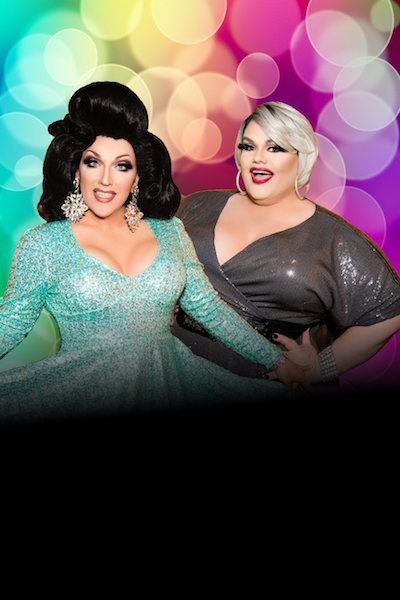 MKD: OMG. Forty years from now I will be 88, and I can only hope by then I am cast on the All Stars Season 1000. I don't look too far in the future, especially with technology—and I miss records and the ease of a simple remote control TV with 10 channels.
DARIENNE: I think the 2010 decade has been a decade of being woke to society, race, environmental, political, and gender issues. It's been a decade of breaking boundaries. But if I'm still able to do a show at 87 years old, please buy me shots of milk… of magnesia.
CCN: Discuss your onstage dynamic with each other, and the audience.
MKD: Darienne and I have and continue to work together on a regular basis. She is very insightful and has a very good memory, which is the opposite of me. I'm all emotional, and have killed so many brain cells with boxed wine and gin that there's often a large train that drives through my head, from ear to ear. We are supportive on and off stage, along with a tinge of sass and shade. I believe we push each other to keep floating in this ever-evolving drag career. And as for the audience, we both love seeing people shocked, laughing, and relating to our life experiences.
DARIENNE: At our shows, we break the fourth wall and let the audience be part of the show. We have a playful dynamic that isn't always trying to force an agenda or a message—just to have fun, and be entertained for an hour and a half.
CCN: The world knows both of you from RuPaul's Drag Race. Who are your favorite queens to have emerged from the show after you left it, and can we expect you back, via All Stars or some other manner?
MKD: We BOTH will be on All Stars at some point. Hopefully not together, because I am going to win it. I wasted some of my energy on Season 7 being a team player and letting other people get the spotlight and speak. I've learned from that experience. As for favorites other than Lake, mine is hands-down Bianca Del Rio. Despite her enormous success, she has remained true to herself, her fans, and to queens like myself.  She is a true workhorse and DRAG MOM! She has a huge heart and, despite her millions, she pays taxes and stays humble. No one can touch her stardom and talent—not even RuPaul.
DARIENNE: Some of my favorites from following seasons have been the underdogs who have made lemonade out of lemons—like Jaymes Mansfield, who has created a business from YouTube videos. Also some of the girls who break the mold of what people think of as Drag. Thorgy Thor and Eureka O'Hara come to mind.
CCN: "…set to a soundtrack of wicked pop and rad classic rock," promises the press release. Can you tell us about a few of the tracks, and why they made the cut?
MKD: Honestly, there are way too many amazing 80's songs to make the cut. So some are in the pre- and post-show mixes! What I can promise you is that there will be music that said something to us, and continues to resonate today.
DARIENNE: I am a huge lover of new wave music, as well as rock music with a strong female singer like Ann Wilson or Pat Benetar—and as any good homosexual will tell you, the emergence of pop princesses. like Tiffany and Debbie Gibson.
CCN: 80's Ladies takes place two weeks before Thanksgiving. What are you thankful for, and what would a guest be expected to show up with and/or contribute, if invited to your Thanksgiving table?
MKD: I'm #grateful for so much. but I'm nothing without my sobriety. NOTHING. After that I'm thankful for my amazing husband, Steven (Mr. Davis), our daughters, Melissa and Jessica, and our dog, Max. I'm about family and friends first. So if you show up to a Thanksgiving at our home, bring a dish, drink, or a game to pass—but mostly, bring your love of positivity and family, and you'll fit right in.
DARIENNE: I'm thankful for the people who stick by my side, who have been through thick and thin—literally and figuratively. I'm thankful to still be doing what I love—being a traveling performer. If you're coming to my Thanksgiving table, my favorite thing to bring is a wonderful story. Something crazy or something unexpected or maybe just some gossip. Or gravy.
80's Ladies is presented at 7pm on Fri., Nov. 15 & Sat., Nov. 16 at The Laurie Beechman Theatre (inside West Bank Cafe at 407 W. 42nd St. at Ninth Ave.). Tickets are $24 plus a $20 food/drink minimum. A $44 VIP ticket, including priority seating and meet-and-greet, is also available. To purchase tickets, call 212-352-3101 or visit www.SpinCycleNYC.com. For artist info, visit kashadavis.com and https://twitter.com/dariennelake.
Chelsea Community News is made possible with the help of our awesome advertisers, and the support of our readers. If you like what you see, please consider taking part in our GoFundMe campaign (click here). To make a direct donation, give feedback about the site, or send a Letter to The Editor, email us at Scott@chelseacommunitynews.com.