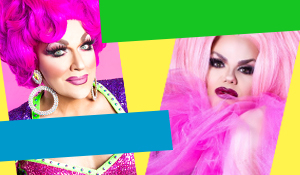 Whether you believe it's the work of kismet, karma, or plain old coincidence, one thing is certain: December 2's Throwback Thursday is a totally tubular time to view 80's Ladies II: The Mixtape. This live event starring RuPaul's Drag Race contestants Mrs. Kasha Davis and Darienne lake (Seasons 7 and 6, respectively) is the follow-up to their pre-pandemic-era stage show looking back at the decade that gave us Reaganomics, the first album released on compact disc, and the last time MTV spent most if its days actually played music videos. There's been a lot of water under the bridge since then, and a global event or two since we last chatted with the ladies back in 2109 (click here for that interview). In advance of their return to NYC for this new show's Dec. 2/3 world premiere performances, Kasha and Darienne again kindly consented to do the Q&A thing regarding their sequel's DNA.
Scott Stiffler, for Chelsea Community News (CCNews): Other than each other, what digital drag queen's output impressed and entertained you?
Darienne Lake: Alaska Thunderfuck put together a well-thought concept and show, using all the pop culture drag references.
Mrs. Kasha Davis: "Digital Drag Queen?" Hmm, is that a thing? I am impressed with every and ANY queen who took to the phone, computer etc. to pivot and continue making art, doing shows, and entertaining people during this crazy time.
CCNews: What were your own digital drag challenges and successes?
Darienne: The biggest challenge was getting a bunch of old people to figure out the Internet. It was a challenge to get people to tune in with not everybody in the same time zone. Also, social media is such that you have to pay for your advertising post to be seen. Luckily, we found ways around that and cast a wide net by having a larger cast.
Kasha: I have had a MARVELOUS time sharing my passion of Storytime Live with MKD on my socials with the world as Mr. Davis and I did over 100 live readings with a book, songs, and jokes throughout the pandemic. This has motivated us to create a TV show together and with our partners Blackfriars Theatre and Fish & Crown Creative. Watch for Imagination Station soon! The TV show will be like none other, coming from the "home" of Mr. and Mrs. Davis—not unlike all-time favorites, Mr. Rogers and Mrs. Doubtfire. We have our premiere on Dec. 6 of the first two episodes at the Little Theatre in Rochester, NY. Join us! … My biggest challenge is and remains the ever-changing algorithms and navigating social media presence. I guess I wouldn't say it's a CHALLENGE but moreover a frustration, in that it's become monetized. Everyone wants you to advertise and boost your post and if you don't, you move to the back of the line. That being said, FOLLOW ME!!!!!
CCNews: Is digital drag here to stay? If so, how do you see that playing out, now that live performances are back?
Darienne: There will always be some sort of digital entertainment whether it sticks to YouTube or TickTock and other social media platforms. But there is nothing like the live performances. That's why people have been itching to get back into the theater.
Kasha: I think it's died down other than the occasionally Instagram Live or consistent posting of content on all platforms so that the world knows you're still kicking! It is my belief that my consistent presence on Instasnatch, faceplace, Twatter and Tik Tok has enabled me to continue working and touring. Things are going great and I'm grateful for the likes, follows, and support of the nearly DOZENS of people who support me.
CCNews: What is it about the 1980s that merits a second show? Is there enough for a third?
Darienne: The '80s is my time, where I was formed into the person I am. The music and movies reached a young audience with new innovation and groundbreaking platforms like MTV. There is definitely enough material for a third installment of our show, 80's Ladies.
Kasha: We love the '80s and there's always time for a second show! Honestly, I think Darienne and I can do a themed show from any decade or genre of music!  Bring on the '90s, Disco Divas, Broadway Babes, so on and so forth.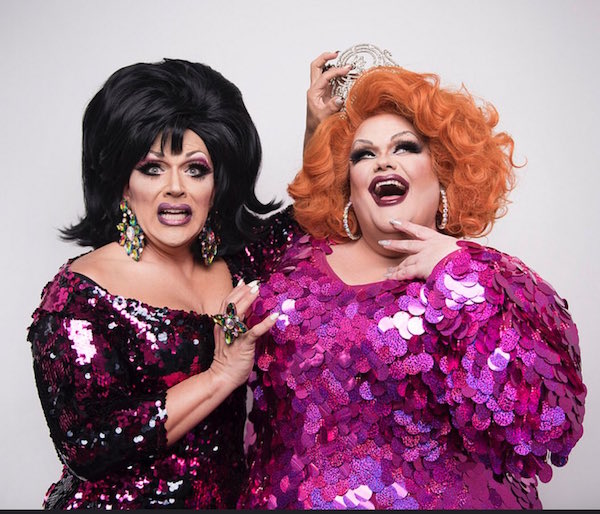 CCNews: What's it like to be a child of the '80s and see generation after generation taking its best pop culture and making it part of their own?
Darienne: It's wonderful to see the younger generations embrace the fun and magic that was the '80s. There are always '80s parties to celebrate. From the fashion to the music to the quotes and catchphrases from TV and movies. It's interesting to see it evolve. When MTV first started there weren't a lot of music videos, so many of the videos got played over and over again, creating these one-hit wonders—cementing a place in our memories.
Kasha: It's funny to me to see how people today treat the '80s like we did the '50s as kids.  I guess nothing really changes does it?
CCNews: You are debuting this show as one of the first to be performed at the post-pandemic Laurie Beechman Theatre. What does it mean to you, to have this space as a survivor?
Darienne: Sadly, I don't really feel like we're post-pandemic yet, but it's exciting to get people back into the theater and enjoy live performances—that we've made it through the toughest part of the pandemic and just want to celebrate and have some fun.
Kasha: I have a fondness and connection to both the Laurie Beechman and Spin Cycle. Spin Cycle not only writes the check but they have consistently been supportive of me from the moment I was on Drag Race six years ago! The Beechman was a NYC dream for me because I always parked at the Convention center parking right outside the tunnel since the early '90s and when I'd walk by over the years I'd see legends like Joan Rivers performing there. I'd think…. Someday Eddie Popil, someday.  Well SOMEDAY is December 2nd and 3rd with my marvelously talented pal, Darienne Lake!
CCNews: As we at Chelsea Community News understand it, Kasha is the MTV expert and Darienne can quote endlessly from '80s movies. So what are your Top  '80s MTV videos and Top '80s Movie Quotes?
Darienne: I am a huge fan of the new wave '80s music so no surprise I'd pick:
Sweet Dreams (Are Made of This) Eurhythmics
Doctor Doctor Thompson Twins
Don't You Want Me Human League
You Spin Me Round Dead or Alive
Open Your Heart Madonna
The Metro Berlin
Video Killed the Radio Star Buggles
Karma Chameleon Culture Club
Safety Dance Men Without Hats
Alone Heart
And For Quotes
"I want my two dollars!!" Better Off Dead
"What's happening hot stuff?" Sixteen Candles
"Claire? That's a fat girl's name." The Breakfast Club
"Chips dips chains whips, we're not talking candle wax on the nipples or anything." Weird Science
"No wire hangers!" Mommie Dearest
"You were nothing before you met me and you were playing Barbies with Betty Finn you were a bluebird, a Girl Scout cookie." Heathers
"Stay gold Pony Boy." Outsiders
"You remind me of the babe." Labyrinth
"Who you gonna call?" Ghostbusters
Kasha: UGH TRIVIA…GAG ME WITH A SPOON!!!!  I was and remain the ULTIMATE Tina Turner fan so she is my favorite, Madonna was perfection and the Take On Me video still makes me smile, Cyndi Lauper Girls Just Wanna Have Fun told a great story, and Michael Jackson's THRILLER…. a mini-movie!!! Ohhhhhh—Peter Gabrielle's Sledgehammer was so artsy fartsy!
CCNews: After this show, what's next and on the long-range bucket list for the two of you individually and as a duo?
Darienne: Murder suicide most likely. But seriously we've been working together putting together stage shows whether it be for a theater or intimate restaurant, comedy club, or community center. Personally, I've been working on my fitness to sustain the grueling schedule of a traveling performer.
Kasha: LONG RANGE???? Well we are both now 50 so we got a good 10 years of performing left.  Here's my prediction….Darienne and I get cast on the same season of RuPaul's Drag Race All Stars and she wins, she sends me home and the audience gets mad at her but TBH I's OK cause I'm not as pretty or as good a lip sync "artist" and I gotta get home to organize a tour for us both cause otherwise she'll come home and sit on the couch and wait for the phone to ring and get no bookings. I'll text and call and bug her and she'll get mad but in the end she'll be happy because we will have sold out houses all around the globe and will finally have enough money to retire to Palm Springs, CA where upon we will appear weekly with the local queens wearing sneaker and caftans (but still nails…always nails) telling stories of the good ol days but we'll both be vegan because even though we put on weight again we don't want to have high cholesterol and blood pressure and keel over on stage. My husband Steve Levins and I will host dinner parties for an assorted gaggle of retired drag queens which will eventually become a reality show or at least another documentary about my life which will essentially be a sequel to the first one (Workhorse Queen) and at some point I'll die but it'll be ok because I'll know there's enough internet interviews, videos and PROOF that I once lived and I did so with all my HEART!
Come see the show!!!!
Performances are Thursday, December 2 and Friday, December 3 at 7pm at The Laurie Beechman Theatre (inside West Bank Cafe at 407 West 42nd St. at Ninth Ave.). Tickets are $24 plus a $20 food/drink minimum. A $38 VIP ticket including priority seating and meet-and-greet is also available. To purchase tickets, call 212-352-3101 or visit www.SpinCycleNYC.com. All attendees must present proof of full vaccination to enter.
ABOUT MRS. KASHA DAVIS (Edward Popil), a Scranton native, now calls Rochester, NY her hometown. Davis was a contestant on Season 7 of RuPaul's Drag Race. Kasha is a theatre gal who has played Frank 'N' Furter in The Rocky Horror Show, Elizabeth Fuller in Me and Jezebel and The Mystery of Irma Vep with Blackfriars Theatre. As her alter ego "Ed," Kasha has appeared with JCC Centerstage as Eddie Ryan in Funny Girl and Roger Debris in The Producers. Kasha Davis appears with the fabulous Aggy Dune in their female impersonation show The Big Wigs, appearing anywhere that calls for a man in a dress, fast costume changes and tons of laughs. Past credits include Off-Off Broadway productions of The Diary of Anne Frank and True West.  Ed also proudly posed as a straight man during his younger years at Ballet Theatre of Scranton as a principal dancer. For more info, visit www.mrskashadavis.com.
ABOUT DARIENNE LAKE hails from Rochester, NY where she won Miss Gay Rochester 1998-1999. In addition to starring on the sixth season of RuPaul's Drag Race, Darienne has appeared on The Ricki Lake Show (You're Too Fat to be a Drag Queen, 1993) and the 2003 VH1 documentary Boys Will Be Girls. She is also Drag Mother to Pandora Boxx. Lake made her New York solo debut in 2014 with the show Skinny Dipping with Darienne Lake and was seen in 2018 with Kasha Davis in Bosom Buddies and in 2019 with the original 80's Ladies show. For merch, visit https://dariennelake.bigcartel.com.
The Laurie Beechman Theatre is located downstairs in the West Bank Cafe. This charming & comfortable 100-seat cabaret venue has been the home of some of the best Broadway & Cabaret performers for over 30 years! There is a $20 per person  (not including gratuity) food/beverage minimum for all shows. There are NO advance sales in person or by calling The West Bank Cafe. Please visit Frequently Asked Questions.
Chelsea Community News is made possible with the help of our awesome advertisers, and the support of our readers. If you like what you see, please consider taking part in our GoFundMe campaign (click here). To make a direct donation, give feedback, or send a Letter to the Editor, email scott@chelseacommunitynews.com.