In This Week's "THIS WEEK IN CHELSEA"
In Order of Appearance:
Fair Warning: Oct. 30 Event Requires Dogged Preparation / Down to Earth Farmers Market Chelsea / Chelsea Community Church / The Fresh Food for Seniors Program  /  New Hudson Guild Gallery Exhibit / Flu Shots from Lenox Health Greenwich Village / 50% Off Admission at the Intrepid Sea, Air & Space Museum /  / Gone But Not Forgotten: Events From Earlier This Week Moved to Tail End of Page After They've Taken Place (gee, that's a long explainer, we're gonna work on making it shorter…
Saturday, October 30, 11am-5pm: Treats in the Streets | Meatpacking—the Business Improvement District intent on turning its increasingly leisurely area of concern into a car-free pedestrian's paradise, makes no bones about it on Sat., Oct. 30. From 11am to 5pm, area streets will be filled with games and activities fit for kids and adults alike. Stores and restaurants along the way will have special treats. Participating businesses include Amy's Bread Chelsea Market Baskets, Serafina Meatpacking, The Google Store, and the Meeting Point Galley.
Then, of course, there is the Third Annual Meatpacking Doggie Costume Contest! We're telling you this now so you'll have plenty of time to find your furry friend the costume that fits them to a "T" (or T-bone). If you're a pet parent who end up presenting your pup, send a photo of their most runway ready moment to scott@chelseacommunitynews.com and we'll include it in our post-Contest photo essay. For more info about Treats in the Streets, click here.  The event takes place throughout Meatpacking—from Horatio to 17th St., Eighth Ave. to West End Ave.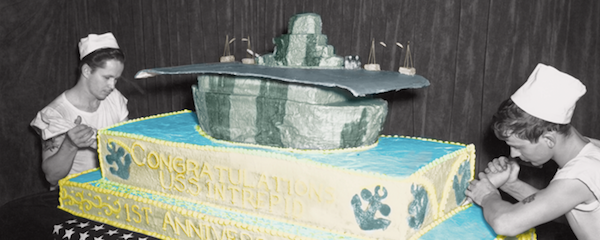 Friday, October 22: 50% Off Admission Discount Rate for All NYC Residents Begins, at the Intrepid Sea, Air & Space Museum | Beginning Oct. 22, residents in NYC's five boroughs can enter the museum for half of the usual ($16 for adults, $15 for seniors,$12 for ages 5-12) price. The discount can be claimed by showing a valid government-issued photo ID with a printed address, or a current utility or mortgage statement with an address within the five boroughs and name that matches a government-issued photo ID. Show that proof for one, and the discount is eligible for all those in the qualifying household (reserve tix online and bring in the required ID to claim the discount). General admission tickets include access to the aircraft carrier Intrepid, the submarine Growler, the Space Shuttle Pavilion, home of the space shuttle Enterprise, and all of the Museum's permanent and temporary exhibitions. Current exhibitions include Making History Accessible. On view through Nov. 29, it "invites visitors to test and evaluate a series of five digital and physical experiences that seek to make exhibits at historic sites and house museums more accessible and inclusive." Through Oct. 25, Navy Cakes: A Slice of History "showcases these epic sweets and the hard work of the sailors who created them. Explore recipes, photos, artifacts and oral histories that tell the stories of the elaborate confections baked onboard Intrepid and Growler." To see what else is in store, visit the museum's website by clicking here.

Saturdays, rain or shine, 9am-3pm: Chelsea Farmers Market | Down to Earth Farmers Markets has once again put down roots in Chelsea (on W. 23rd St. near Ninth Ave.). By and large, it's the same experience as it's always been (fresh products, friendly people), albeit with a few notable nods to pandemic protocol: If you have not been fully vaccinated, please wear a face mask. There is no food sampling in the market, and all ready-to-eat food and drink must be consumed off site. If you have pre-ordered bring your order summary with you to speed pick up. For more info, click here for our preview of its opening day, May 15. Subscribe to the Down to Earth Farmers Market weekly newsletter by clicking here. In each newsletter, you will find the origin story of a certain product available for purchase. Last week, Jaimie really did her homework, when the newsletter's featured topic turned to… oysters. This  week,  Down t  Earth's Jaimie has the first of their series of  holiday  offerings. She writes:
l[With many families, it's not really the holidays until a specific dish makes its way to the table. Nearly everyone has that "one" recipe that they anxiously wait for year after year. Whether it's grandma's apple pie, Aunt Sarah's cranberry relish, or mom's sourdough stuffing, some of the best holiday recipes have long family histories … and we'd like to share some of these recipes with you! Over the upcoming weeks, the Down to Earth team will be sharing a few of their favorite holiday recipes that have been a tradition within their own families. We hope to inspire each of you to try a new recipe that could maybe become a tradition of your own! The first recipe is from Dacotah, our Managing Director. Twenty years ago, her aunt put together a cookbook for the family. In going through the cookbook, she was reminded of her Grandmother Lindsay's plum pudding. "Grandma Lindsay was my great-grandmother. This pudding is so old-fashioned, and I guess is now more than 100 years old," says Dacotah.
*Whereas the original recipe calls for beef suet, vegetable shortening could work as a modern-day substitute.
Plum Pudding
1 cup citron
2 cups molasses
2 cups raisins
1 cup beef suet, ground
4 cups bread crumbs
4 eggs, beaten separately
1 teaspoon cloves
1 teaspoon cinnamon
½ teaspoon (baking) soda, dissolved in a cup of sweet milk
Grandmother Lindsay's only instructions are:
Steam for three hours.
Because these instructions were in true grandmother fashion (more in her head and less on paper), we found a few Christmas Pudding recipes that give a little more detail for the assembly!
Pillsbury Old Fashioned Plum Pudding & Hard Sauce
Old Fashioned Christmas Pudding
Steamed Plum Pudding
Superb English Plum Pudding
For toppings … try either Grandmother Lindsay's hard or hot sauce below.
For a hard sauce:
½ cup butter, softened
2 cups powdered sugar, sifted
1 teaspoon vanilla
*Whisk all ingredients together and drizzle over the plum pudding.
For a hot sauce:
2 cups sugar
2 tablespoons butter, blended
2 eggs
4 tablespoons boiling water
4 tablespoons whiskey
*Whisk all ingredients together. Serve hot.
Sundays, 12pm: Chelsea Community Church Zoom Worship Services | After taking a break in August, it's a return to form for the weekly worship services from nondenominational Chelsea Community Church. Their first service since summer hiatus took place at noon on September 19, as an online Zoom event. Sister Carol Perry, Resident Bible Scholar at the Protestant Marble Collegiate Church for 37 years and winner of a Norman Vincent Peale Award for Positive Thinking, was the guest speaker. The Roman Catholic Sister has guided seven tours to the Holy Land and has lectured widely, with an emphasis on the Bible and on the role of women in religious life today. Chelsea Community Church has a different speaker every Sunday, as well as traditional music. To receive an invitation, send an email to info@chelseachurch.org. Learn about their history and access programming info, by visiting their website (click here to do so).
Through Jan. 5, 2022 | Exhibit: The Art of Comics at Hudson Guild Gallery | The below flyer tells (almost) all you really need to know about this new exhibit at Hudson Guild Gallery, so have a look–and for that other "need to know" info, click here for a link with the Gallery's particular COVID protocol, including how to widen your 15-minute viewing window.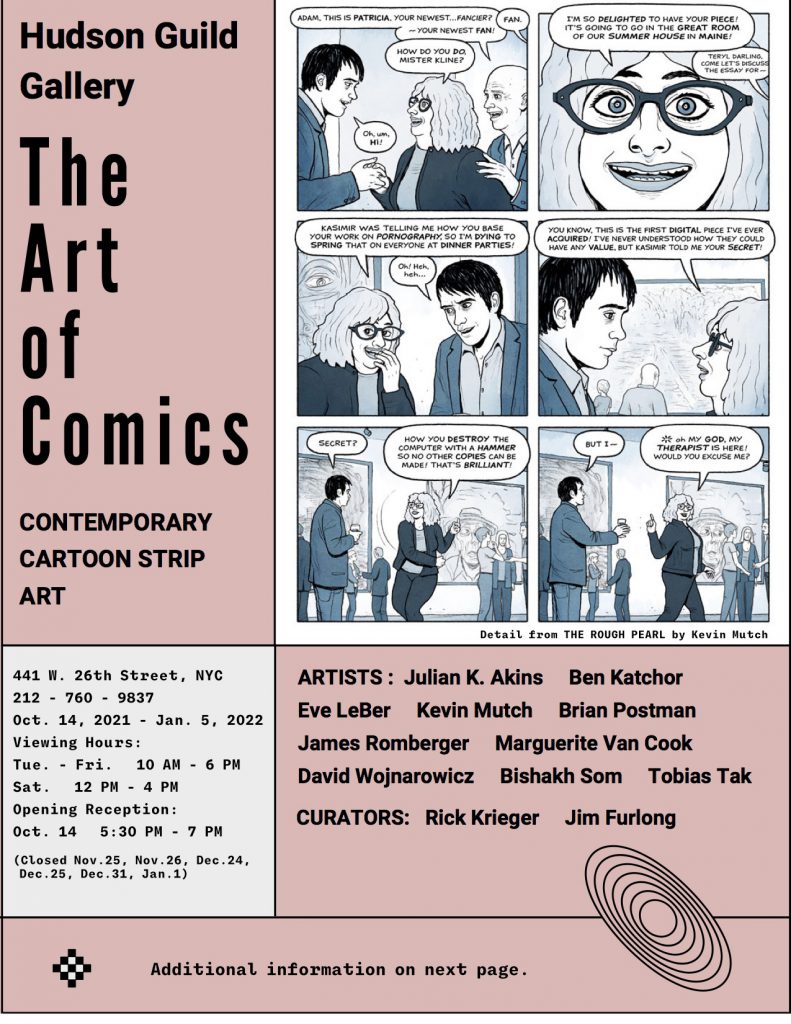 Tuesdays, October 19 through November 23: The Fresh Food for Seniors Program | Manhattan Borough President Gale Brewer, NYC Council Speaker Corey Johnson, and Councilmember Helen Rosenthal announce the fall return of their joint initiative, offering seniors a bag of 5-6 varieties of fresh fruits and vegetables grown by NY, NJ, CT and PA farmers, and sourced by GrowNYC. The bags, $9 each, are ordered a week in advance, and picked up the following week. Registration is underway now. For the Hell's Kitchen, Chelsea, and West Village areas, order and pickup dates are, respectively, Tues., Oct. 19/26, and Nov. 2/9 and 16/23. Your Chelsea area participants are SAGE (305 7th Ave., 15th floor, 646-576-8669), VISIONS (135 W. 23rd St., 646-486-4444), and Hudson Guild NORC (441 W. 26th St., 212-760-98006). For more info, see the below flyer.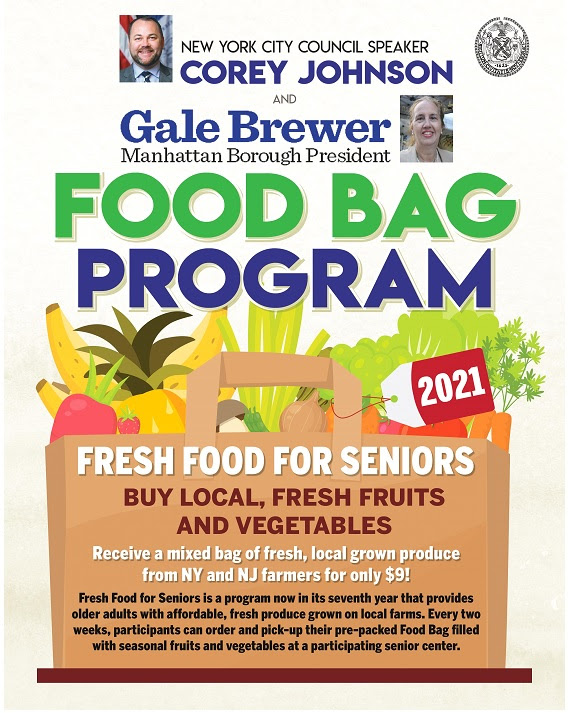 Wednesday, October 24, 5:30pm: The 10th Precinct Sector A Build the Block Program | NCOs, or Neighborhood Coordination Officers, are tasked with establishing and maintaining good relations with the residents, business owners, and other stakeholders in the coverage area of their assigned Sector (our 10th Precinct is divided into Sectors A, B, and C). On Oct. 20 at 6:30pm, the Joyce Theater (175 Eighth Ave. at W. 19th St.) plays host to the quarterly Sector A meeting, where Police Officers Taimoor Ahmad and William Lleras answer your quality of life questions, offer public safety tips, and discuss the crime indexes particular to Sector A. (Listing to be continued after below image.)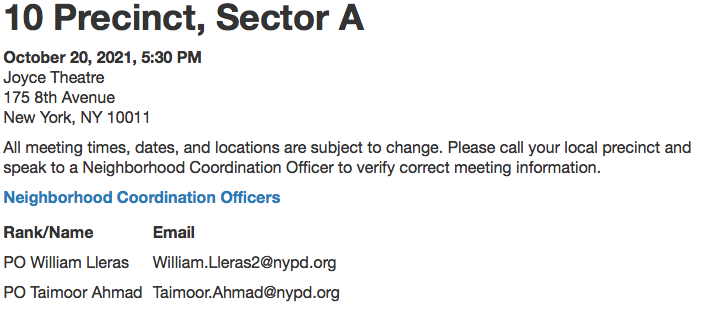 For more info, click here and enter your address to find the next Build the Block meeting particular to that location. For more info on the 10th Precinct, click here.  
Wednesday, October 20, 1-4pm and Select Dates Through October 25: FREE Flu Shots from Lenox Health Greenwich Village | It's a easy win if you want to make the argument that this event is not in Chelsea. Yes, technically, it does take place outside our generally agreed upon border of 14th St.–but only by one street over. And did we mention it's free? Funded by Lenox Health Greenwich Village and co-hosted by a number of local electeds and stakeholders (including Community Board 4 and NYS Assemblymember Richard Gottfried), there are five more vaccination opportunities through Oct. 25. So-called "debate" about the COVID vaccination notwithstanding (newsflash folk, it works), the flu shot's life-saving effectiveness was vetted and codified a long, long time ago. So do it for yourself, and others, and in a manner that won't cost you so much as one thin dime. See the below flyer for details. Note: Masks are required, and no appointments needed at the event's 200 W. 13th St. (fifth floor) location. For those over 65, they have the higher-dose antigen version recommended for seniors.
Deadline: Noon on Monday, October 18, to Take CB4's District Needs Survey | The link is short, and so is the survey it takes you to—but there will be a hefty return on the time it takes to answer a few questions about government services and capital investment. That feedback is used by Manhattan Community Board 4 to create this year's Statement of District Needs, which in turn is used when NYC's annual budget is prepared. Now click on that link! https://tinyurl.com/2x3z4zcj
—Compiled by Scott Stiffler
Chelsea Community News is made possible with the help of our awesome advertisers and the support of our readers. If you like what you see, please consider taking part in our GoFundMe campaign (click here). To make a direct donation, give feedback, or send a Letter to the Editor, email scott@chelseacommunitynews.com.