Saturdays, rain or shine, 9am-3pm: Chelsea Farmers Market | Down to Earth Farmers Markets has once again put down roots in Chelsea (on W. 23rd St. near Ninth Ave.). By and large, it's the same experience as it's always been (fresh products, friendly people), albeit with a few notable nods to pandemic protocol. (Face masks for those not yet fully vaccinated are required, there is no food sampling in the market, and all ready-to-eat food and drink must be consumed off site.) For more info, click here for our preview of its opening day, May 15. Subscribe to the Down to Earth Farmers Markets weekly newsletter by clicking here.
In each newsletter, you will find the origin story of a certain product available for purchase, or some helpful tips. What you see below falls into the latter category, and is reprinted from the Aug. 26 newsletter.

BY JAIMIE (from DOWN TO EARTH FARMERS MARKETS) | It's that time of year again… back to school. Whether or not the kiddos are back in person or still doing remote learning, the carefree meal schedules of summer are gone—for the most part.
Back in the day (and we don't need to say more than that), I remember packed school lunches consisting of the basics—peanut butter and jelly, an apple or orange, cookie or chips, and milk. Now as I peruse the 'gram, I see that parents have really upped the packed lunch game. With choices such as bento box-inspired treats, make-your-own charcuterie plates, and toasted cheese bites with tomato soup, I'm jealous.
But the school year brings more than the need for lunch ideas. With after school activities back in action and playdates a more common occurrence, easy (and healthy) weeknight meals are a must! As much as I'd love to recommend a good 'ole meal of shake 'n bake chicken (like I grew up with), it is no longer the 80s… and descriptions such as "creative," "uncomplicated," and "healthy" are at the forefront of what determines most nighttime meals from Monday to Friday.
I've compiled a list of easy and healthy options, sure to make any weekday meal a hit. Plus, make a little extra for leftovers the next day!
Romaine with Hot Tomato Vinaigrette
Chicken with Caramelized Onions
Sweet & Sour Eggplant Bruschetta
BONUS CONTENT: Click here to be taken to the Recipe Box page on the Down to Earth Farmers Markets website, where you can find dozens of other top-tier options. And now the they've given you so many new weeknight meal choices, stop by the market any Saturday, 9am-3pm, where you can purchase many/most of the ingredients called for in these healthy, easily assembled recipes.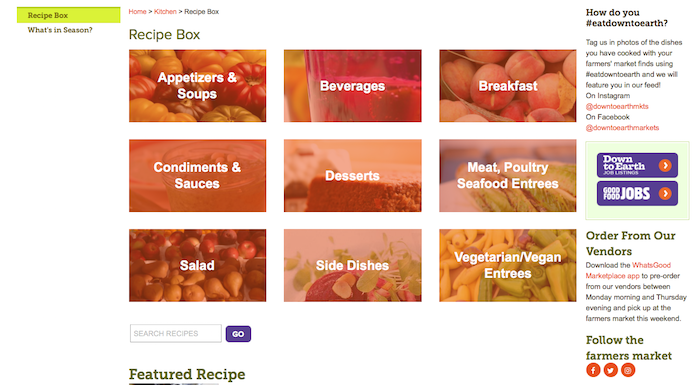 Chelsea Community News is made possible with the help of our awesome advertisers, and the support of our readers. If you like what you see, please consider taking part in our GoFundMe campaign (click here). To make a direct donation, give feedback, or send a Letter to the Editor, email scott@chelseacommunitynews.com.