In This Week's "THIS WEEK IN CHELSEA"
In Order of Appearance:
 Look Ahead to Next Week / Continuum at The Eagle NYC  / Down to Earth Farmers Market Chelsea / Chelsea Community Church / Hudson Guild Gallery Exhibit / GVCCC's 10th Precinct Tour  / GVCCC's It's Time for Chelsea Campaign /   
"This Week in Chelsea" Nov. 8-14 Listings to follow the below LOOK AHEAD TO NEXT WEEK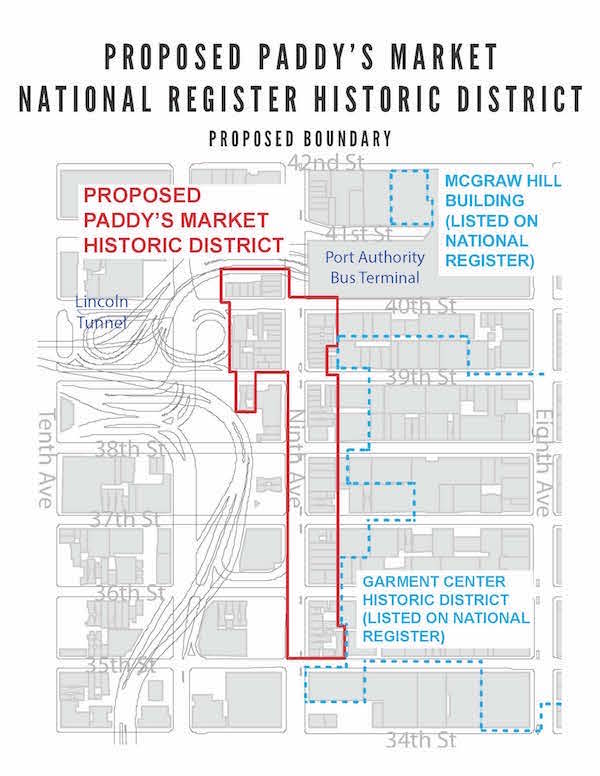 Wednesday, November 17, 6-8pm: Community Informational Meeting About Proposed Paddy's Market National Register Historic District | The creation of a National Register Historic District in Hell's Kitchen is the topic of this meeting hosted by Community Board 4 (CB4) and Clinton Housing Development Company. The Zoom event seeks, as its target audience, "community members" aka "neighborhood residents, tenants, property owners, businesses, and community leaders" who would like to hear about the implications, if the area of Ninth Ave. between W. 35th and 40th Sts. (and portions of surrounding blocks) becomes a National Register Historic District. To register for the event, click here.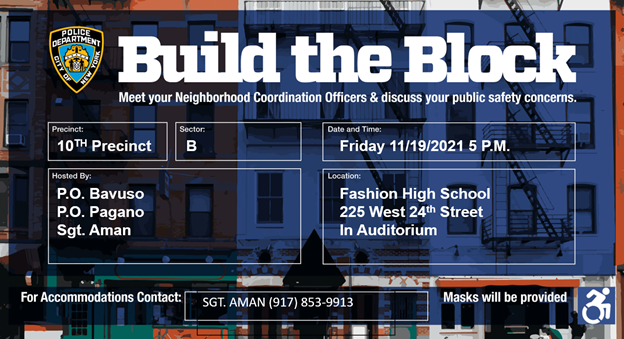 Friday, November 19, 5pm The NYPD/10th Precinct's Build the Block Sector B Meeting at the High School of Fashion Industries Auditorium (225 W. 24th St. btw. 7th & 8th Aves.) | Postponed from last week, this in-person event promises "masks will be provided" to attendees if necessary. On hand at next Friday's meeting will be Sector B NCOs PO Mark Pagano (Mark.Pagano@nypd.org) and PO Daniel Bavuso Daniel (Bavuso@nypd.org). They'll be joined by the precinct's NCO supervisor, Sgt. Aman (see the above poster for his contact info). For more info, click here and you'll be taken to the 10th Precinct's nyc.gov page. On your left, click where it says "Find Your Build the Block Meeting" and soon enough, you will have done exactly that. But not so fast: Stay on the main page and download the latest crime statistics, in PDF and Excel formats. Note: Neighborhood Coordination Officers (NCOs), notes the NYPD, are "assigned to and remain in a sector, or neighborhood, for the duration of their tour [their time spent assigned to a specific precinct]. Additionally, NCOs are given the time and flexibility to make strong bonds with the community they serve." One way to establish or further cement that bond is the Build the Block meeting, a quarterly gathering with the NCOs particular to each sector (the 10th Precinct has three: A, B, and C).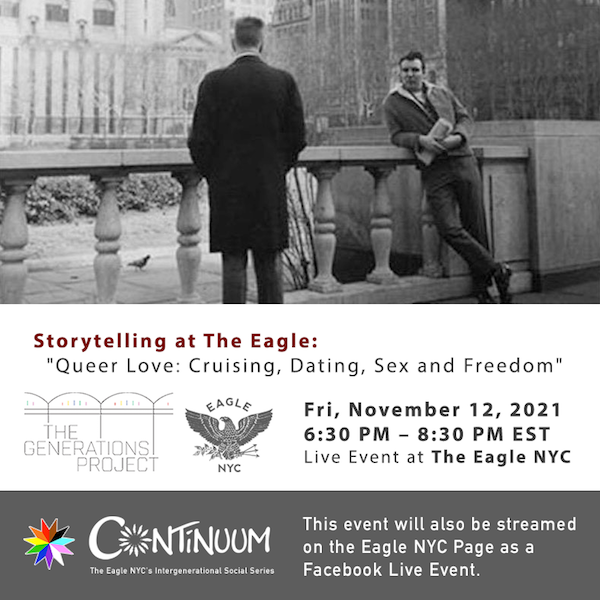 Friday, November 12, 6:30-8:30pm at The Eagle NYC and Online: Continuum Presents Storytelling at The Eagle | The Eagle NYC's monthly intergenerational social series created to unite generations and mitigate isolation returns with a November installment whose hybrid nature allows attendance via livestreaming on the Eagle NYC Facebook page, or in person at 554 W. 28th St. (btw. 10th & 11th Aves.) location. As usual, your well-informed, been-there-done-that-twice host/moderator is drag queen/oracle Witti Repartee. The theme is "Storytelling"—but don't expect the kind of literature Witti offers during her stints hosting Drag Queen Story Hour. These tales are of the decidedly adult variety, as the evening's subtitle (Queer Love: Cruising, Dating, Sex and Freedom) suggests. That' not to say, however, that you wont see a pop-up book (or poppers) making the rounds. So bring a friend, and bring a fan, because it's not just you—it actually is hot in here. For info on more events at The Eagle NYC, click here to visit their website.
Saturdays, rain or shine, 9am-3pm: Chelsea Farmers Market | Down to Earth Farmers Markets has once again put down roots in Chelsea (on W. 23rd St. near Ninth Ave.). By and large, it's the same experience as it's always been (fresh products, friendly people), albeit with a few notable nods to pandemic protocol: If you have not been fully vaccinated, please wear a face mask. There is no food sampling in the market, and all ready-to-eat food and drink must be consumed off site. If you have pre-ordered bring your order summary with you to speed pick up. For more info, click here for our preview of its opening day, May 15. Subscribe to the Down to Earth Farmers Market weekly newsletter by clicking here. In each newsletter, you will find the origin story of a certain product available for purchase.
Through Jan. 5, 2022 | Exhibit: The Art of Comics at Hudson Guild Gallery | The below flyer tells (almost) all you really need to know about this new exhibit at Hudson Guild Gallery, so have a look–and for that other "need to know" info, click here for a link with the Gallery's particular COVID protocol, including how to widen your 15-minute viewing window.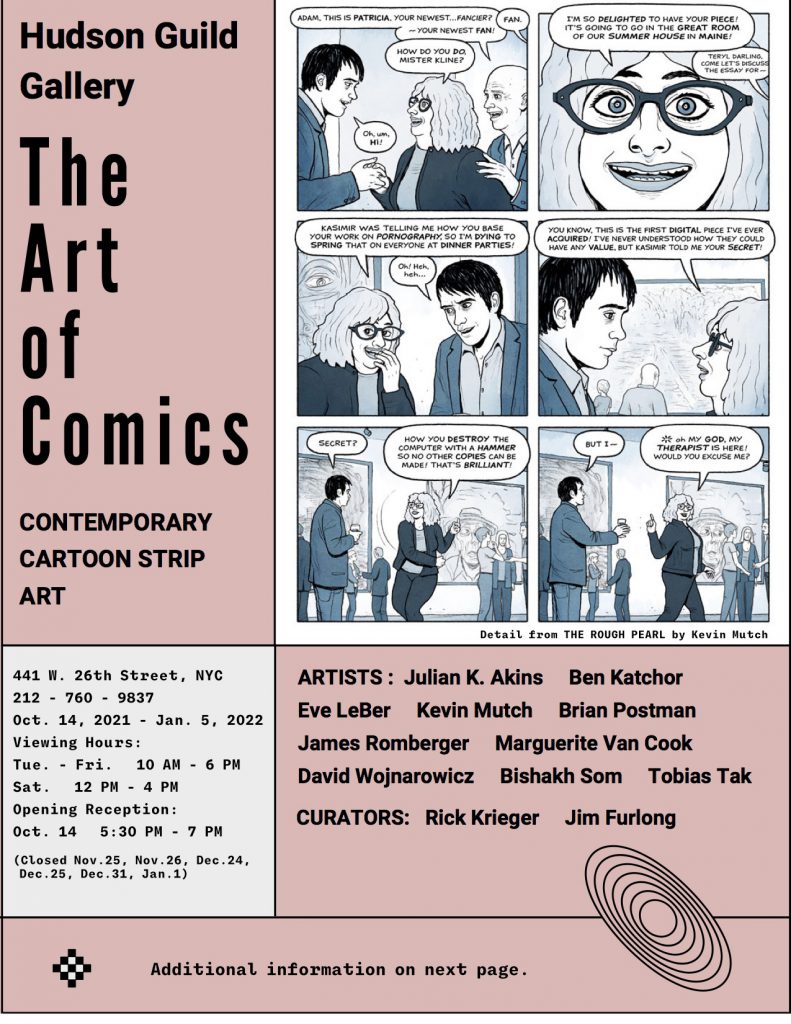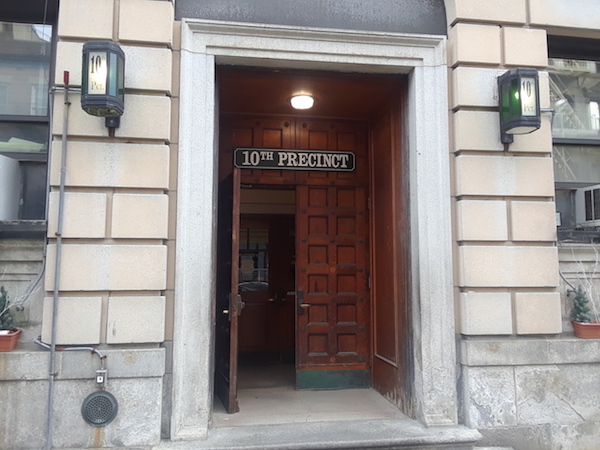 Thursday, November 18, 5:30pm: GVCCC Presents a Tour of the 10th Precinct | This annual catered event, created by the Greenwich Village -Chelsea Chamber of Commerce specifically for local business owners and managers, provides a meet-and-greet opportunity with 10th Precinct Commanding Officer Captain Robert Gault as well as an inside look at what the precinct has in play, to "help keep our communities safe and encourage community engagement." Bonus content: It's also a networking opportunity, as local business owners interact with one another. Limited capacity, registration required. Click here to register.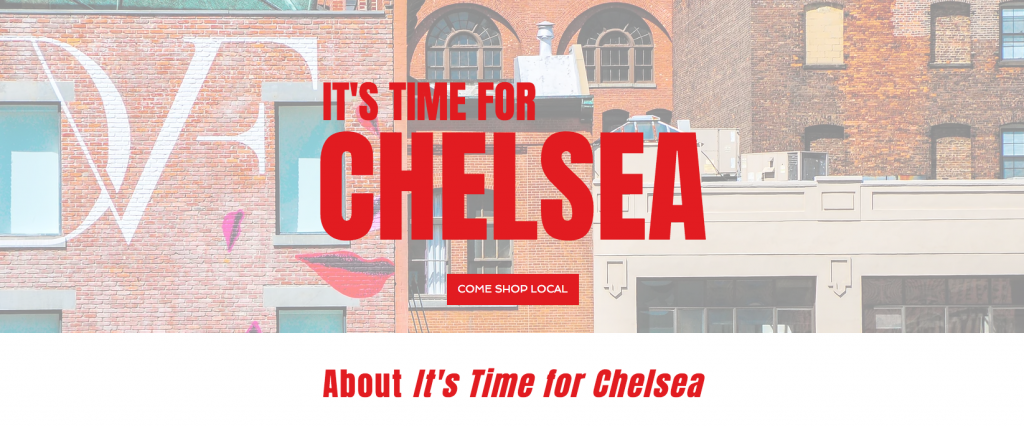 Chelsea Community News is proud of our content partner, the Greenwich Village – Chelsea Chamber of Commerce (GVCCC), for their tireless dedication to small businesses, old and new alike. As we emerge from the unprecedented challenges of the pandemic era, campaigns like the one you're about to read about are more important than ever, in terms of building awareness and encouraging us to shop local. Below, find the essential information on the campaign, as written by the GVCCC–and keep checking our "Support Small Businesses" section for new feature stories on some of the participants in the It's Time for Chelsea campaign.
---
Celebrate and support local Chelsea businesses this fall as the Greenwich Village – Chelsea Chamber of Commerce hosts It's Time for Chelsea from October 15th to November 15th. Local businesses will be offering special promotions and deals to get you into their shops. Visit and post about our partners to enter and win some fabulous prizes. Follow our Instagram account @itstimeforchelsea for daily updates on giveaways and prizes. The more you visit, shop, dine, and post on social media, the more chances you have at winning! Visit any of the businesses listed below, snap a picture and tag @itstimeforchelsea and the corresponding business to enter our raffle. Did you purchase something? Snap a picture of the receipt DM it to us (or send via Chat on this website) and you get even more entries!
MEET OUR SPONSORS
Chelsea Market is considered one of the greatest indoor food and retail marketplaces in the world today and is located in the heart of NYC"s Meatpacking District. When you think of Chelsea, New York, you think of Chelsea Market. Some of our participating businesses can be found at this iconic culinary destination. We are more that honored to have them as one of our sponsors.
NYC Council Speaker Corey Johnson | In Council District 3, Corey Johnson has brought people together to achieve many long-sought community goals, including the creation of the first new public park in East Chelsea in decades, the creation and preservation of thousands of units of affordable housing and the saving of Hartley House, a 121-year-old community services center. He believes elected officials should always be fighting to do the most good for the people who need it most, and will never stop working to make life better for all New Yorkers. Thank you for being a sponsor and an advocate for the community.

ABOUT THE CHAMBER | Since 1949, the Greenwich Village-Chelsea Chamber of Commerce has served as the leading voice of businesses in their communities. The Chamber is actively involved in promoting a business climate that encourages growth and prosperity, ensuring the future vitality of their world famous neighborhoods. The GVCCC focuses on diverse areas such as government policy, small business concerns, economic development and tourism promotion in Greenwich Village, Chelsea, SoHo, NoHo, Flatiron, Union Square, and East Village.​
What started out as a few dozen businesses banding together, has now grown into an organization with hundreds of members. Membership ranges from sole proprietorships to major institutions and organizations. Their diversity is one of their greatest assets, providing participants with unique opportunities and a strong voice from which to address business issues. The Chamber also offers numerous benefits and services including networking opportunities, business and educational seminars, government advocacy, marketing and promotional campaigns and much more.
​​​Highlighting their neighborhoods, promoting commerce and enhancing the quality of life in their neighborhoods are top priorities. The Chamber is here to help businesses in the community succeed!​
EVENTS FROM EARLIER IN THE WEEK
Monday, November 8, 6-8pm at the Vietnam Veterans Memorial Plaza: Vets Town Hall | Vets Town Hall is a non-political community forum founded and directed by Sebastian Junger (War, Tribe) as "a way to increase communication and understanding between local veterans and the community at large." Attendees listen and learn about "what it was like to serve in the wars that this nation has chosen to fight."
Mark Otto, President and Executive Director for the United War Veterans Council and 2x combat veteran of the United States Marine Corp, will serve as the evening's emcee and will be joined by a number of veterans who will speak for up to ten minutes about what it was like to  serve their country, including: Silver Star recipient Roger Sparks, Founder of Pathfinder Labs; Purple Heart recipient, Elana Duffy, and U.S. Marine Corps (Recon) Veteran, Adam Levine. To attend, click here.
—Compiled by Scott Stiffler
Chelsea Community News is made possible with the help of our awesome advertisers and the support of our readers. If you like what you see, please consider taking part in our GoFundMe campaign (click here). To make a direct donation, give feedback, or send a Letter to the Editor, email scott@chelseacommunitynews.com.