Saturdays, rain or shine, 9am-3pm: Chelsea Farmers Market | Down to Earth Farmers Markets has once again put down roots in Chelsea (on W. 23rd St. near Ninth Ave.). By and large, it's the same experience as it's always been (fresh product, friendly people), albeit with a few notable nods to pandemic protocol: If you have not been fully vaccinated, please wear a face mask. There is no food sampling in the market, and all ready-to-eat food and drink must be consumed off site. If you have pre-ordered bring your order summary with you to speed pick up. For more info, click here for our preview of its opening day, May 15. Subscribe to the Down to Earth Farmers Market weekly newsletter by clicking here. In each newsletter, you will find the origin story of a certain product available for purchase. This week, the newsletter tells a tale of… tomatoes. Jaimie writes, "Is it really summer at the farmers markets if we don't take a moment and appreciate the glorious tomato? It's not, so here we are… Over the years, we've often talked about tomatoes. We've covered that local tomato season comes in two stages – hot house stage and field crop stage. We've also written about the bright, attention-grabbing tomatoes that take up yards of display at the stands, in addition to their long-lost cousins – the sour green tomatillos and sweet, berry-like ground cherries. Today we're keeping things entertaining with…
                                                                                                                   FUN FACTS ABOUT TOMATOES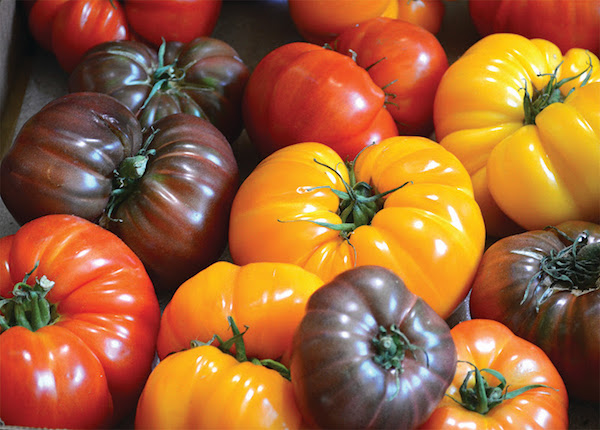 Tomatoes are the fruit of the tomato plant. Because the tomato has seeds and grows from a flowering plant, botanically it is classed as a fruit not a vegetable. Do you think of tomatoes as quintessentially Italian? Actually, they originated in the South American Andes around the area of modern-day Peru and was first used as a food by the Aztecs in Southern Mexico. In 1887, U.S. tariff laws imposed a duty on vegetables, but not on fruits. This meant the status of tomatoes become a matter of legal importance. The U.S. Supreme Court ruled in the case of Nix v. Hedden that tomatoes were to be considered vegetables, based on the popular definition that classifies vegetables by use, where they are usually served with dinner and not as a dessert. However, the courts did not reclassify the tomato botanically, as it's still a fruit. There are more than 10,000 tomato varieties grown around the world. Pretty much all tomato varieties are red. However, other colors are possible including green, yellow, orange, pink, black, brown, white, and purple.
Tomatoes are rich in lycopene, an antioxidant that is good for the heart and effective against certain cancers. Cooked tomatoes are better for you than raw ones, as more beneficial chemicals are released. Tomatoes are also packed with vitamins A and C, calcium, potassium. In the late 1700s, a large percentage of Europeans feared the tomato. A nickname for the fruit was the "poison apple" because it was thought that aristocrats got sick and died after eating them, but the truth of the matter was that wealthy Europeans used pewter plates, which were high in lead content. Because tomatoes are so high in acidity, when placed on these plates, the fruit would leach lead from the plate, resulting in many deaths from lead poisoning. So, whether you slice them for sandwich, toss them in salads, or cook them into sauces – tomatoes are delicious and good for us!
Sundays at 11am: Free, In-Person, Historic Flatiron Walking Tours | The Flatiron Partnership (the area's soon-to-expand BID) has marked another milestone in NYC's return to "normalcy" (in a town like this, that word always needs quotes), now that their brick and mortar tour of the Flatiron area has returned. The tours tells you all about iconic area structures including the Flatiron Building, New York Life Insurance Building, MetLife Clock Tower, and Appellate Courthouse. Having gone online during the pandemic, a rotating trio of historians will return to earth, so to speak, to lead the tours: Miriam Berman, author of Madison Square: The Park and Its Celebrated Landmarks and New York in Words and Images, a book of New York postcards; Mike Kaback, a native New Yorker; and, Fred Cookinham, author of The Age of Rand: Imagining an Objectivist Future World. The tours take place weekly, Sundays at 11am. For info, click here.
Through Sept. 22 at Hudson Guild's Gallery II, The Portrait Project: Paintings of Hudson Guild Community Members by Rusty Zimmerman | As we noted in this recent article, Chelsea's vital community center is back in the brick and mortar business, having resumed live theatrical performances and, with this exhibit, gallery viewings. See the below flyer for details, and click here to visit the Hudson Guild website.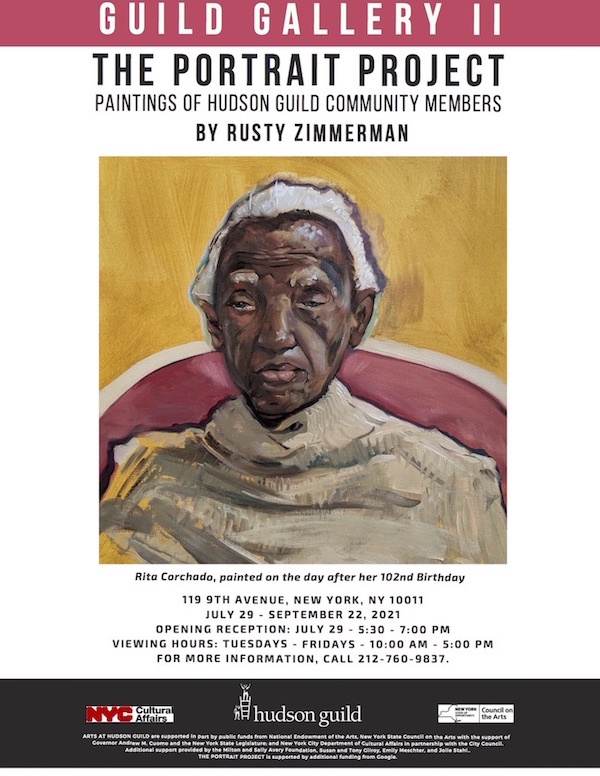 Thursday, August 19, 7-8pm  | VIRTUAL (Facebook Live) EVENT: The Eagle NYC's Continuum series presents Getting Back to Next: A Panel Discussion on COVID, Self-Care, and Re-Engaging the World | For the first time since the pandemic shuttered its doors and closed the door on a new type of community gathering, The Eagle NYC's intergenerational social series Continuum returns, with a premiere installment, of sorts, in that it considers the alternately joyous and cautious return to a new, post-pandemic (man, we hope that term sticks) world that awaits. Back in June of 2019, as the world celebrated Stonewall 50 and Continuum was just starting out, its program director, Derek Danton, told us, "Senior LGBTQ men and women, as pioneers of the movement that has brought greater freedom and acceptance to our entire community, deserve our utmost respect and attention. We, their concerned friends, associates, and colleagues, want to ensure that they will not be forgotten, nor their welfare taken for granted as they age. Using our combined resources, we aim to facilitate first awareness, then eradication, of the isolation and desolation faced by so many of our senior members nationwide, enlisting the help of local governments, health agencies, and community leaders, to better forge a healthy and viable future for them." For this virtual Facebook Live installment, join an intergenerational panel as they discuss how COVID impacted them, what lessons they're taking away, and their thoughts and hopes for building back. The panel is comprised of Nathan Daniels, Elliot Cohen, Zola Powell, Antionettea Etienne, and Eileen Young. This is a remote-only Facebook Live event, 7-8pm, via their Facebook page (to access it, click here). The Eagle NYC is located at 554 W. 28th St., btw. 10th & 11th Aves. For info on the venue, visit https://eagle-ny.com.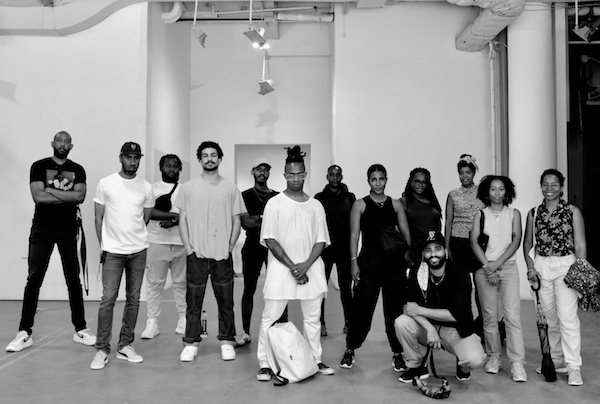 Meatpacking District and ArtNoir present From a Place, Of a Place  | Join your fellow New Yorkers to elevate local talent, when you take part in From a Place, Of a Place–a three-month, five-part activation in locations throughout the Meatpacking District that "celebrates and discovers Black voices through creativity, commerce, and community in and around the District." This special programming on the part of the Meatpacking District BID (in partnership with "the amazing folks at ARTNOIR") began last week, with The Meeting Point. This pop-up gallery (located at 2 Gansevoort) is curated by Danny Baez and features over a dozen artists, whose work on view offers, the press material notes, "the presence of possibility and a connection to all things unseen, through the lens of Blackness." The Meeting Point maintains its pop-up presence with the works that premiered last week on view through late September, when another group of artists (also curated by Baez) will be featured. Gallery Hours: Wed., Thurs., Sun., 12-6pm, Fri. & Sat., 12-8pm.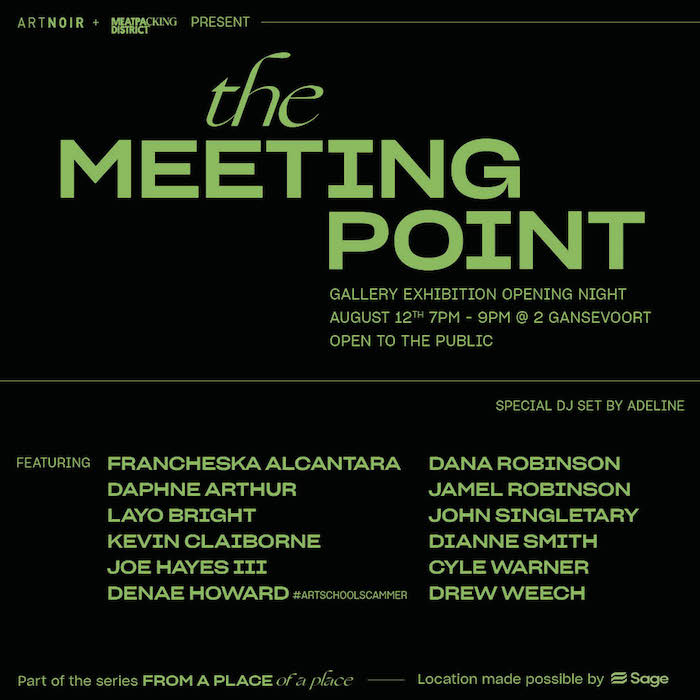 Through Aug. 27, Sunset on the Hudson Concerts | This free annual series showcasing local musicians takes place throughout Hudson River Park's 4-mile footprint. July 21'S show at Pier 26, featuring Alsarah and the Nubatones, kicked off the 2021 series. Last week, on Aug. 13 at Pier 45, Dominican Republic-born, Brooklyn-raised guitarist, producer, composer, and arranger Yasser Tejeda was featured. To learn more about the multiple award-winner, clicking here. Sunset on the Hudson continues on Thurs., Aug. 19 at Clinton Cove, with the High & Mighty Brass Band. The series concludes on Fri., Aug. 27, with DJs and producers Coco and Breezy, at 14th Street Park. For the series' page on Hudson River Park's website, click here.
 —Event Listings Compiled by Scott Stiffler
Chelsea Community News is made possible with the help of our awesome advertisers, and the support of our readers. If you like what you see, please consider taking part in our GoFundMe campaign (click here). To make a direct donation, give feedback, or send a Letter to the Editor, email scott@chelseacommunitynews.com.