In This Week's "THIS WEEK IN CHELSEA"
In Order of Appearance:
Westbeth Flea Market / Down to Earth Farmers Market Chelsea / Hudson Guild Theatre Company Presents / Chelsea Community Church / Vets Town Hall / Hudson Guild Gallery Exhibit / The Fresh Food for Seniors Program  /  GVCCC's It's Time for Chelsea Campaign / Gone But Not Forgotten: Events From Earlier This Week
Friday, November 5 through Sunday, November 7: Westbeth Flea Market | Westbeth Artists Housing—the world's largest artists community—hosts this bargain-laden annual event. Like the London Terrace Street Fair of a few weeks ago, this Flea Market owes its pedigree to the good taste of its vendors—Westbeth artists whose clothing, housewares, electronics, books, and jewelry aren't mere junk to be jettisoned. (Make no mistake, though: They are up for grabs). At 55 Bethune St. (corner of Washington St. in the West Village). From 11am to 5pm, Fri., Nov. 5 through Sun., Nov. 7. Questions? Send an email to the event organizers, via westbethfleamarket@gmail.com or see the below flyer.

Saturdays, rain or shine, 9am-3pm: Chelsea Farmers Market | Down to Earth Farmers Markets has once again put down roots in Chelsea (on W. 23rd St. near Ninth Ave.). By and large, it's the same experience as it's always been (fresh products, friendly people), albeit with a few notable nods to pandemic protocol: If you have not been fully vaccinated, please wear a face mask. There is no food sampling in the market, and all ready-to-eat food and drink must be consumed off site. If you have pre-ordered bring your order summary with you to speed pick up. For more info, click here for our preview of its opening day, May 15. Subscribe to the Down to Earth Farmers Market weekly newsletter by clicking here. In each newsletter, you will find the origin story of a certain product available for purchase.
Through November 7, Hudson Guild Theatre Company Presents Around the World in 80 Days: A New Dance Adaptation | Jules Verne's at-the-time-unlikely 1872 tale of full circle globetrotting (in under 3 months!!!) gets adapted as a showcase for dance, in this new production from Hudson Guild Theatre Company. The remaining performances are Fri., Nov. 5 at 8pm, Sat., Nov. 6 at 2pm, and Sun., Nov. 7 at 3pm.  To help ensure the safety of audience, crew, and cast, proper reservations are required, along with proof of vaccination. Masks are required on site. To reserve, call 929-475-0599 or click here. Seats are not assigned and people are seated on a first come, first served basis.  You must be at the theatre to check in on the day of your performance no later than 20 minutes before curtain time. Admission is pay what you wish, with a suggested donation of $10.00.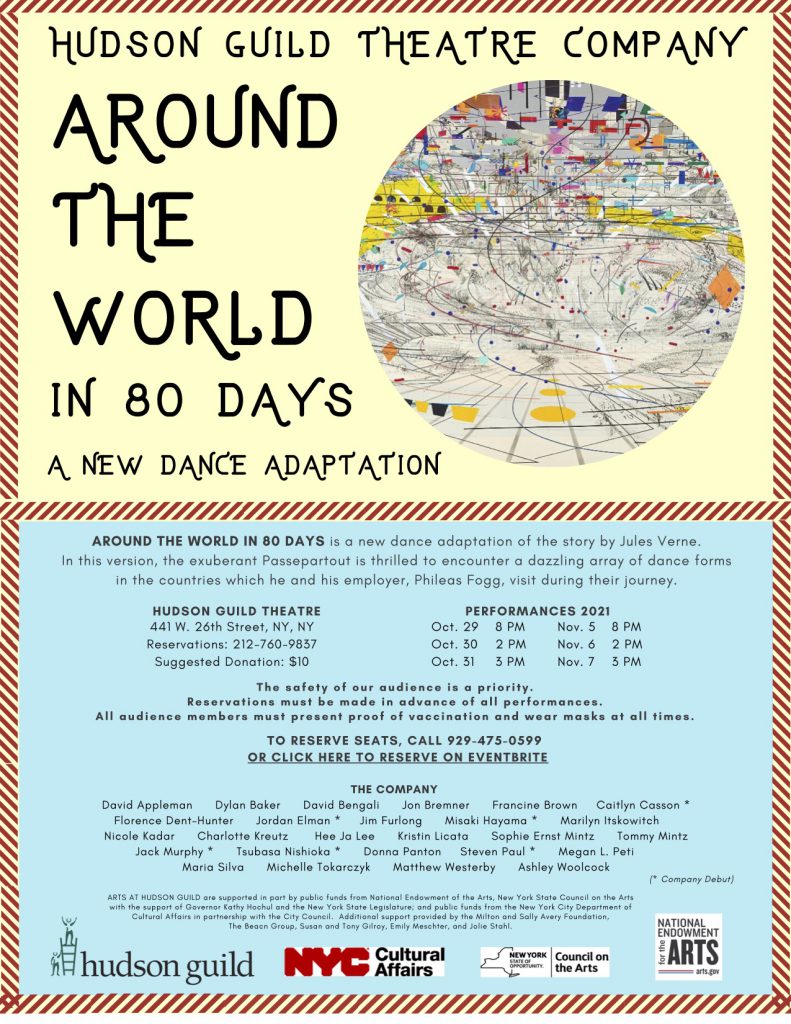 Sundays, 12pm: Chelsea Community Church Zoom Worship Services | After taking a break in August, it's a return to form for the weekly worship services from nondenominational Chelsea Community Church. Their first service since summer hiatus took place at noon on September 19, as an online Zoom event. Chelsea Community Church has a different speaker every Sunday, as well as traditional music. To receive an invitation, send an email to info@chelseachurch.org. Learn about their history and access programming info, by visiting their website (click here to do so).
Monday, November 8, 6-8pm at the Vietnam Veterans Memorial Plaza: Vets Town Hall | Vets Town Hall is a non-political community forum founded and directed by Sebastian Junger (War, Tribe) as "a way to increase communication and understanding between local veterans and the community at large." Attendees listen and learn about "what it was like to serve in the wars that this nation has chosen to fight."
Mark Otto, President and Executive Director for the United War Veterans Council and 2x combat veteran of the United States Marine Corp, will serve as the evening's emcee and will be joined by a number of veterans who will speak for up to ten minutes about what it was like to  serve their country, including: Silver Star recipient Roger Sparks, Founder of Pathfinder Labs; Purple Heart recipient, Elana Duffy, and U.S. Marine Corps (Recon) Veteran, Adam Levine. To attend, click here.
Through Jan. 5, 2022 | Exhibit: The Art of Comics at Hudson Guild Gallery | The below flyer tells (almost) all you really need to know about this new exhibit at Hudson Guild Gallery, so have a look–and for that other "need to know" info, click here for a link with the Gallery's particular COVID protocol, including how to widen your 15-minute viewing window.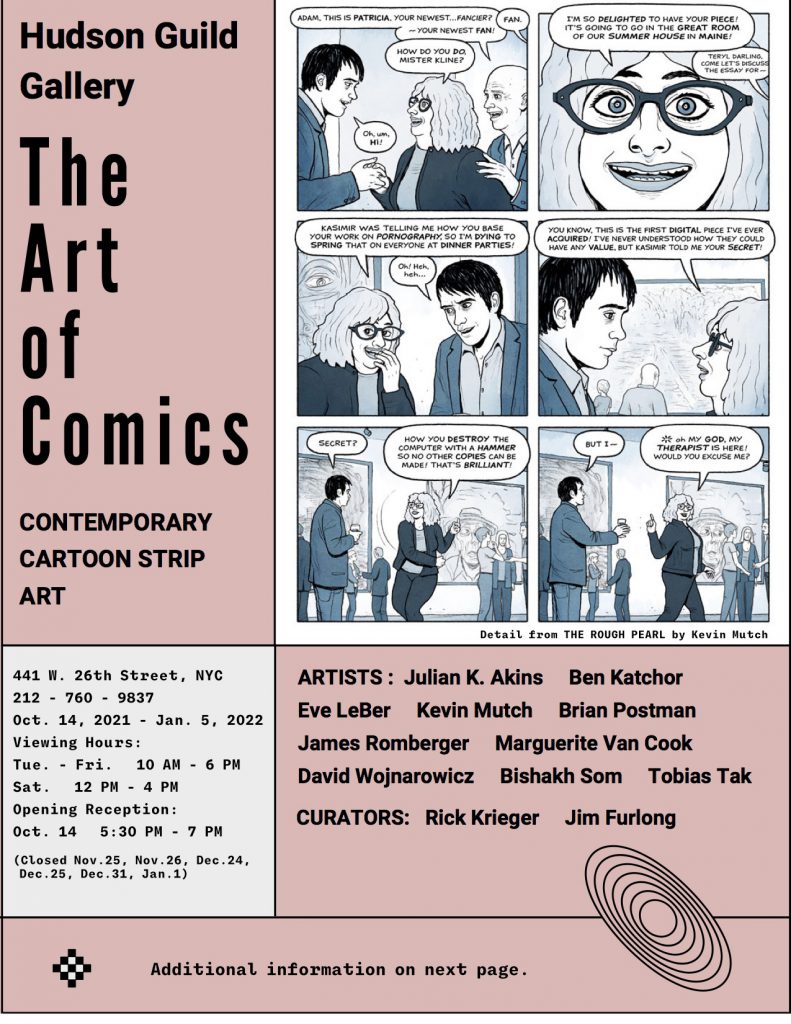 Tuesdays through November 23: The Fresh Food for Seniors Program | Manhattan Borough President Gale Brewer, NYC Council Speaker Corey Johnson, and Councilmember Helen Rosenthal announce the fall return of their joint initiative, offering seniors a bag of 5-6 varieties of fresh fruits and vegetables grown by NY, NJ, CT and PA farmers, and sourced by GrowNYC. The bags, $9 each, are ordered a week in advance, and picked up the following week. Registration is underway now. For the Hell's Kitchen, Chelsea, and West Village areas, order and pickup dates are, respectively, Tues., Oct. 19/26, and Nov. 2/9 and 16/23. Your Chelsea area participants are SAGE (305 7th Ave., 15th floor, 646-576-8669), VISIONS (135 W. 23rd St., 646-486-4444), and Hudson Guild NORC (441 W. 26th St., 212-760-98006). For more info, see the below flyer.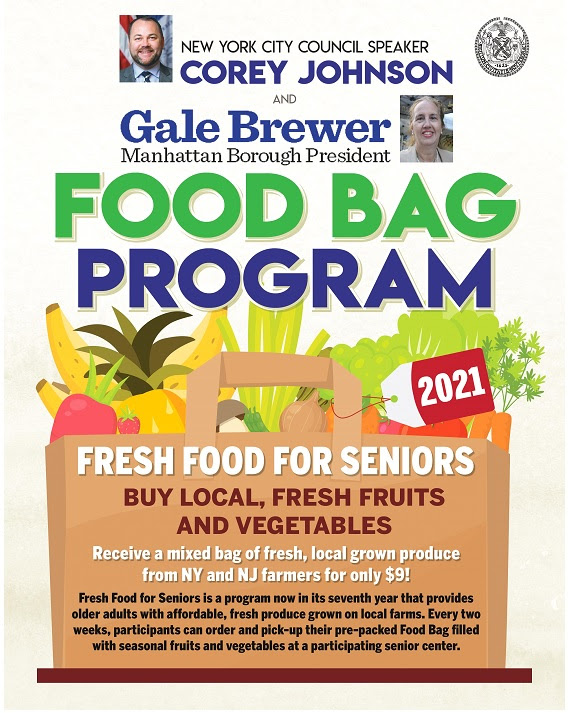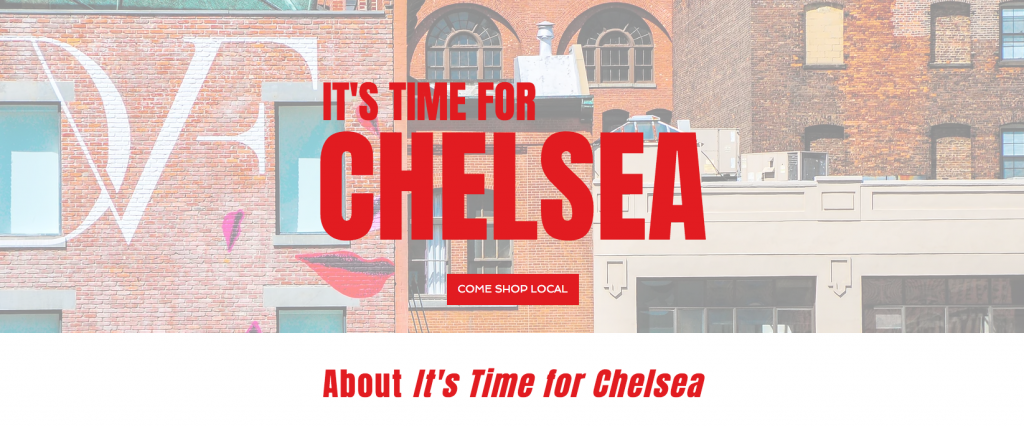 Chelsea Community News is proud of our content partner, the Greenwich Village – Chelsea Chamber of Commerce (GVCCC), for their tireless dedication to small businesses, old and new alike. As we emerge from the unprecedented challenges of the pandemic era, campaigns like the one you're about to read about are more important than ever, in terms of building awareness and encouraging us to shop local. Below, find the essential information on the campaign, as written by the GVCCC–and keep checking our "Support Small Businesses" section for new feature stories on some of the participants in the It's Time for Chelsea campaign.
---
Celebrate and support local Chelsea businesses this fall as the Greenwich Village – Chelsea Chamber of Commerce hosts It's Time for Chelsea from October 15th to November 15th. Local businesses will be offering special promotions and deals to get you into their shops. Visit and post about our partners to enter and win some fabulous prizes. Follow our Instagram account @itstimeforchelsea for daily updates on giveaways and prizes. The more you visit, shop, dine, and post on social media, the more chances you have at winning! Visit any of the businesses listed below, snap a picture and tag @itstimeforchelsea and the corresponding business to enter our raffle. Did you purchase something? Snap a picture of the receipt DM it to us (or send via Chat on this website) and you get even more entries!
MEET OUR SPONSORS
Chelsea Market is considered one of the greatest indoor food and retail marketplaces in the world today and is located in the heart of NYC"s Meatpacking District. When you think of Chelsea, New York, you think of Chelsea Market. Some of our participating businesses can be found at this iconic culinary destination. We are more that honored to have them as one of our sponsors.
NYC Council Speaker Corey Johnson | In Council District 3, Corey Johnson has brought people together to achieve many long-sought community goals, including the creation of the first new public park in East Chelsea in decades, the creation and preservation of thousands of units of affordable housing and the saving of Hartley House, a 121-year-old community services center. He believes elected officials should always be fighting to do the most good for the people who need it most, and will never stop working to make life better for all New Yorkers. Thank you for being a sponsor and an advocate for the community.

ABOUT THE CHAMBER | Since 1949, the Greenwich Village-Chelsea Chamber of Commerce has served as the leading voice of businesses in their communities. The Chamber is actively involved in promoting a business climate that encourages growth and prosperity, ensuring the future vitality of their world famous neighborhoods. The GVCCC focuses on diverse areas such as government policy, small business concerns, economic development and tourism promotion in Greenwich Village, Chelsea, SoHo, NoHo, Flatiron, Union Square, and East Village.​
What started out as a few dozen businesses banding together, has now grown into an organization with hundreds of members. Membership ranges from sole proprietorships to major institutions and organizations. Their diversity is one of their greatest assets, providing participants with unique opportunities and a strong voice from which to address business issues. The Chamber also offers numerous benefits and services including networking opportunities, business and educational seminars, government advocacy, marketing and promotional campaigns and much more.
​​​Highlighting their neighborhoods, promoting commerce and enhancing the quality of life in their neighborhoods are top priorities. The Chamber is here to help businesses in the community succeed!​
Tuesday, November 2, 6am-9pm, NYC General Election Polls Open | Many of the races most important to Chelsea were seemingly called all the way back in June, after the smoke cleared from Primary Day voting. But don't let that present you from getting to your assigned polling place today (assuming you haven't opted for early voting, which concluded on Oct. 31).  Find your poll site here FindMyPollSite.vote.nyc and note: Upon entering any Board of Elections facility, you are required to wear a mask/face covering and maintain 6 feet of distance.
For the Board's website, click here.
For help understanding the ballot, click here.
Questions? Call 1-866-Vote-NYC.
Wednesday, November  3, 6:30pm via Zoom: The Manhattan Community Board 4 (CB4) Full Board Meeting | The entire voting membership of CB4 meets for the November edition of its monthly gathering, once again as an online event viewable via Zoom or the CB4 YouTube channel, where it will be archived shortly after its original airing. Click here to access that channel, where most committee and full board meetings from the pandemic era to present can be viewed at your convenience. Featured close to the top of the Nov. 3 meeting's agenda is the Public Session, in which members of the pubic are given two uninterrupted minutes to speak on a topic, or topics, of their choice. The CB4 Full Board Public Session Speaker Form can be accessed through the CB4 Homepage  and also by clicking here. Early sign-up to speak at the public session closes at 5pm on the day of the meeting (Nov. 3). Those who do not sign up by 5pm can raise their virtual hands using the raise hand function through Zoom (*9 by phone) once the public session starts. To register by telephone: 646-518-9805.
—Compiled by Scott Stiffler
Chelsea Community News is made possible with the help of our awesome advertisers and the support of our readers. If you like what you see, please consider taking part in our GoFundMe campaign (click here). To make a direct donation, give feedback, or send a Letter to the Editor, email scott@chelseacommunitynews.com.