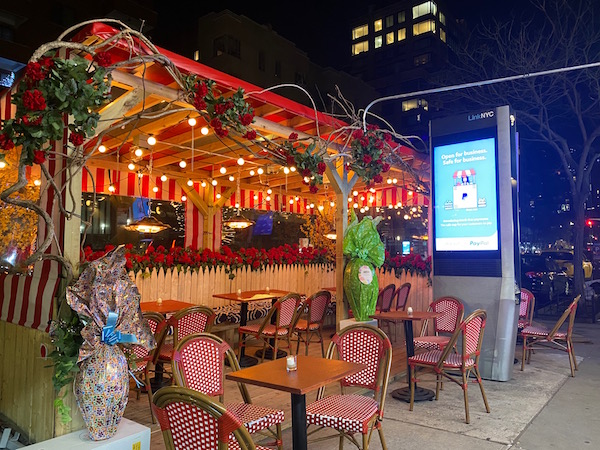 BY SCOTT STIFFLER
When onetime triumphant Shark Tank contestant Brandon Fay chose a decidedly compact Seventh Ave./W. 21st St. storefront as the downtown dispensary for his exceptionally good pizza and pasta, it was another gutsy move that paid off big-time… in due time, that is.
Pasta by Hudson's Chelsea location opened in November 2020—a high point in the history of pandemic-era uncertainty, and not a time when new small businesses were exactly opening left and right. But this one did, and the scrappy little store slowly went from serving around 13 customers a day to a current average of 300. When the city allowed restaurants to claim space for outdoor dining, Fay responded by building one of the city's best. With wooden floorboards and picket fencing, flower beds, nighttime patio lighting, sturdy tables and comfortable chairs, the new accommodations were fit for a queen. Several of them, in fact.
This being Chelsea, Fay didn't have to go very far to find his royal court. A quick glance to the right did the trick, because that's where Anthony Barone was standing. Barone is a longtime employee who came to the Chelsea location after the flagship store, in Columbus Circle's Turnstyle Underground Market, was temporarily closed. Before the pandemic, he was better known to lovers of nightlife and card games as Miss Pearl Antoni, the uncompromising and outrageous hostess of Drag Bingo Cabaret.
Based on a conversation between Fay and Barone, Miss Pearl came out of her pandemic era hibernation and put together a Pride Weekend drag shown in and around Pasta by Hudson's outdoor cafe. "The Manhattan drag scene isn't just about Hell's Kitchen," said Barone. "So Brandon and I agreed we needed to let the world know the queens are still here in Chelsea. In fact, we never left."
The Pride Weekend show was such a hit, Fay and Barone are bringing it back this Sunday, July 18, with a cast of regulars from Miss Pearl's Bingo-calling days. Girls Just Want to Have Brunch gets underway at the merciful start time of 3pm (perfect for those of us whose Saturday night lasted until 6 or 7 in the morning). Sharing the bill with Miss Pearl will be Cindy Diamonds, Zelina Duval, Ethel LaVain, and Paige Monroe.
At Pasta by Hudson (180 Seventh Ave. btw. W. 20th & 21st Sts.). This event is free for patrons and passersby. Instagram for the cast: @misspearlantoni, @ms.paigemonroe, @zelina_duval_nyc, @ethellavain, and @cindydiamonds2000. To visit the Pasta by Hudson website, click here. To read our small business feature focusing on Pasta by Hudson's Chelsea location, click here.
Chelsea Community News is made possible with the help of our awesome advertisers, and the support of our readers. If you like what you see, please consider taking part in our GoFundMe campaign (click here). To make a direct donation, give feedback, or send a Letter to the Editor, email scott@chelseacommunitynews.com.