Pasta by Hudson founder and president Brandon Fay opened his Chelsea location late last year, at a time when COVID-19 hadn't crested to anyone's lasting satisfaction, and the vaccine was months away from the point of mass public access. The opening of any small business–anywhere, at any point in time, is a risk–but Pasta by Hudson (named for Brandon's daughter, not the West Side river) bet big, opening up when extraordinary circumstances were forcing other  mom and pop shops to give up. Just over six months later, Brandon and crew are going strong, serving fresh, consistently delicious meals made on-site. Chelsea Community News recently quizzed Pasta by Hudson's prime mover and shaker, whose constant presence at the store's outside dining structure might find him cleaning tables, taking orders, chatting up out-of-towners, or charming regulars. (True to form, like so many other small business owners who are viable, visible parts of the community, he prefers to be referred to by his first name).
Chelsea Community News Editor & Staff (CCNews): What was your opening date,  for the Chelsea location?
Brandon Fay, Founder/President: We opened Pasta By Hudson Chelsea [180 Seventh Ave. btw. W. 20th and 21st Sts.] on November 22, 2020, which was the Sunday before Thanksgiving. I remember very clearly thinking, "We go opening on the eve of Thanksgiving week, this is very serendipitous and ironic." It wasn't planned, and here we are at the height of the pandemic, opening on what should be a beautiful holiday week. It was a crazy time in the city. Parts of New York City were still "surging" from COVID-19, long lines on every corner to get a rapid test for COVID. The whole city was tired from being stuck inside for almost a year.
In the days leading up to Thanksgiving, people were going to get tested and mass exit the City for the holiday. Sure enough, that Monday, the city was a ghost town. By the Tuesday before Thanksgiving, the long lines for City MD and Urgent Care were all but gone, and another million-plus people left the city. And Pasta By Hudson Chelsea was now open: The brown paper that once covered the windows are down, changing the landscape of Chelsea with fresh pasta to go, in a Chinese-style container.
CCNews: How did you find the space, and how did it match your needs?
Brandon: Pasta by Hudson Chelsea only had about 14 seats inside. There were many restrictions on indoor dinning, and we didn't have outdoor dinning yet—but the foundation of Pasta By Hudson was built on delivery, pick-up, and take-out. In that sense, we were built for the restrictions of the pandemic. We have a very small footprint, approx. 400 Square Feet, so food to go was our sweet spot. Now, with the city being empty, we would be one of the very few new restaurants to actually open in NYC at the height of the pandemic—or a post-COVID world.
CCNews: Yeah, why did you open up in the middle of a pandemic?
Brandon: The city needed something to smile about, something to distract them from the same old routine of leaving their homes wearing plastic gloves and a mask and sanitizing their grocery shopping. This was also the height of the U.S. Presidential election. It was a very challenging time.
The opening of PBH was official and VERY well-received. I kept to the basics of my core values of hospitality and business. I made it a point to greet every single person with a fresh-baked chocolate chip cookie and a very warm smile. I met a lot of GREAT people in Chelsea. Shared a lot of stories. The most common thing I heard was, "Wow, welcome to the neighborhood" and, "Isn't this is a really bad time to open a restaurant?" Despite hearing that, I smiled and kept cooking.
For me, personally, this was the best time. My Columbus Circle store [in Turnstile Underground Market] was closed. It still is, and I'm hoping to reopen this fall. With the Chelsea location, I was going to bet on NYC. I wanted to be a part of the rebirth. I wanted to be one of the reasons people smiled. I made fresh pasta, thin-crust pizzas. I cook with fresh vegetables and lots of fresh herbs, about 5-10 pounds of basil and parsley a day. If you know how much herbs weigh, you know that's a lot, HA! I only use Maldon sea salt. I knew if I stuck to my number one ingredient, which is cooking with lots of love, we'd be a smashing success. No one else in NYC is cooking with fresh pasta in a fast, casual setting in a take-out style container, with as many options for sides and different sauces. We literally make our pasta fresh every day, in-house. We have four different pasta, and you can pick and choose your pasta shape with whatever sauce you like. We give great value and very generous portions. We managed to give the quality of a full-service, five-star restaurant in a very casual environment. Our Cheesy Meatball, as seen on ABC's Shark Tank, is a huge hit. "Mr. Wonderful" himself said, "The best meatball I've ever had." We literally stuff our meatball with an ounce of fresh mozzarella. We sell about 100 meatballs a day.
CCNews: What are the most popular items on the menu?
Brandon: From the Columbus circle location our Rigatoni Vodka sauce with white wine fennel sausage Bolognese recipe has not changed. It has a cult following and is still the number one selling dish. That's a must-try. Our signature thin-crust pizza is a new edition to the menu, with hits like the Prosciutto de Parma and Arugula Pizza. The prosciutto is served over a bed of organic arugula topped with shaved Parmesan and drizzled with a balsamic glaze. Then Vodka Chicken Parm Pizza or just the classic Margherita is a huge hit. Again we use lots and lots of fresh herbs everywhere and we only finish all of our pastas and pizza with Maldon sea salt, which is some of the best sea salt you can use. I joke and say, "Maldon sea salt is an actual food group!" It's a superfood. I can eat it by itself all day long, LOL.
When I opened the outside dining, I wanted to make sure it was a reflection of the quality of our food and extension of our beautiful indoor dinning room and open, newly built kitchen. I think I succeeded, lol. We now have one of the most-photographed outside gazebos on all of Seventh Ave. All day long, people stop and take photos. I wanted to make sure I made Chelsea proud to have a beautiful street cafe on Seventh. It's intimate, with a lot of beautiful flowers, and you feel like you're eating under a pergola set on a hilltop in Tuscany. You almost forget that the NYC yellow cabs and local delivery trucks are in the background. We really created something special.  Our outside gazebo is available for outdoor dinning and can be booked privately for a few hours for any special event.
We are very grateful that we get to cook for a really great community. There really is no other place like Chelsea. It reminds me of the good old days. People walk in my restaurant just to say hello, share a smile and laugh, and get a quick taste of something we just made fresh.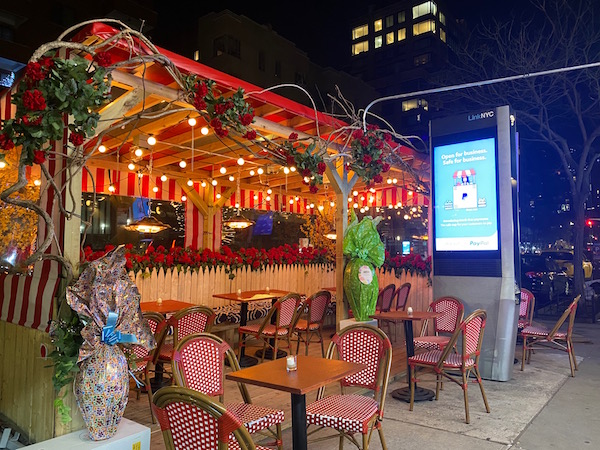 CCNews: How has business been?
Brandon: Well, when we opened, it was slow. Many times, I doubted what the outcome would be. But I stuck to it, keeping focused and making sure we delivered an excellent product; that we made people laugh and their bellies smile. Eventually, we would get over that first big hurdle that any new restaurant faces, pandemic or no pandemic. Getting established, finding solid ground, working through all the hiccups, organizing the place and figuring out what works and what doesn't. And boy, did a lot of things not work. Ha!
We made it through December—and by the time January came around, we had noticed one big change: People were back. Slowly but surely, the city was coming back to life. Week after week, business was growing. Fast forward to April, and there was actually traffic in the city again. We went from using one 50-pound bag of flour a week to make our fresh pasta to 2-3 bags a day.
Pasta by Hudson Chelsea opened in November—and now, we're a real part of the neighborhood. People tell us that, and we feel it every day. I know now more than ever, people need to smile and eat. I know I offer a delicious menu that is great for pick-up and delivery as well as dine-in. We now have a wine bar. We offer Italian hidden gems and locally sourced beer on draft as well as a Boozy Slushie Bar. The Slushies are huge hit! I truly believe in Pasta by Hudson Chelsea, and I know we are going to be around for a very long time!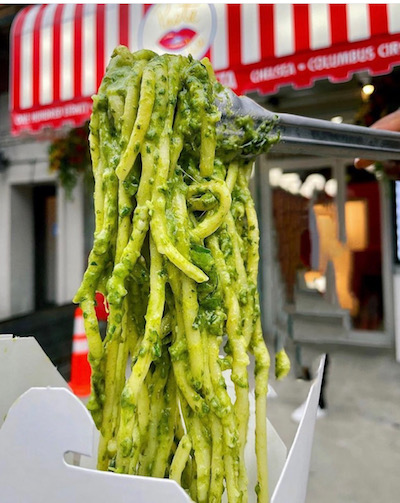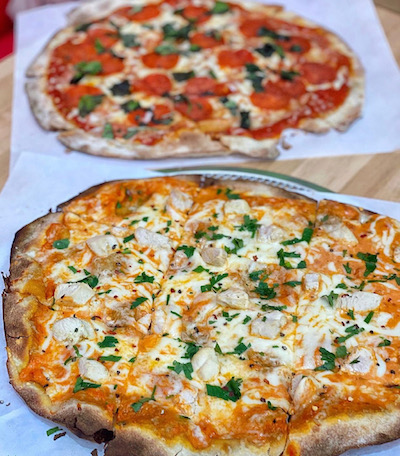 Chelsea Community News is made possible with the help of our awesome advertisers, and the support of our readers. If you like what you see, please consider taking part in our GoFundMe campaign (click here). To make a direct donation, give feedback, or send a Letter to the Editor, email scott@chelseacommunitynews.com.