Aug. 27, 2021 UPDATE: Regarding the Aug. 17 court date referred to in the below article, the case was adjourned to Sept. 9, 2021, for grand jury action. The defendant remains in custody at the Rikers Island Otis Bantum Correctional Center, a dormitory and cell facility housing detained adult males.
BY SCOTT STIFFLER | Residents from a series of buildings in the West 20s are relieved to hear a suspect remains in custody after several cycles of being arrested for burglary or trespassing, released without bail, and returning to their area to commit more criminal acts. But they are disturbed to know it took an unrelated assault charge to have a judge finally issue cash bail and bond in the amount of, respectively, $30,000 and $60,000. That action has effectively kept 25-year-old homeless man Digones Brito at Rikers Island since July 22, following his arrest two days earlier. Brito is expected back in court on August 17.
For those who live in and around the troubled corridor of Eighth Ave., from W. 20th to 22nd St. and Seventh to Ninth Aves., the abovementioned events strengthen the statement, "Crime, vandalism, and fear for our safety has become a daily part of our lives on our blocks."
That quote, by West 200 Block Association member Pamela Wolff, is part of a July 10 email sent to local elected officials, Community Board 4, and a Community Affairs Officer at Chelsea's 10th Precinct. Wolff's letter calls for the removal of two LinkNYC kiosks and a longstanding sidewalk shed at 205/207 Eighth Ave. btw. W. 20th & 21st Sts. that, she notes, "are a constant magnet for drug activity, and a source of violent behavior." Referring to the Brito July 2021 crime spree, Wolff's letter stated how a "series of break-ins into our homes, arrests, and releases has escalated the level of our frustration."
Locals who wish to remain anonymous say that prior to the April 10 stabbing, Brito was a familiar presence among those who frequent the shed referred to in Wolff's email. It is situated across from the 208 Eighth Ave. Salvation Army in which the stabbing incident began as a verbal confrontation, before spilling out into the street. Video surveillance taken from that block was used by the NYPD to implore the public to provide information, as in a May 5 tweet by Commissioner Shea himself, which misidentified the day of the week, time of the month, and location of the stabbing.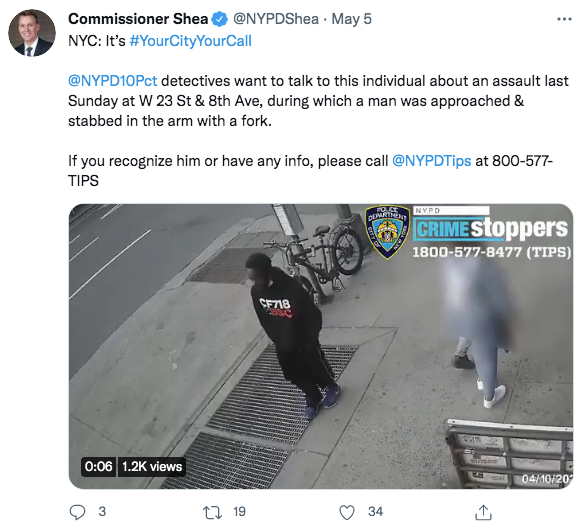 Around the corner and just down the street from that Eighth Ave. shed sits another one of those contentious structures. Required by the New York City Department of Buildings (DOB) as a means to protect pedestrians during construction, the sheds can linger for years, far outlasting the time it would take to accomplish the task they were built for. In addition to shielding the criminal acts of those who gather under its roof, a shed can provide access to building entry points otherwise unobtainable.
Scott Russo, a longtime resident at the three-building, 55-unit brownstone co-op located at 331-335 W. 21st St. (btw. Eighth & Ninth Aves.), believes Brito used the sidewalk shed's signature skeleton as the first stop in his quick commute to the rooftops and skylights of his co-op.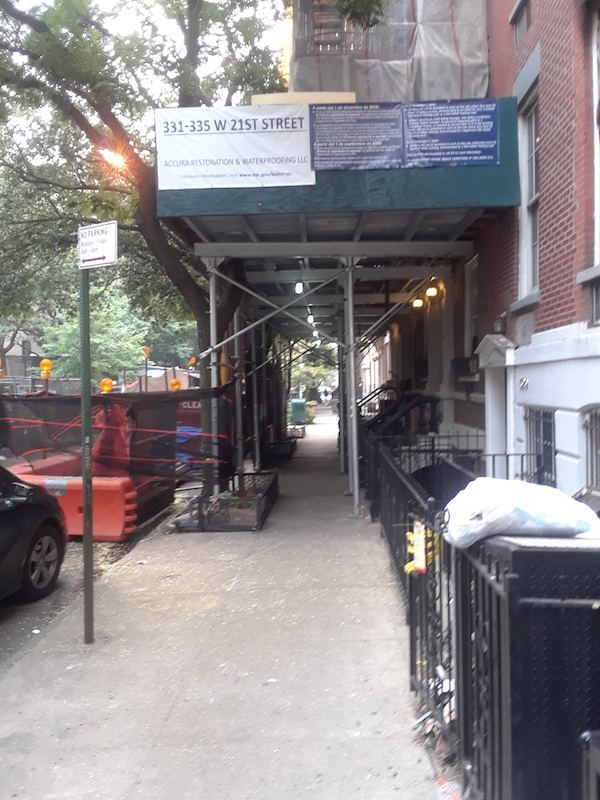 "We saw one of our contractors do it when he forgot his keys. He just climbed up onto the scaffolding," said Russo, of the structure that has "been in place for at least two years." Once on the scaffolding, the contractor "reached and grabbed the fire escape ladder, and climbed up. It took 10 seconds. It is something any in-shape person can climb." At 5' 11' and 135 lbs., Brito fits the bill—but he would not be the first nefarious individual to shimmy up a sidewalk shed in search of unique entry points, as Chelsea Community News reported here.
After one of the burglary arrests, "He was back on our scaffolding again, the next day," said Russo, of Brito. "My super saw him. Then he came back again and was exposing himself on the street. That was the day [April 19] I met the four cops outside."
During a conversation with those 10th Precinct Police Officers, Russo says one of them "promised that they were trying to get this guy arrested in the next couple of days by stacking all the charges against him, so he would not be just dumped out of the system again."
In a Monday, August 16 morning phone conversation with NYPD Detective Annette Shelton, the DCPI (aka public information) spokesperson confirmed Brito was "arrested on the 20th [of July], a little after 1pm, opposite 346 West 20th Street… He was charged with criminal trespass," having "entered unlawfully inside a fenced area" at 348 W. 20th St."
Two Criminal Court Complaints provided to Chelsea Community News by the New York County (aka Manhattan) District Attorney's Office confirm that account, and also identify Detective Kevin Carrig, of the 10th Precinct Detective Squad, as the Deponent in both complaints. (A Deponent, according to Cornell Law School's Legal Information Institute, is "An individual whose deposition, or sworn out-of-court testimony, is taken during the discovery process.")
Asked if Carrig (or anyone, for that matter) knew or suspected Brito was the stabbing assailant while knowing he was being repeatedly arrested and released for a series of  West Chelsea trespassing, burglaries, and a home invasion, Shelton said, "You'd have to request an interview" with the detective. (Chelsea Community News posed the same question to DCPI in numerous emails, which were responded to with opaque language, or not responded to at all.)
In our initial phase of information gathering for this article, we sent a request to DCPI for an on-record interview with Captain Robert Gault, who assumed the Commanding Officer (aka top leadership) position at the 10th Precinct on Sept. 21, 2020 and has, since then, become uniquely familiar with local residents and their concerns. From September 2020 onward, Gault has provided candid answers to pointed questions, during the (mostly) Zoom-held Community Council meetings that take place on the last Wednesday of the month–hence our request for his specific perspective. With the Council on its traditional June through August summer hiatus, members of the public (and the press) who can expect answers and accountability from Gault are without that monthly opportunity. Regrettably, DCPI did not grant that request, instead responding to our stated concerns via a series of email exchanges with Sergeant Jessica McRorie, a DCPI spokesperson whose answers often lacked the informed perspective and institutional knowledge one would expect from a 10th Precinct Commanding Officer, Build the Block NCO (Neighborhood Coordination Officer), or Community Affairs Officer.
McRorie did provide some important insight, however, in two particular matters. Referencing Wolff's July 10 letter, which was provided, Chelsea Community News asked, "How many 'revolving door' individuals are there in the area, and are they responsible for a discernible amount of quality of life and/or criminal infractions?" McRorie responded by stating, "It is not possible give an exact number, but there are several individuals in the [10th] precinct who are repeat offenders and have been arrested several times for the same crimes."
On a matter not directly related to the Brito situation, but a contributor to the level of crime in the area he frequented, we asked for "an update on the status of civil actions as they apply to the business on W. 21st St. and Eighth Ave." that was previously identified by Gault as the scene of two actions by undercover members of the NYPD, who purchased fenced goods at the bodega. He also tied the location to a string of package thefts in the surrounding area, noting that addicts steal things of value, fence them at the corner store, and use that cash to purchase drugs nearby. DCPI's McRorie responded thusly: "Following the NYPD filing a nuisance abatement action with the court, the business located at 215 8th Avenue [West 21 Deli and Grocery Corp] paid a fine of $500. Additionally, the business agreed to various penalties if stolen items are purchased there again. These stipulations will be in effect for three years. For more information please be referred to the court document (Index #450514/2021)."
Russo further recalls one statement that, if accurate, complicates the matter of Brito's current in-custody status, possible future sentencing, and subsequent incarceration.
"One of them [the 4 officers] said he [Brito] was schizophrenic and off his meds," stated Russo. "It wasn't said sarcastically, it was said in earnest… I never saw him with [prescription or illegal] drugs, but clearly he seemed mentally ill, someone sitting on someone's brownstone, masturbating in the middle of the day."
Asked to comment, Detective Shelton—who, to her credit, engaged in on-record comment via phone rather than multiple email exchanges—said, "We don't speak to anyone's medical condition." Asked to clarify if the information existed and policy forbade her from sharing it, Shelton simply answered, "That's something I don't have access to."
The Legal Aid Society was similarly circumspect when contacted after Brad Foster, who will represent Brito at the Aug. 17 court date, said requests for his on-record comment must be sent to Tina Luongo, Attorney-in-Charge of the Criminal Defense Practice. Chelsea Community News made that request in an Aug. 12, 3:40pm email seeking comment for "an article about Mr. Brito's recidivism and the arrest that ultimately kept him in custody." Twelve minutes later, the totality of Luongo's reply read, "Good afternoon. We don't have a comment at this time." (Although the reply fell far short of expectations, this reporter does recall having a good afternoon.)
Manhattan District Attorney Cy Vance, Jr.'s press officer, Casey Murphy, also deferred on the questions of Brito's mental state as well as whether, prior to being taken into custody on Aug. 20, the DA's office had knowledge of Brito as the stabbing assailant while they repeatedly, unsuccessfully petitioned the judge to issue bail. Murphy was, however, helpful in providing documents and referrals essential to our reporting.
In a July 22 email, Murphy told Chelsea Community News, "Mr. Brito was arraigned yesterday on the 2 [criminal court] complaints below for separate incidents." The email went on to provide the text of the (publicly available) complaints, from which the following can be gleaned:
—Brito is charged in a felony complaint, dated 7/10/2021, with 2 counts of Burglary in the Second Degree, 1 count of Criminal Trespass in the Third Degree, and 1 count of Attempted Burglary in the Second Degree. The complaint invokes several individuals who observed behavior by Brito in the same West Chelsea area on July 10, 19, and 20.
–The second felony complaint, dated 4/10/2021, involves one charge of Assault in the Second Degree, from the April 10 stabbing said to have taken place "in front of 208 Eighth Ave." (aka the Salvation Army store).
–In the 7/10 complaint, Murphy told us, the "People requested bail set at Cash $25,000, Insurance Company Bond $75,000, Bond-Surety-Partially Secured $75,000. Judge John Zhuo Wang set bail at Cash $10,000, Insurance Company Bond $25,000, Bond-Surety-Partially Secured $25,000."
–In the 4/10 Complaint, noted Murphy, the "People requested bail set at Cash $25,000, Insurance Company Bond $75,000, Bond-Surety-Partially Secured $75,000. Judge John Zhuo Wang set bail at Cash $20,000, Insurance Company Bond $30,000, Bond-Surety-Partially Secured $35,000."
With Brito under lock and key until, and presumably after, his court date on the morning of Tuesday, August 17, W. 21st St. resident Scott Russo put the man's targeted crimes within the context of what many longtime residents view as an era in Chelsea as defining, albeit less celebratory, as its gallery district, residential renaissance, and resigning Manhattan gayborhood years. "When I moved to Chelsea in 1994, it was rough around the edges, but I never feared for my safety," recalled Russo. "Junkies shoot up on my stoop, eat, sleep, smoke, and shit in the vestibule of my buildings. It's intolerable." As for Brito, who was repeatedly cast onto the streets until a violent act compelled action at the judicial level, Russo says it's clear he "should be in a facility where he can get help for his mental condition, and also because of his violent attack." What hope the criminal justice system can offer him, and what solace it can offer Chelsea residents, depends largely on the approach, and outcome, of his defense.
Chelsea Community News will continue to follow this story as it develops.
NOTE: To access our past reporting on sidewalk sheds and their relation to quality of life matters and serious crime, click here and here. Continue reading, for additional content related to the above report.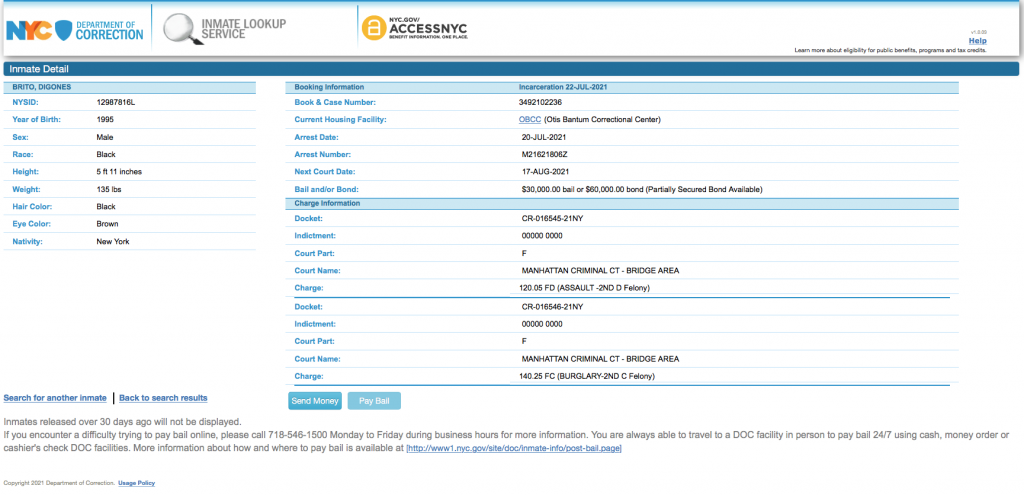 Chelsea Community News is made possible with the help of our awesome advertisers, and the support of our readers. If you like what you see, please consider taking part in our GoFundMe campaign (click here). To make a direct donation, give feedback, or send a Letter to the Editor, email scott@chelseacommunitynews.com.
BONUS CONTENT
Regarding the Usage Policy of the NYC Inmate Lookup Service depicted visually in the above article, the following is taken from its website:
The New York City Inmate Lookup Service is operated by the New York City Department of Correction (DOC) for the use and benefit of DOC law enforcement partners and members of the public. This service is designed to provide information about the identity of NYC jail inmates and their location, bail amount, and associated booking information. Anyone who uses the information on this web site to injure, harass, or commit a criminal act against any person may be subject to criminal prosecution.
Information provided by this system is presumed accurate at the time it is accessed. However, the intake and release of individuals within a jail requires processing time that must elapse before the information can appear on Inmate Lookup Service. In addition, Inmate Lookup Service has historical data that goes back only to September 2005. DOC makes no warranties or guarantees as to the accuracy or completeness of the information supplied via the New York City Inmate Lookup Service.
Any and all uses of this system may be intercepted, monitored, recorded, or disclosed to law enforcement personnel. By using this system, you consent to these terms and conditions of use.
The information contained in this web site should not be relied upon for any type of legal action. Contact NYC Department of Correction Legal Division for additional details.
No government agency or other organization can use Inmate Lookup Service data on any computer based system, including but not limited to the Internet, without advance written approval by the New York City Department of Correction. Any authorized government agency or other organization granted permission to use Inmate Lookup Service data on any computer based system must include an electronic link to this Inmate Lookup Service Usage Policy.