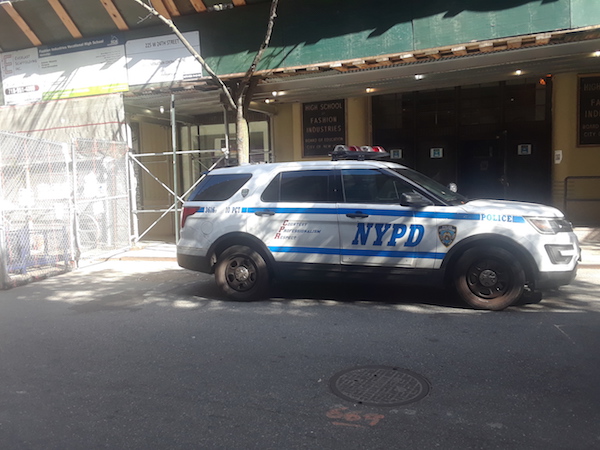 BY SCOTT STIFFLER | When Chelsea's High School of Fashion Industries opened the doors to its nearly 1,600 students on Mon., Oct. 4, the vocational school with a 95 percent math proficiency score found itself contemplating some embarrassing numbers, and cooperating in an NYPD investigation that, nearly a week later, remains with no publicly announced suspect and precious few details.
Responding to the first of what became a four-day, three dozen-plus email thread initiated by Chelsea Community News, a 2:39pm Oct. 4 message from the NYPD read, "There is a report on file for burglary."
Signed by Sergeant Edward Riley, a spokesperson for the Office of the Deputy Commissioner, Public Information (DCPI), the message noted the information provided was "Reported October 3, 2021 at 0730am Inside of 225 West 24 Street." Located between Seventh and Eight Aves., the building that houses the High School of Fashion Industries is nearly unrecognizable from plentiful Google search photos. Currently, its exterior is swathed in top-to-bottom scaffolding, patches of mesh netting, and a roofed shed running the length of the sidewalk—all telltale signs of the protective measures ordered by the NYC Department of Buildings (DOB) during a structure's construction or repair phase. (Hope you were paying attention: There will be a test on that soon.)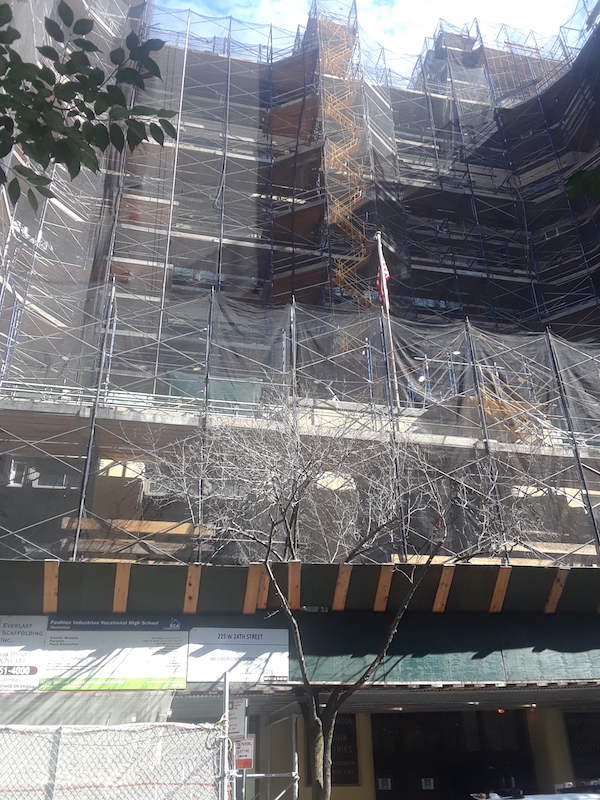 Riley's message continued, noting, "Reporter states when he returned to his classroom 30 Apple Mac Book Laptops were missing.  There are no arrests and the investigation is ongoing." In follow-up email requests attempting to identify the "Reporter" and the nature of ownership indicated by describing the classroom as "his," Sgt. Riley noted "Reporter" was "only indicated as an employee" and that, "The language 'his classroom' is taken directly from the report. I have no further information."
In other email replies to our requests for clarification, Sgt. Riley said the 30 missing laptops have a total value of "$60,000," and specified the classroom as, "Room 606."
That room number might prove telling, in CCNews' still-active effort to identify how the crime scene was accessed. Multiple inquiries to DCPI regarding any knowledge of entry and/or exit points were met with, "The questions posed are part of the investigation and at this time it is ongoing," or a variation of that phrase. The same response was given repeatedly on matters including whether surveillance footage exists, and whether they are looking for more than one suspect (at 2.8 lbs. each, 30 laptops burden the burglar(s) with a booty of 84 pounds).
Note: As a former longtime author of Blotter pages for the newspaper Chelsea Now as well the website you're on now, this reporter notes that the information discussed in the above paragraph, as well as the identity of any civilian "Reporter" on a police/crime report, was always supplied to him in non-redacted fashion by officers or administrative personnel of the 10th Precinct. It should also be noted—for reasons detailed in our soon-to-publish report—that it has been several months since the 10th Precinct's Community Affairs officers or precinct Commanding Officer Captain Robert Gault have spoken on record (aka quotable) to Chelsea Community News, as all such requests must be granted by DCPI. All such requests have been either completely ignored or denied during follow-up.
Answers do exist elsewhere, however, if you know where to look for them, or are in a position to have them come to you. In the initial phase of our reporting, a reliable source with connections to the school said the classroom was accessed by climbing the temporary construction scaffolding that runs the length and width of the building's exterior.
In an Oct. 6, 4:41pm email, Sgt. Riley noted, "Report states window of the classroom not in same position reporter left it."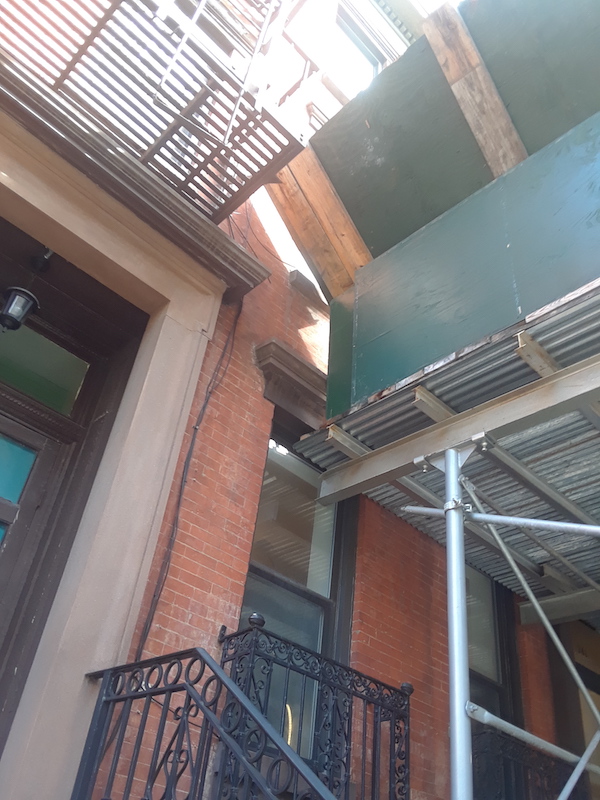 Armchair detectives and connect-the-dot enthusiasts may draw their own conclusions as to how the classroom was accessed, and how the thief or thieves managed to get away with 84 pounds worth of Apple MacBooks. (With a window of Room 606 notably ajar, we're giving a bit more credence to one nearby resident's "inside job" conjecture, which has the stolen laptops hidden on the premises and removed in small batches so as to not arouse suspicion.)
If the High School of Fashion Industries was indeed burgled by an opportunistic (and limber) thief/thieves using the scaffolding to create an otherwise inaccessible entry point, many in the Chelsea community would be on high moral ground in saying, "I told you so."
Scaffolding as a method of breaking and entering has been a concern voiced by local residents long before the COVID-19 era, especially as it concerns longstanding scaffolding on W. 21st St. btw. Eighth & Ninth Aves. There, in tunnel-like fashion, it runs the length of PS11 elementary school and has been identified by residents and the 10th Precinct alike as a protective haven for outdoor drug use, the "love nest" element of prostitution transactions, and, yes, a means for attempted burglary. (Click here and here for our previous reporting on the matter.)
Scaffolding also played a role in facilitating a string of burglaries this past summer, on the 300 block of W. 21st St. Prior to the arrest of Digones Brito (currently in custody facing burglary and assault charges), neighbors say they witnessed him using scaffolding to access the roofs of several buildings the onetime serial recidivist is said to have burgled.
"The security of our schools is our top priority, and we are working closely with the NYPD as they investigate this incident," said Nathaniel Styer, Deputy Press Secretary, NYC Department of Education (DOE), in an Oct. 5 email. Our Oct. 6 and 7 emails—following up on our original request for comment on burglary entry/exit points and room 606 as the sixth floor location of the burglary—went unanswered, as did our inquiry as to the existence of surveillance tape and our request for an interview with High School of Fashion Industries Principal Daryl Blank.
Quizzing those exiting the school on Fri., Oct. 8 as classes let out for the weekend, over a dozen students told this reporter (who identified himself as such) they'd heard nothing about a burglary at the school. One student said she had a class in room 606, but knew nothing about Apple MacBooks. A substitute teacher said he'd heard of the incident, but had no details. Adults seen exiting the school's main door who confirmed they were employees were amiable, if hurried, up to the point when asked about the burglary, at which all answered with variants of "No comment."
In addition to keeping students in the dark and presumably ensuring radio silence among employees if quizzed by the press, (for this particular incident and/or as blanket policy), the DOE has taken steps to increase security around the High School of Fashion Industries.
Chelsea Community News is made possible with the help of our awesome advertisers, and the support of our readers. If you like what you see, please consider taking part in our GoFundMe campaign (click here). To make a direct donation, give feedback, or send a Letter to the Editor, email scott@chelseacommunitynews.com.